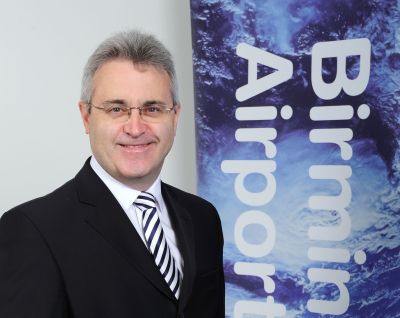 Paul Kehoe (52) is one of the most experienced Chief Executives of any airport in the UK.
He started his aviation career as an air traffic controller in the Royal Air Force followed by spells with BAe, Serco and TBI where he managed in succession Belfast International and Luton airport's and became a main board member.
His present role dates from October 2008 joining from Bristol Airport where he was CEO. His only interest in the BA takeover of the former BMA is bmiBaby. What is its future?

UK Plc – Capacity, Connectivity, Growth – and not more of the same

A World-Class City-region, whether in London, the Midlands, the North West or the North East, deserves world-class aviation links. Without them, businesses and jobs will drift away, or accrete where those links are strongest. Take a look at the successful M4 corridor – and then ask whether Heathrow helps the whole UK economy in the way that it is sometimes claimed. 'The fruit does not fall far from the tree'.

It is simply not true that "Britain needs a bigger hub airport". This ideology, often promoted by those who could directly benefit commercially, conflates concern about Britain's economic growth with arguments for a third runway. Heathrow is allegedly spending £3 million on a PR campaign that includes adverts targeting MPs at Westminster Underground with a thinly-veiled threat. "UK economic growth. This is your final call." No wonder MPs and membership organizations seem terrified to question established wisdom.

Heathrow has also hijacked the 'hub' term for its own purpose. It is by no means certain that Heathrow is a hub airport. It is often argued that Heathrow must deal with transfer passengers. These passengers, valuable to shareholders of airports, are arguably of questionable worth to the wider UK economy, as they pass through; is this really an optimal use for Heathrow? Another ruse is that without R3, hub operations would move from Heathrow to Mainland Europe. If Heathrow is so worried about this, why are there already 1,000 flights a week from there to European hubs – gulping up long-haul capacity?

And it is often said that flights have to concentrate on Heathrow to achieve 'critical mass' – i.e. only by funnelling people to there from all over the UK, will a flight be viable. In that case, why are there almost three dozen flights a day between London and New York? Wouldn't that over-supply (with 'give away' lead-in fares) be better redeployed to serve emerging markets in China and the Far East?

A single hub airport cannot answer London's needs, let alone Britain's needs.

Heathrow already handles 70m passengers a year. The Department for Transport estimates Britain will need space for 125m more passengers a year by 2030. There is no way that Heathrow, even with a third runway, can possibly answer this demand. And an Estuary Airport would require a new town the size of Manchester to cater for the workers and their families – all in a region already cited as needing five new reservoirs.
London's business leaders are tearing their hair out. This situation doesn't help business people in the regions hoping to attract investment to their own local economies. The situation demands that we look beyond Heathrow, and consider how our other national airports, including Birmingham, can help. Birmingham handles 9m passengers and has the spare capacity to double this figure to 18m passengers today. Existing plans increase capacity to 36m passengers. Better utilisation of Birmingham would free up slots at Heathrow for the SE market. Airports like Manchester, Liverpool and Edinburgh can make a similar contribution. All would benefit from better connectivity.

The Government's aviation review must first consider how best to use existing resources. Any other solution is many years away. If Heathrow charged market rates, reliability would increase and there would be more slots for long-haul travel. Heathrow should be allowed to charge more.

There could be a congestion charge on busy airports. This is something the Government should consider. There should be greater air-rail interoperability, with through ticketing, and the ability of travellers to use a search engine that consolidates all travel modes, to provide the optimum 'door to door' journey based on criteria of cost, comfort, journey time or convenience. Whether a traveller changes at somewhere called Heathrow for a train to London, or somewhere called Birmingham to do the same, is irrelevant. It is the criterion above that matter.

A modern economy demands more than one crowded airport. That puts all of our eggs in one basket. We risk our National resilience at our peril. We need a fully integrated transport network, with aviation providing major 'Ports of Entry' across the UK (Germany has 5 and is building number 6). This issue is too important for the aviation lobby. The Government's review must look across departments, and visualise the UK economic landscape in a generation.

Government must commission independent economic research, and identify policy levers to pull. It must solicit views and aspirations from across the UK regions, and not rely on London-based think-tanks or policy units. Above all, Government and Business must ignore the pleas of aviation 'gurus' who advocate a status quo or a return to twentieth-century thinking and concentration of power. UK Plc deserves better than that. If you agree then please do drop me a line. paul.kehoe@bhx.co.uk
OUR READERS' FINEST WORDS (All times and dates are GMT)
All comments are filtered to exclude any excesses but the Editor does not have to agree with what is being said. 100 words maximum
---
No one has commented yet, why don't you start the ball rolling?
---