David Hurst is a aviation consultant and sometime journalist. Here he reports on Ghana the former British West African colony which became independnet as the The Gold Coast in 1957.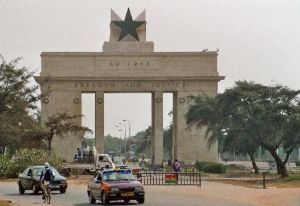 "Ghana? Business trip then?" This was the standard response to the news I was going to Accra. West Africa is not a place that has the most delightful image of world destinations but when looking for someone who has actually been there recently the numbers are few and far between – at least in my circles.

Accra is the capital of Ghana and the economic heart though since the economy is underpinned by mining and agriculture the work is carried out elsewhere. Lagos is about as far from Accra as Manchester is from London though there are three national borders to cross between them.

Vague memories of The White Man's Grave made medical advice necessary. Lists of diseases and precautionary jabs went on for pages. However, digging deeper showed that if the trip was short and ventures outside the capital were limited or non-existent then the list reduced dramatically to three jabs and malaria tablets. Even the jabs may not be required by well travelled people as they include the normal tetanus, polio, typhoid. The unusual one was yellow fever which is required for entry and can only be done at registered clinics. Visas are also necessary.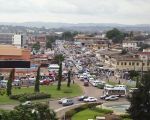 Flights are usually crowded and prices are not cheap. From UK there are the direct options of British Airways out of Heathrow and Ghana International from Gatwick. British Airways are milking the route with the fare for Monday out and Friday return at the end of the Easter holidays being a shocking UKP2000 return for economy! KLM charged UKP950 via Amsterdam for the same dates.

The flight out of Amsterdam was around 85% full with only a couple of spare seats in business class but more in economy, mainly in the forward cabin. The return flight was more or less full. Both KLM and British Airways are the only European airlines flying non-stop services to Accra though Lufthansa plans to start non-stop from Frankfurt this summer. Currently it flies via Lagos, as does Alitalia.

Arrival in Accra is in the early evening and walking out of the door of the aircraft the heat is good. By the foot of the steps the novelty had worn off and the modern air conditioned airport bus was welcome. The terminal is tired and needs refurbishing but the system works. Immigration was reasonably fast with queue-minders moving people around. Baggage reclaim had taken advantage of the wait at Immigration but the bags appeared on the belts without too much further delay. There were plenty of free baggage trolleys.

Travelling due south means that jet lag is negligible but arrival in the early evening makes hotels a priority. Hotel rooms are limited though some big chains are present or building. Golden Tulip have a reasonable business property and Holiday Inn have just opened near the airport. Hilton and Marriott are building. As Accra is on the coast there are two properties taking advantage of the beach, Labadi Beach which claims to be five star and La Palm more or less next door which is four star but said to have a better pool.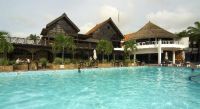 On a personal level the Golden Tulip works with standard hotel rooms which are clean, equipped normally – although the air conditioning was uncontrollable – and an efficient business centre. Prices at USUSD200 a night reflect the current scarcity of rooms. Food was acceptable quality and served promptly and hot and the staff throughout were cheerful, efficient and obviously well trained. It is currently undergoing refurbishment with half the 234 rooms out of commission until May 2010.

A meal for four including drinks in a beachside brassiere at a four-star hotel was around UKPUKP50 which I was told was expensive for the country. I was shown a shiny clean relatively new European-style shopping mall built, I was told, by South African money with shops and eating places that could be seen in Europe but without the familiar European names.

At the other extreme there are hawkers at every traffic light selling everything from phone top up to floor mops but there is no aggression either from the hawkers or the drivers. Ignore them and they walk on.

Oil is the big news in Ghana since UK-based Tullow Oil had a successful strike offshore near the Ivory Coast border. Exploration continues but indications so far are of a small field in world terms, currently thought to be around 2.5bn barrels, which is not much compared with Nigeria's 35bn.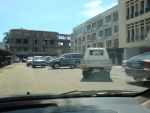 Ghana is different to Nigeria. West Africa is tarred with the image of Lagos as the place travellers do most to avoid but Ghanaians are different, far more laid back and friendly and with a propensity to smile. 'Laid back' usually infers a lack of efficiency but a Brit living in Ghana told me that once the culture of the company is laid down and enforced and training given then the system is followed. Ghanaians do not like giving offence and avoid confrontation so the enforcement of standards is important.

The attitude probably reflects into security. There were no guards on hotels or offices beyond normal doormen or receptionists. I felt entirely safe and unthreatened at all times but I was told there were areas in Accra that might not be safe though the same can be said of every capital.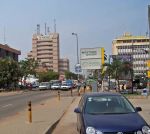 The politics are remarkable. The country held a general election over December and January and changed president and ruling party without any riots or revolution. This is the third presidential election in a row that has passed without any serious trouble which marks out the country as almost unique in Africa.

There is corruption and cash will help get something done but there is also a national concern about it and a completely free press means that serious dishonesty is unlikely to grow too overt.

Accra is not without problems. These can be reduced to two words, 'traffic' and 'electricity' and even those can be reduced to a lack of capital to develop the infrastructure. As soon as anyone makes some money they buy a car but the roads are constantly struggling to keep up. There are six lane highways but there are also traffic lights and cross roads which result in queues. An air conditioned car and driver is essential for a business visitor.

Electricity is also the result of the developments outrunning the supply. I only saw one power cut for two or three seconds but all major buildings, including all the hotels, have large permanent generators on site to cope with demand.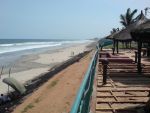 The curiosity is the lack of a significant tourism industry. The country has a south facing sandy coastline with very little resort development. The coast has a dozen or so historical castles built by the Europeans to facilitate the export of slaves. There is the largest man made lake in the world with a couple of small hotels at the dam but no tourism development elsewhere. There are designated game parks which cry out for decent roads and camps. On an immediate note there are not even half-day tours of Accra on sale in the hotel for business travellers with a few hours to kill.

Accra is beginning to buzz and there is an air of optimism which is in marked contrast to Europe. This is probably the result of the recent elections and the forthcoming oil but is refreshing.

David Hurst
OUR READERS' FINEST WORDS (All times and dates are GMT)
All comments are filtered to exclude any excesses but the Editor does not have to agree with what is being said. 100 words maximum
---
No one has commented yet, why don't you start the ball rolling?
---