Our ten-story news update
This month's cruise review: Cunard's Queen Elizabeth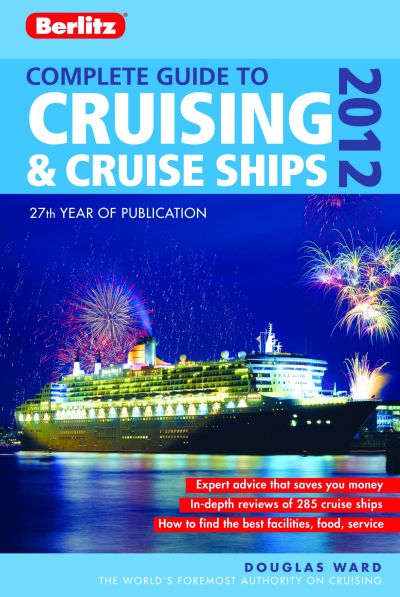 Some 21 million people will be thinking of booking a cruise next year and many will be overwhelmed by the sheer number osf brochures and bewildered by the variety of cruise ships. The 2012 edition of the famous Berlitz Complete Guide to Cruising & Cruise Ships (published in paperback 1 October 2011, £17.99, as well as a new App edition) will cut through these choppy waters and help readers to identify the cruise that best suits them, so that their hard-earned holiday represents money well spent. Completely independent and accepting no sponsorship, this annually updated guide has become the 'bible of cruising', thanks to the painstaking investigation carried out each year by its author, Douglas Ward, the world's most highly regarded cruise expert.
The new edition looks ahead to 2012 and 2013, previewing nine fabulous ships as well as the new facilities on board existing ships. Among the debuting ships particularly worthy of note are The Royal Princess with its cantilevered half-moon shaped walkway extending over both sides, and Costa Fascinosa with its retractable glass dome covering the pool area. There's a new chapter on what operators are doing to compete with Disney Cruise Line, one of the smaller operators that has had massive success in the growing family market. More weight is also given to the changing face of entertainment on board the very large resort ships, particularly the lavish productions of well-known Broadway shows which are replacing the tired old Vegas-style song and dance routines of yesteryear. www.berlitzpublishing.com
Cruise review: Cunard's Queen Elizabeth - Mediterranean Gems
Max Kingsley-Jones, Editor of Airline Business, is one of the World's leading aerospace journalists (and a keen motor sport fan too). However for his family summer holiday this year he took to the sea and sent in to AERBT this report (and pictures).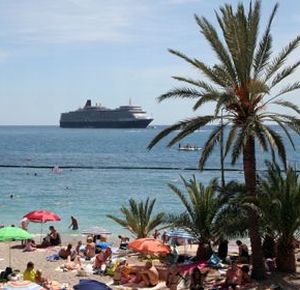 As an aviation writer jaded by the endless programme delays in the aerospace industry, my decision last year to book a cruise on Cunard's newest ship was somewhat of a leap of faith.
For when I booked my "Mediterranean Gems" jaunt last September, the Queen Elizabeth was still being built. But by August this year when I boarded her in Southampton, she had a world cruise and a summer of service behind her and a hull that already bore the marks of her first 10 months in service. If this had been one of the new airliners that would not have been the case, my one-year ahead advanced booking postponed and Cunard would still be waiting to hear about the next delivery rescheduling!
The Queen Elizabeth entered service right on schedule last October between Southampton and the Canaries. With a gross tonnage of 90,900GRT, she is a slightly adapted sister to Cunard's Queen Victoria which made her maiden voyage in 2007 and ultimately replaced the QE2 a year later. From most outside angles the two ships look almost identical.
The latest Queen, which can accommodate 2,068 passengers, differs mainly from her sister in that she has an extended superstructure at the stern to incorporate additional cabins. This also results in a larger aft top deck providing more room for sun loungers around the Lido pool area. Some other minor changes to internal arrangements mainly affect the style and naming of some of the bars and lounges, but otherwise the two ships are effectively identical. Any veteran of a Queen Victoria cruise should have no difficulty in quickly getting their bearings on the Elizabeth.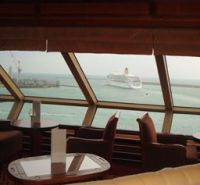 The internal public areas are mostly decked out in a fashionable retro style, with "art deco" much in evidence in a nod to the original RMS Queen Elizabeth liner of the 1930s. While this makes for warm and elegant feel, it is worth remembering that when QE2 arrived during the "swinging sixties" she featured progressive and somewhat controversial interior designs, such as "space age" shell chairs, fibreglass columns and brightly coloured furnishings in her Queen's Room. Perhaps this is why the new Elizabeth – while unquestionably elegant – seems to lack some of the old ship's soul and originality.
As a passenger whose only previous cruise was on QE2, I found much familiarity with the theme of many of the new ship's facilities. For example there is the Lido self-service restaurant, the Yacht Club bar/disco and Queen's Room lounge. And another QE2 tradition is upheld every afternoon, when waiting staff smartly attired in white waistcoats and matching gloves provide afternoon tea.
As well as the Lido – which also offers themed Asian, South American and Mexican themed dining during the cruise - there are five main restaurants on board. These comprise the main Britannia Restaurant which is on two levels (Decks 2 and 3) aft and has two sittings), the Britannia Club (single-sitting dining for passengers in AA category staterooms) and the two Grills restaurants (Princess and Queen's). The Grills are superbly located on Queen Elizabeth/Victoria on Deck 11 offering panoramic sea views.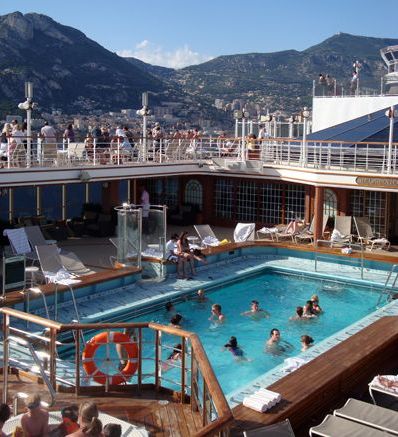 Like the other new Cunarders there is the option of alternative dining at The Verandah eatery which offers French cuisine – for a tariff. "Fast food" is also available around the pool area as well as "pub food" in the Golden Lion bar.
With an area of up to 513sq ft, the size of our Princess Grill balcony suite was perfectly adequate; however I am told that the same class of stateroom on Queen Mary 2 is superior. There was still plenty of space for my 10 year-old daughter to spread out, and her sofa bed was always magically converted each morning and evening by our efficient steward Alan while we were away eating!
The compact bathroom is well equipped with both bath and shower, although the latter would be a struggle to fit under if you're much over 5ft 8in tall!
After dinner each night there was always superb entertainment laid on in the 832-seat seat Frank Matcham inspired Royal Court Theatre, with two shows at 20:30 and 22:30. These ranged from West-End style dance and musical productions and classical instrument musicians to a Dixieland tribute and comedian.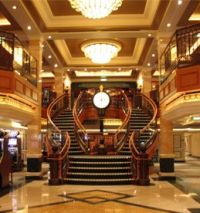 Given that much of our time was spent in the sunny Mediterranean, sun bathing was the most popular pastime and the areas around the two outside pools became quite congested during our cruise. However Grills passengers have the option of using two private "terraces" equipped with superior sun loungers on decks 11 and 12, which are never crowded and give the impression that the ship is much smaller than it really is.
The pools are located aft and midships, and each is equipped with a pair of somewhat cosy whirlpools – one of which spent much of my cruise out of order. However it is shame there is no indoor swimming option for use in inclement weather, apart from the hydro pool in the excellently equipped Royal Spa and Fitness Centre. But like all aspects of this facility, there is a daily charge for the pool's use.
There are three sets of lifts through the ship, each one comprising four lift-shafts. However with the central group proving the most popular due to its proximity to many of the cabins and popular public areas and restaurants, it tends to get somewhat congested at peak times.
Like the other Cunarders, Queen Elizabeth offers a selection of high-end goods for sale in its Royal Arcade shopping mall, located just above the casino towards the front of the ship. However there was some disappointment about the availability of affordable souvenirs, particularly for the younger passengers.
Overall, our cruise was extremely enjoyable with an excellent standard of food and service that one expects on Cunard. The entertainment was superb, both in the Royal Court Theatre and Queen's Room, as well as the music laid on ad hoc in the various bars, lounges and public areas by pianists, a harpist, the string quartet and international band Nova.
All in all, a great time was had by all.
Max Kingsley Jones
PROGRAMME: For the rest of this year Queen Elizabeth's schedule is varied and caters for all tastes. Always operating out of Southampton she crosses the Atlantic twice, travels as far east as Israel and visits the Canaries.
Queen Elizabeth's sailings for 2012 start with a short series of voyages out of Southampton before embarking on a Westbound World Cruise for 107 days returning in April. What is interesting for next year is the number of short voyages that are offered, and out of Hamburg too. Fine tasters if you have not cruised before. The spring is spent mainly with return trips out of Southampton to Scandinavia, followed by a round UK journey at the end of July, and then moving on to Mediterranean cruises as the summer draws to a close. www.cunard.co.uk
Our Ten-Story News Review
Amadeus Brilliant, one the latest European river cruise ships, has on offer six-night Christmas market trips in November and December starting at £465 per person. Based at Cologne the trip takes in Koblenz, Strasbourg, Basel and Speyer. It is an all-inclusive package, the boat normally moving between the riverside towns and villages overnight giving plenty of daytime to visit some of the finest markets on the Continent. "Brilliant" is what it says on the package and the ship is just that with luxury cabins and of course central heating. www.amawaterways.com
Celebrity Cruise fans will be able to holiday on one of the line's ships in Australian waters this November. Celebrity Century will home port in Sydney for the Oz summer before making way for her big sister Celebrity Solstice towards the end of 2012 for the season that follows. Celebrity has suggested that only one third of bookings are from the Commonwealth, the cruises 'down under' popular with Americans and the British. www.celebritycruises.co.uk
Corsican Coastal Cruises is promoting its fleet of five identical catamarans for next summer for up to 12 guests. The fully crewed vessels operate a series of one week trips from Ajaccio at prices starting from less than £1,000. Private charters are also possible where you can pick your own itinerary. The six cabins are well appointed, with en suite shower facilities, to ensure your comfort and total relaxation whilst on board in an exclusive and intimate setting. www.ewaterways.com
Crystal Cruises, who calls its ships "six-star" is introducing 18 brand new shore-side excursions on its two unusual seven-night Crystal Symphony sailings round-trip from Los Angeles up the California and northern Baja coasts this autumn. Crystal Adventures will showcase the unique outdoor opportunities, culinary arts and varied scenery local to the remarkable Golden State region during cruises departing 20 November and 4 December. California's fine wines will be on full display via tasting trips to Santa Ynez and Napa Valley, the latter including a gourmet lunch at the famed Culinary Institute of America. www.crystalcruises.co.uk
Cunard has introduced a new four-night winter voyage on board Queen Mary 2, departing Southampton on 8 December. Prices start at £599 per person on what for many will be an introduction to the world's only true ocean liner. Passengers get a full day relaxing at sea and the benefits of an indoor swimming pool. It will be the ship's first trip after a major refit. www.cunard.com
Fred. Olsen Cruise Lines has commenced its 2011 cruise programme from Portsmouth, Boudicca now making it its home port. Travellers will not only benefit from the recently unveiled new passenger terminal but also the opening of the Hindhead Tunnel on the A3, closing the dangerous Devil's Punchbowl and making London just one hour from the port. Portsmouth ferry users will equally benefit. The ship will embark on a series of cruises to the Mediterranean, the Canaries, and the English Channel ports, which takes it up to Christmas. www.fredolsen.co.uk
Glasgow has it own Cruise Show in October (22-23 October), modelled on the highly successful springtime occasion at London's Olympia. Once again there are presentations by the major operators (and more intimate too) and a panel of experts will offer question and answer sessions that are always most interesting. The waterside venue is the Scottish Exhibition and Conference Centre which also has its own railway station with frequent services from Glasgow Central. www.cruisingshow.co.uk
SeaDream Yacht Club has announced a very special way to see in the New Year. Its two boutique twin mega-yachts SeaDream I and II, will be spending 31 December in St Barts, this French island offering a unique vibe of laid-back Caribbean meets chic French Riviera. New Year's Eve is the culmination of all things extravagant in the harbour of Gustavia. Expect 100 luxury yachts at anchor, some hosting star-studded private concerts, live music and celebrations across the island with a fireworks display at midnight. www.seadream.com
Silversea is the latest cruise operator to bring out its 2012 brochure, rather like the ships themselves, a beautifully presented production detailing trips to seven continents, over 100 countries and 450 destinations. Readers are reminded that Silversea is now a six-ship operation with Cloud and Wind 296 guests, Shadow and Whisper 382, Spirit at 540 and finally the specialist Explorer with a maximum 132-guest capacity. www.silversea.com
Voyages of Discovery has increased its breadth of television channels available on board Discovery and introduced a package of live TV programming through a new long-term agreement with MTN Satellite Communications. The cruise operator, part of the All Leisure Holiday Group, now offers passengers worldwide coverage of seven additional US and British-based channels including BBC World News, Sky News and Fox News from MTN Worldwide Television. The ship will also be able to deliver special broadcasts, such as major international sporting events. www.voyagesofdiscovery.co.uk
OUR READERS' FINEST WORDS (All times and dates are GMT)
All comments are filtered to exclude any excesses but the Editor does not have to agree with what is being said. 100 words maximum
---