Our 10-story news review follows:
Last weekend the annual Daily Telegraph Cruise Show took place at London's Olympia over a much brighter Saturday and Sunday than the previous year. Attendance was a record 18,000 with 80 exhibitors with the show physically moving within Olympia to the light and airy venue of The Grand Hall.
Once again the three presentation theatres were well supported, Ask the Expert, Meet the Cruise Lines, and Adventure Cruising. The show was a time for meeting old friends and making new ones, and hearing about the ideas and innovations for cruising in 2011, which clearly looks like another all time high for the industry.
Speakers included travel personalities, broadcasters and writers Martin Bell, Sue Lawley, Christine Hamilton, Paul Rose, Gavin Bell, and actor Michael Simkin. The Cruise Show will also be held at the NEC Birmingham and The SECC in Glasgow in October 2011. www.cruisingshow.co.uk
This month's ship review: Golden Princess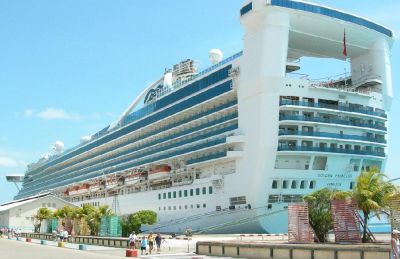 When it comes to designing really big ships Princess more or less got it right in 1998 with Grand Princess. Then came Golden Princess three years later, virtually the same size, that is too big for the Panama Canal, but with some useful improvements. They both set new standards which competitors have tried to copy. Princess has also added to the series but somehow, arguably, Golden is the best of the lot. What makes it the best is difficult to quantify.
AERBT recently took Golden Princess from Los Angeles to Hawaii and back, a 15-day round trip including four calls within the islands, and a short visit to Ensenada (Mexico), south of San Diego, in order to satisfy US maritime law.
Joining the ship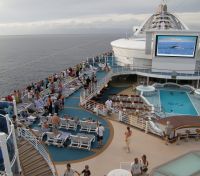 The five-day Pacific crossing proved to be extremely smooth, the sea days well spent listening to a variety of lectures on the Islands, learning not only about one of the most exotic parts of the USA, and of Pearl Harbour and the Pacific war, but of ecology too. On the way back a (planned) lecture on tsunamis was very much standing room only. The safest place to be during an earthquake induced underwater tidal wave (which is what a tsunami is) is at sea we learnt.
Don't be worried about not having anything to do with all those days at sea. "Princess Patter", the ship's daily, is full of suggestions starting with the in-cabin "wake up show" from a ridiculously early 06:00 until late in the evening entertainment at various bars and venues. Dance enthusiasts, bingo addicts and quiz experts are all catered for, and you can learn how to lose weight. For the most part it is all free. First run films can be seen either indoors or outside at "Movies Under the Stars" together with the obligatory popcorn. The 900-seat pillarless Princess Theatre provides for a series of entertainment ranging from an illusionist to lavishly staged production shows complete with a fine live band. Somehow the comedians manage to be international.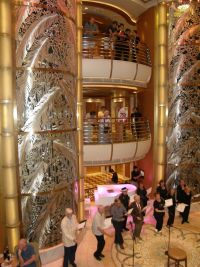 Your Editor (a member of the IOC-recognised International Society of Olympic Historians) gave a well-attended talk on the history of the Olympics, culminating in what he admits was a bit of a sales pitch for London, rather than just the games. Some cruise ships will be mooring close by the O2 Area in 2012.
Golden Princess is now into its fourth Hawaii season (which runs from the beginning of October until the end of April), the ship very often full to its 2,600+ capacity. You just don't notice the numbers and she certainly has enough sun bathing space, a little noisy around the three pools (one adult only) but very quiet high up near the stern. Here a sports court, shuttle cock and a very large chess set is offered!
The programme has proved especially popular with the British, occasionally representing nearly 50% of passengers. This may be because Hawaii has become a practical destination with five competitive airlines serving Los Angles non-stop from Heathrow. Fly over, overnight, and pick up the ship the next day. Plenty of sea days to recover and if you haven't lost your money in the ship's casino you can always go on to nearby Las Vegas on the way back.
Average age on this trip was 64 with very few children. This changes dramatically over the Christmas period and during the school holidays when the services of the Youth and Teen Centres are fully brought into action.
Dining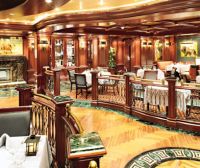 37% were Princess first time cruisers. Princess offers either Traditional Dining, or Anytime Dining with the same extensive menu in both. Only about 40% of the passengers preferred the fixed dining (Canaletto Dining Room) and of these twice as many went for 18:00, in the American tradition. The Brits and others tended to take the second sitting, more relaxed with no pressure to vacate the table. The waiters change their serving attire every night to reflect with the dining menu. On the Hawaiian evening they wore stylish local shirts but it was back to bow ties for the formal night. More casual dining takes place in the Horizon Court high up on deck 14 with much the same menu. It also serves as a popular place for breakfast rendezvous.
New and proving very popular is the Crown Grill situated deep in the heart of the ship forwards of the Piazza. For a small charge it serves a selection of meat cuts and sea food, all individually prepared and cooked as requested. You can watch the preparation too. With deep pile carpeting and well spread out tables complimented by fine wood panelling it is a very pleasant place to spend an evening. The Crown Grill doubles up as an English pub-style dining rendezvous lunchtimes, proving very popular. No extra charge for this.
Sabatini's is the other major alternative restaurant, again available for a small service charge. Sabatini's is pure Italian, at least five courses, and rather like the Crown Grill here the chefs are very visible to the clientele. Mini-suite holidaymakers have the use of this splendid spot for breakfast. They also can partake in canapés in the Skywalkers nightclub and bar in the early evening. On deck 18, in a sort of wing, high at the back of the ship Skywalkers is accessible via a moving staircase.
Cabins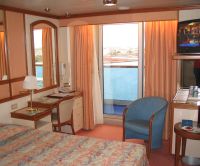 With the exception of the suites the cabins on the Grand series have been more or less standardised about the same size and nearly half with balconies. Flat screen TVs are standard, fresh fruit is provided daily, and the wardrobe arrangement is one of the best thought out at sea. There is a fridge provided, hair drier and bathrobe, but no daily newspaper.
Princess provides for eight eating outlets plus Vines, a distinctive wine bar which also serves complimentary seafood sushi and tapas. Close by is the International café with some mouth-watering pastries. Specialised coffees are charged for.
Golden Princess is a very quiet and peaceful vessel for its size which runs very smoothly. No series of announcements but when they do occasionally come it is in English, to the point, and over very quickly. Even when getting off on the tenders it is extremely quick and easy and at the end of the voyage the notoriously awkward US immigration did not present any problems.
What to do?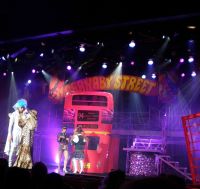 Princess regulars are offered plenty of credit at the very busy 20-station internet café conveniently situation on the ground floor of what Princess call the Piazza (Atrium). Communications at sea are always a little bit "iffy" but for the most part they worked well, AERBT edited for two weeks running from the Pacific. The ship is wi-fi with very few blind spots. There can be more than 400 users on at any one time (including crew).
It is lots of little things that make Golden Princess outstanding. If you have a deep pocket and want to spend money in the spa, on tours and in the casino you can do so. But if your budget only goes as far as the US$10.50 per person per day suggested service charge, so be it. Coffee and tea is provided 24hrs, the ice cream parlour is open from 11:00 to 23:00 as is both the Trident Grill (for hot dogs and burgers etc), and if you need a late night meal there is always the brassiere. You can have a Continental breakfast in your cabin and there is a fairly extensive daytime courtesy menu. Water is always available on boarding as is cold towels, very welcome when returning from a tour on a hot day.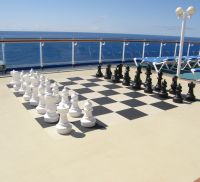 Two walking/running circuits of the ship are available but both involve climbing up stairs. The main promenade deck has two stage steps at the bow which makes it fairly easy to climb, at least for the first few laps. There is just no way around this inconvenience. You can walk or run right at the top of the ship up on deck 14. This is more of an unofficial lap, is exposed, works well at the bow but is less convenient at the stern, where again you have to go up and down steps. You can thread your way indoors but this is best described as messy.
We booked a stateroom at the stern of the ship. The balcony was particularly large and if you prefer to have your breakfast quietly by yourself, probably ideal. The disadvantage is that the walk to any part of the ship, except for the Canaletto Dining Room, is long. If your holiday involves plenty of port visits and cruising on busy seaways it is great too, but for a voyage across the Pacific there is nothing to view except water, and yet more water, the view is questionable. I am often asked where in a ship to book. From this experience the old adage of amidships and the deck below the swimming pools is best. And as near to the elevator as possible although your Editor tries as much as possible to walk up and down in an effort to defeat overeating.
Sister ship Grand Princess will be based at Southampton for much of summer 2011. It is just about to go into dry-dock for 24 days in the Bahamas. AERBT will be reporting on what is a major upgrade next month.
Carnival Cruise Lines is well into being a fan of Elvis Presley and supporting music. Cruise organiser Sixthman this week announced plans for yet another Elvis Cruise – its fifth – to kick off on 12 January 2012. The four-night, all-Elvis-all-the-time extravaganza will take place on the 2,052-passenger Carnival Fascination as it sails out of Jacksonville, Fla, to the Bahamas.
Tribute artists Brandon Bennett and Bill Cherry will perform, as well as Elvis' Imperials, Joe Guercio, and The Memphis Boys. Passengers will also hear stories about the King from photojournalist Al Wertheimer and Hollywood actress Cynthia Pepper, among others. The cruise also will include Elvis-themed parties and activities, organizers say.
Thinking of strapping on some blue suede shoes, checking out of that heartbreak hotel and signing up for the trip. Jacksonville is towards the northern extremity of Florida with Orlando and its international airport 140 miles to the south. www.carnival.com
Celebrity Cruises is to introduce Celebrity Silhouette in 2011 and Celebrity Reflection in 2012, both developments of successful Solstice class ships, 122,000 tons and 2,800 passengers.
Celebrity will bring in the innovative use of iPad menus in Qsine, a culinary concept with video player options, touch-screen wine lists, interactive dinner menus and cocktail lists. New dining areas include The Lawn Club Grill and The Porch; The Alcoves and The Hideaway for relaxation.
The Lawn Club Grill will bring the first outdoor, interactive grill venue to the cruise industry, with speciality dining options overlooking the lawn and sea, in addition to interactive demonstrations and classes. The venue will also include "The Alcoves"; eight exclusive, cabana-style private retreats, each designed for two to four guests. Meanwhile The Porch, an intimate 48-seat location, will offer quick, simple, casual and complimentary breakfasts and lunches. www.celebritycruises.com
Crystal Cruises is changing its marketing policy in what Gregg Michel, President, calls "an evolution of Crystal's luxury services". Effective spring 2012, holidays on the award-winning Crystal Symphony and Crystal Serenity will include free fine wines and premium spirits in all restaurants, open bar service in all lounges and pre-paid gratuities for housekeeping, bar and dining staff. The complimentary gratuity amenity includes butler service in the penthouse suites and in all of Crystal's fine specialty restaurants and sushi bar.
The new benefits begin with each ship's first Trans-Atlantic cruise next year: Crystal Symphony's "Beyond the Sea" sailing from Miami to Lisbon on 19 March 2012, and Crystal Serenity's "New World to Norway" voyage from New York to Dover on 8 May 2012.
In the meantime Crystal Serenity is going in for a US$25m upgrade 8 to 22 May in Hamburg. More than 400 expert technicians flown from around the world will be working round the clock for the 14 days including a massive redesign of her 531 Deluxe Staterooms, Penthouses and Penthouses Suites; retail centres; expansive outdoor pool deck and other design projects. Full details next month. www.crystalcruises.co.uk
eWaterways have come up with a Mediterranean very basic cruising package that is entirely different from anything else available. Based at Dubrovnik, Opatija or Split on the Dalmatian cost of Sonia, what is on offer is for the most part somewhat basic and is clearly aimed at young people who want a water-borne holiday without the trimmings.
The fleet, motorised sailing schooners, comprises three different categories of vessels; the very basic Category B ships, the newly renovated Category A, and finally Category A+ which offer a higher degree of comfort and service. Category B boats are suited to young people, groups of friends or special interest groups looking for an affordable cruise. Bathrooms and toilets are located on deck and are shared by all passengers and accommodation is in cabins furnished with bunk beds. All the ships have large sun decks for relaxation and socialising. Or you can sleep out at night.
The spacious A+ ships have just 19 cabins, all of which are equipped with private facilities and air conditioning. With both indoor and outdoor dining spaces, you can enjoy the delights of Croatian cuisine as the world slips by.
The meal plan is different. It is half board with a continental breakfast in the mornings and Croatian inspired cuisine for lunch. Your evenings are free to explore the local area where the ship moors each night, where you may choose to dine at a local restaurant and experience the local delicacies. www.ewaterways.com
Fred Olsen Cruise Lines 927 passenger cruise ship, Braemar, will operate cruises exclusively from UK ports, following the conclusion of her winter 2011/12 Caribbean fly-cruise season.
Fred Olsen's decision to withdraw from the Caribbean fly-cruise programme has been forced by the escalating costs of air travel, together with the high cost of Air Passenger Duty (APD), which is a major factor. The Government's decision to review APD with respect to the region has come too late to save the programme.
Lol Nichols, General Sales Manager of Fred Olsen Cruise Lines, said:
"This was not an easy decision to make, as our Caribbean fly-cruises have always been popular. We would therefore encourage those of our guests who love fly-cruising with us to the Caribbean to make sure that they book their places on Braemar's final season in winter 2011/12 as soon as possible, as we are expecting these cruises to prove especially attractive.
"We feel that the wide choice of ex-UK ports that we feature gives greater convenience to guests from all over the British Isles, and the addition of Braemar to the year-round ex-UK programme will allow for a greater variety of cruises, as well as allowing those loyal Braemar fans to cruise on the ship all-year-round from the UK."
The end of the fly-cruise programme will not mean an end to Caribbean cruising with Fred Olsen. The cruise line has always operated ex-UK cruises to the Caribbean, as well as other longer cruises, to the 'New World', Africa, and 'Around the World', so importantly, the choice of destination areas visited will not be reduced. www.fredolsencruises.com
MSC Cruises new Arabian Gulf itinerary, set to launch this autumn, will now feature Ras al-Khaimah in place of Bahrain. Given the volatility of the current situation in the island Kingdom, this change will continue throughout the 2011/2012 season.
The 60,000-ton 1,560 passenger MSC Lirica will be based in Abu Dhabi and Dubai for the 2011-2012 winter season. Her itinerary includes 19 eight-day seven-night cruises from Abu Dhabi, with departures every Sunday from 30 October through to 4 March 2012, and from Dubai, with departures every Friday from 28 October to 9 March 2012.
Aside from Ras al-Khaimah, MSC Lirica will also call at the port of Muscat (Sultanate of Oman) and Al Fujairah (Abu Dhabi) and Dubai (United Arab Emirates).
MSC have cancelled all calls at Alexandria and Tunis (La Goulette) until the end of the 2011/2012 winter season. www.msccruises.co.uk
Oceania Cruises will operate four ships in Europe including Marina, which launched in January 2011, and her sister ship, Riviera, due to debut in April 2012.
The 2012 European season includes more than 72 sailings from April through to December. Other firsts include a complimentary hotel stay before every voyage, an overnight port stay on every itinerary, more late-night departures and the addition of three seven-night voyages.
Featuring 41 distinct itineraries, Marina, Nautica, Regatta and Riviera will cover the entire continent, calling at 145 different ports of call, 12 of which are new for 2012. Nautica and Regatta (plus Insignia which does not visit Europe) are 30,000-ton 680-passenger former Renaissance R class ships, very much upgraded and small enough to get into restricted ports forming the backbone of Oceania during its formative years since 2004. Marina and Riviera are both new-builds to Oceania's own specification, 65,000 tons and 1,250 passengers. www.oceaniacruises.co.uk
Princess has announced the name and released details of the new Royal Princess due for 2013. Out goes the only poor feature of the highly successful Grand series (see above), the universally acknowledged lack of balcony privacy for most of the more expensive mini-suites. AERBT would also like to see some consistency with the rest rooms, men to the starboard and women port (or visa versa). Currently they are all over the place Other lines are better organised in this area but we don't expect a press release with an announcement!.
The original Royal Princess was named by Princess Diana in 1984 and speculation is rife that her future daughter-in-law will be asked to perform the same duty in a Spring 2013 naming ceremony. Royal Princess at 141,000 tons has accommodation for 3,600 passengers with all outside cabins offering a balcony.
The new ship will be instantly recognisable as a Princess cruise liner with her classic lines, stubby bow and sweeping funnel arrangement. What will be unique is an over-water SeaWalkSM, a top-deck glass-bottomed enclosed walkway on the ship's starboard side extending more than 28 feet beyond the edge of the vessel. From here passengers can enjoy dramatic views 128 feet above the sea. On the ship's port side, passengers will find a similarly-unique cantilevered SeaView bar, featuring cocktails with unbeatable vistas. AERBT will feature the new ship in a future edition. A video preview of Royal Princess is available at www.princess.com/royalprincess
Royal Caribbean International has unveiled its 2012 Europe cruise season, upping the ante from its 2011 line-up of 11 ships to 12 for 2012, which will again include two Freedom-class ships, the largest and most groundbreaking in the line's fleet to sail European waters. Amsterdam will debut as one of 12 boarding points with ships calling at 101 ports in 34 countries on itineraries ranging from three to 16 nights.
In addition to the 12 homeports from which guests can choose, Royal Caribbean is also offering eight "interports" – where they can join itineraries en route – creating 20 options for embarkation and disembarkation, including Toulon, Marseille and LeHavre (France); Genoa, Messina (Sicily); and Bari (Italy); Valencia (Spain); and Kusadasi – Ephesus (Turkey). Maiden calls will be made at Arhus (Denmark); Klaksvik (Faroe Islands); and Kenes – Lofoten (Norway).
For the third consecutive year, Independence of the Seas will be positioned year-round in Southampton, primarily operating on an alternating series of 14-night sailings, 'Mediterranean Treasures' and 'Italian Mediterranean' programmes. Three 10- and 11-night Canary Islands itineraries will be available in October and November. The ship will also offer one three-night sailing, overnighting in Paris (Le Havre) in May; and a four-night cruise spending the night in Cork (Ireland). www.royalcaribbean.com
Saga is the latest operator to announce its 2012 programme featuring Saga Ruby and Saga Pearl II. It is the one cruise operator who only sells direct and whilst the prime booker has to be over 50, if their companion is 40+ they will not be turned away.
Saga Ruby will circumnavigate the globe for her fifth world cruise under the Saga flag leaving Southampton 6 January 2012 on a 114-night journey via the Panama Canal, the Island of the Pacific, New Zealand, Australia, Malaysia, India, the Middle East and Mediterranean. For those who cannot spare the time for the journey there is a choice of six shorter voyages that vary in length from 33 to 71 nights.
Saga Pearl II will begin her 2012 season by sailing to the shores of the Caribbean. The ideal escape from the British winter, this 39-night, all-inclusive voyage promises one sun-kissed destination after another. www.saga.co.uk
OUR READERS' FINEST WORDS (All times and dates are GMT)
All comments are filtered to exclude any excesses but the Editor does not have to agree with what is being said. 100 words maximum
---