The annual Daily Telegraph Cruise Show returns to Olympia's Grand Hall 26-27 March 2011. Whether you are new to cruising and need help to plan your first ever voyage, or a seasoned cruiser looking for inspiration for your next holiday at sea, it has quickly established itself as a MUST. On the Sunday there are no parking restrictions. Olympia has its own Underground station and is also part of London Overground with frequent services to both Clapham and Willesden Junctions with connections at either end.

Polar cruise specialist Explore! and Great Rail Journeys, who combine rail travel with leisurely river cruises are among the newcomers this year, joining regular exhibitors including NCL, Fred Olsen Cruise Lines, Orient Express, P&O Cruises, Royal Caribbean International and Silversea.

The Cruise Show is packed with features, expert advice, exclusive show-only offers and competition from exhibitors making it the ideal day-out to gather inspiration for your next cruise. Tickets are £6 in advance or £10 on the day, for more information visit www.cruisingshow.co.uk
This month's ship review: Independence of the Seas
John Chatterley reports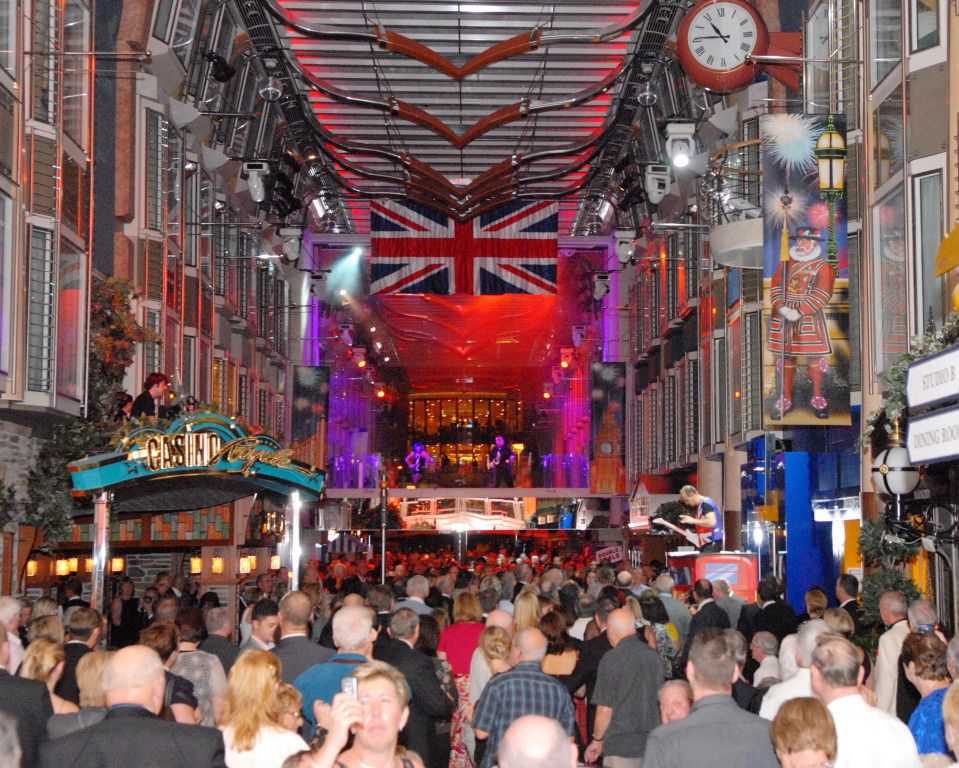 When reading cruise reviews I have found many featuring a great number of negative elements, which can be enlightening, so long as they're taken with a pinch of salt and the understanding that they were probably written by people who are inherently extremely hard to please.
My wife and I escaped the UK weather last December after securing an exceptional price reduction on Royal Caribbean (RCCL) – Independence of the Seas – leaving Southampton on 10 December for the warmth of the Canaries.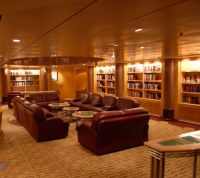 We like to think of ourselves as experienced cruisers but this was our first cruise with RCCL and was booked before I had looked at any reviews. After reading the first couple of reviews, I realised that I may have been too hasty in making the booking before doing the usual checks. One such review stated that there were 800 children on board, some creating havoc, with not a parent in sight, but that shouldn't detract from the many that, I am sure, had a fabulous time.
With an obvious emphasis on families it may be tempting to believe that child-free cruisers will be overrun by children. However, as you would expect on a ship of this size there are the peaceful areas, and as this cruise was just prior to Christmas children were not in abundance and those on the cruise were in the main well behaved.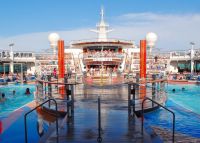 For youngsters there is a range of age related activities and facilities – Babies & Tots (6 to 36 months); Adventure Ocean (3 groups covering 3 to 11 years); Teens (two groups covering 12 to 17 years).
Independence of the Seas went into service in May 2008, has a 154,407 GRT, is 1,112ft long and 185ft wide with a cruising speed of 21.6 knots. It has 1,817 staterooms of which 1,084 are Ocean View (842 with balconies), 733 Interior staterooms (172 Promenade View).
Embarkation
The embarkation was trouble free and was the most efficient we have experienced. We arrived at the terminal at around 12 noon, dropped our cases at the luggage point, then went and parked the car, after which we had a short walk back to the departure lounge. A friendly welcome at check-in, then straight through security and we were on the ship.
Cabins

We were advised on arrival that cabins were not available until 14:00, so whilst waiting we had lunch in the Windjammer restaurant. Our roomy balcony cabin was on deck 9, it was spotlessly clean and extremely well designed and had a spacious open wardrobe, flat screen TV and a small but adequate en suite bathroom. Whilst cabins have kettles, only tea bags are supplied, but having read the reviews, we were aware of this and brought our own coffee – and the teabags were so weak you felt like giving them the kiss of life, they were totally flavourless.
Food and Beverages
There are three main restaurants, King Lear, Romeo & Juliet and Othello with the Windjammer Café for breakfast and lunch, but it also opens for dinner for the non-conformists. King Lear dining was to very high standard with excellent service. Other eateries are available, but with a small cover charge.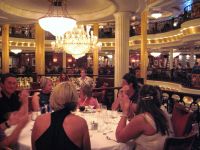 The centrepiece is the Royal Promenade on deck 5 with its Café Promenade (open 24 hours a day), Sorrento's Pizza, Dog and Badger Pub, Wine Bar, Ben and Jerry's Ice Cream Parlour and much more. The Promenade Café is and can be a relaxing area to have morning coffee or afternoon tea, whilst 'people watching'. Also along the Royal Promenade are several shops, including Clean Shave barbers shop, Clothes and Souvenir shops plus a General Store.
Johnny Rockets, a 50s style diner, boasts a menu of favourites including juicy hamburgers, classic sandwiches, and milk shakes. Cruisers also enjoy that all-American look with tabletop jukeboxes and authentic decor.
There are many bars and lounges around the ship, our favourite being Olive and Twist, terrific views and great music.
Entertainment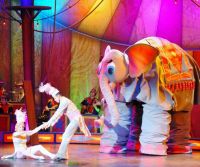 The entertainment was excellent – considering there are families across the age range, the balance was good. Special mention to Mr Joff Eaton (Cruise Director) who was excellent.
The Royal Promenade is also the place to be for the fun of the big parade – some of the biggest smiles and obvious enjoyment during the Disney type parade were on the faces of the oldies.
The entertainment in the theatre was always good but the ice shows are a must, get your tickets early as they are limited. There were quiz sessions, 'keep fit', aerobics, and dance instruction. Oh yes, I can't forget the Bingo, in fact the American assistant Cruise Director wouldn't allow you to forget it, with his constant "Hi De Hi" announcements – I can feel a complaint coming on!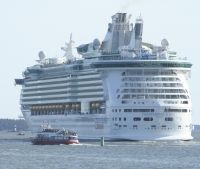 Cruising can be relaxing, but if you prefer to be more active on your cruise, Independence of the Seas has a great many options for sport and recreation. There is an ice skating rink, a rock climbing wall, a fitness centre, a full-size boxing ring and a day spa and fitness centre as well as the Flowrider (onboard surfing). Other entertainments include a nine-hole miniature golf course and a casino.
With Royal Caribbean we had an exceptional cruise and there is virtually nothing really negative to be reported from our 11 days on board.
Something for everyone is practically guaranteed on RCCL Independence of the Sea. Remember it's not the cruise it's the cruisers that can be the problem. www.rccl.com


OUR TEN-STORY NEWS REVIEW
AmaWaterways will introduce one brand new river cruise ship and one that has undergone a complete rebuild during 2011.
In September 2011 the brand-new MS AmaLotus will join MS La Marguerite, to sail the Vietnam, Cambodia and the Riches of the Mekong itinerary.
The ship features all-outside accommodations and 226sq ft staterooms. Some 90% of staterooms have a private outside balcony, while suites, at 624sq ft, provide the ultimate in onboard pampering.
AmaLotus features a restaurant serving Asian and Western specialties as well as an authentic Vietnamese 'Lau' (Hot Pot) dining facility. In addition, there is a lounge, gift shop, spa, fitness room and sauna. The styling is very ethnic. The Sun Deck has a dip pool.
The completely rebuilt MS AmaKatarina will be inaugurated on 10 May and is claimed to the most luxurious vessel on the Volga-Baltic Waterway travelling from St. Petersburg to Moscow. The AmaKatarina is being restructured starting from the hull and designed to meet AmaWaterways' demanding specifications. The ship is unequalled in terms of spaciousness, accommodations and enticing public areas. The only luxury vessel in Russia featuring outside balconies in over 70% of its staterooms, AmaKatarina's four-suite categories range in size from 280 to 432sq ft.
The public areas aboard AmaKatarina include two dining rooms offering complimentary wine and soft drinks at dinner; a beautiful Panorama Lounge; bar/nightclub; conference hall and solarium. The ship also features an elevator, gift shop, infirmary and internet access. www.amawaterways.co.uk
Azamara Club Cruises has unveiled 54 itineraries ranging from five to 16 nights, between March 2012 and February 2013, aboard Azamara Journey and Azamara Quest the 694-berth former R series boutique ships. Following a popular trend 51% of all port calls in 2012 feature late night and overnight stays in port, providing time for guests to enjoy more of the area and take advantage of the evening in destinations where the nightlife is vibrant.
In 2012 both ships will operate in the Mediterranean during the peak European season with a variety of cruises which includes the Monaco Grand Prix.
Azamara Quest will sail to South American destinations during the height of their summer, beginning with a 13-night Brazil voyage that departs Barbados on 5 December 2012 and concludes with an overnight at Rio De Janeiro. The Christmas in South America voyage, departing 18 December, offers guests daily port calls as well as an overnight in Punta Del Esta (Uruguay), with its miles of beautiful beaches, luxury hotels and restaurants, and glittery nightlife; and the cosmopolitan city of Buenos Aires (Argentina).
Guests on the 27 December ex-Rio nine-night voyage are in for a real treat when, on New Year's Eve, Azamara Quest positions itself off of Copacabana Beach to offer guests an unforgettable view of the midnight fireworks over the sea.
Azamara Journey follows ancient spice trade routes and colonial heritages around the Indian subcontinent to East Asia, starting with a 13-night Spice Coast & Ceylon voyage from Bombay (Mumbai) to Madras (Chennai – India), departing 29 November 2012. On 23 December, Azamara Journey embarks on an exciting 14-night Southeast Asia voyage to Hong Kong, offering two-night calls at Bangkok (Klong Toey – Thailand), and Ho-Chi Minh City (Vietnam), and an overnight at Hanoi in the UNESCO World Heritage Site of Halong Bay.
Britain's third annual National Ferry Fortnight will take place this year between 14 and 28 May, industry body the Passenger Shipping Association (PSA) has confirmed. Supported by all ferry line members of the PSA, the two-week showcase was created to heighten consumer and media awareness of Britain's extensive ferry services of over 50 routes.
Continuous investment in modern, versatile fleets has seen more people travelling by ferry, with some 35m passengers, 8m cars and over 140,000 coaches carried in 2010. PSA members including Brittany Ferries, Condor Ferries, DFDS Seaways, Hovertravel, Isle Of Man Steam Packet Company, Irish Ferries, LD Lines, P&O Ferries, Red Funnel, Sea France, Stena Line and Wightlink will take part in National Ferry Fortnight.
Central to the campaign will be a series of promotional offers on ferry routes to the Continent, Ireland and UK islands which will be announced nearer the date and promoted on the www.discoverferries.co.uk website.
Crystal Cruises is returning to Alaska this coming season for the first time since 2005.
Crystal Symphony will make nine 12-night round-trip sailings from San Francisco from May through August to Victoria, Vancouver, Sitka, Juneau, Skagway/Haines, Ketchikan and either Hubbard Glacier or Glacier Bay.
The "six-star" line is placing much emphasis on the off ship excursions noting that guests can explore the state's waterways by safari boat, private catamaran, white-water raft, canoe, kayak or WWII duck vehicle. They can view the breathtaking landscapes and wildlife by seaplane or helicopter, or stay planted on terra firma in a horse-drawn trolley, ATV, jeep, sled, motorcycle, old-fashioned railcar, private Hummer or Unimog 4x4. Extreme adventurers can rock climb, flyfish or zipline over rainforest canopies.
For gourmet experts local cuisine such as alderwood-smoked salmon, fresh halibut chowder and all-you-can-eat crab will be showcased Crystal-style via cooking classes, wilderness camp dining and a five-course Alaskan Chef's Table in Ketchikan. www.crystalcruises.com
Hebridean Princess, the 50-passenger luxury cruise ship favoured by HM The Queen has completed her annual winter refit. Key renovations have been made including the introduction of two new single grade cabins, each with their own private facilities. For 2011 new itineraries include the Grand Cruise to the North and St Kilda, An East Coast Adventure and the Grand Celtic Cruise providing guests with the opportunity to further explore the dramatic British coastline and discover new waters in Northern France and Ireland.
Later this summer, Hebridean Princess will journey to Portsmouth, joining fellow All Leisure Holidays vessels, mv Discovery and mv Minerva. All three ships will have summer sailings from Portsmouth during 2011. www.hebridean.co.uk
L'Austral is the latest ship to join La Compagnie du Ponant's existing fleet, the fifth in a series of mega-yachts. With 132 cabins it is the result of the expertise of the Italian Fincantieri shipyard and French sophistication. So many personal touches create the spirit of a "private yacht". Guests will encounter unique itineraries, calls inaccessible to large ships, chic and elegant yacht-like ambiance, refined and personalised service, as well as gastronomic cuisine.
Just as on a private yacht, passengers are free to do as they wish at their own pace. All the crew on board the fleet are totally fluent in both English and French.
L'Austral's inaugural season features her seven-night maiden voyage from Marseilles to Lisbon, departing 27 April; and will then operate itineraries to discover the treasures of the Mediterranean, Dalmatian Coast and North & West Africa. www.ponant.com
London is to gain a proper cruise terminal in time for the 2012 Olympics. Ships of up to 50,000 tons, about the size of Crystal Symphony, will be able to use the facility.
Greenwich Council has approved plans to provide docking facilities at Enderby Wharf on the south side of the Thames close by the National Maritime Museum which will include a 251-room hotel. Enderby House, a Grade II-listed building, will be extended to provide tourist, community and retail facilities as part of the plan. Waterbus services will be provided towards the O2 Arena, Canary Wharf and the various landing stations towards Westminster.
A Transport for London cable car link across the River Thames is also planned, linking the Greenwich Peninsula with the Royal Victoria Dock in Newham.
Ships that use the site will have to moor well out in the river due to the tides. Access problems will be overcome by the use of a docking facility in deep water linked by a bridge. Customs and immigration facilities will be provided.
Work is expected to start later this year and whilst the scheme will not be fully operational for several years July 2012 has been targeted for an initial opening. Approval is required by the Mayor of London but this is considered a formality. www.greenwich.gov.uk/Greenwich
Princess Cruises is to broadcast live the Royal wedding of Prince William and Kate Middleton on 29 April. Passengers will be able to follow full coverage of the BBC's broadcast across all Princess ships with its popular "Movies under the Stars" screens. Popcorn and blankets will be provided where the timings mean an evening event. (In some time zones the broadcast may be delayed for viewing at a convenient hour and all transmissions are subject to satellite availability.
Celebration parties will also be hosted onboard including special Royal-themed cocktails, Royal wedding trivia and a William and Kate look-alike contest.
"As this is the first Royal wedding in some years we know there will be huge interest not only from our British passengers, but our international passengers too. We at Princess also feel a connection with Prince William because his mother, Princess Diana, christened our original Royal Princess back in 1984," said Pieter van der Schee, Head of Brand Marketing, Princess Cruises UK. www.princess.com
Saga's two ships Ruby and Pearl II will be visiting a number of ports that are completely new to the specialist operator this year, including Halmstad in Sweden, Ørsta on Norway's west coast and the historic city of Split in Croatia. At the present time Ruby is on a World Cruise, sailing east, whilst Pearl II is meandering around the Caribbean before returning to Southampton towards the end of March and a full European season.
The Saga Group is synonymous with the over fifties but its cruising arm is also unique in the British market in that it is a direct sales organisation and the ships themselves are a one sitting dining operation with all service charges included. www.saga.co.uk
Star Clippers, the tall ship sailing specialist, are to bring Star Flyer to the UK next year for the first time since the vessel's launch in 1991. This remarkable 170-passenger vessel is a real head turner, and is operated manually, with the help of power winches, by a 72-man crew (including a few ladies).
During summer, Star Flyer will cruise out of Copenhagen, Hamburg, Oslo and Stockholm as well as to and from Southampton. Star Flyer will be seen in the Solent and harboured in the British port on 5 May and 1 September 2012, attracting plenty of attention with her four masts, thousands of square feet of sail and graceful lines, modelled on the great clipper ships of the 19th century.
She then departs for a five-night voyage to Hamburg, via Amsterdam – a unique chance to sail on a genuine tall ship from a British port, with two days at sea included, on which there will be plenty of chance to relax on the teak decks, learn about the wind, stars and navigation or even help the crew hoist the sails. The five-night sailing costs from £1,035 per person, including all meals on board and port taxes, excluding return flights from Hamburg.
The September visit includes an inbound cruise from Hamburg once again, and outbound to Lisbon. www.starclippers.co.uk
OUR READERS' FINEST WORDS (All times and dates are GMT)
All comments are filtered to exclude any excesses but the Editor does not have to agree with what is being said. 100 words maximum
---