ON TOUR: Carnival Pride was covered last week. This is a reassessment of the Carnival voyage.

BTN's Editor-in-Chief and his wife have just spent 11 nights on Carnival Pride out of Barcelona, a first time Carnival experience. He is something of cruise aficionado, having sailed to Australia (and back the same year) when he was just ten. As Ginsberg puts it: "The price on offer just too tempting to turn down". If you fancy cruising this summer and perhaps have never been to sea there are bargains to be had from all the UK cruise ports plus of course the major European holiday ship terminals.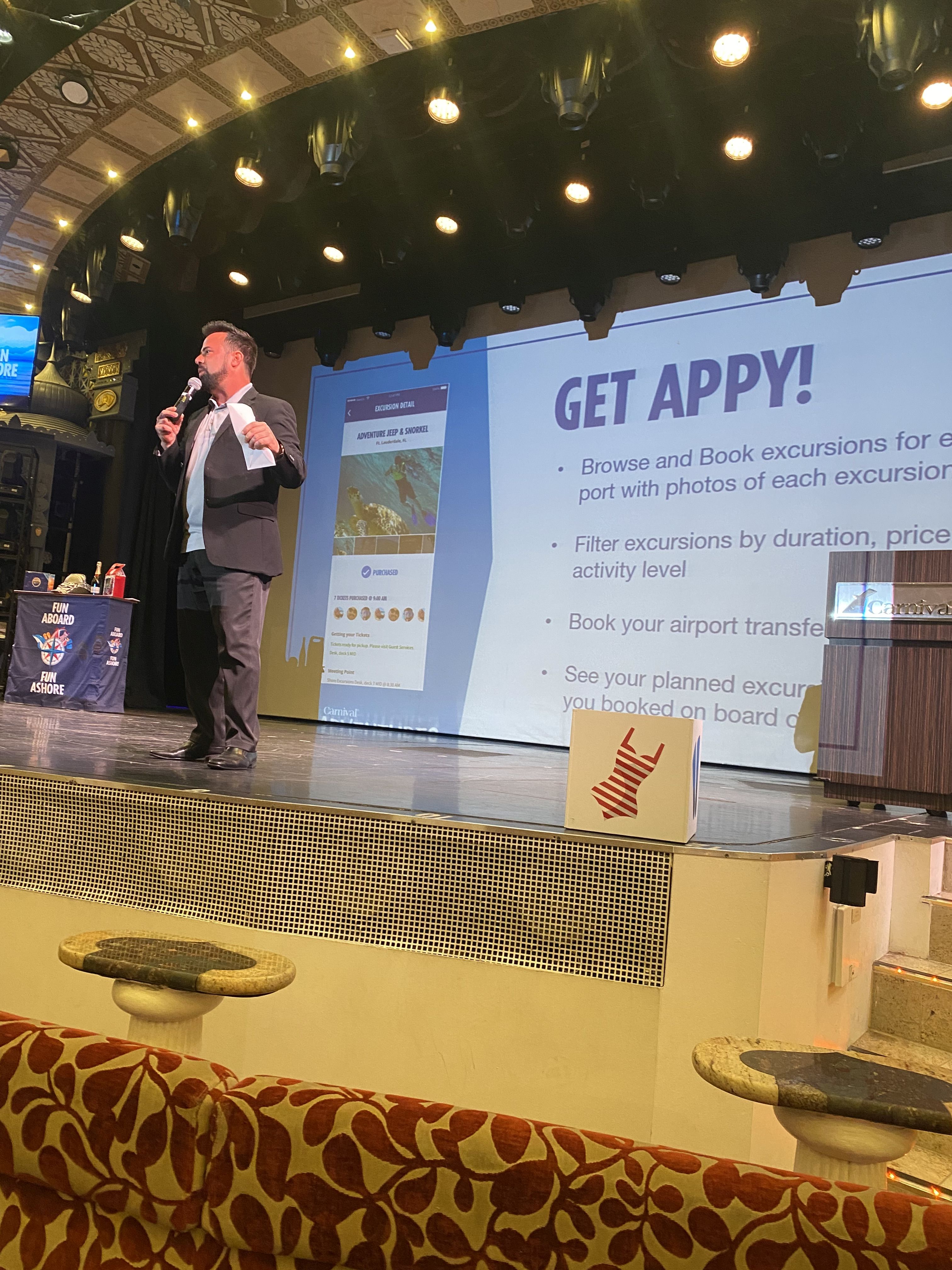 "I start by noting we purchased two 'social' wi-fi packages at $8.50 a day which gave fine access to G-Mail (including some large images) as well as Facebook, Twitter, Instagram and Whatsapp. The best I've experienced at sea, and good reception in and out of our cabin too.

The 'Carnival Hub' App was simply brilliant enabling one to look at the ship's programme at any time, and be able to check all activities and dining. A ship's map was also included.

The words that follow are best described as a reconsideration of the experience, different to any previous cruise, and also poles apart from Virgin Voyages, another product essentially aimed at the US market. (see BTN 4 April Valiant Lady.

Carnival has been around a very long time and clearly knows what it is doing. It currently has 24 ships and is a great success story.

If you are an American and been before you know exactly what you are getting with a 3-star operation, a sort of Butlins-on-Sea, with plenty of entertainment and all-inclusive dining of varied but modest quality. In the United States the cruise line's market is clearly the family with sometimes as many as 700 children on board. Disney is a competitor but is more highly rated by Douglas Ward with his Cruising and Cruise Ships and a web inspection of prices, more expensive too.

Carnival is the only company in the world to be included in both the S&P 500 index in the US and the London FTSE 250 index in the UK.

The UK Plc owns Cunard, based in the same building at Southampton as P&O and Princess both part of US Carnival. Confusing, not really with Cunard a 5-star product.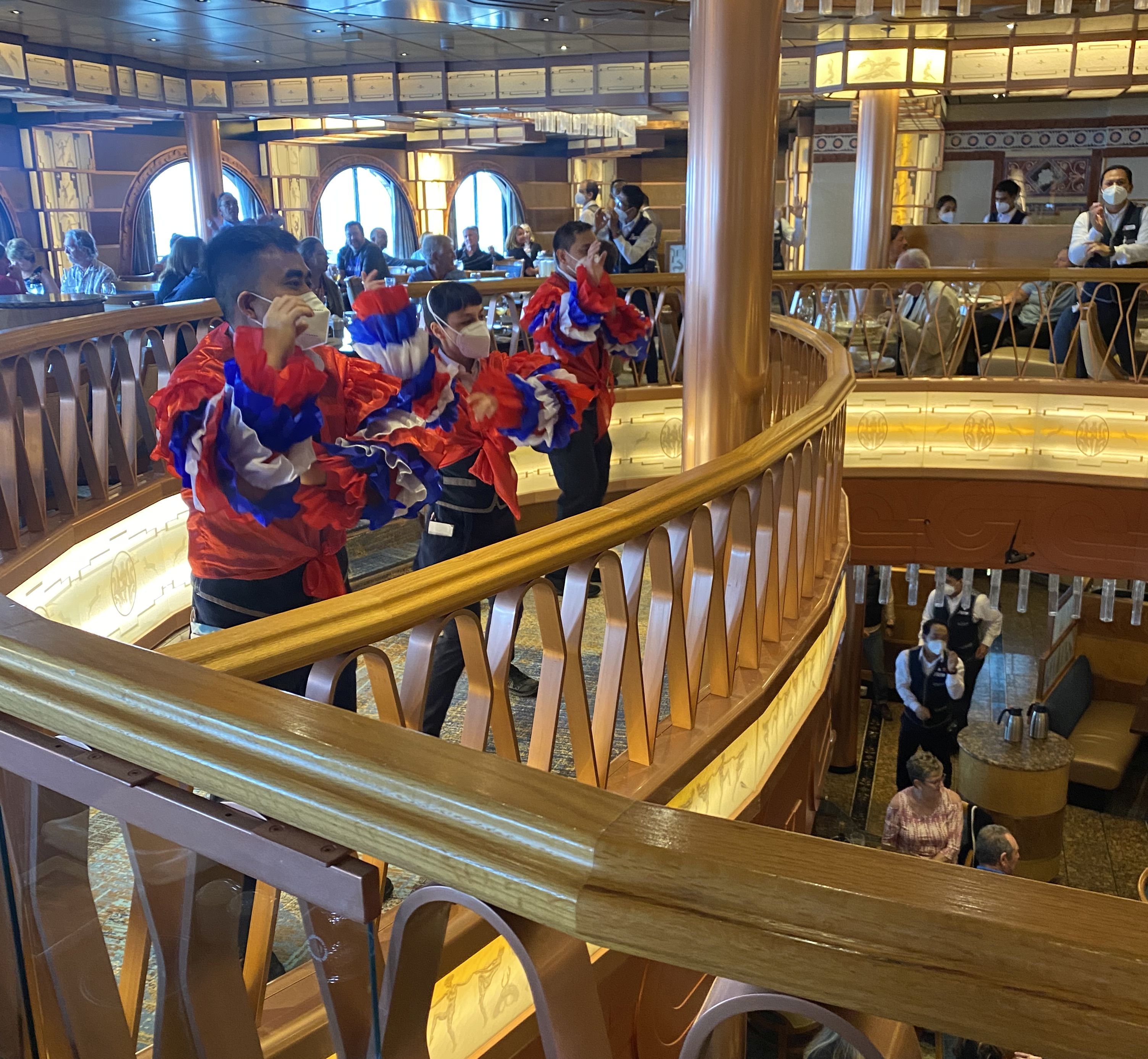 Some US cruise lines such as the Royal Caribbean Group and NCL try to Europeanise their operation once this side of the Atlantic with minor changes such as cabin tea/coffee availability. This is not the case with Carnival Pride, except that the Sports Bar did have the Premier League on this trip, the cabin TV offering BBC World, Sky News and Sky Sports but not the Premier League. Infuriating! And the gym exercise machines had a completely different TV programme suite to add confusion. The limited free films available in the cabin were mostly science fiction aimed at children and you had to catch the start. No choice as with other cruise lines, or even at the back end of long-haul aircraft. Carnival needs to invest.

I cannot comment on the US home market and just what the clients want or expect but if Carnival is going to make a success of its limited Dover and European operation (2023 is planned also) it needs to make a careful assessment of what typical guests want, assuming wants to attract UK customers. As noted in last week's ON TOUR, 80% of the clients were from North America. Is Carnival serious about the UK market and if so what is the breakdown with the ex-Dover series. Nobody would tell us and the Miami press office never replies to enquiries (but does pump out insipid press releases).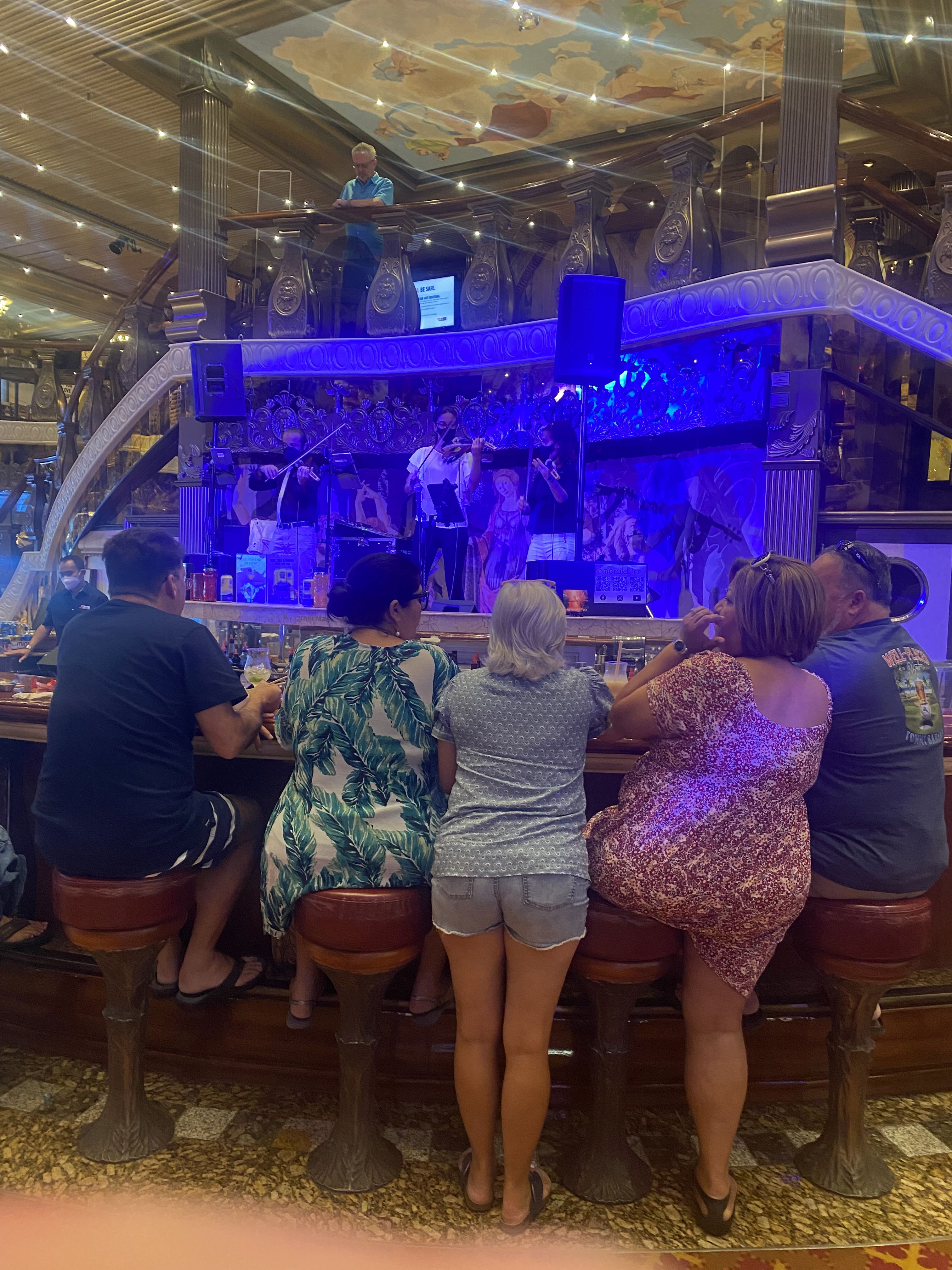 Much more effort needs to be made with the use of English by public contact staff. The public address announcements, not too many, need to be made by a person speaking slowly in good English, and not by, presumably, a Filipino lady, who tended to giggle (it's a 'fun ship' Carnival would say). Americans could not understand her either.

This side of the water we expect to be welcomed with a reception hosted by senior management, but nothing, nor a departure party encouraging guests to return at another time. It was also obvious that the tours people, for the most part, had never been to the ports visited, not in one case even knowing which country they were in. Recruiting UK/European guides for the season is the answer and offering some on-board lectures would have made the trip far more interesting.

There are several kinds of cruise guests, at least this side of the Atlantic. Those who want a sea holiday and a rest from work and running a home, and others who view the trip as a way of seeing ports and places not practical with a land programme. And for families a way of entertaining their kids during the school holidays.

Pride on the next cruise stopped on successive days at Naples, Rome, Livorno and Toulon before arriving at Barcelona. One might say "a taster" and not practical by land and perfect for Americans who have come across the Atlantic on the ship, or joined by air. They can tell their friends they have been to all those places.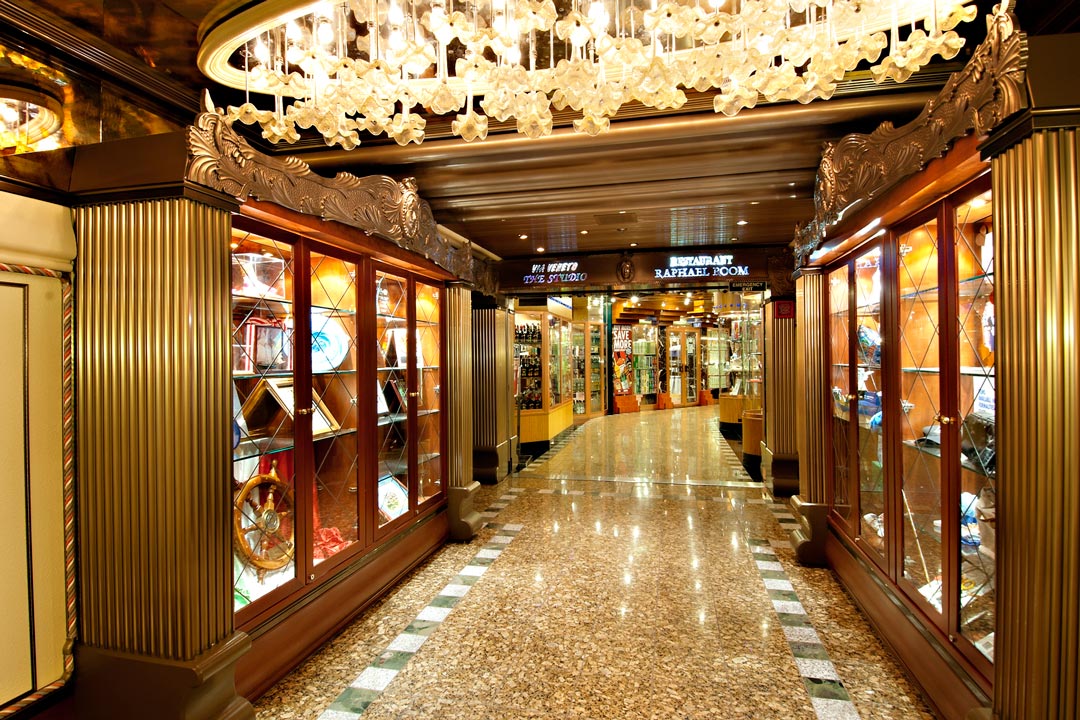 From a British point of view the food was a let-down. On a sea day teatime was offered. The scones came round with cream, but no jam or cutlery, one had to ask for that. Someone from Carnival needs to experience QM 2 to see it in real style. No biscuits (cookies) available to have with tea in the cafeteria after three in the afternoon. There was certainly enough food and of good quality but, particularly for the buffet, it seemed like it had been sitting around for hours. No sommelier and if there was a maître d' we never saw that person (you have to be so careful with words these days!)

When it came to entertainment there was plenty to suit all tastes (children were banned from the late-night comedy shows) but the stage shows in the Taj Mahal theatre were very limited in both variety and quality. A threesome electronic violin group added to their output with noisy electronic accompaniment. Singing and dancing shows were accompanied by electronic music again at the top of the noise scale. Only lectures connected to selling something were given. Some of the individual entertainers were very good.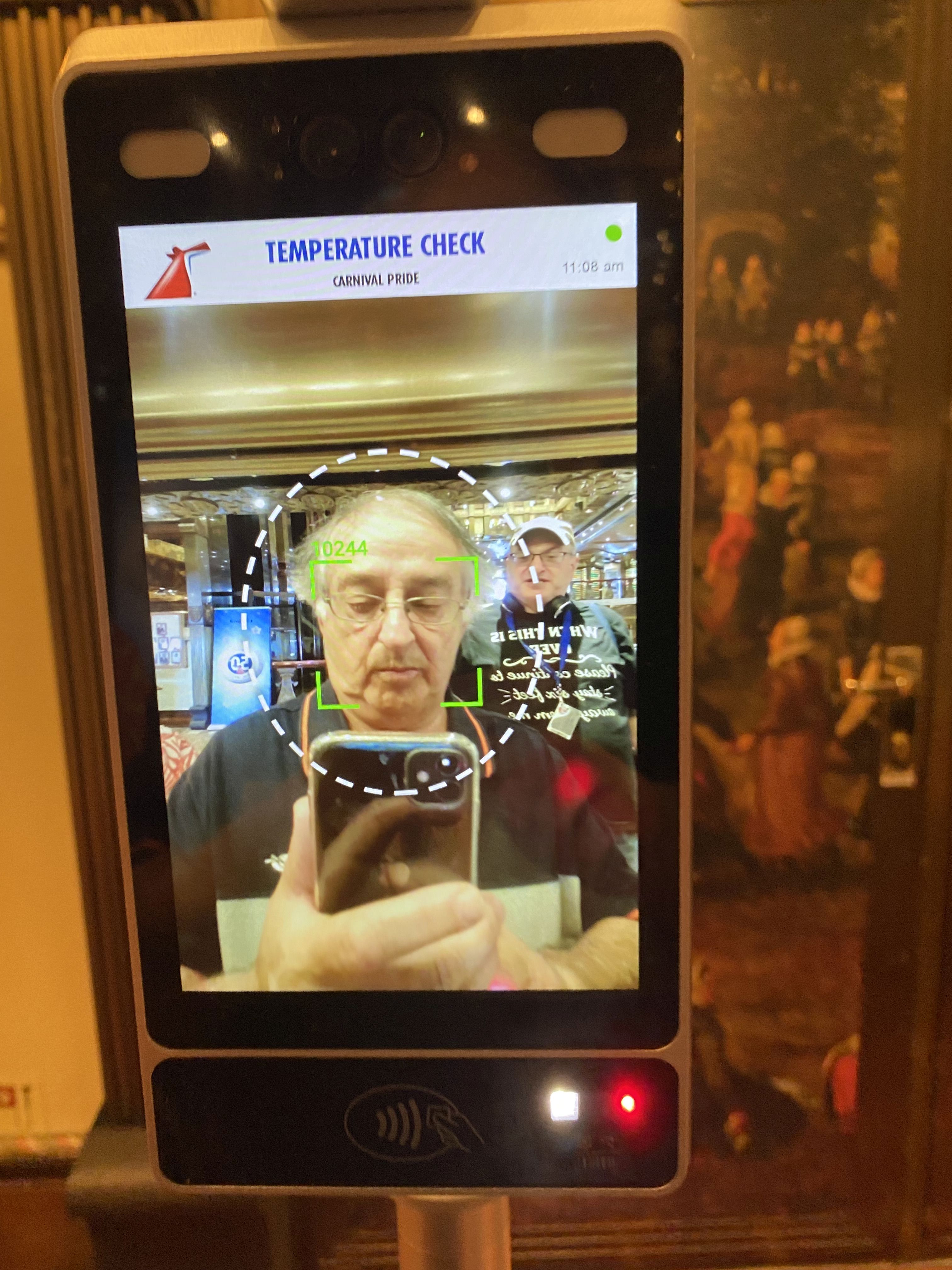 We had quite a few gripes, and a few pluses too, including a group ship's tour soon after the initial departure. The large cabin was serviced only once a day with a not very appetising courtesy continental breakfast available. Hot breakfast was chargeable and it was a question of slow restaurant service or the buffet. The swimming pool water was very cold and no explanation was given.

It is impossible to compare with large European competitors typified by MSC, and Carnival's own brands such as Costa, P&O and Princess, also with bargain availability, with pluses and minuses on both sides. Price comparisons are important.

If Carnival wants to fill up its ships in Europe it needs to sharpen up its onboard team. For Americans they feel safe on a US operation. There were very few cruisers from other European mainland countries. Brits were attracted by the price.

In summary it was probably cheaper living on the ship than staying at home and taking day trips to resorts and holiday spots. If you are interested in gambling the Pride is for you, likewise getting involved with painting auctions. Or drinking. And having your photograph taken. We counted six photographers. There are bars aplenty. And lots of room for sunbathing. As for shopping the arcade was impressive, but the goods expensive. They must sell or the ships would not give away the space or cabins for contracted retailers.

My view of a cruise aboard Carnival in Europe – it is fantastic value for money – but you get what you pay for".

www.carnival.com/cruise-ships/carnival-pride
OUR READERS' FINEST WORDS (All times and dates are GMT)
All comments are filtered to exclude any excesses but the Editor does not have to agree with what is being said. 100 words maximum
---
No one has commented yet, why don't you start the ball rolling?
---