BTN's railway expert Andrew Sharp, former Director General of the International Air Rail Organisation, takes a look at the new Grant Shapps' scheme published on 18 November 2021.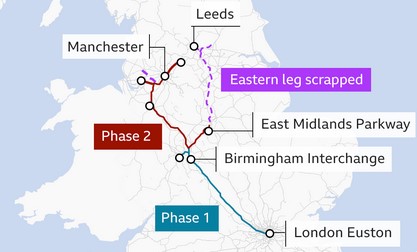 All this will take place against the backdrop of a major reorganisation of the railway industry – the creation of Great British Railways whose headquarters will be somewhere other than the centre of the rail network, London.

The Prime Minister's foreword sounds good:
Three new high-speed lines;
Full electrification of both the Midland Main Line from London to Leicester, Nottingham and Sheffield and the Trans Pennine route from Liverpool to Manchester, Leeds and York;
Upgrades to the East Coast Main Line with higher speeds (including better connections between Leeds and Newcastle);
Improvements to shorter distance services;
A mass transit system for Leeds and West Yorkshire.

There is a veiled dig at Tony Blair for cancelling a previous tram system for Leeds. There is a commitment to the Midlands Hub (improving services in the Midlands, including more capacity in central Birmingham and between the West and East Midlands) and integrated bus, rail and tram ticketing in the region.

The abandonment of most of the eastern leg of HS2 (Birmingham to Leeds) was widely trailed: it will now run between Birmingham and East Midlands Parkway, on the Midland Main Line (trains will run at high speed between London and East Midlands then on conventional lines to Nottingham, Sheffield and Derby). Options for taking HS2 to Leeds will be looked at: work on this will start immediately. That is probably shorthand for 'It's difficult to find a route – there are too many motorways and old colliery workings in the way'. A station for HS2 is being built in Leeds, so something will probably get done!

One 'new' high-speed line is HS2 between Crewe and Manchester, with stations at Manchester Airport ('subject to local funding' – what does that mean?) and Manchester. Northern Powerhouse Rail trains between Liverpool and Manchester will use part of this route. Another is HS2 between Birmingham and East Midlands Parkway (near the well-known Ratcliffe-on-Soar opportunity area): the third is between Warrington and the Standedge Tunnels (west of Huddersfield). Lines between Liverpool and Warrington, and Standedge and Leeds, will be fully electrified, expanded and upgraded. The line between Leeds and York and a line between Leeds and Bradford will be electrified. The poor connection between HS2 and Manchester Airport is not mentioned: the proposed station is on the wrong side of the M56 so airport passengers will have to use the tram or (as at Birmingham) a long people-mover.

Manchester Piccadilly is likely to remain a terminus where trains going further north will have to reverse. The report says this is common in city centres, citing Frankfurt, Stuttgart, Zürich, Milan and Rome: in fact Stuttgart is now building a through station, Zürich recently completed one and Frankfurt is considering one! The costs of a through underground station are mentioned: the benefits (not mentioned) include a massive redevelopment site, the justification for the plan for Stuttgart's Hauptbahnhof.

A new link between Manchester Piccadilly and Leeds is promised: the existing one was never properly completed leading to unreliability and the withdrawal of many trains on the busy Leeds – Manchester Airport route. Clearances for intermodal freight trains on the route will be improved, 'taking thousands of lorries a month off the M62' and capacity will be increased by building extra tracks.

HS2 will now serve Nottingham and Derby town centres directly: the original plan was for a parkway at Toton, between the two. This implies a faster and direct service, but a less frequent one. Railway geography means that a reversal at Nottingham will be necessary for trains continuing beyond: it also means that it makes no sense for the same train to serve both cities. Moreover, there are plans – subject to private sector investment – for a local or regional train service to Toton: this too looks bizarre, given the current railway map.

The electrification of the Wigan – Bolton – Manchester line is announced again. The possibility of electrifying the line between Manchester and Sheffield is also raised.

Also see UK rail problems in this week's BTN.
OUR READERS' FINEST WORDS (All times and dates are GMT)
All comments are filtered to exclude any excesses but the Editor does not have to agree with what is being said. 100 words maximum
---
Andrew Sharp, United Kingdom
The answers are Probably and Probably not! Almost certainly all trains will stop at Old Oak Common, for interchange with Heathrow and Crossrail trains. At the moment it looks as if this will not be the case at Birmingham Airport Interchange and Manchester Airport: it is understood that there are plans for centre tracks without platforms for non-stop trains. This is the case at Paris CDG, although about the only trains which don't stop there are Eurostars to EuroDisney and beyond. It is likely that there will be a new exit from Euston Square station at the east end – near the Euston Road/Melton St crossroads. What connection there will be from there to Euston main line station is not known.
---
Michael Asher, Istanbul
It's a funny old world. The furore over the cancellation Of most of the eastern leg of HS2 seems to match the furore against it when first announced....
---
Silvia Hope , Hornsey London
My question is simple. Will all the trains stop at Old Oak Common? And will there be a moving walkway from Euston to Euston Square Underground and the Circle/Metropolitan Line. A link was planned in 1874! It's about time.
---