With Hebridean Princess awarded "Good for Go" status by Visit Scotland it seemed a fine idea to resurrect a review in ABTN (BTN's predecessor) from 2003 "In the footsteps of the Royal Yacht".

We are living in strange times. For the September cruise issue ON TOUR BTN featured the Edward Elgar, on the River Avon, the nearest we have been to a proper waterborne holiday since February. Click through for the October issue.

For the most part the words have not been changed as Hebridean and what it offers is much the same as all those years ago, now with wi-fi. For summer 2021 she will be joined by Lord of the Glens (see BTN 7 September) and Hebridean offers Royal Crown as an elegant river cruiser on the Rhine and its tributaries.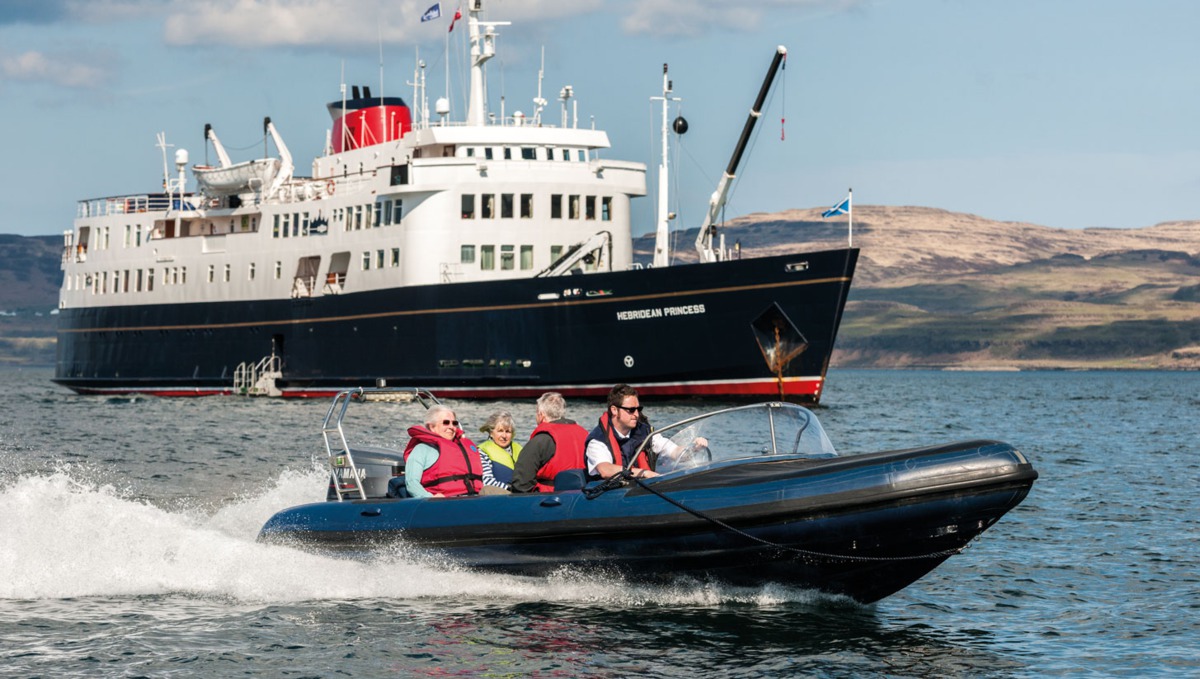 HM The Queen chartered Hebridean Princess for a family holiday in 2006 and 2010 giving the ship the unique classification "By Royal Appointment".

There is cruising and cruising, and there is Hebridean Princess. If your requirements are an 80,000 ton luxury liner at discounted prices and 2,000 other passengers this holiday is not for you. However, if what you want is something totally unique, restful but invigorating, and the height of old-fashioned luxury and service Hebridean Princess might just fit your requirements. A sort of travelling stately home or large country house with discerning company, many of advanced years but with the mind and vigour of youth.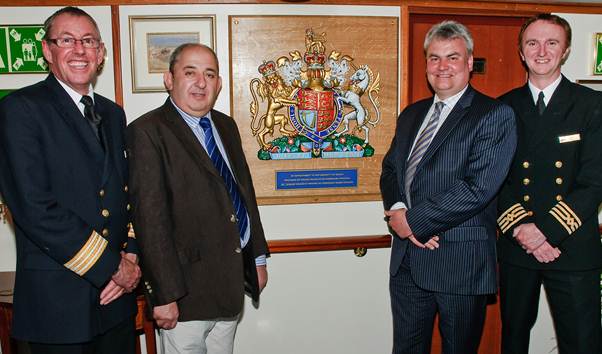 The quality and distinct individuality of what is on offer does not come cheap. Forty-eight "guests" at the most, looked after by 38 crew. Most cruises start and finish at Oban visiting the Western Isles, and last seven days. Prices start from a fully inclusive £1,410 for four nights (2021 prices) at the beginning of the season in the lowest priced cabin, but even here the furnishings are outstanding, a private bar is provided and there is TV, video, coffee and tea making facilities plus ironing board, trouser press and hairdryer. A decanter of Sherry is provided too. It is that sort of cruise.

Hebridean cruises follow a simple pattern that has evolved since the former Caledonian MacBrayne car ferry first put to sea as the world's smallest luxury liner back in 1989. It is a very relaxed break but you have to enter into the spirit of it. Truly country house with everyone soon on first name terms. You will normally find quite a few widows and other elderly singles (all of whom sit at the captain's table and appear to have a terrific time), bird watchers, walkers, those interested in history, and also the less mobile who prefer to stay on the ship whilst others get off. Half the guests have been before, often many times before. Some are a lot younger but all seem to mix in well together.


The fact that Hebridean Princess was called Columba in her former life must not be held against her. As a ship she was perfectly designed to enter the small ports and lochs that are a feature of the Western Isles, places that other vessels cannot even look at. The conversion all those years back was first class and sumptuous, but innovations are still being made. If you want to know where you are take a look of the satellite navigation system in the lounge advance. The ship has simply matured over the years like a fine wine. There is a mock coal fireplace artificial gas coal fireplace in the main lounge complete with brickwork. The awards Hebridean has picked up over the last decade testify to excellence.

The daily routine normally consists of an 08:00 breakfast (and use of the keep-fit equipment for those who want to partake) followed by a morning visit, either down to the quayside, if the ship is docked, or via the ship's tenders when moored in a sheltered bay or loch. The ship's professional guide takes over, often augmented by knowledgeable locals. Usually lunch is back on board whilst the ship makes her stately way to the next port of call. The programme is repeated for the afternoon. Cocktails in the lounge are followed by dinner and then a talk on the next day's programme.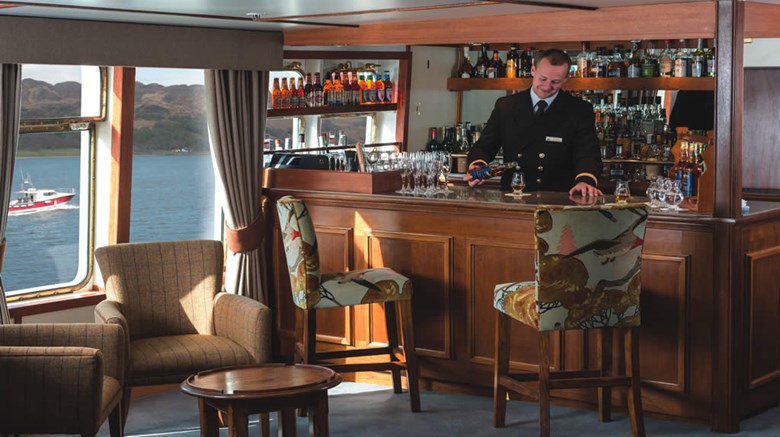 If the ship is tied up you can get off and take a walk, borrow a bicycle stowed on board, or perhaps visit a local pub. Some of the tiny waterside hamlets only have just one shop, whilst others, such as Tobermory on the Isle of Mull, are busy tourist traps made famous via TV. Balamory, set in Tobermory, is a popular programme for tiny tots.

A cruise on Hebridean means not putting your hand in your pocket at all. Tipping is positively frowned upon and all alcoholic drinks are included including a fine selection of wines for lunch and dinner. There is a specialist cellar for those with particular tastes and for this you pay. And there cannot be a better range of whiskies available at sea.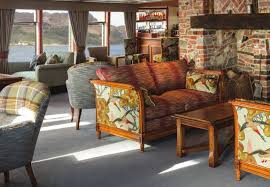 All the planned off-ship visits are taken care of. If a coach is involved the ship makes sure the refreshments hamper goes with, otherwise it is into a local hostelry where Hebridean plays host. Each cruise is designed to satisfy a different market. Some are for walkers whilst others concentrate on Scottish heritage and, in a season that runs from March to October, nature lovers are not forgotten. Depending on the trip you have chosen your itinerary might include a visit to an uninhabited island, 5,000 year old dwellings, or a famous cathedral.

Essentially Hebridean Princess cruises the islands and inlets of the Western Isles, but some years she ventures south to the English Channel and Norway. 2021 will replicate the cancelled 2020 programme.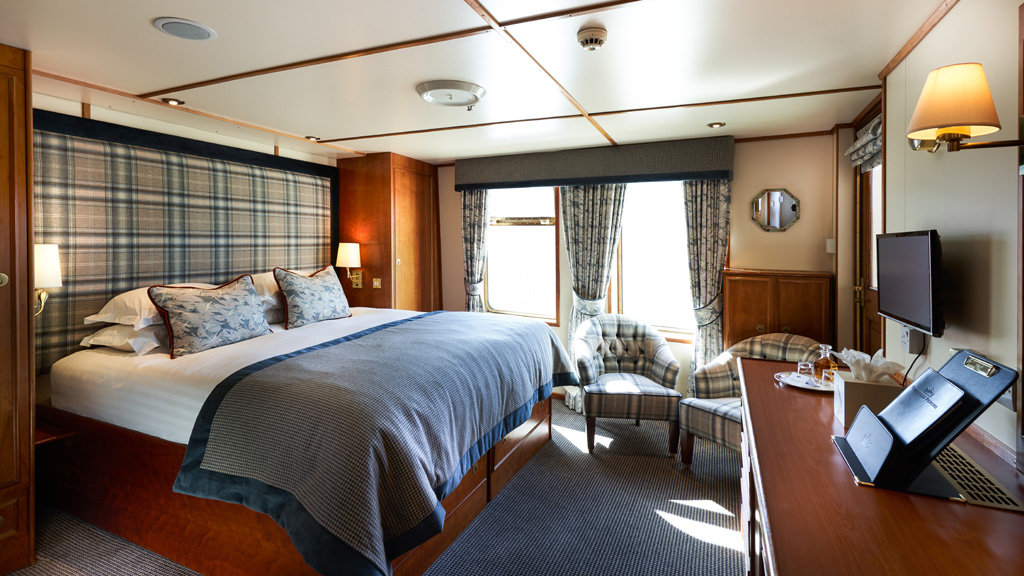 Hebridean Princess is following a tradition of the Royal Family who, in the not too distant past, used the Royal Yacht Britannia every summer for northern cruises anchoring in small bays and inlets and visiting places that had not hosted humanity for many a year. Just like Hebridean if the weather was good enough a barbeque lunch was organised ashore.

The fact that the ship is small makes for a much less tiring time. No cabin is more than two or three minutes from the restaurant, the Sky Deck over the stern, or the main Tiree Lounge. Queuing just does not exist and when you finally have to leave there is none of the packing of suitcases and leaving them outside the door the night before that one gets accustomed to on big ships. A steward will collect your items once the ship has docked, and will even help you pack if needs be. Cabin keys are not provided (although you can really have them if you so wish). Every cabin has a safe.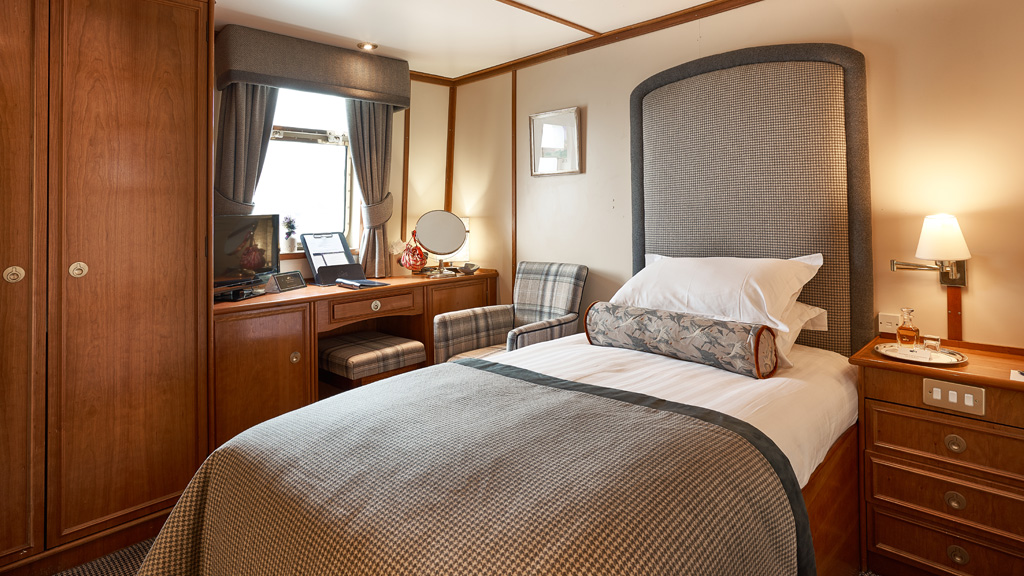 Evening entertainment is very low key, limited to useful talks on the next day's activities and local entertainment. But if you are up to it the ship has a 45-knot eight-seat speedboat which is great fun and used both as an alternative ship's tender and for getting around some of the better protected lochs. Never thought of yourself as a marksman or used a rod and line? Clay pigeon shooting is provided and fishing trips can be organised. Sir Jackie Stewart, a world champion at clay pigeon in his time, chartered the whole ship after trying Princess out on a short cruise. For smokers they have their own lounge which also leads on to an open veranda.

There is no sophisticated computerised boarding system on Highland Princess. Each of the 30 individual cabins has a name (and its own personality), replicated on a board laid out with one or two tags. As passengers get off at a port or landing point they just need to collect a tag and make sure they put it back when they return. There is no doctor on board, just a trained first aider although when on the rare occasion a physician has been needed there has always been one amongst the clients. No hairdresser either. If that is your concern book ahead at the larger ports such Kirkwell, where such facilities are available. On a seven-day cruise Officers will wear dress uniform on three occasions including the last night. Passengers tend to follow suit with dinner jackets for men and cocktail dresses for ladies, but very understated.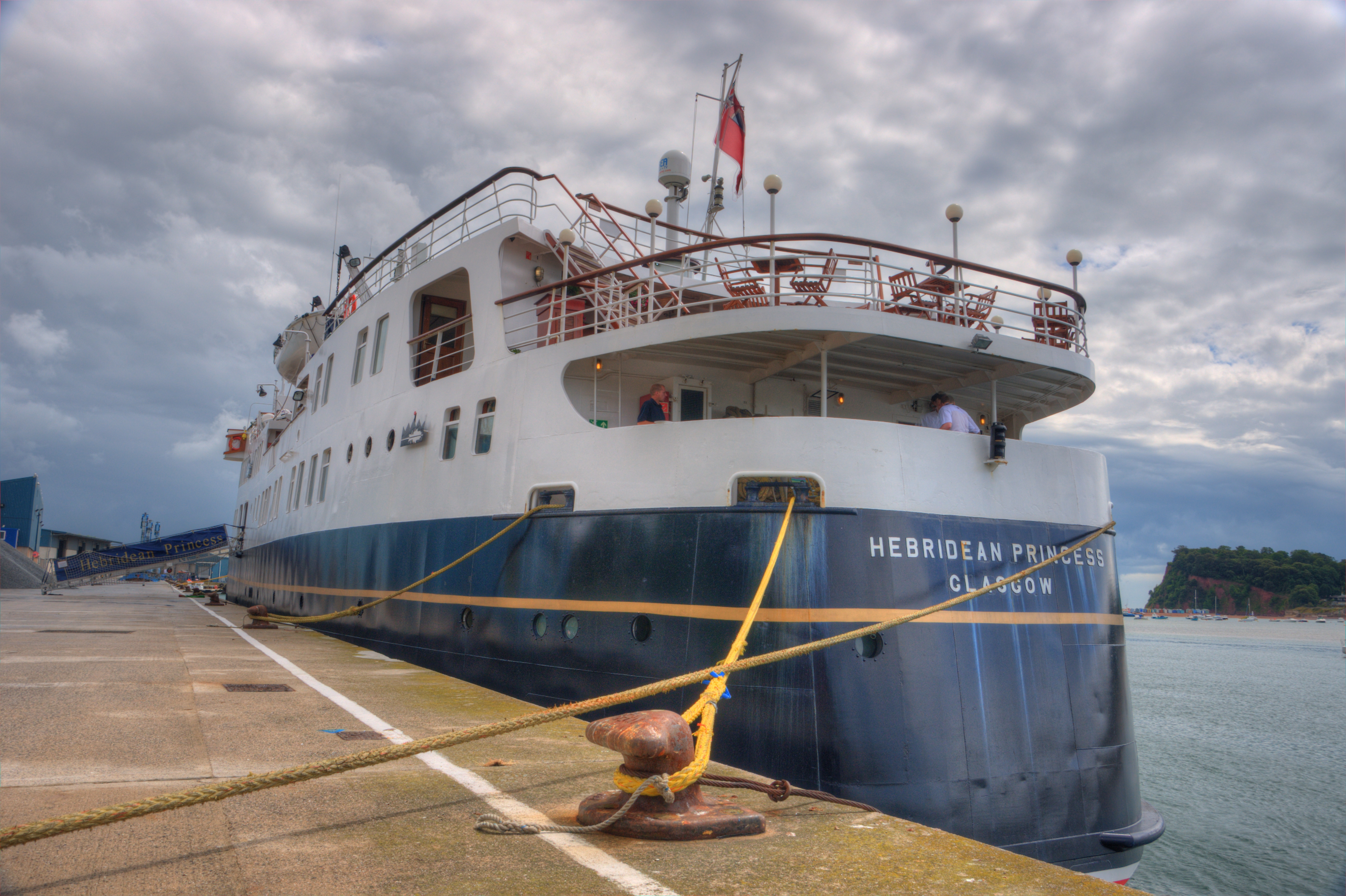 The cuisine can best be described as classic English. Beautifully presented four/five course meals are offered for lunch or dinner with a selection of starters and the main course offering either fish or meat. A typical selection could be grilled asparagus and artichoke salad with parmesan and lemon croutons, cream of mushroom soup with snipped chives, roast rack of peppered lamb carved into a ratatouille of vegetables with roasted garlic and basil scented sauce, chocolate and ricotta pavlova, followed by Irish cheeses and a glass of vintage Port. The menu can be seen at least one meal in advance and if there is nothing that you fancy the chef will come up with an alternative. Vegetarians are catered for very well and if a big lunch is not your style sandwiches or a light meal are always available. The bread (and rolls) are particularly good. Breakfasts are positively Scottish, porridge (with a wee dram if you like) kippers and haddock (smoked haddock risotto topped with a poached egg accompanied by a tomato, lemon and chive dressing) are available, as well as the chef's special. There is a light buffet on hand, or you can just have coffee.

Malcolm Ginsberg


Fact file Hebridean Princess

Five things you must do:
It is standard for all ships even this one. Acquaint yourself with the layout as soon as you get on board. It just makes life easy.
You will be given a list of the other "guests". Do your best to learn who's who, particularly the ones sitting near you as the tables are not far apart.
Test out as many of the brands of Scotch on board as possible. It is a very enjoyable task and you will not get anywhere near through the list.
Pop up to the bridge. It is open house all the time except when in port. The Captain and senior officers will appreciate it.
Look at the menu in advance. Just in case. In any event wonderful steaks are always available.

"We're Good to Go in March 2021," says Hebridean.

"Protecting the health, safety and welfare of our guests, crew and the remote communities which we visit, is our number one priority and we have been working hard to adhere to government and public health guidance. We're delighted to announce that Hebridean has been awarded the 'We're Good to Go' award by the Scottish Tourist Board."
OUR READERS' FINEST WORDS (All times and dates are GMT)
All comments are filtered to exclude any excesses but the Editor does not have to agree with what is being said. 100 words maximum
---
Paul Kay, London, UK
...."With this BTN review it's as if I'm there....even on another London Covid UK Monday Morning"... ...BTN you need a 2021 reviewer to sample all this in what seems a quality and life affirming nostalgic break from our current drudgery. BTN, I'm examining my exquisite Kilt and outrageous fluffy Sporran in anticipation of your call.....
---