Alison Chambers reports from a super quiet Mallorca.
For the tourists this week at Molins Beach, Cala Sant Vicenc, the immediate concern as the sun sparkled on the aqua blue sea was jellyfish. After two unusually choppy days, these pesky little creatures had ventured closer to the shore. Our elder son got stung. Thankfully, beach medics were swift to deliver treatment.
Brits typically make up 25% of overseas visitors to the Balearic Islands every summer. To quote the illustrious writer Robert Graves: "Majorca is paradise, if you can stand it." Around 15,000 British citizens are registered in the Balearics and according to the British consulate, account for 22,000 residents – 16,000 of them are in the Pollensa region.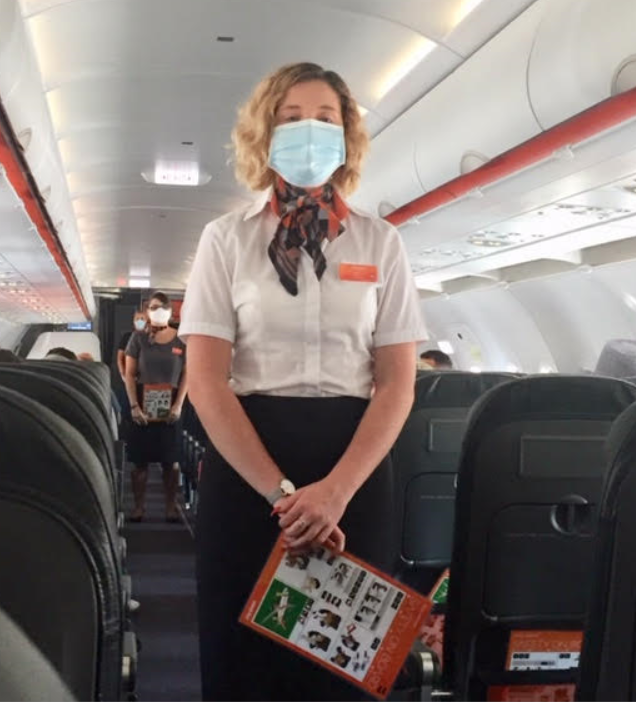 The UK Government's controversial call to include the Balearic Islands on the 14-day quarantine list (alongside mainland Spain) came just a few days ahead of our holiday plans. The Covid-19 infection rate then was eight per 100,000 (versus 14 in 100,000 in the UK and 38 in mainland Spain). Many scrambled to cancel or change their holiday destination. TUI stopped their (inclusive) flights and Jet2 urged its passengers to come home early, because they couldn't guarantee their returns.
There were just 49 passengers on our 11:45 easyJet flight to Palma Airport. Another 20 booked to fly, were no shows. We breezed all the way through Gatwick's North Terminal to our gate. No queues through self-check in, self-service baggage drop and security. The upgraded airside Aspire lounge was open, observing social distancing.
Another first – no queues on boarding. Keeping our face coverings on, we boarded by rows from the back. Once aboard the slim seat-fitted Airbus A320neo, which usually holds 189, we had two bar services. No sandwiches, just tea, coffee and soft drinks, chocolates and Pringles. The inflight magazine had been removed. A Mum with three small daughters sitting behind us said she had cancelled this trip three times since March. Likewise, a family which included two school teachers, were not being influenced by Government advice.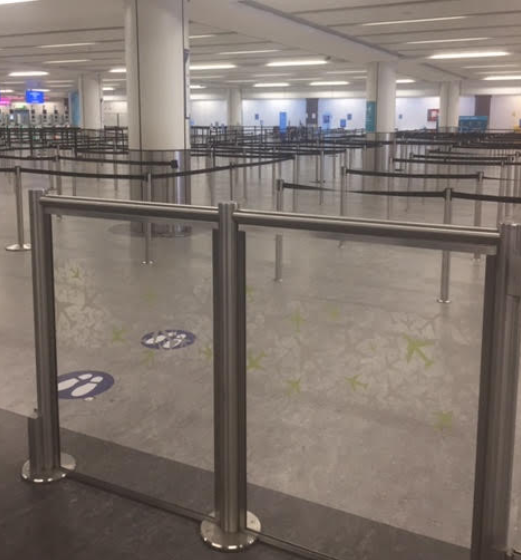 The day we flew out – 31 July – Francina Armengol i Socias, President of the Government of the Balearic Islands, appealed to the British Government, citing the long ties which have historically and socially united the British and Balearic communities.
"We have a controlled epidemiological situation as one of the first regions to introduce obligatory mask wearing as a means of protection. We closed the islands for more than two months in order to curb the pandemic, and only opened up under strict health security measures." Far from posing a threat, we are an ally and have always placed health above all other considerations, she challenged.
Mallorca adopted measures, such as the closure of nightclubs, to eliminate the risks and guarantee health security.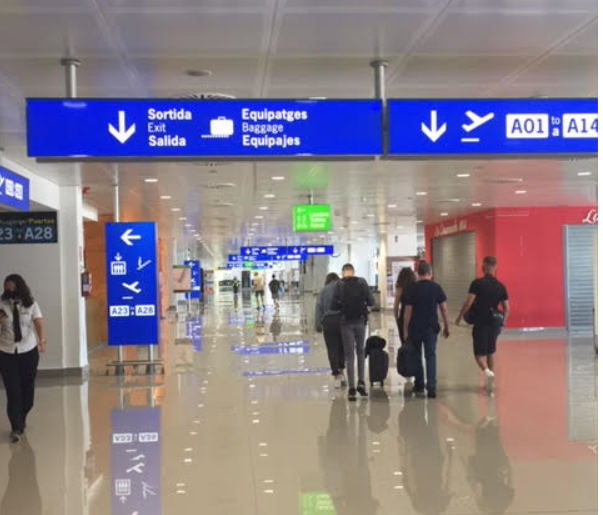 Our family has been coming to Mallorca since 1990. In latter years we've chosen a villa in Pollensa or Cala. This week our stay was much more modest – the comfortable and hospitable 19-room Hostel Los Pinos, overlooking the sea. The family-owned 1950s built elevated residence (not recommended if you are wheel-chair bound – as it's 80 steps up) offers an excellent breakfast, nice coffee and an honesty bar, which gives it a homely feel. Five other families from the UK cancelled, so we were glad we didn't. It also meant we had the large outdoor pool to ourselves, much of the time. Fellow guests – from Nantes, Basel (an ex-Crossair employee too), Frankfurt (Lufthansa's flight was full, although they closed the middle seats) and a friendly, solo traveller from Leeds.
Cala's adjacent beach restaurants were already suffering from lack of tourists since March. The Molins Hotel is under renovation – a lower level spa is currently being built, hopefully ready for the autumn and next door, construction started – but since stopped, on a new boutique hotel. Pollensa Square, usually bustling, was extremely quiet, its usual summer concerts and fiestas cancelled. Puerto Pollensa was sadly the same, with a notable lack of young British families.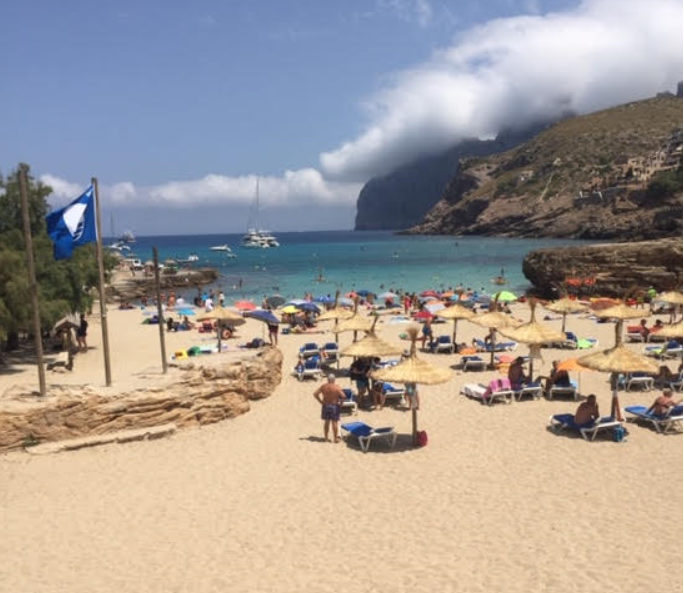 The biggest surprise – pleasant of course as a traveller – but worrying for the airline industry – was our 14:00 flight home from Palma Airport. Usually duty free, the airport's cafes and fast food outlets would be bustling. They were practically empty, or closed. No queues at the easyJet check in. There were 58 of us on the smaller, older A319.
We boarded early and landed 15min early. It was like arriving into Gatwick at 04:00, not 16:00. No queues at passport control. No temperature checks at either airport, just the requirement for an online form detailing where you will be in quarantine for the next 14 days. We look forward to the call to confirm all is ok. My son, his fiancée and her parents also arrived into Bournemouth this morning – less than 50 on their Ryanair flight and for once, no stress about baggage – at both ends of the trip.
And the jellyfish sting wasn't a drama. The beach medics have vinegar guns strapped to their shoulders. As I write this, headlines are popping up about heavily packed beaches on the South Coast – I think we made the right call.
We are now in lockdown for two weeks, working from home. Was it worth it?
Yes!
But the Government has got it wrong. AOA's Karen Dee makes the point in this BTN issue.
OUR READERS' FINEST WORDS (All times and dates are GMT)
All comments are filtered to exclude any excesses but the Editor does not have to agree with what is being said. 100 words maximum
---
David Starkie, London
Lock down might seem an easy option when working from home but keep in mind that it is not just working at home for two weeks. Also barred are trips out of the home to pick up food etc and no contact with gardeners, window cleaners etc; no visitors. Yes, some Government rules seem to defy common sense but I suspect an ulterior motive/hidden agenda.
---