Heathrow boss calls on government to do its bit!

And it is holiday time.

John Holland-Kaye is well known to BTN readers, Heathrow Chief Executive Officer since July 2014, having joined in 2009 and since then holding a number of positions including Development Director for T2.

He is now truly part of the fabric of the airport and during the pandemic has held a weekly Zoom discussion with around 100 senior managers. Personally taking a wage cut he clearly believes in leading from the top during these difficult times.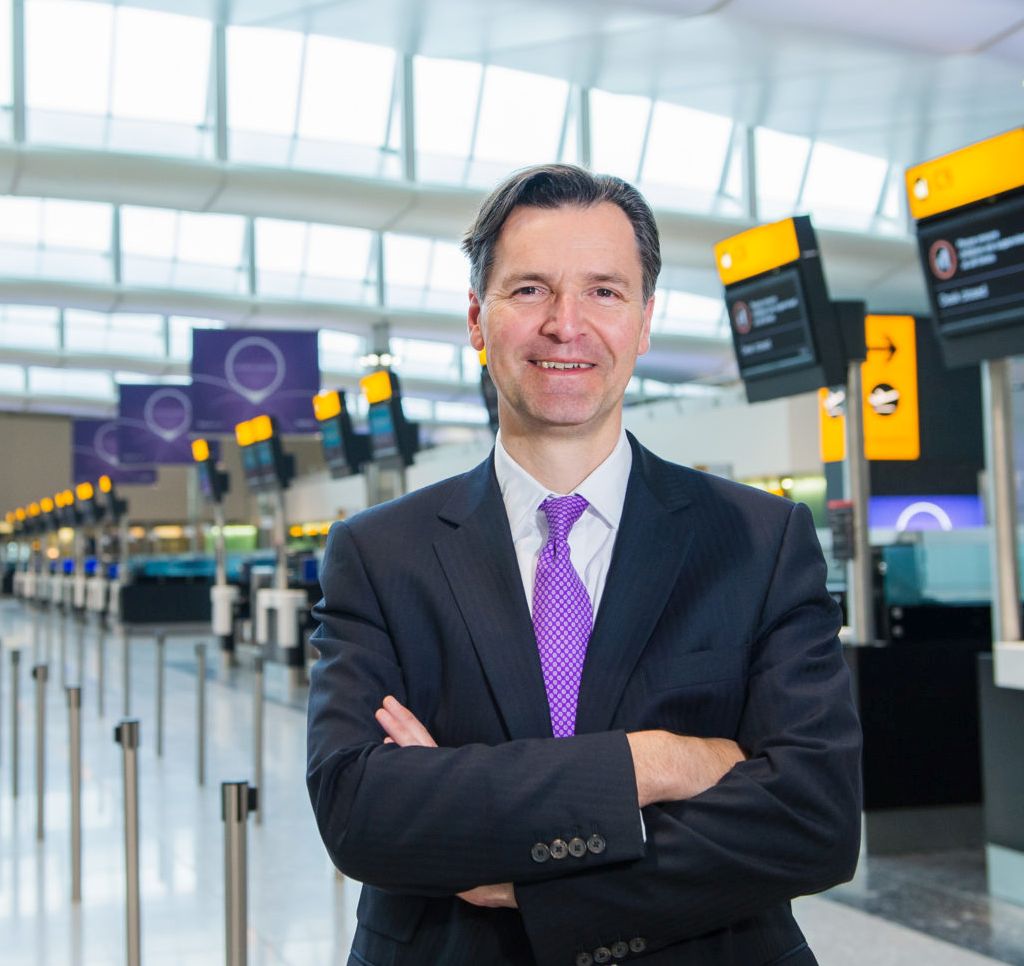 "In the two weeks since the Government announced the opening of travel corridors and a small list of countries exempt from quarantine, we've started to see the first faint heart beats of aviation coming back to life.

Our first priority is always health and safety, so we have been working hard as an industry to make sure the journey through the airport and on the plane is safe.

We meticulously reviewed every step of the passenger journey to identify key touchpoints where anti-viral technologies would have the most impact. Social distancing in airports is impossible in many areas, so we rely on mandatory face coverings and great hygiene.

At the entrances to the terminals there are Fly Safe Pit Stops, where passengers can pick up face masks, anti-viral wipes and 600 hand sanitisers free of charge. Staff at fixed points such as check in and border control are protected by perspex screens.

In addition travellers will notice UV technology which continuously disinfects moving handrails, and self-cleaning anti-viral wraps fitted to security trays, lift buttons, trolley and door handles. While most of us are asleep, UV robots are cleaning bathrooms to Emergency Room standards of hygiene.

We've retrained 100 colleagues as hygiene-technicians who thoroughly disinfect the airport and can talk to passengers about the methods being used.

Now we are looking at how we can make the entire passenger journey touchless, to reduce potential transmission points.

The anecdotal feedback so far has been that people are anxious about flying again, but once they are at the airport, they feel well looked after and quickly relax. All these measures are designed to minimize the risk in the unlikely event that any passenger or colleague can pass Covid-19 on.

The big concern for all governments is that they don't re-import Covid-19 just as they are re-opening after lockdown. Many destinations require temperature checks as a test for Covid-19, and at Heathrow we have launched thermal screening trials at departures and arrivals to test the viability, accuracy and reliability of this technology in an airport setting.

The UK government does not consider thermal tests as accurate enough, so initially brought in 14-day quarantine for all arriving passengers. They have now moved to a risk-based approach, where each country is assessed against the probability that a visitor might bring in the disease. Passengers from "green" and "amber" countries (mainly European countries) can now visit Britain without the need to quarantine. This has allowed many Brits to get away for some well-earned summer sun, and the first overseas visitors to start coming here.

But most long-haul destinations remain grounded. Places like the US, Canada and Singapore, normally bustling with multiple services a day, heavily laden with high value cargo, tourists, and business travellers, generating billions of pounds of trade, remain out of action. This is causing real economic damage, not just to inbound tourism, but also to services and exports. Around 40% of the UK's exports are carried in the holds of passenger planes from Heathrow. Without those planes, many of Britain's trading arteries are blocked.

We need a plan to allow passengers from those "red" markets who are Covid-19-free (i.e. the vast majority of the population) to travel without being quarantined.

We are working on a pilot with Collinson and Swissport of a "Test-on-Arrival" procedure, which would mean passengers could request a Covid test when arriving at Heathrow from high-risk countries, before travelling to an address where they would self-isolate until they receive a negative result a few days later. If the test proves the passenger is Covid-free, they would be released from quarantine. This is better than the current 14-day quarantine, but won't allow things to return to normal.

A better approach would be to test people before they fly. Then they would be confident that they can travel freely on arrival, and we will know that everyone in the airport or on the plane is free from the virus. However, this would require governments to be confident that if someone is screened in another country, it is to an acceptable standard and that the test has actually taken place.

If every country comes up with their own rules, it will be unmanageable, so we need a Common International Standard for health screening, just as we have for security screening. Charles de Gaulle airport in Paris has already piloted this successfully, and now we are calling the UK government to do the same – maybe between Heathrow and Singapore or Toronto, before rolling out to the US.

If the government is to get aviation, and the economy, moving safely again, it needs to throw its weight behind these trials. Testing on arrivals requires quarantine exemptions for those that test negative; pre-flight testing requires close work with other governments; even temperature screening requires a change in secondary legislation.

If we don't get on with this now, we could easily get to the end of the year with no deal with the EU, and no flights to the rest of the world – not the start we would want for Global Britain.

But as we focus on tackling the current crisis, we cannot overlook the size of the next one coming – Climate Change.

The Covid pandemic is proving to be a catalyst for change in our every-day lives. But can also be the catalyst for a green industrial revolution. Many people feel guilty about flying, but the enemy is carbon, not aviation. Aviation is an incredible benefit for mankind – the ability to travel anywhere in the world within 24 hours unites cultures, keeps families connected and has helped hundreds of millions of people out of poverty.

The Prime Minister has called for "guilt-free flying" within a generation, with a focus on a zero-carbon transatlantic flight within five years. I share that ambition and sense of urgency.

The first meeting of the Prime Minister's new Jet-Zero Council last week brought together players from right across the industry – airlines, aircraft manufacturers, fuel makers, environmental organisations, and airports, including Heathrow. Most of the participants urged the government to focus on developing Sustainable Aviation Fuels (SAFs) – the fastest way to decarbonize flight, and a potential world leading new industrial sector for Britain.

The great thing about SAF is that it can be used in existing planes, and can be blended with kerosene, so the faster we can produce it, the faster we can decarbonize flight. SAFs use established technology but not enough is being produced yet to make a difference or to get the costs down. With government intervention to stimulate supply, just as they did so well with solar and offshore wind, we can change that.

By getting people flying again safely and by getting rid of fossil fuels, we can protect the benefits of aviation for generations to come".

www.heathrow.com
OUR READERS' FINEST WORDS (All times and dates are GMT)
All comments are filtered to exclude any excesses but the Editor does not have to agree with what is being said. 100 words maximum
---
Chris Pocock, Uxbridge, UK
Many good points here. I hear that HAL has made most of its Third Runway planning team redundant. Scrapping it would help "decarbonise flight", as Holland-Kaye puts it.
---