London City to Teesside International by Eastern Airways and back via LNER.


Travelling, whether it be by road, rail or air, is usually fun or at least pleasant. Covid-19 seems to have destroyed the pleasure. Let us hope we can get back to something like normal as quickly as possible. Deserted airports, empty aircraft, and silent railway stations is something we must get used to for the time being BTN's Editor-in-Chief Malcolm Ginsberg writes. Add a face covering for a 500mile half day trip and you will see where I am coming from. What could have been a fine outing was spoilt.

My journey on Monday 7 July.

A short bus ride to Edgware Station all masked up, and a lady giving up her seat for me. The passenger level was about normal for first thing in the morning (07:00). Masked and glasses steamed up already.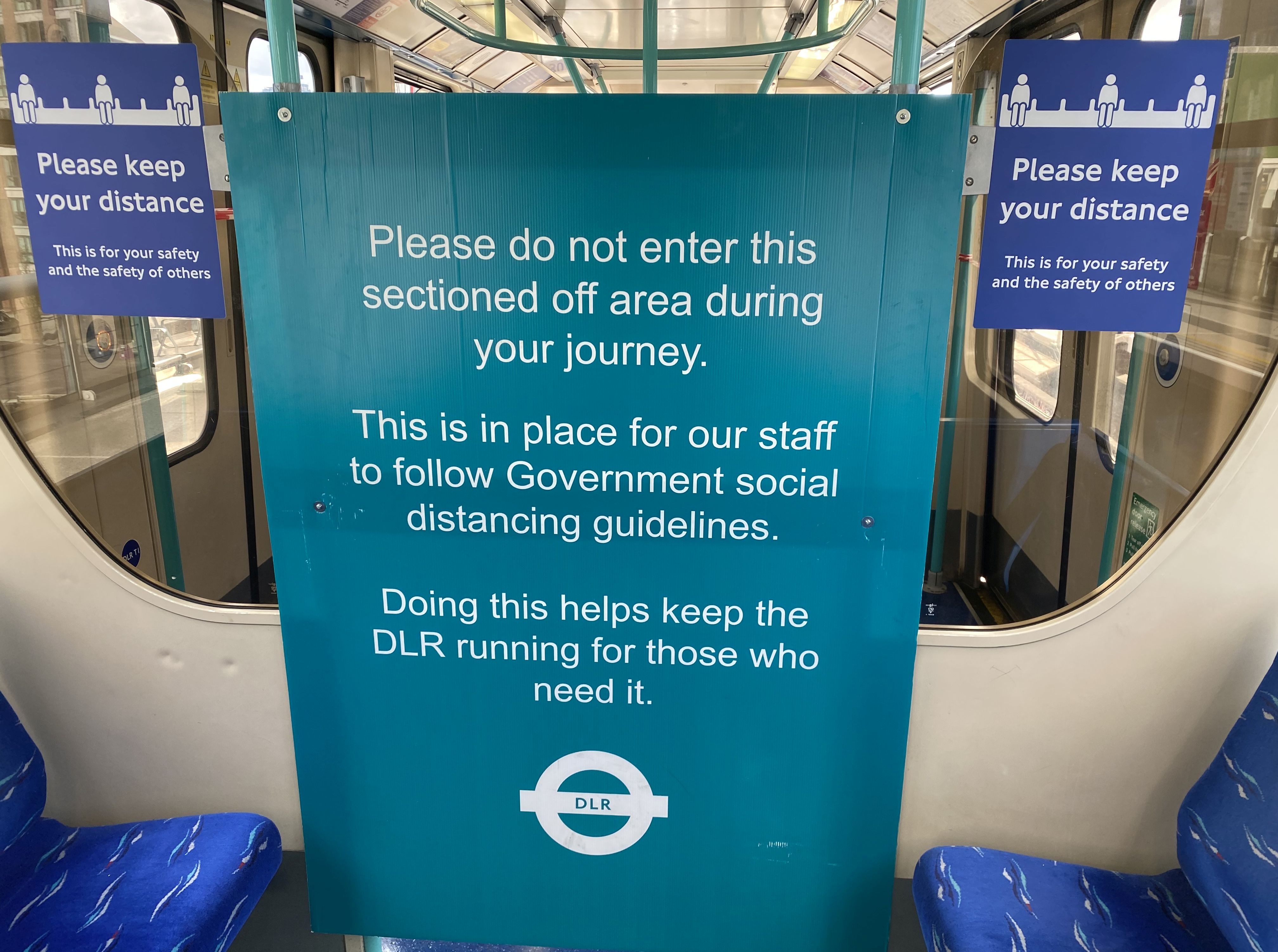 No through trains to Bank and the Northern Line was quicker than usual with the Tube not stopping at Hampstead and Chalk Farm, presumably due to lifts being needed at each station, social distancing not being possible. No escalators on this section of the line. In between is Belsize Park, also normally an elevator ride. Clearly an exercise event for anyone attending Royal Free Hospital with 219 steps to deal with and passing at 2m? One guy, foreign, refuses to put on a face mask and I keep quiet. For the first time I can remember the train advertising billboards were not full. Will these also soon go electronic?

Change at Camden Town and to the normally easy connection at Bank. The DLR stairway was closed with very little signage of where to go. The Docklands Light Railway was operating as per normal with an up to six-minute wait between services but with the front seats closed to passengers.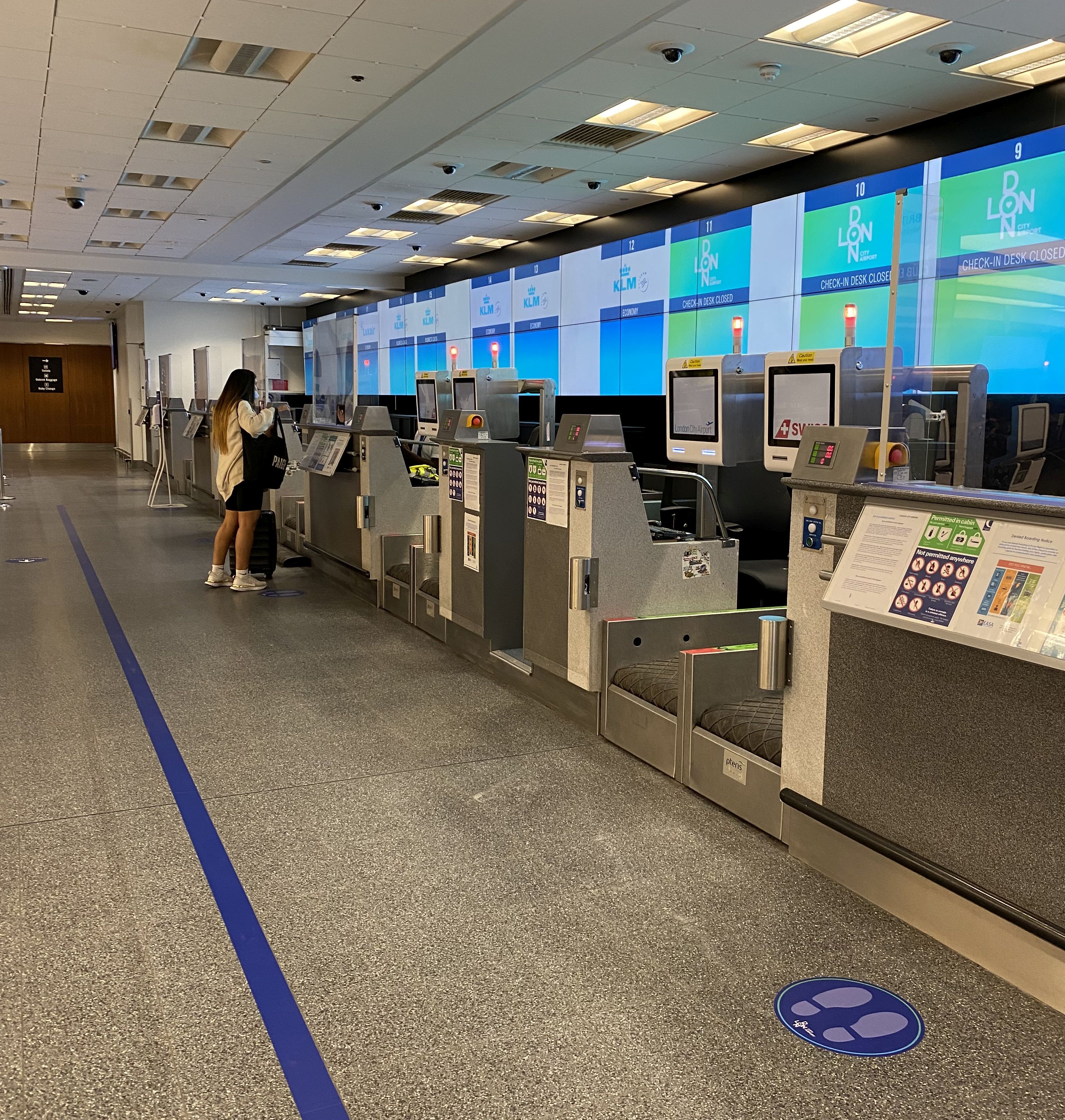 At the London City Station the moving staircase down was closed. Into the terminal, plenty of staff about, the place felt like a morgue. It was like this 33 years ago when London City Airport (LCY) opened, but in those days the main area was an atrium and airy. All forgotten. Now a rather cluttered mess, and this without passengers. No temperature testing and no Foreign Office guidance signs for travel. They will be needed this week once the limited British Airways flights get under way. It is no good taking a short overseas holiday and then finding one is in quarantine upon return. The rules can quickly change.

What with the mask, policemen with guns looking bored and virtually no other travellers, the whole place felt and looked depressing. It set the tone for the whole day. Up the staircase and the first of four ticket inspections. A passport (or ID) was of course required but no temperature check. Eight staff on security and a thorough scanned search. It's all rather miserable and disheartening, but that's airports for you these days. There were to be 11 fellow travellers on the aircraft, the only other departures 18:40 Isle of Man and 19:10 Dundee. Not a busy airport.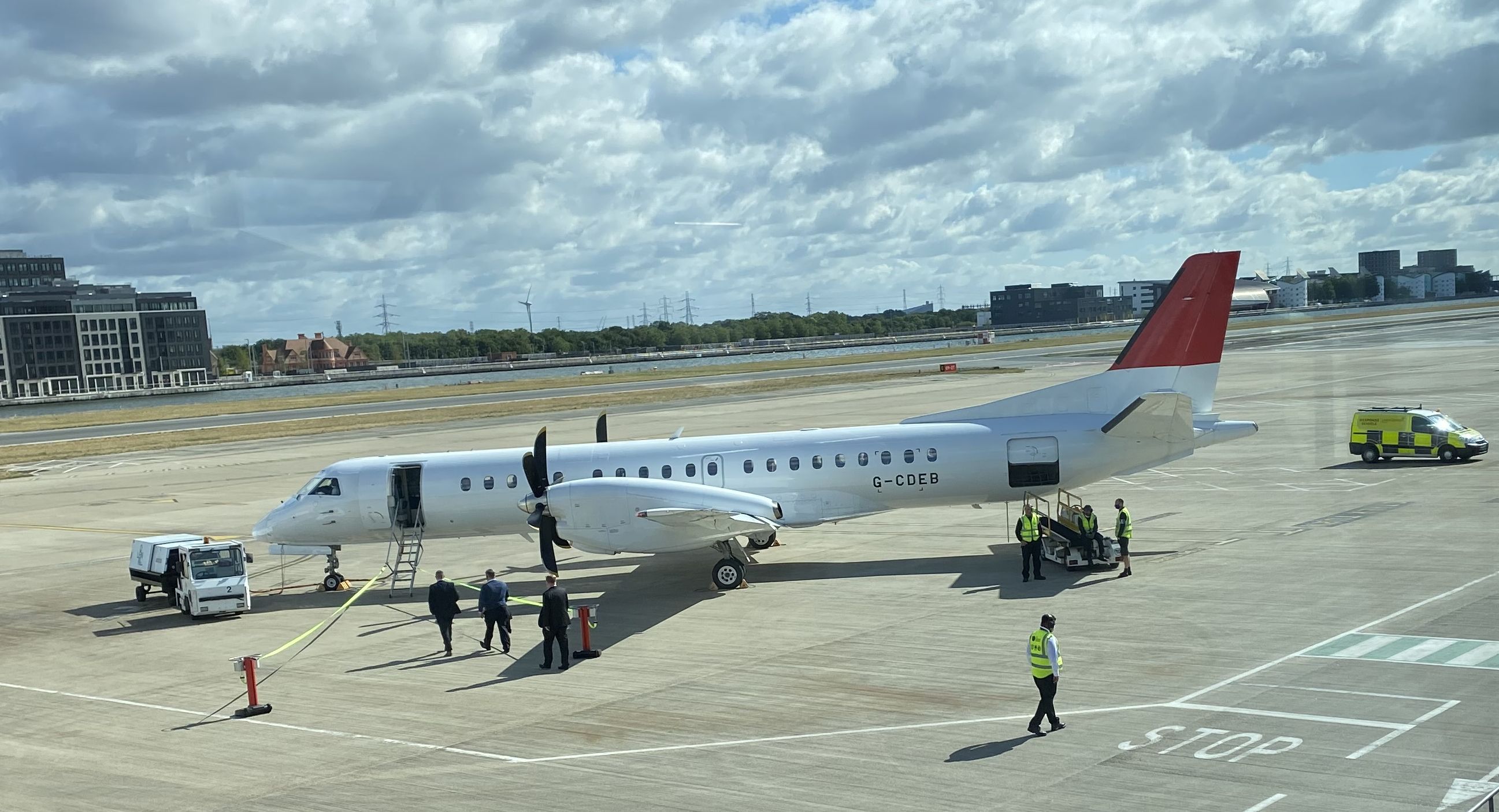 Boots was open, and with enough sandwiches for a week based on planned services. Check the eat-by-date if you are using any airport. Boots is usually the best airport snack provider. The coffee shop was open but the normally free wi-fi down. As for lavatories some are shut. I had to search, and then with only a cubicle available.

Eastern Airways is independent and has been around since 1997, always based at Humberside Airport, across the bridge from the city of Hull. Today it operates 15 commuter aircraft (ATR, Embraer, Jetstream and Saab) and last year carried just under 300,000 passengers on a variety of regional and, usually, offshore related charter operations. With Flybe's demise it is now expanding (see Southampton in this week's BTN).

A Saab 2000 operated the 65min flight to Teesside, with 2+1 seating and two cabin staff. The normally offered cabin refreshment service, as with all regional airlines, a casualty of Covid-19.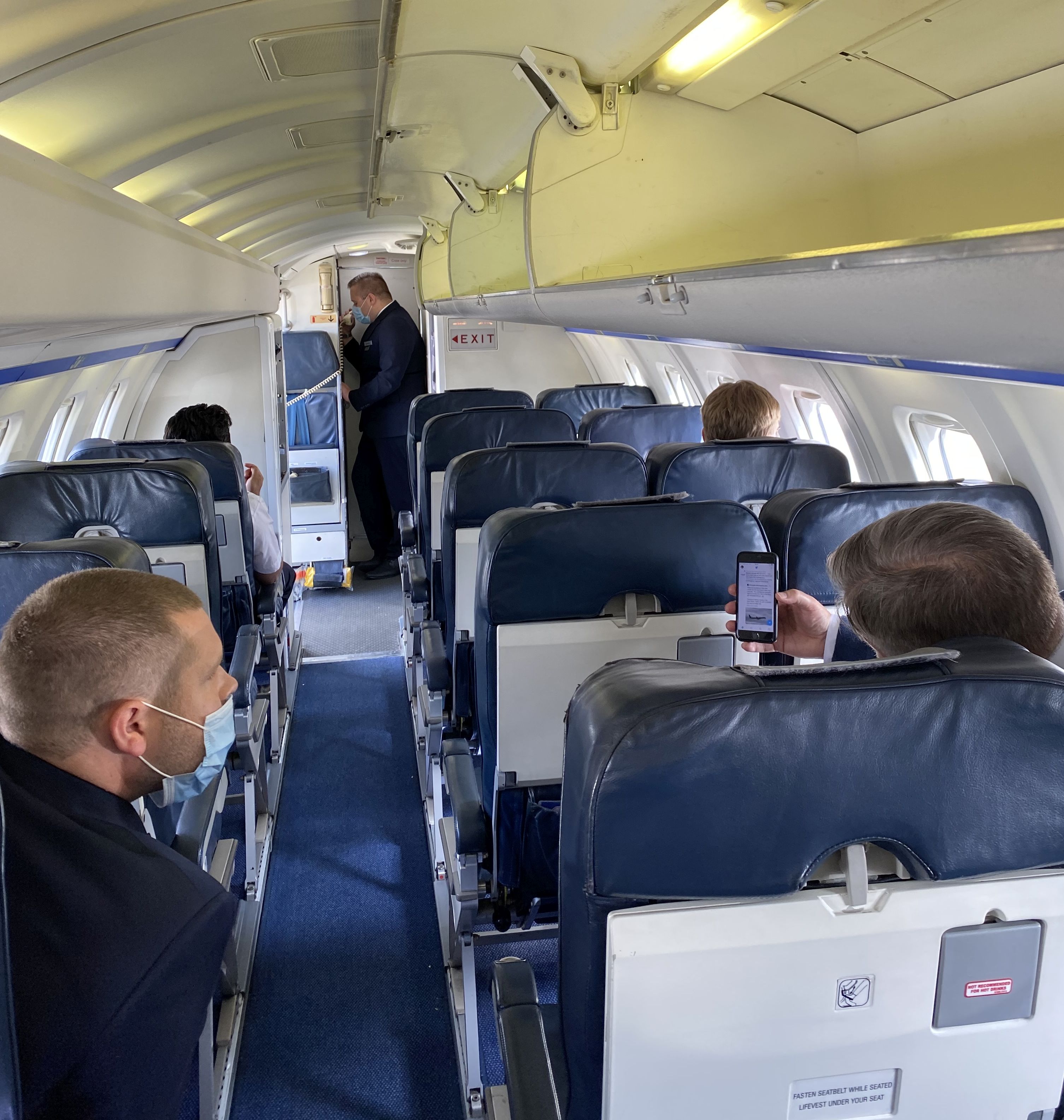 A large seatback table but the cup holder barred from hot drinks! It seems the cups on offer are too large and an accident can be nasty. The Saab was a competitor to the Bombardier Dash 8/Q400 and ATR but was never stretched with the production line closed in 1999 after just 63 had been built. A nice aircraft with plenty of baggage bin space.

Teesside is an old fashioned 1960's airport that has been tidied up to make it a presentable gateway to the County of Durham. It moved just 142,000 passengers last year but now back in the hands of a local council consortium and with newly recruited, experienced management expansion for 2020 was in place until Covick-19. Eastern is the main operator and KLM links to Amsterdam.

With Leeds Bradford to Heathrow abandoned by British Airways, with its connectivity, it could be a target for later in the year. The BA Newcastle route is now severely limited, and with the airport located north of the city, not considered a challenge, Middleborough being the largest local conurbation.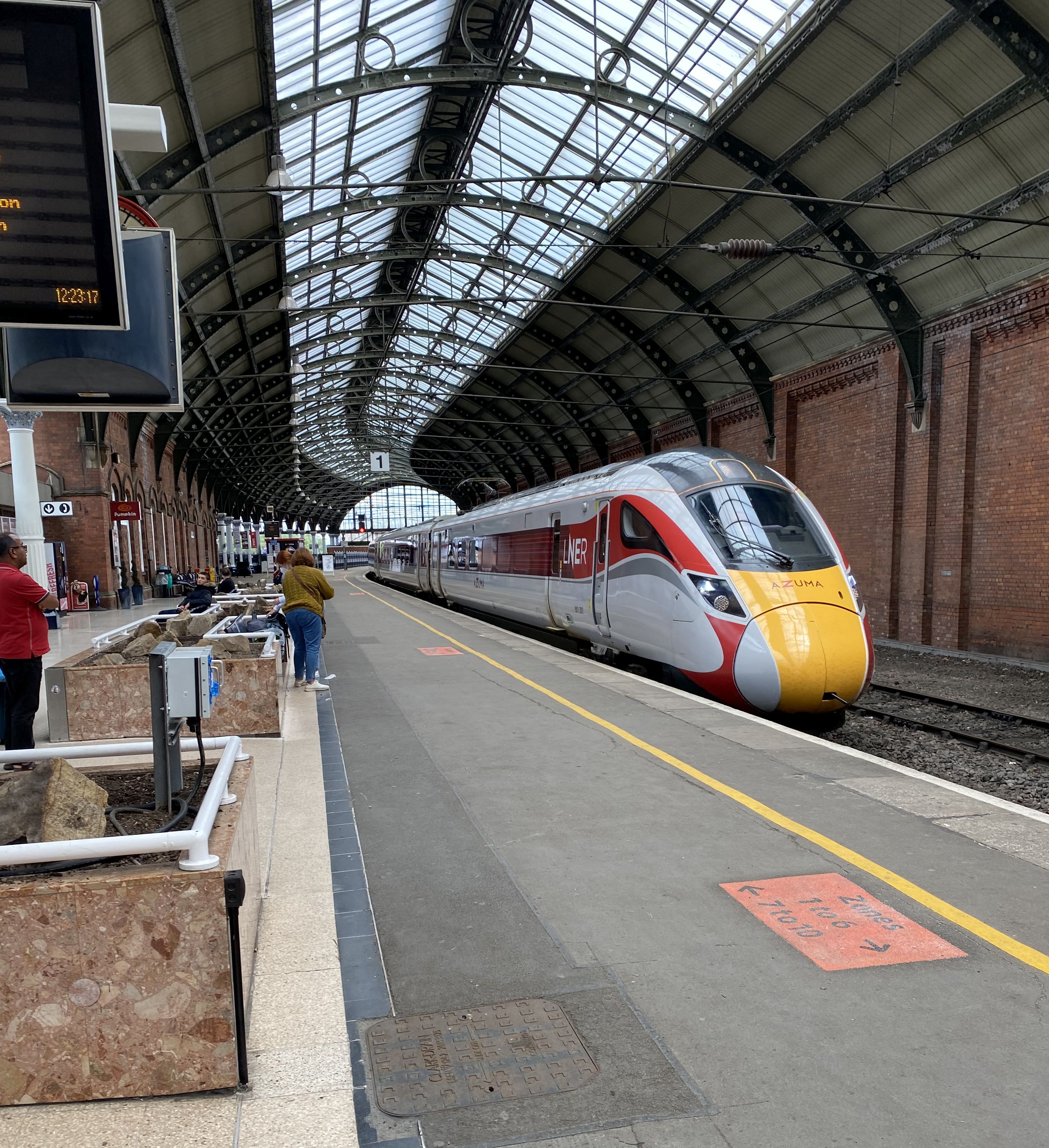 It's a 15min taxi ride to a deserted Darlington Station, once considered the centre of the rail universe. The town of Darlington also feels abandoned, eerily quiet, but at least a café for sandwiches and hot Cornish pasty only a couple of minutes' walk from the station where all the outlets are closed. Whilst there are trains to London every 30min you can only take the one booked with a reserved seat (Corvick-19 rules although no LNER staff were to be seen onboard and the train light on passengers). Plenty of nice modern trains passed through whilst I waited, with Penzance on the bright display.

The 12:28 to Kings Cross rolled in 5min early with G carriage in the middle meaning a long walk at the other end. Standard Class is mainly 2+2 with the occasional 4-passenger table seating. Go for those if you can with plenty of room for a laptop. Curiously the wi-fi worked well on my iPhone but not on the Dell laptop. The only moan is whilst there is a 3-pin plug under the seat, no USB. "Only in First Class" I was told, a daft arrangement. Quickly down to York and then direct to London a total journey time of 2hr 28min although some are even faster at 2hr 22min whilst others call at Doncaster, Newark North and Peterborough. The lavatories were clean.

A mask on all the way and then out into the Kings Cross Square and the normal Underground entrance closed. More walking.

No problem with the Tube and 28min to Edgware and fresh air!

www.londoncityairport.com

www.easternairways.com

www.lner.co.uk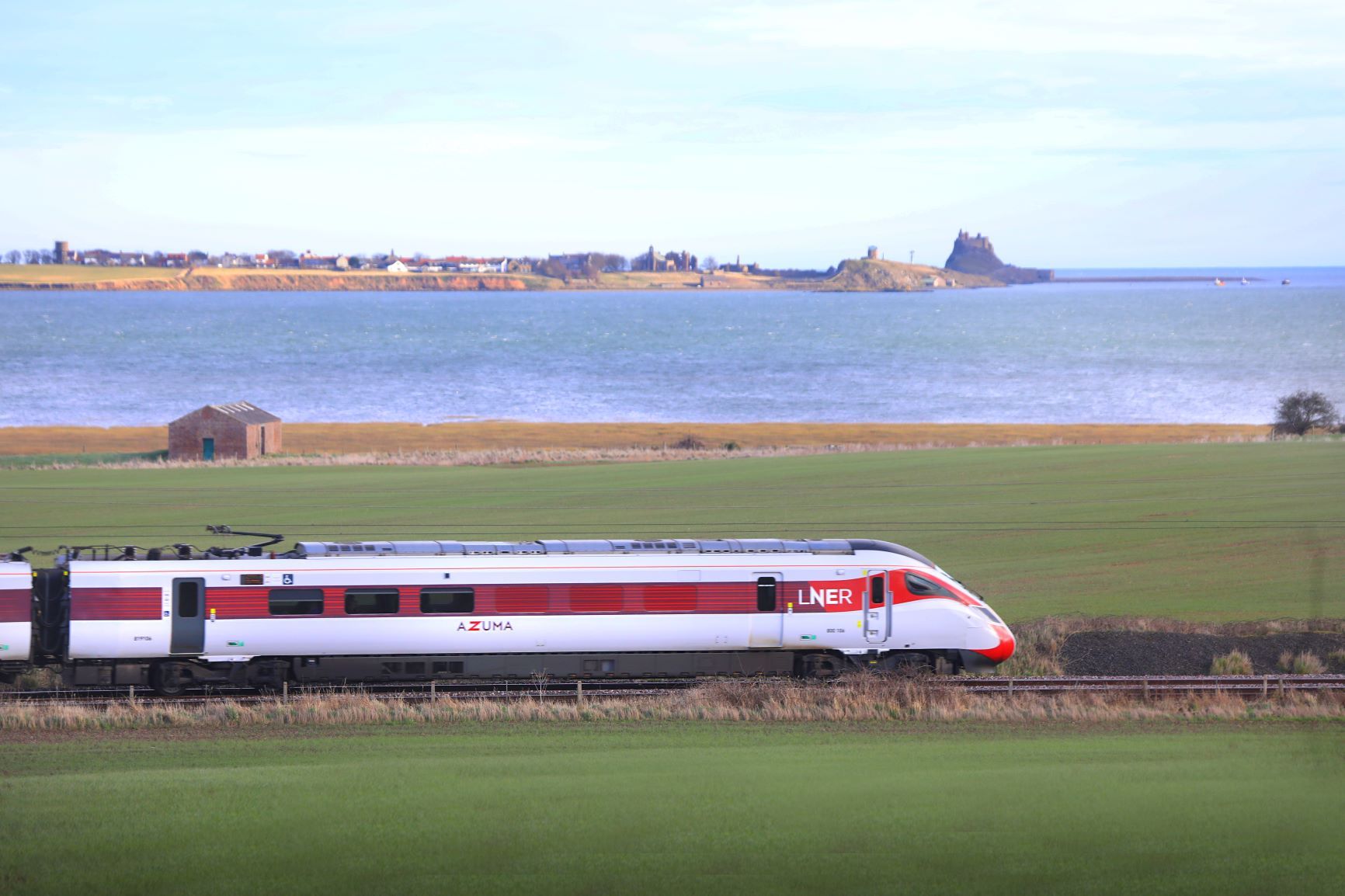 OUR READERS' FINEST WORDS (All times and dates are GMT)
All comments are filtered to exclude any excesses but the Editor does not have to agree with what is being said. 100 words maximum
---
michael imeson,
Malcolm\'s a southerner - so what would he know about anything north of Edgware! Great guy though.
---
Ian Berry, UK/Swindon
"Old fashioned 1960s Airport" - It was RAF Middleton st George until 1964 and I used to go to the BoB Air duisplay there every year. Also was the Lightning OCU. Nice Azuma picture too, although Darlington is in Co Durham and Northumberland somewhat to the north and not en-route?
---