The European Aviation Group, based at Bournemouth International Airport, was originally founded back in 1989 by Australian Paul Stoddart, who is still very much hands on.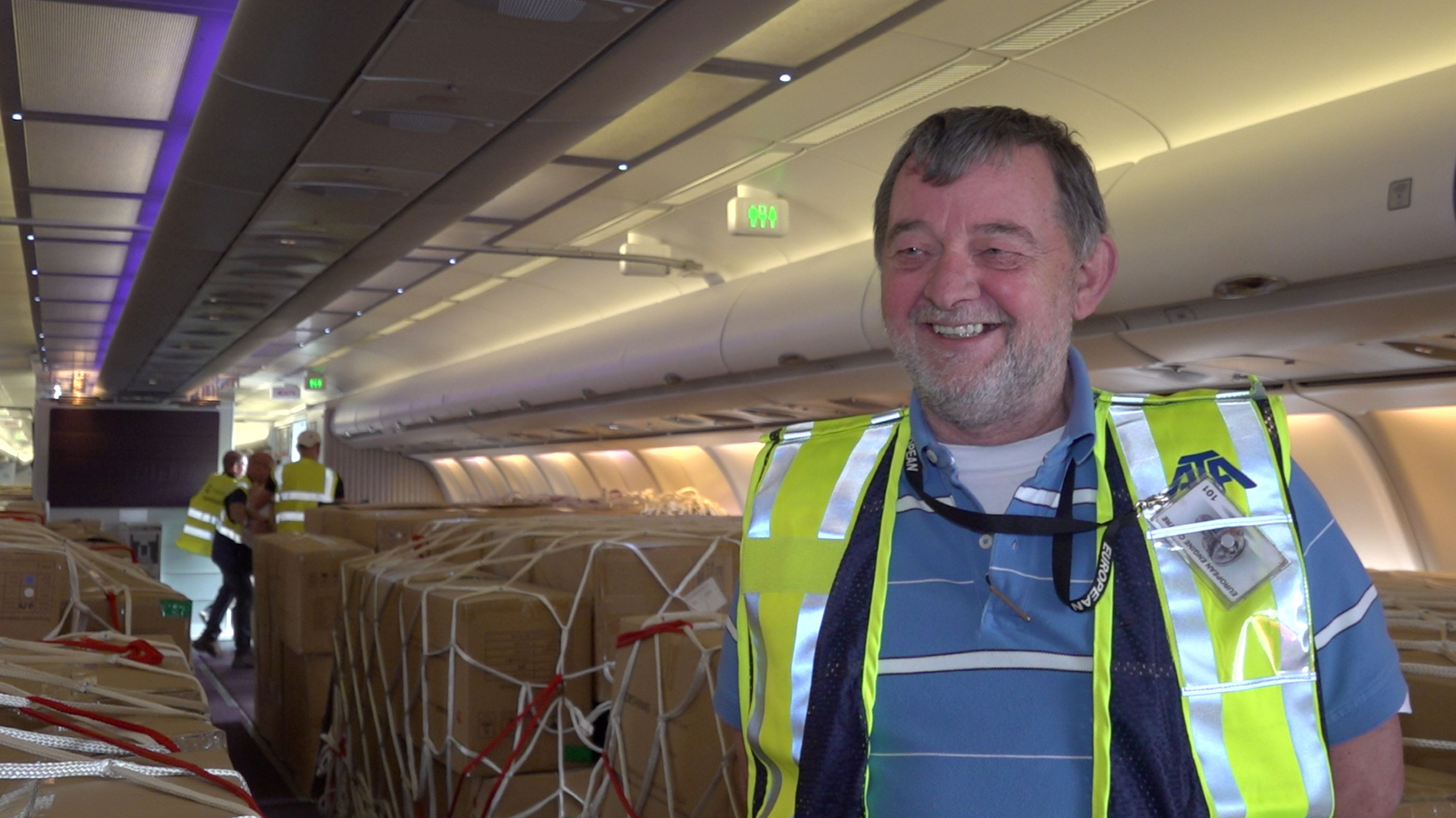 Paul is also known for his interest in motor racing, the company at one time owning the Minardi Formula One team.
At Bournemouth is European's aircraft maintenance and repair organisation EASA Part-145 approved MRO for Boeing 737 aircraft. The 50,000sq m facilities include over 120,000sq ft of hangar space, once the BAC 1-11 assembly facility. Up to four maintenance bays are available for aircraft maintenance and repair. It provides full project engineering services, spares management, component repair and exchange services as well as aircraft painting and refinishing.
Ledbury, Herefordshire, is the Group's Spares and Interiors logistics centre with a storage area in excess of 160,000sq ft, housing an extensive component inventory, consisting of over 600,000 individual line items.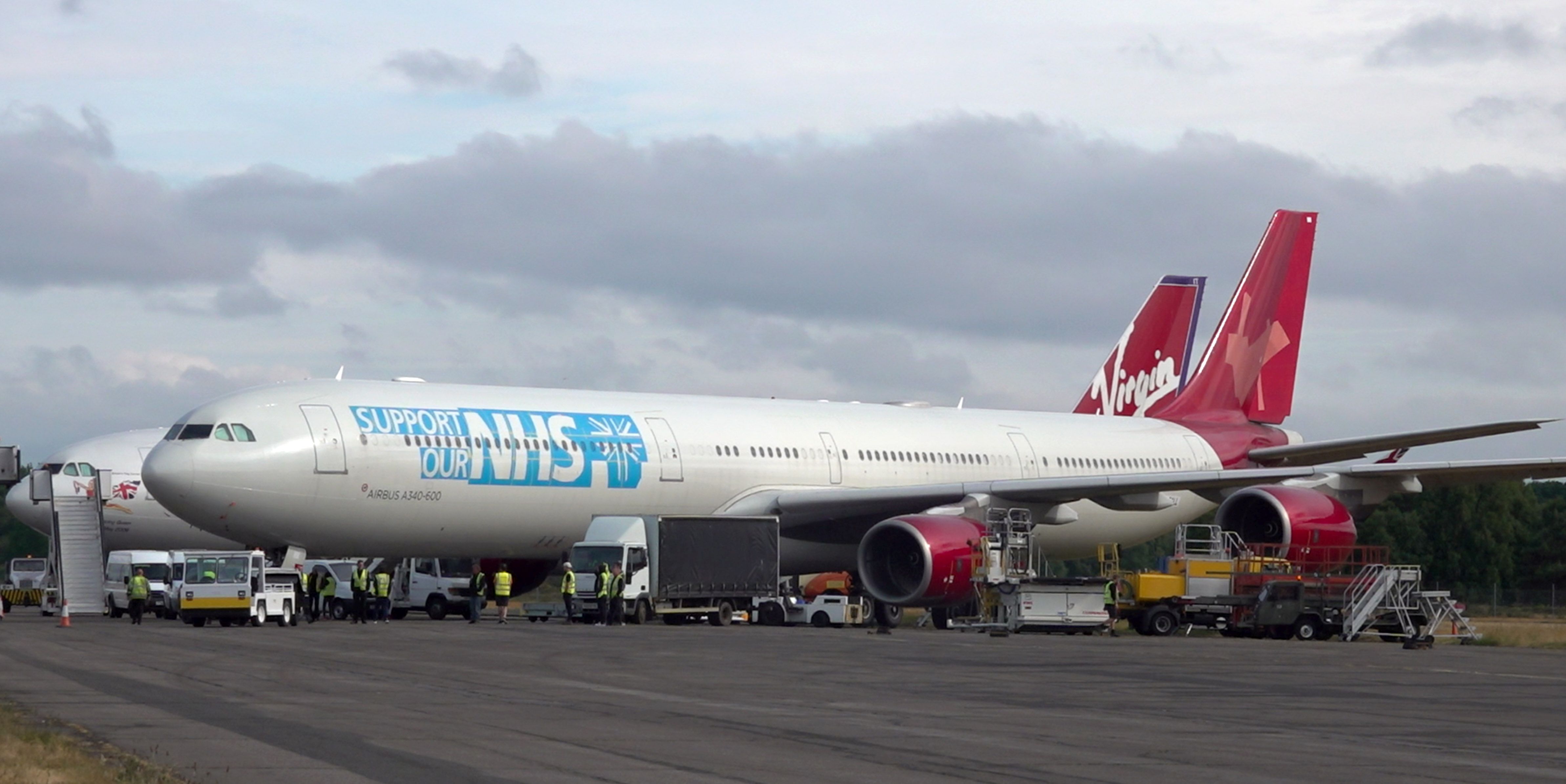 Keen aviation fan, and sometime contributor to BTN Geoff Moore, a Dorset resident, recently had cause to visit Bournemouth Airport and met up with Paul Stoddart (at 2m distance). Over the years Paul has acquired 19 Airbus A340 aircraft and is putting them to work. European is no stranger to wide-body aircraft after purchasing four Boeing 747s from British Airways several years ago and has also operated former Etihad Airways A340s (See BTN 5 February 2018).
Geoff explains: Currently some of the planes are being used in a freight role of bringing into the UK vital personal protective equipment (PPE) supplies for the NHS from China.
Working under Covid-19 exemptions Supplemental Type Certificates (STC) rules. To allow them to carry the maximum number of stores on each trip 300 seats have been removed.
So far 14 trips have been made bringing in surgical gowns, scrubs, gloves and face masks and in the last load hair and head coverings.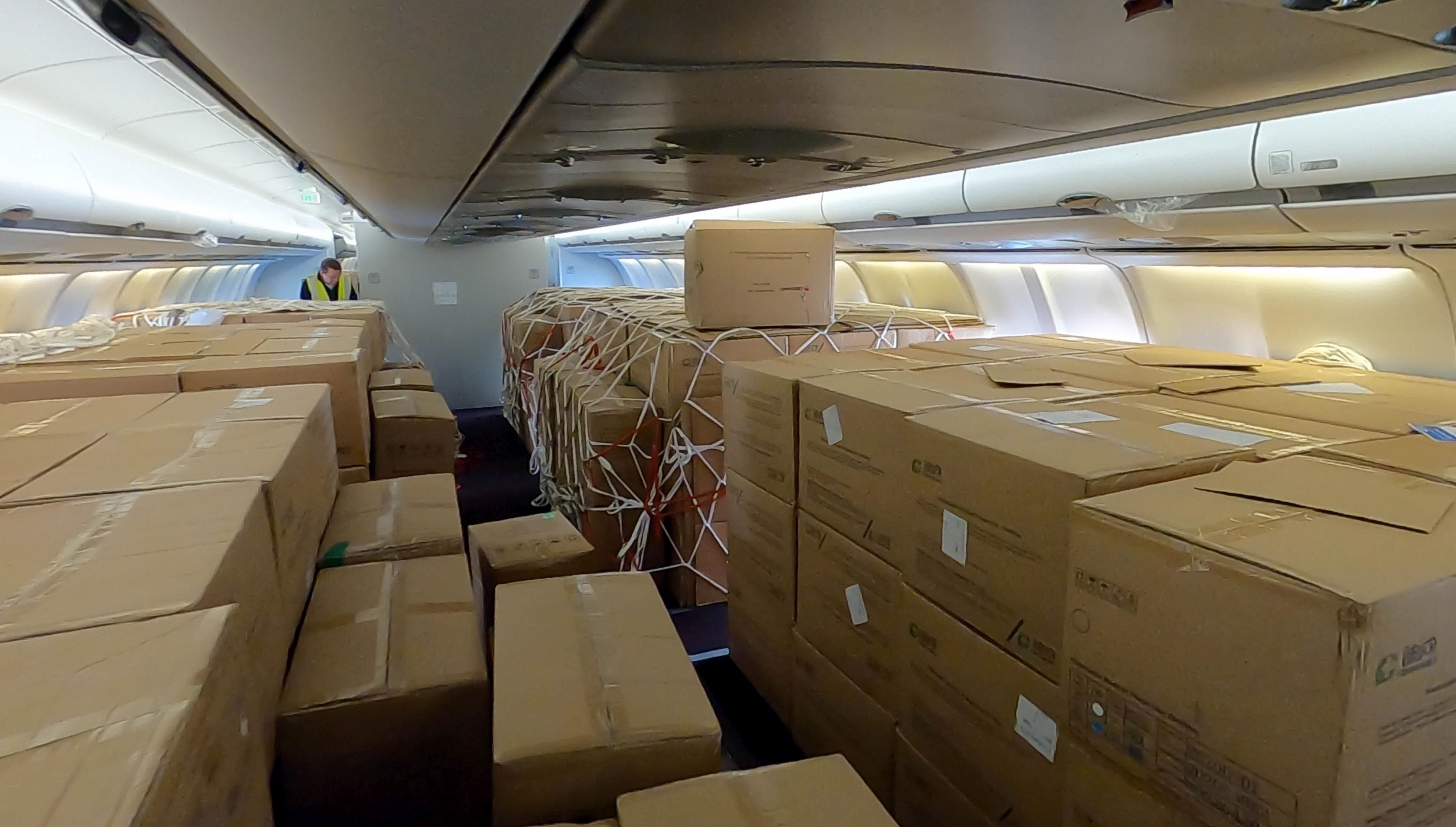 CEO Paul Stoddart said: "It started with a phone call. I was asked 'do you have some spare planes and can you get some PPE picked up in Malaysia and China'. And now the rest is history!"
"We have made 14 flights so far. Currently we have two aircraft, a third is due on the route next week. A fourth is being made ready for the second week in July and a fifth will be ready by the end of July."
"The contract runs until September, but heaven forbid, if there is a second wave we could still be needed up until Christmas."
"On this latest trip over 125,000 gowns plus other PPE items were packed into every part of the plane. Even into the galley trollies and overhead lockers."
When asked about the future of the industry he said: "It's clearly the worst crisis that the aviation industry has ever faced. And I genuinely fear for an awful number of companies who just will not survive this."
"At the moment you have two-thirds of the airline industry's aircraft grounded. You've got billions upon billions of dollars' worth of machinery sitting on the ground. Its all costing someone money.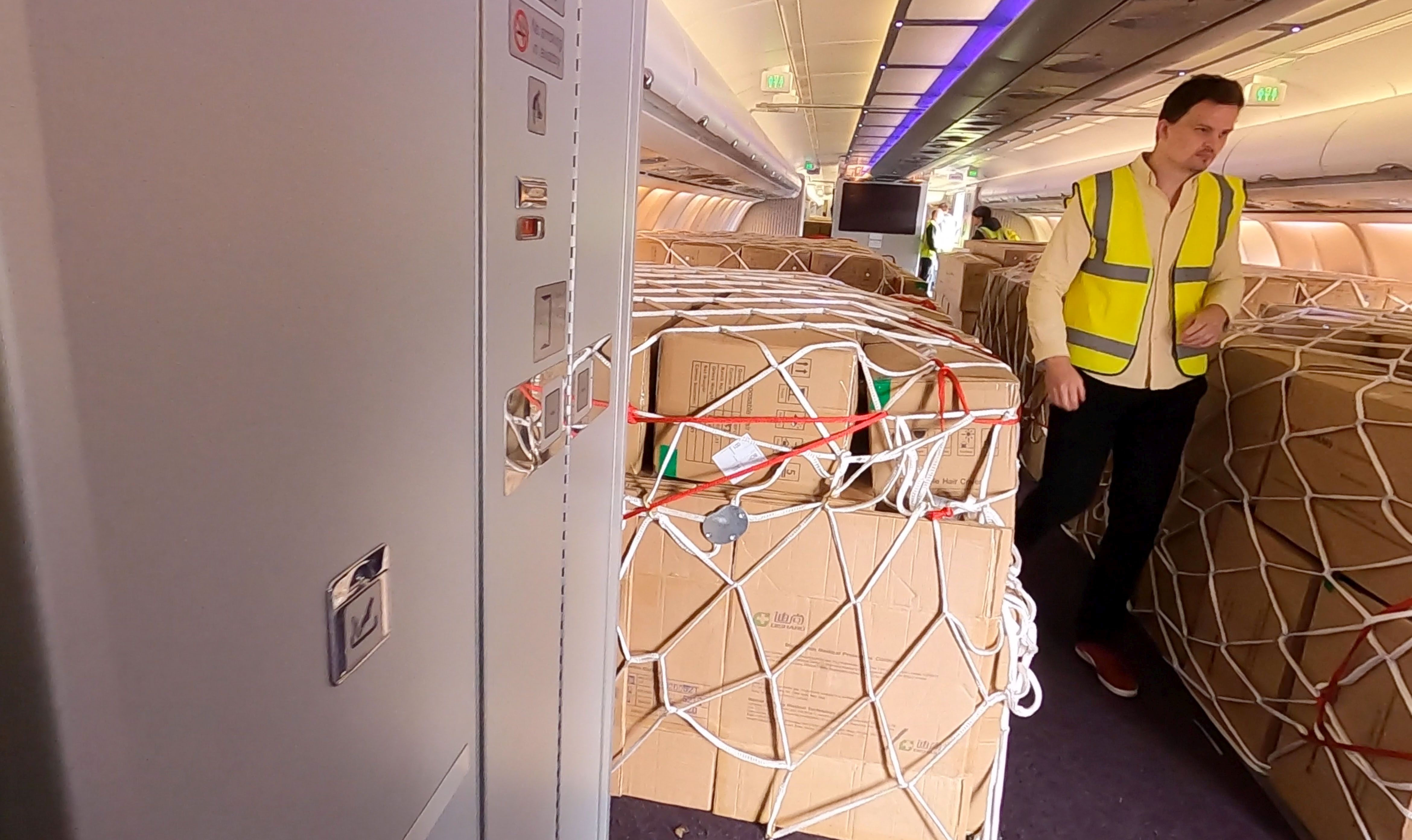 "Hundreds of thousands of jobs are dependent on these aircraft getting back into the air. And I really can't see a quick recovery. We all want one. I just don't see it happening."
Repairing and servicing aircraft engines is a large part of their facility at Bournemouth where they have dozens of Trent and other engines in climate-controlled storage and ready for leasing or outright purchase.
Paul went on to say: "Most of the engines we do are also for freighters, which are in high demand. So, I don't fear too much in terms of the freight market, that will keep us busy at a reduced scale from the engine point of view."
"But bringing on half a dozen A340 airframes and here the great thing of the A340 is that it is the longest aircraft in the world. They have more hold space than any other aircraft like an Airbus A380 or Boeing 747. Plus, they have an awful amount of room in the cabin."
"Our plan is to initially do five of these. And, probably as we have a large number in storage and if the business plan works out, we will keep bringing more aircraft on."
"We also have four 737 freighters which dovetail into our operation which are useful for flying split loads to other destinations other than to here in Bournemouth."
"The ability to ramp up to ten more A340's. I think the future at the moment is challenging. However, there is a future, which is awful better than you can say about other people, whom only have passenger planes and routes."
Geoff is an award-winning travel blogger and writer, experienced media photographer, and supplier of images to the UK national newspapers and publications worldwide. He offers a video filming facility and editing. All the images above are his.
Also at: Dorset Media Service Tel: 07815 100648
OUR READERS' FINEST WORDS (All times and dates are GMT)
All comments are filtered to exclude any excesses but the Editor does not have to agree with what is being said. 100 words maximum
---
Paul Kay, London, UK
....I second the good comments written here on this very interesting article and it seems this chap and his business is exactly what Grit, Determination, Shrewdness, Risk Anticipation and Longevity we need... ..."This Business is 'GREAT'....Britain!!"......"Can I have a Lift In The Jump Seat Please ?"....
---
Robert Hardless, UK
I have had the pleasure of working with EAL when they leased us Bae 1-11's for AB Airlines. Paul has amazing perception and just gets the right planes at the right time. Congratulations.
---
Simeon Bennett, London, UK
A really interesting article with real reporting - thank you BTN. Great to underestand what is actually occuring at a working level, with some insightful pictures as well - not just a recycled press release.
---