The timing for AIRLINES 2050 could not be better, proceeded by the Queen's Speech today with a possible mention of future safeguards covering a Thomas Cook-style fiasco. Transport secretary Grant Shapps is also a speaker on Thursday. The full listing is below, as is the programme.
Airlines UK chief executive Tim Alderslade offers this COMMENT preview, zeroing in on the sustainability challenge facing airlines, one of the key themes of the gathering.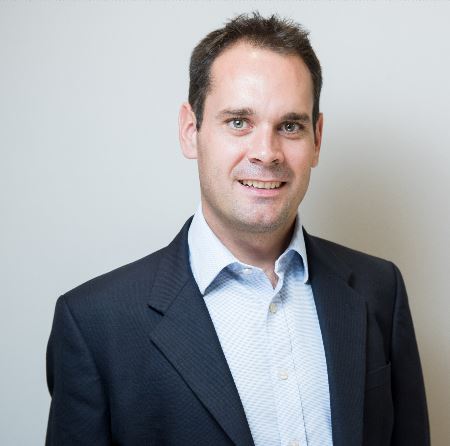 "As UK and overseas airlines gather at the Queen Elizabeth Centre on Thursday (17 October) to take stock of the past 12 months, we do so at a time of unprecedented change and uncertainty within the sector.
Foremost in our minds will be the challenge that has been laid down on sustainability. Parliament has this year legislated to cut greenhouse gas emissions to net zero by 2050, and the Committee on Climate Change has recommended to ministers that aviation should be included within these targets.
Airlines supported the net zero legislation because we recognise that the world has changed. Governments – and passengers – have made it known that for aviation to continue to grow it must demonstrate it can do so in a responsible manner. We get that – and are working incredibly hard to demonstrate that net zero is the right target at the right time, and within reach by 2050. The exam question set by ministers can be answered.
The alternative is an industry that will increasingly be seen as a problem child. As other sectors in the economy start to decarbonise, aviation's share of global emissions – currently just 2% – will start to rise. This could be to anything from 4% to 25% by 2050. Clearly this would be unsustainable and therefore aviation is likely to come under increasing scrutiny as its carbon impact relative to other sectors increases.
The good news, however, is that we have already made an excellent start in responding to the challenge. The UK government played a key role three years ago in establishing the Carbon Offsetting Scheme for International Aviation (CORSIA), which from next year will address increases in total emissions from international aviation.
It is forecast that CORSIA will mitigate around 2.5bn tonnes of CO2 and generate more than $40bn for climate projects between 2021 and its end date of 2035. This is an annual average of 164m tonnes, equivalent to the annual CO2 emissions from the Netherlands, all sectors included.
A truly historical achievement. Before its signature, no other single sector had come together to agree a global market-based measure to address increases in carbon – and we should celebrate that. Its importance is strengthened in that it has helped facilitate further international steps that are consistent with the Paris Agreement – namely agreement at ICAO to explore a long-term goal for aviation CO2 emissions beyond 2035. Again, we pay tribute to the leadership shown by the Department for Transport in prioritising these discussions at ICAO.
Of course, international action is no excuse for domestic inaction, and in the UK we have already been successful in decoupling growth in aviation from growth in emissions, thanks largely to the tens of billions of pounds invested by airlines in the latest engine technology.
Hundreds of new planes have entered service – with many more on order – and these emit substantially less carbon than their predecessors. To use one example, the Airbus A320neo can provide 20% less fuel burn savings by 2020 compared to the A320ceo.
Looking ahead, we see opportunities to build on this success – but this is where government support will be so vital. Sustainable aviation fuels (SAF), for example, could present real growth opportunities for the UK. They result in 70% less lifecycle greenhouse gas emissions than fossil jet fuel and are a vital "bridge" to game-changing electric planes.
Critically, SAF are proven technologically (Virgin Atlantic completed its maiden commercial journey using sustainable aviation fuel in 2018), but now need to be scaled up and commercialised. British Airways has announced investment in a sustainable jet fuel plant in Humberside but we can go further, with ministerial help.
For £150m of government investment we could fund a number of commercial plants across the UK utilising wastes and residues to manufacture SAF, as well as a UK centre of excellence for SAF development. The potential prize is huge: more than 5,000 jobs, gross added value of £700m-plus and an uptake of SAF of around 30% by 2050. Again, these are existing – not theoretical – technologies, and with the right support we could see the UK become a world-leader in their development.
Airspace modernisation, meanwhile, has the potential to reduce emissions still further. Through the use of more modern airspace that uses satellite-based navigation to promote more direct routes, and better operating procedures, including the removal of stacking near airports and the release of more controlled airspace, we could reduce carbon by between 9% and 14% through to 2050. Government should continue pushing for modernisation and take a clear lead in selling its strategic importance to the whole of the UK.
Achieving all this will require substantial collaboration across all parts of the UK aviation sector, and accompanying substantial investment. It will mean focusing on the huge potential for the UK to become a world leader in new innovation and the many exciting developments around engine technology and the new emerging carbon markets. Working with government, we can achieve this together – including meeting the all-important net zero target.
2050 THE FULL PROGRAMME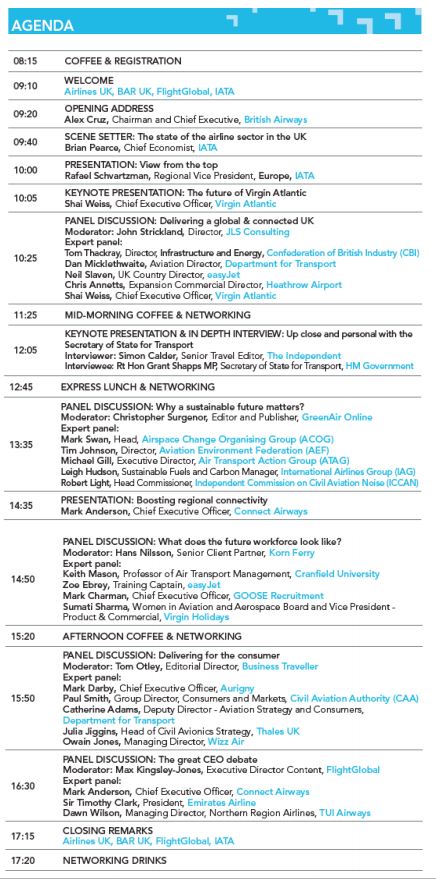 www.flightglobalconferences.com/ehome/airlines2050
OUR READERS' FINEST WORDS (All times and dates are GMT)
All comments are filtered to exclude any excesses but the Editor does not have to agree with what is being said. 100 words maximum
---