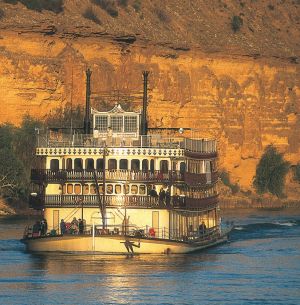 One of our regular contributors Sheila Randall has been down to South Australia and taken a river trip with a difference. On her cruise she spotted kangaroos, wombats, murray long-necked tortoises, pelicans and many other species.

Murray Princess is not the normal type of river cruise ship found in Europe or South East Asia. It is a stern wheeler, familiar on the Mississippi, the largest in the Southern Hemisphere. At 220 ft long it seems big at first, but in fact is about half the size of the American Queen, pride of St Louis (but sadly laid up at the time of writing). Maximum accommodation is for 120 in 60 cabins, each one air conditioned, with the usual facilities and private bathroom en-suite. Average space is about 12m sq.
The ship looks like it dates from the 19th century but in fact was built in 1985. The lounges and dining saloon are spacious with a character and charm of yesteryear. There are two spas, two saunas, a sun deck; a couple of bars, twin lounges, a single-sitting dining saloon; speed boat; gift shop, library and video; elevator; guest laundry and 24-hour tea and coffee facilities.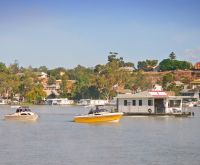 The dining saloon is designed to accommodate all passengers at a single sitting. Breakfasts and luncheons are buffet meals with free seating. There is assigned seating for dinner and the menu changes nightly including table d'hôte and smorgasbord dining plus a campfire barbecue on the Heritage Cruise.
Adelaide is the capital of South Australia, two hours flight time from Sydney. About an hour and a half's drive is the pretty little riverside town of Mannum from which the Murray Princess departs. The road went through some very interesting scenery with curious rock formations which have been painted by 'local artists'. It is not graffiti but the Aussies have interesting senses of humour.
The ship departed mid-afternoon.
Floating down the Murray on the Murray Princess is a very tranquil experience as the boat sails by intriguing looking houseboats large and small. The river is Australia's longest, just under 1,500 miles in length.
This is a unique, historic, nature-based experience. Through some of the driest areas of the driest continent, looking up at towering cliffs and gorges. The colours are wonderful, ochre and reds.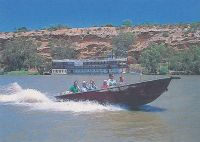 Each night the Murray Princess moors at the riverside, sometimes tied up to a large tree and we sat and watched for the animals and reminisced about African safaris. The early morning is a photographer's delight. It is the time for keen photographers to 'catch the moment' The light is perfect.
There was an opportunity to visit a vineyard and sample some of the product. South Australia wines are world famous.
A most interesting stop was Swan Reach, a small town settle in the 1850s, which was part of five large sheep and cattle stations and boasts an interesting museum which is the culmination of a fun guided walking tour.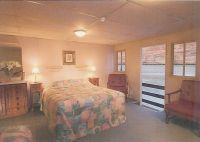 On board the Murray Princess the crew work very hard to keep everyone entertained with a variety of different activities which includes a great barbecue ashore one evening, a sheep-shearing demonstration and a trivia night. All the passengers threw themselves wholeheartedly into all the activities.
The scenery is spectacular with the sulphur-crested cockatoos flying noisily around the ochre coloured cliffs and white pelicans floating on the river.
A visit to the Ngaut Ngaut aboriginal reserve is a must. Listen to an explanation of the ancient tribal rock carvings which tell the Aboriginal history of the people from that area.
This is a wonderful way to end a hectic holiday to Australia. It is so tranquil and relaxing. It is an experience you will never forget.
Three, four and seven day cruises are available.
Sheila Randall
sheila@sarandall.com www.captaincook.com.au

NEWS ROUNDUP
We mention the new Queen Elizabeth below but in fact it is only one of 12 cruise ships debuting this year. It is true that in 2006 and 2007, when most of these vessels were ordered, the world was in a boom, but nobody has cancelled and 2009 was a record 12 months for the cruise industry.
In some kind of order we start of with Silversea Silver Spirit which left Lisbon on its maiden Atlantic crossing in the first week of this year (having what was an inaugural voyage over the Christmas period) . See below. Next up is the 92,000 ton Costa Deliziosa. At the end of February MSC Magnifica debuts at Southampton and soon afterwards in the luxury small ships category, French line Compagnie du Ponant will reveal the 264-passenger yacht Le Boreal followed by Seabourn's 450-passenger Sojourn.
In June NCL will unveil the 153,000 ton 4,200-passenger Norwegian Epic. Special features include an Aqua Park with three waterslides, an ice bar, extra-large rock-climbing wall, rappelling wall, 14 restaurants and the largest private villa complex at sea. Royal Caribbean's Allure of the Seas, with 6,000 passengers and due in December is bigger still.
Other new ships for 2010 include Holland America Line's latest Nieuw Amsterdam, Sea Cloud Cruises' Sea Cloud Hussar, German cruise line AIDA's AIDAblu, Celebrity Cruises' Southampton-based Celebrity Eclipse and, also in the UK, P&O Cruises' Azura.

ALEXANDER VON HUMBOLDT is a title that is unlikely to be seen on a British cruise ship but that is what the latest acquisition by the All Leisure Group is called. According to Chairman Roger Allard no decision has been made on what to name the 15,000 tonne 500-passenger vessel which is currently on charter and will be extensively remodelled before entering service in 2011. Built in 1990 it has also been called Jules Verne, Walrus and Crown Monarch. Mr Allard will certainly come up with a more attractive designation appropriate for the UK market. www.allleisuregroup.com
CARNIVAL CRUISE LINES' newest ship, the 3,690-passenger Carnival Magic, will debut with a schedule of seven, nine and 12-day Mediterranean cruises operating from Barcelona from May to October 2011. This marks Carnival's first full season of Mediterranean cruises in three years, as well as the first time the line has made Barcelona its home port. Carnival Magic offers a host of on-board amenities and facilities, including Ocean Plaza, an indoor/outdoor café and live entertainment venue with full bar service, a patisserie and a dance floor; Serenity, an exclusive adults-only retreat offering magnificent sea views; and The Lanai, a wrap-around promenade encircling the ship with cantilevered whirlpools that will extend over the ship's sides. www.carnival.com
HAPAG-LLOYD and its flagship MS Europa is to be connected at sea on the internet by OnAir, a company owned by SITA, whose technology dominates the world's airlines. The OnAir system is quickly establishing itself with over 20 air carriers already signed up. Regular cruisers will know that once at sea the internet can be intermittent. OnAir says that with Europa visiting typically Iceland, Polynesia and New Zealand, fast and reliable communications should still be the norm. The first Mobile OnAir-equipped cruise will launch during the first quarter of 2010. www.hl-cruises.com
MARCO PIERRE WHITE will be travelling on board P&O Ventura at various dates throughout the year and will be offering the chance for passengers to get up close and personal. Marco, who has a fine dining restaurant, The White Room, on Ventura, will be hosting cookery sessions for groups of up to eight adults and children in the theatre kitchen on board. The interactive sessions will involve participants joining Marco as he creates a series of Mediterranean dishes, including several fish dishes and sauces. Marco will also answer questions about the recipes, techniques and ingredients as well as giving away some tips of the trade from the man dubbed "the godfather of modern cooking". www.pocruises.com
ORION EXPEDITION CRUISES has announced the expansion of the line, with the addition of a second specialist expedition cruise ship to join the existing 106-passenger Orion. The vessel is currently operating as Clelia II and had capacity for 100 passengers in all-suite accommodation. It will be renamed Orion II and is scheduled to commence operations with the company in May 2011. It will be based in South East Asia, offering a wide range of expeditions that will include Vietnam, Thailand, Cambodia, the Indonesian archipelago, Japan and Borneo. www.orionexpeditions.com
PRINCESS has become the first cruise line to go fully digital with passenger ticketing and information. In Britain 70% of households are on the internet. The change from printed information to fully digital documents applies from 1 March 2010 to all UK passengers on cruises departing on or after 22 May 2010. The digital documents include a series of emails filled with personalised pre-cruise information, personalised online luggage tags, customised shore excursion eBooks and a downloadable Princess Countdown Connection widget that delivers fun information to a passenger's computer. The information will be customised to the itinerary and the ship the passenger is sailing on, and greetings are featured from some of the senior officers who will be sailing on their cruise. An array of links is also provided to such things as ship videos and virtual tours, bridge cams, dining options, entertainment choices, shipboard features and amenities, travel logistics, weather information, packing tips, frequently asked questions, Princess Captain's Circle benefits, important notices and reminders and how to stay connected to family and friends while onboard. www.princess.com
QUEEN ELIZABETH is nearly complete, a sister ship to Queen Victoria. In the first week of January Cunard's latest and greatest was floated out at the Fincantieri's Monfalcone shipyard near Trieste. Over the coming months it will be fitted out with its service introduction due in October of this year. At just over 90,000 tons and 2,000 passengers it is larger than the previous QE2 (70,000 tons) and also bigger than the original 1940 launched ship (83,000 tons). www.cunard.co.uk
SILVERSEA CRUISES' brand new flagship Silver Spirit, has arrived at Port Everglades in Fort Lauderdale, having completed her maiden crossing of the Atlantic. She is now on a 91-day Grand Inaugural Voyage, followed by the summer in the Mediterranean and will then reposition to the Caribbean for autumn and winter cruises. At 36,000 tons, and accommodating 540 guests Silver Spirit is easily the largest ship in the now five-strong Silversea fleet. A private veranda is featured in 95% of the suites. It is Art Deco once on board, the amenities including an indoor/outdoor spa measuring over 8,300 square feet (770 square metres), a resort-style pool, four whirlpools, and a choice of six dining venues including Seishin, showcasing Asian-fusion cuisine, and the innovative Stars Supper Club, offering trendsetting menus and all-night entertainment. www.silversea.com
VOYAGES OF DISCOVERY have published their new Latin America and the Caribbean brochure from November 2010 – April 2011. Discovery will follow in the wake of famous explorers, travelling to some fascinating places not possible for the larger cruise ships. Included is a 79-day complete circumnavigation of South America including the Amazon, the Orinoco, Falkland Islands and the opportunity to visit the extraordinary Galapagos Islands. Discovery will also be sailing to historic Cuba, where walking around is like a step back in time. Cuba is on the threshold of great change and is a must-see destination in the Caribbean. www.voyagesofdiscovery.co.uk
OUR READERS' FINEST WORDS (All times and dates are GMT)
All comments are filtered to exclude any excesses but the Editor does not have to agree with what is being said. 100 words maximum
---
No one has commented yet, why don't you start the ball rolling?
---