It is getting towards the time of year when we all try and think forward to next summer and holidays. For our main piece in this month's cruise news AERBT thought it would take a look at the 2010 version of crossing the Atlantic. Only Queen Mary 2 offers any frequency on this relaxing way of travelling. And in true next year mood, for our Christmas edition we will review Disney's latest The Disney Dream. If you are new to cruising read An Introduction to Cruising in the AERBT archive 20 April 2009.
TRANSATLANTIC 2010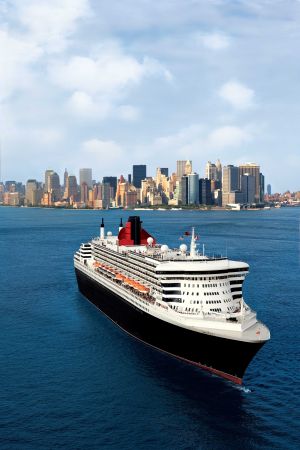 It was the arrival of the jet-powered de Havilland Comet 4 in October 1958 that signalled the end of the transatlantic luxury liners. If you were going to North America no longer were five , sometimes rough, nights needed at sea. The bonus was a dawn arrival at New York, the Verrazano Narrows (now a bridge), past the Statue of Liberty and up the Hudson River to Piers 90/92, the New York home of Cunard – White Star. The Queen Mary and the Queen Elizabeth offered top quality fare for those in what we now call "the front end" in airline terms, and a more robust service for the majority, travelling in third class, the equivalent of today's economy. Cabin class, a sort of premium economy, was also provided.

Fast forward to December 2003 and the arrival of the RMS Queen Mary 2. RMS stands for Royal Mail Ship, a traditional title that QE2 did not have. Here was a ship worthy of the name and at the time the world's largest passenger liner. QM2 is now a mature lady, leader of a fleet that includes Queen Victoria, and in 2010 the new Queen Elizabeth.

Some do not like flying
Whilst most of us enjoy flying the North Atlantic there are some who will not take to the skies however much you might bribe them. There are others who prefer a more leisurely form of transport, and there is a third group who just enjoy being at sea, being pampered and taking in what is on offer, for up to seven nights.

Cunard, for the last ten of its 170 years part of the mighty Carnival cuise ship empire, was quick to grab this market and now has it more or less to themselves. However it must be pointed out that at the start and finish of the European season many cruise lines reposition their ships, with some very attractive prices on offer. QM2 will make 26 crossings of the Atlantic in 2010, its New York home Red Hook, just prior to the Brooklyn Bridge, and very easy for Kennedy Airport.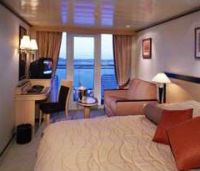 RMS Queen Mary 2 is big, very big. From a pure tonnage point of view, and also in terms of passengers, even larger vessels have arrived in service but these are pure cruisers, not ocean-going greyhounds capable of crossing the Atlantic at nearly 30 knots in the height of winter. QM2 is something special, a real showstopper. On her World Cruise this winter she will cause traffic jams at virtually every port she visits. QM2 carries a maximum 2,700 privileged passengers.

If your need is to cross the Atlantic in 2010 make the time to try QM2. The cost is not excessive, starting at £949, one way by air via British Airways World Traveller. Throw in three nights at the Marriott Marquis in the heart of New York at Times Square and the starting price is £1,294 including transfers, a great deal. Of course you can upgrade and a junior suite including balcony, concierge service and dining in the splendid Princess Grill starts at £2,499. Add Virgin Upper Class or BA's Club World and at £4,898 the price is less than the business class return fare. By taking the ship westbound you also escape Britain's punitive airport taxes. Compare that with a week in a 4/5-star hotel in Spain during the holiday period.

On the QM2 you get full board and literally 24-hour entertainment. You can fly to Southampton from most UK regional airports. There are organised connections to the south coast port from either Gatwick or Heathrow. If you are trying to budget for the cruise expect to pay £6 per person per day as an all in tipping charge in Britannia Class and slightly more in the Grills. No shore excursions to include off course! Drinks are approximately at UK pub rates. The days of cheap booze at sea are long gone. The ship may be British but everything once on board is calculated in dollars.

An Art Deco Ship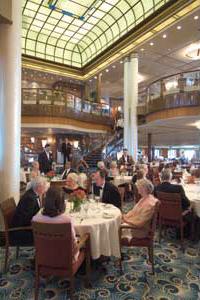 Internally QM2 is very much art deco in design with some fine embellishments and pieces of decoration. There are plenty of reminders of an earlier era when the stars and politicians used the original Queen Mary as their transport from America to Europe. Churchill was a regular and Crosby spent much time on his crossings actually assisting in the ship's darkroom. Photography was his hobby.

A frequently asked question is whether to take an eastbound or west crossing of "The Pond" bearing in mind that as many as 500 passengers will be making a round trip. There are certain advantages of the westbound crossing. You get a 25-hour day as the ship makes up for the time difference between the UK and USA. Marvellous for the late night types. Entering New York harbour at dawn is one of the great seaborne sights, although sadly the passage up the Hudson is no longer. Eastbound you can have your holiday Stateside and get your strength back on the way home, except here you are limited to 23-hour days and with the entertainment going on late it can be well into the early hours when you put the clock forward and go to bed. But it is straight into British time when you get home and no jetlag.

Your cabin determines where you dine. For those with the largest of suites there is the Queen's Grill and butler service. Princess Grill guests are offered much the same superb fare, fine junior suites and the use of the concierge service. There is also Britannia Club (a small private portion of the Britannia Restaurant) for the top Britannia grade passengers with one
sitting and an assigned table (as in Queens and Princess grills) for breakfast, lunch and dinner. The main standard class Britannia Restaurant itself, with its sweeping staircase, is awe inspiring with a dining room team only too happy to satisfy any specific requirements. There are two sittings. Getting around the ship is very easy, although it involves a lot of walking, and the disabled are very well looked after. QM2 is spacious and has not one but two proper theatres, The Royal Court and Illuminations, which also doubles as a real large screen cinema. However regular cruising types who try not to use the lifts in an effort to defeat one's eating should be warned. QM2 has 13 active decks. Mechanical transport wins in the end.

Plenty of swimming pools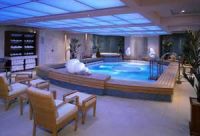 Old cruise hands will quickly take to QM2. Essentially it is the 21st century development of QE2, a ship that evolved over the years. QM2 has a great deal more balcony cabins and amidships a large swimming pool with retractable roof, perfect for the North Atlantic. The stern of the ship is traditional with two more swimming pools and on the top deck a sunning area complete with daytime café (plus a helicopter pad). Deck 7 includes the promenade deck, each lap one-third of a mile. It is exposed to the elements but this did not seem to deter the many hardy souls happy to jog or walk along, everyone at a different speed, whatever the weather.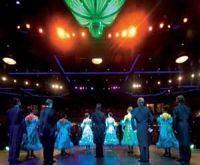 The massive width of QM2 allows for a great deal of flexibility regarding the internal design of the ship and this is particularly noticeable with the informal eating area, on most cruise ships not much more than a glorified cafeteria. With QM2 the location, known as Kings Court, is divided into four quarters (which become themed restaurants at night) with small dining recluses actually projecting out into the promenade deck (but somehow not obtrusively). It is more intimate and you can eat when you like as an alternative to the main restaurant.

On the North Atlantic each day can be very busy, or you can sit out and catch the sun. Cunard Captains attempt to keep with the good weather. Long gone are the days when each liner tried to be the quickest. QM2 has evolved a sunshine route across the Atlantic and has more than enough speed to meet a six or seven day schedule. Choose your crossing to suit your interest with the specialist lectures that are featured.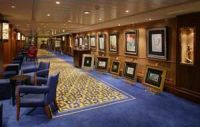 Early risers can take a continental breakfast from 0400, or in their cabins at any time. From 0815 the ship swings into life with the Canyon Ranch Fitness Classes. There is Bridge from 0900 (for beginners too) and every day a series of lectures and talks typically covering history, politics (Cunard Insights) and even an acting workshop by RADA (Royal Academy of Dramatic Art). You can play darts in the Golden Lion pub, get involved in a cookery demonstration in the Chef's Galley, or just relax in the splendid spa. There is also bingo. After all this is a British ship and in the same vein, karaoke. Each evening a spectacular show will delight all in the Royal Court Theatre and you can dance away the night in the elegant Queen's Room, the largest ballroom on the seven seas. A 24-hour buffet makes it all possible.

There is a suite of private rooms which also double small lecture theatres. Cunard is making efforts to get into the conference market Queen Mary 2 (and Quenn Victoria + Queen Elizabeth for the future) very well equipped and the North Atlantic crossings ideal for a "get away from it all" proffesional gathering with relaxation not far away. Some attractive packges are being put together.
The ship's daily newspaper keeps you up to date with the British news (other language versions available) and printed internet adaptation of the nationals are available. The ship is best described as computer literate. Every cabin has an interactive TV screen and keyboard and for a nominal sum you can send and receive email. Keeping in touch in the middle of the Atlantic has never been cheaper. Or you can cut yourself off completely.

It all started back in 1936 with QM2's Clyde-built distinguished predecessor. The legend of the Queen Mary is still very much with us. http://www.cunard.co.uk/QM2

Please note the prices noted above are only a guideline. Call Cunard on 0845 071 0300 for an accurate quote www.cunard.co.uk
AND OUR TEN NEWS HEADLINES
THE 2010 UK CRUISE CONVENTION, the fourth of what is becoming one of the outstanding travel agent events of the year, will take place at the Port of Southampton from Thursday 24 to Saturday 26 June and will feature visits to four cruise ships, including the newly launched Celebrity Eclipse, P&O Cruises' Azura and NCL's Norwegian Epic. Even the "not new" ship is outstanding and unique. Cunard's ever-popular Queen Mary 2. More than 600 delegates are expected to attend with sessions taking place in the QEII Cruise Terminal. These will include business seminars, keynote speakers and the main conference along with a cruise trade fair, networking events and the popular ship visits. www.the-psa.co.uk
ALL LEISURE GROUP, which operates Swan Hellenic, Voyages of Discovery and Hebridean Island Cruises, has added the former "Alexander von Humboldt" to its fleet. The 15,271 grt vessel came into service in 1990 and has 250 passenger cabins, 90% of which are outside. The Group intends to undertake an extensive upgrade and refurbishment programme, bringing the total investment in the vessel to approximately £15m. All will be revealed tonight (23 November) when All Leisure Chairman Roger Allard hosts a prestige dinner on board Hebridean Princess at South Quay, just by London's Canary Wharf. www.allleisuregroup.com
AMAWATERWAYS, which claims to be the fastest growing river cruise line in Europe, has launched its first ever dedicated brochures for the UK market, featuring new itineraries, sterling prices and a wide choice of pre- and post-cruise choices. The Europe and Russia brochure offers 20 cruises on some of Europe's best-loved rivers – the Danube, Main, Mosel, Rhine and Rhône and also Portugal plus the MS Tolstoy between St Petersburg and Moscow. The separate Vietnam and Cambodia brochure details Amawaterways' newest product: cruises along the Mekong River. www.amawaterways.com
CRYSTAL SYMPHONY has emerged from a US$25m makeover and on AERBT publication day is at sea out of Ft Lauderdale, on its way through the Caribbean and via Devils Island to the Amazon and Manaus. Following the dockyard visit the vessel boasts completely transformed Crystal Penthouses, Lido Café and pool areas, and refurbished Prego Italian restaurant. The former Neptune Pool has been replaced with what might turn out to be a very popular bistro area with a sliding roof and full air conditioning. The December edition of "Cruise Update" will have a full report on the makeover. www.crystalcruises.com
HELSINKI PORT was visited by 263 international cruise ships over the last year, a remarkable achievement considering that due to the northerly location of the city the season only runs from 3 May until 28 September. Visitors even in early June can find remnants of snow around. The cruise terminal is within a short walk of the city centre. Total visitors numbered 360,000, approximately 22% from the USA, 19% from the UK and 17% from Germany. Representatives of 148 countries went through the very simple passport control. www.portofhelsinki.fi/english

MAGNIFICA, the latest MSC vessel, is currently fitting out in Bremerhaven. The ship is expected on a two-day visit to Southampton at the end of February 2010 where it will be shown to the travel trade and media. At 90,000grt Magnifica is a sister ship of Musica, Orchestra and Poesia and offers 1,275 cabins and up to 3,000 passengers. MSC Magnifica will next summer cruise the Eastern Mediterranean offering a 8 days - 7 nights, departing from Venice (Italy), calling at Bari (Italy, Katakolon (Greece), Izmir (Turkey), Istanbul (Turkey), Dubrovnik (Croatia) and returning to Venice (Italy). www.msccruises.co.uk

OCEANIA CRUISES has introduced a new booking service that will allow guests to make advance reservations for the specialty restaurants on board the company's three 684-passenger luxury cruise ships – Regatta, Insignia and Nautica. Oceania Cruises' ships offer a choice of four different dining venues, all under the watchful eye of renowned master chef, Jacques Pépin. Guests can choose from The Grand Dining Room, Polo Grill, Toscana and Tapas on the Terrace. www.oceaniacruises.com
SILVER SPIRIT, the world's newest ultra-luxury, all-suite ship, will make her maiden "Holiday Spirit" voyage in just one month's time on 23 December from Barcelona to Lisbon. Silver Spirit is much larger than her sister ships, 540 guests against 382 on Shadow and Whisper, and just 296 on Cloud and Wind. However the design of the ship follows the successful layout pioneered on Silver Cloud with all the cabins forward and the public areas towards the stern. This should make for an exceptionally quiet ship. Silver Spirit will cross the Atlantic early in the New Year and will then visit Los Angeles via Cape Horn (and a good many ports en route). Then it is New York via the Panama Canal followed by a season in the Mediterranean. www.silversea.com
THE YACHTS OF SEABOURN has announced that the company will not operate a planned series of voyages in the Indian Ocean aboard Seabourn Legend in late 2010 and early 2011. The vessel has repositioned back to Fort Lauderdale and is currently engaged on a series of cruises through the Panama Canal to Costa Rica and back. Calling the decision "regrettable", Seabourn's President and CEO Pamela Conover said that while the shore-side destinations remain safe for visitors, the high seas routes between them are currently vulnerable to incidents of piracy that have not been adequately controlled. "It makes me sad to have to cancel these cruises," Conover said. "I personally loved touring Kenya's game parks, and the islands of the Seychelles, Madagascar and Zanzibar are lovely and exotic destinations where we sincerely had hoped to be able to take our guests. We look forward to a time when the sea routes are controlled enough for us to cruise there for a season." www.seabourn.com


WORLD TRAVEL MARKET included an interesting and well attended forum on cruising. The panel consisted of Andrew Magowan (Seabourn), Jo Rzymowska (NCL), Stephen Park (NCL) and Peter Pate (MSC), chaired by Jane Archer of Travel Weekly. Essentially the theme was that it had been a good year for the cruise industry and whilst new ship orders were thin on the ground from 2012 onwards, none of the participants viewed the future with real concern. Next year looks good with much of the peak period well on the way to being sold out, real bargains available in the winter months. From the floor Bill Gibbons of the Passenger Shipping Association made the point that his association represented 40 cruise brands, not just the four lively panellists. The curiosity of the whole discussion was that whilst the packed room clearly showed the interest in cruising not a single operator actually chose to exhibit at Excel. www.wtmlondon.com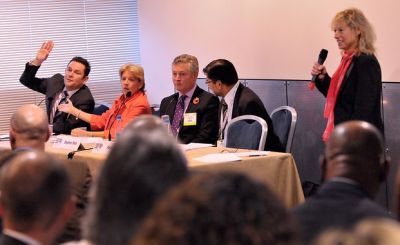 OUR READERS' FINEST WORDS (All times and dates are GMT)
All comments are filtered to exclude any excesses but the Editor does not have to agree with what is being said. 100 words maximum
---
No one has commented yet, why don't you start the ball rolling?
---