In order to spread the gospel of the motor industry, the SMMT (Society of Motor Manufacturers and Traders) holds three annual events where most manufacturers offer a good selection of their products to journalists to drive and hopefully write about.
BTN editor-in-chief Malcolm Ginsberg took a day out.
The pre-eminent event is Millbrook Proving Ground, Bedfordshire in May, with its high-speed bowl, hill route and off-road course. These are supplemented by regional test days, road driving only, in September at Basingstoke and York.

The problem with these days is that they are only a taster and jumping from one motor to another can be muddling. I had a problem finding the start button on a particular vehicle until finally the manufacturer's representatives were called over to assist.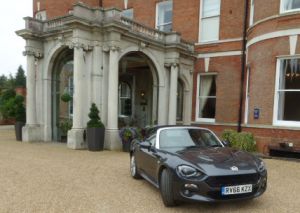 The car needed the ignition key to be inserted and turned, a little unusual in this technical age!

And one word of serious criticism. The handovers for the most part are poor. We need to be shown diplomatically around the vehicle. They are not all the same!

Last time at Millbrook it was sports cars only selected, but this time around I thought it a good idea to try a selection of hybrids, with the experience of being a very happy Lexus 200h owner.

The following are mere sketches and not in-depth reviews. With some, that will be for later.

Toyota CH R Dynamic 5dr 1.8 Hybrid Limited Edition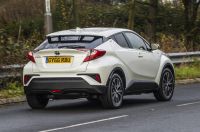 With affinity to the aforementioned Lexus (effectively the same company), this hybrid was somehow disappointing, perhaps because of the lack of luxury trim and no real get up and go. The petrol/electric system works brilliantly once again but as a car it is lined up against the big selling and established Nissan Qashqai. Toyota in the UK may have a problem. While the cockpit is OK, the sloping back end ensures that it suffers from a restricted rear seat in terms of height, which is also a problem with the boot. It seems that the stylists have won without thinking about the passengers.

It is not an SUV and the Spanish-built car is priced around the £27,000 mark, competing with Toyota's own Prius and sharing many components underneath. Sales are expected to reach 100,000 per annum in Europe.
www.toyota.co.uk

Jaguar F-Pace R-Sport 250ps petrol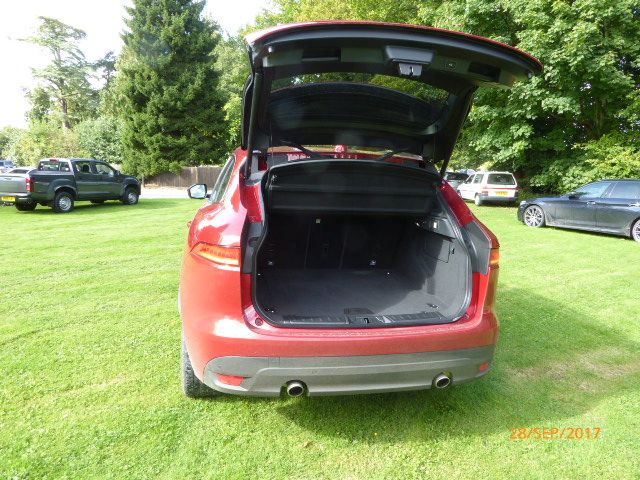 At last Jaguar has a petrol-driven car on the press fleet, previously a rare commodity. The Coventry-based company for the past 15 years has, mistakenly so it seems, concentrated on diesels. On a short 15mi run through mainly second-class roads, you have to believe the manufacturer's figures both for performance and fuel consumption. Clearly this latest version of Jaguar's award-winning SUV will be a real charmer for those whose annual mileage is not too high. It is a true luxury car and with the demonstrator coming in at £44,000 priced the meet the competition head on.

Jaguar and Land Rover regulars will be instantly at home with the model, once again offered with a head-up display, a very useful safety feature, and an improved presentation on the centrally-mounted control screen-cum-sat-nav. She will do 135mph according to the book, 0-60 in 6.8 seconds and, so they say, 40mpg.
www.jaguar.com

Honda Civic Type R 2.0 i-VTEC TURBO 320PS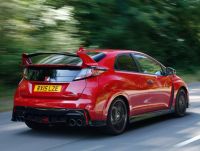 Without doubt one of the best looking and most comfortable cars at Oakley Hall, and in some ways also the most disappointing. A machine with tremendous go and verve, but also noisy when settled down at a 70mph cruising speed. A true five-seat family car, it offers (unloaded) 0-60mph in less than 6sec and a theoretical top speed of 170mph. It is front wheel drive and 310bhp, with a rear wing to make sure it stays on the road.

By a flick of a switch you can be in comfort, sport or R+ mode. With "comfort", the handling is more than relaxed, offering a fine smooth ride. If you are out to impress your friends, not only has it the wing but it recently set production car records at the fearsome Nürburgring 'North Loop' circuit in a time that would not have disgraced a Formula One car of yesteryear. The gearbox is a lovely smooth six-speed manual. At the end of the day, the Type R is a Honda Civic, factory-dressed up as a boy racer car and at around £30,000 pretty good value.
www.honda.co.uk/cars

Kia Optima Sportswagon PHEV 2.0 GDi 202bhp 6-speed auto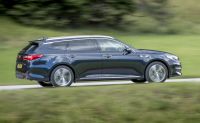 I am a great fan of Korea's Kia Motors, but even the best of them can get it wrong from time to time. The Optima Sportswagon may be OK for the short run from Seoul to the border with the north but it would not suit the UK's commuter, with an electric charging point needed at either end. This is a hybrid in that it has both petrol and electric engines, but is not self-charging. If your daily run is to work or the local school, it is fine. No petrol required. The range of the plug-in car is somewhere between 30 and 90mi depending on who you talk to. You will not get stuck with loss of motive power, but to me it all seems a bit complicated for not much real benefit.

Kia has come in with some clever pricing, bringing the 'on-the-road' price down to £31,000 including a government subsidy. As a car, taking aside the so-called 'hybrid' element, it is efficient and tidy, although why Kia does not fit an electric tailgate closing system is something of a mystery. The competitors in this part of the market place offer this useful button as a standard item. Perhaps it uses too much power.
www.kia.co.uk

MINI Cooper S E ALL4 PHEV Countryman AUTO 2.0L Plug-In Hybrid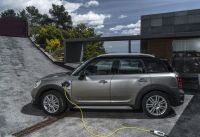 My criticisms in terms of electric power of the brand new MINI Countryman Plug-In are in effect the same as for the Kia. It is a first-generation product and if you are really into environmental protection and change your car every two years, it might be for you. But these two do not go hand in hand. Maybe by 2020 something a little more practical would have come along.

As it is the Countryman, is a really fine car in standard form but this heavier (150kg) motor is lacklustre and loses out with less boot space due to the battery under the rear seats and the feeling that the power mode is just about to change. No 'head-up' display again, a fine extra on most of the MINI range and this must be due to the electric consumption the unit uses.

Go back nearly 60 years (1959) and even the great Alec Issigonis got it wrong with the original BMC (Austin and Morris) Mini. The wire door pulls always broke. But adding a handle is somewhat easier than fixing a motor.
www.mini.co.uk

Nissan Qashqai dci 110 Tekna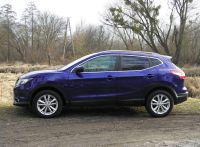 The Nissan Qashqai seems to be 'in thing' for the school run in North London. I can see why. It is spacious, well put together and the driver can look down on most. And it was Britain's fourth best-selling car in the UK in 2017, up from fifth in 2016.
It occupies the £23,000-£28,000 price range depending on engines. Nissan claims up to 75 mpg, which might be generous, but the car is frugal.
As a first-time driver, I can't argue with Nissan's claim that a lot of work has been put into making the Qashqai quieter on the move. Efforts include a thicker rear window and a more refined engine. There was one stretch of 70mph dual carriageway near Oakley Hall and given the equivalent of a short motorway run, the engine is barely audible.
The demonstrator was manual, which would not be the choice of transmission for the clients mentioned in the first line, but it was a good six-speed box and with four-wheel drive they can feel assured that if it were to snow, grip would be no problem. I will have to talk to Mr Nissan for an extended run in this car. The Qashqai has been built at Sunderland since December 2006.

A FEW WORDS ON OAKLEY HALL
Oakley Hall dates back to 1795 (and a bar named thus) and has strong connections with Jane Austen, who lived locally. It is set in 315 acres of glorious rolling Hampshire countryside and today is a country mansion hotel and conference centre, but rather different from most. During the SMMT event, all 50 bedrooms were taken, as well as the three-bedroom garden cottage, but you would not think it since the whole place is very quiet. No spa nor gym. It is an old-fashioned walk if you want exercise.

There are six meeting rooms, traditionally styled but very up to date from a technical point of view and the (noisy) journalists are contained in a permanent marquee with a large car park adjoining. It all comes together very well. The Glasshouse Restaurant serves fine food featuring produce from the kitchen garden. The bedrooms can best be described as sumptuous, the beds themselves particularly comfortable. It is only when you find yourself in such surroundings that you realise many hotels sell you short.
I hope to experience Oakley Hall again in 2018. It is a very easy way of beginning the day with a comfortable drive down in the afternoon and no rush through the morning traffic for a 9 o'clock start.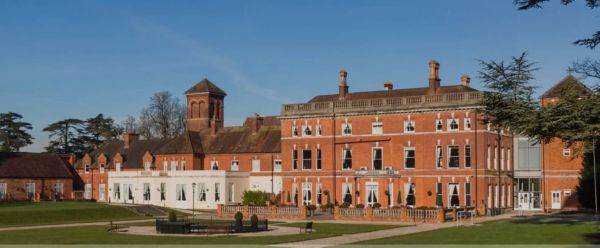 OUR READERS' FINEST WORDS (All times and dates are GMT)
All comments are filtered to exclude any excesses but the Editor does not have to agree with what is being said. 100 words maximum
---