The 2017 edition of Berlitz "CRUISING and Cruise Ships" reviewed last month is now officially published and available from your friendly bookshop or on-line. At 736 pages and 295 ships, it is a record size and reflects the dramatic growth of the cruise industry.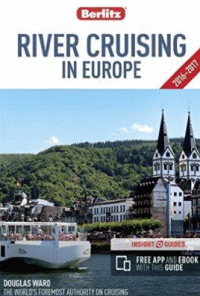 This edition of BTN's monthly cruise roundup for the leisure section of BTN however concentrates of river cruising.

If you have never taken an inland boat trip before, it is a totally different concept from deep sea cruising. To start with, the ships are much smaller with at the most 200 passengers, and while what is on offer in terms of on-board entertainment cannot be compared with their ocean-going cousins, in terms of quality of the product there is nothing to choose between them.

Particularly in Europe what you get with the river trips, the term including canals, is more akin to a car, coach or train tour, but with the same accommodation every night. No packing and unpacking every 24 hours, and on your return from a day's sightseeing the same friendly staff is ready to look after you. And after a day out, you don't actually need too much to do in the evening.

With river cruising, some operate the ships themselves, even under different brands, typically Emerald (four-star) and Scenic (five-star) both from the same stable, while others charter-in the boats (Hebridean) which, with a good operator, should make no difference.

Berlitz' companion volume River Cruising in Europe was published in July of this year, and while it cannot compare in terms of ship reviews, the introductory 120-page outline is an excellent way into this form of holiday.


RIVER CRUISING INTO EASTERN EUROPE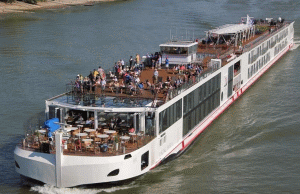 Ian Cooper, FT business guru and river-cruising fan, has been east from Budapest along the Danube. It is a relatively new area for travel, a great opportunity to take a look at a largely-unknown part of Europe and of great historical interest.

"It's after dark, it's a crisp, clear and slightly 'nippy' night and I'm on the top deck of a Viking river-cruise 'longship' clicking madly. Like everyone else, I'm trying to get the perfect 'sail-away' picture of the Budapest skyline, and in particular the spectacularly illuminated parliament building that I have seen 100 times in most of the glossy river-cruise brochures and Sunday papers.

Once the Viking Embla captain had finished demonstrating his prowess with the river equivalent of a three-point turn, we cruised under the famous Chain Bridge and elegantly began our Passage To Eastern Europe and our voyage of discovery through five countries – Hungary, Croatia, Serbia, Bulgaria and Romania.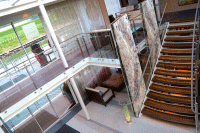 Our Eastern European adventure had begun with a flight from London and a seamless transfer to the centrally-located luxury Sofitel hotel, our base for the first two days. Within minutes of arrival, we were offered a short and helpful walking orientation tour.

This two-night stay in the Hungarian capital was really a good combination of tours and personal sight-seeing. Like most guests, we took the organised coach trip and discovered that it was really a joining of two cities, Buda, the hilly and older side of the Danube, and Pest, the flatter and more modern.

The city tour took in both and included a visit to the castle complex in Buda to see the Mathias church, with a fantastic view over the whole city from Fisherman's Bastian. Back on the Pest side, we enjoyed a trip down busy and vibrant Andrassy Street, the Oxford Street of Budapest, all the way to Heroes Square.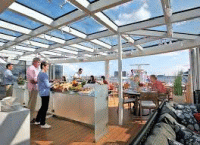 There was time to explore the city independently, including the colourful and huge Central Market Hall and the infamous House of Terror, once the Nazi and fascist headquarters, but now a museum and a dark reminder of the cruel persecution that took place in Hungary after the second world war.

On the subject of human cruelty and persecution, no visit to Budapest would be complete without a stroll along the edge of the Danube to see the Shoes, one of the most emotional and poignant memorials in Europe. These bronzed shoes are in homage to the many Jews who were herded to the river by the Nazis in the 1940s, made to take off their shoes – because they were expensive – and leave them. The Jews were then shot and their bodies allowed to fall into the river. As we took in this unbelievable sight, tearful visitors could be seen lighting memorial candles and uttering prayers. This was a place to reflect on how fortunate we are!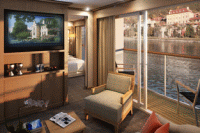 Back on our boat, our 'stateroom' included a private veranda. River-cruise cabins can never be as large as their ocean-going sisters, but the latest boats are sumptuously equipped and lack for nothing.

With open seating and informal dining, passengers could sit anywhere for any meal. Making friends was easy. The ship manager was the host and link between the local guides and our group.

Still in Hungary, our first port of call brought us to the contrasting small town of Kolocsa and a visit to the Puszt Horse Stables. Here we were treated to a horse show with riders cracking their whips, riding without saddles and generally showing off their equestrian skills. I tried my hand at whip-cracking but failed miserably.

As we cruised gently eastwards down the Danube, we were introduced to local tour guides along the way, all very enthusiastic, knowledgeable and keen to sell their localities.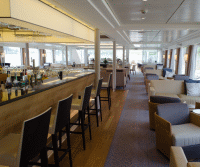 Our next two stops were Vukovar in Croatia and the Serbian capital of Belgrade. There was no escape from the ever present physical reminders of the bloody war which tore apart the region in the early 1990s. We encountered bombed-out buildings yet to be restored, bullet holes in walls and locals with their vivid memories of what had happened here.

Perhaps the most telling moment was when we were divided into small groups for home visits in a rural Croatian village. We went to the house of Bianca, who served up slivovitz and chocolate cake. She told us how she had been forced to leave her home during the war and how Serbs had occupied it for six years. After the war, she was thankful to be able to get it back. With tears in her eyes, she told me: "I am happy though, because unlike so many of my friends and family, I didn't lose anyone." We left with a refreshing sense of perspective.

One of my favourite things about river cruising, is the 'cruising'. There is something elegantly relaxing and peaceful about sitting on the sun deck with a book and a hot coffee, watching the scenery slide by. We had a whole day of this as we left Serbia and cruised onwards to Bulgaria. The only time we needed to leave our seats was for another delicious lunch served with wine and to grab our cameras. This was in readiness of our passing through the famous Iron Gate Gorge, and for a look at the magnificent 120ft sculptured face of the last king of Dacia glaring at us from the rock face.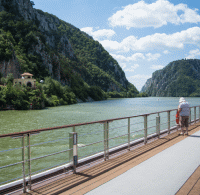 By the following day, we had arrived in the town of Vidin, in the north-western part of Bulgaria, bordering Romania. It was from here that we had the chance to take a roller-coaster-style coach ride through the rural countryside to visit what are known as the Belogradchik Rocks. Made largely of limestone, these impressive rock formations form a long strip over a mile wide, more than 18mi long and 650ft high.

The following day we had arrived in Rousse, the fifth largest city in Bulgaria. Sometimes known as Little Vienna because of its many elegant buildings and impressive architecture, the city attracts many tourists.

Finally, we had our shortest cruise of the trip, literally across the river to Giugiu in Romania, where we boarded our coach for the two-hour drive to the Romanian capital of Bucharest. Given our close proximity to Transylvania, again we heard all about the exploits of Vlad the Impaler, who lived there during the 15th century. It was Vlad and his evil deeds who we were told was the real inspiration for Bram Stoker's Dracula creation.

BTN has been to Bucharest previously so I will skip the description, but I was impressed. (see BTN 21 October 2013)


This cruise through eastern Europe, felt different from others I have been on. Heading east on the Danube towards Romania was more than just a relaxing and romantic vacation. The opportunity to pass through five countries, all coming to terms with huge challenges in recent years, turned it into an historical and at times emotional adventure as well".

Viking offers its Passage To Eastern Europe 11-day holiday along the Danube river from £1,695pp (sharing), full board including all meals and drinks (wine, beer and soft drinks only), hotel accommodation, and guided tours.

www.vikingcruises.co.uk

www.iancooper.co.uk


RIVER CRUISE BARGAINS

APT, Australian owned, is offering cycle tours from April 2017. Travellers will be able to combine their pedal passion with a voyage through some of Europe's most charming cities and idyllic landscapes. As a travel company with biking products, APT is able to market two different products as one.

With gentle-paced excursions along bike-friendly paths led by a team of expert cyclists, the new Cycling Series will encourage active travellers to ride along the riverbanks of Europe in comfort and style. What's more, each group is accompanied by a dedicated vehicle, ensuring guests can cycle confidently in the knowledge that any technical support they may need is just behind them.

The 15-day cycle cruises departs Amsterdam on 30 April and 17 September 2017, calling at Cologne, Bonn, Andernach, Rüdesheim, Miltenberg, Würzburg, Bamberg, Nuremberg, Regensburg, Passau (Germany), Salzburg, Linz, Melk, Dürnstein, Vienna (Austria) and Budapest (Hungary). The £3,895pp package include return flights, meals, bike hire, guided cycling excursions and on-road vehicle support plus all sightseeing and on-board entertainment. Next year there are seven-night bike cruises available too. www.aptouring.co.uk


CRYSTAL, for the first time with its new river-cruise product, is offering a 10-night Danube Christmas Markets cruise round trip from Vienna on board the Crystal Mozart departing 12 December. Mozart visits Melk, Linz (overnight), Passau (overnight), Vilshofen an der Donau and Bratislava before finishing with an overnight in Vienna. All-inclusive fly/cruise prices are from £2,130pp including free flights, transfers, all meals and drinks on board, gratuities, and a choice of complimentary shore excursions in every port and a complimentary Michelin Star culinary experience. With the launch of Crystal Mozart in July this year, Crystal River Cruises completely re-imagined the European river experience with the most spacious, state-of-the-art, all-suite river yacht boasting exceptional design and unparalleled all-inclusive amenities, including butler service for every suite. www.crystalcruises.co.uk


EMERALD is the four-star partner to Scenic with no butlers but an on-board swimming pool that converts to a cinema at night. Included are flights, complimentary wine, beer and soft drinks with lunch and dinner. The eight-day Nuremberg to Budapest cruise is a classic along a waterway that was the M1 of medieval Europe. Prices start from £1,295pp on a last-minute booking for 14 October. www.emeraldwaterways.co.uk


SAGA offers river cruises as part of its varied portfolio and has come in with a holiday trip exclusively for solo travellers.

The Autumn Colours of the Rhine on board MS Arlene sails on 21 October with options to travel by coach from Folkestone to Bonn or by air from Heathrow and regional airports.

The cruise includes all breakfasts, lunches and dinners, wine, beer and soft drinks with lunch and dinner, welcome cocktail party, the services of the Saga cruise director and hosts, plus entertainment and activities on the ship.

The entry-level price for the seven nights is £1,049 departing on 21 October, based on coach travel from Folkestone with the return from Arnhem. http://travel.saga.co.uk/river-cruises


SCENIC is the five-star sister company to Emerald, with the service starting from your home. The company even phones to check if your complimentary knapsack has arrived. For 9 November, Nuremberg to Amsterdam is available from £2,245 pp inclusive of air fares, transfers and everything on board. There is a medieval castle banquet at Marksburg and you will pass through the Rhine Gorge, perhaps the most remarkable river passage in Europe. Immerse yourself in the old town of Bamberg, a World Heritage Site alive with history. www.scenic.co.uk
OUR READERS' FINEST WORDS (All times and dates are GMT)
All comments are filtered to exclude any excesses but the Editor does not have to agree with what is being said. 100 words maximum
---