Heathrow expansion the choice of Regional Aviation

RAF Northolt possible windfall for the Chancellor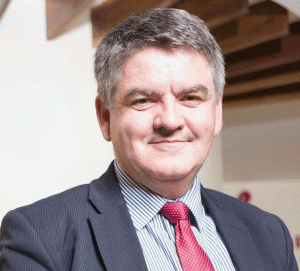 Neil Pakey was appointed chair of the Regional & Business Airports group (RABA) in June 2016. He has previously held positions as CEO of Peel Airports, including Liverpool John Lennon, Doncaster Sheffield and Durham Tees Valley Airports, and most recently at Shannon Group, which includes Shannon Airport. He was the UK official in the European Commission's Air Transport Unit in Brussels, the unit responsible for the creation of the 3rd package, also referred to as the Single Sky agreement for aviation. See also "Heathrow and the regions" in this issue.

"Established in 2013 with the immediate aim of ensuring the Airports Commission took into account the important contribution and specific needs of the UK's smaller regional airports (those with fewer than 3m ppa) in its deliberations, RABA Group now represents 34 (or around 75%) of these UK airports. One of its central concerns has been how and where we add runway capacity in south-east England, as it will not just impact where a new runway might be built but it has the potential to reshape the entire UK aviation policy.

For too long, successive UK governments have absented themselves from having a UK-wide aviation policy worthy of the name. The result has been seismic and tragic: as capacity constraint at Heathrow began to bite, an entire domestic connectivity network to the world's best-connected airport was dismantled.

In 1990, 18 UK regional airports had regular scheduled flights connecting their regions to Heathrow; today there are just eight. And those remaining eight hardly feel like the lucky ones, as what were once frequent routes served by multiple airlines have now been degraded to a bare minimum. Our regional stakeholders all know and talk about the importance of connectivity over Heathrow, yet only now have we seemingly got the chance to rebuild that connectivity, the key cornerstone to the achievement of a more-balanced economy across regions in the UK.

The result has been predictable: fewer flights and more expensive fares have made some key UK metropolitan and regional economies less attractive investment prospects. More worryingly, in the age of "winning the global race", communities around the UK are entirely dependent on foreign airlines and foreign hubs to access global markets. And as a consequence, UK passengers are filling the seats that sustain more long-haul routes from competitor hubs on the European continent – Dutch Foreign Direct Investment (FDI) is being powered by UK passengers. In our new Brexit landscape, this approach is even less defensible from a strategic or economic point of view.

This lamentable situation saw no action from government to mitigate for its own timidity. While UK airports were losing their most popular routes that allowed their local communities to travel to and through London to the world, the UK has sat on its hands.

The Grayling Plan
This autumn, Chris Grayling, Secretary of State for Transport, now has the chance to make up for the shortcomings of his predecessors. If he pushes through Heathrow expansion, he will be remembered for being the secretary of state with the guts to face down a vocal minority to do what is best for the country and our children. Few names – of officials or ministers – are ever remembered in the transport sector for the right reasons.

Grayling we hope will be remembered for not only delivering a new runway but for building one which all Britain has a stake in. If Chinese tourists disembark from their aircraft at Cardiff, or if executives are travelling seamlessly from California to Newquay to invest in Cornwall's potential for renewable energy, it could be the "Grayling Plan" that is remembered for delivering it.

The new drivers of a government agenda see emerging commitments to build a Northern Powerhouse, support city deals across the UK and co-operate with more pro-active devolved regional assemblies, and a political need to deliver UK-wide support for airport expansion. This means we are now closer than ever to enjoying a comprehensive and broadly-supported plan for domestic connectivity.

RABA has for the past three years been working with the Airports Commission and Heathrow Airport to write the blueprint on how to rebuild the domestic network that will give every corner of the UK access to an expanded Heathrow.

That work has borne fruit in government and in business: there is now widespread recognition that a new runway alone will not rebuild the domestic network lost to capacity constraint of the 1990s and 2000s. Visit a chamber of commerce in Scotland, Northern Ireland and the north and south-west of England and a conversation about airport expansion will not go far before "guaranteed access" is mentioned. I can add from my own experience as the past CEO of Shannon Airport that the same is true for Ireland, whose regions also need Heathrow access for the benefit of both Irish and UK economies.

The Airports Commission recommended in its final report that a commercial and regulatory package was needed to support a growth in domestic routes at an expanded Heathrow. Indeed, it dedicated an entire section to the role Heathrow could play for UK regional aviation, the first government-sponsored document in a generation that has matched a recognition for the role of regional airports as an engine for regional growth with an understanding of how a quality hub connection can amplify this growth further.

From our engagement with Heathrow Airport Limited, we see that Heathrow Airport, although a successor to the British Airports Authority, has moved on from its traditional perspective, where it did not recognise it was more than just a hub airport, and, instead, now sees itself much more as a national asset and seems to understand the responsibilities that come with this.

Last March saw Heathrow publish a commercial package that has piqued the interest of a number of airlines and regional airports: a discounted departure charge for domestic passengers and a £10m fund to provide start-up support to airlines wanting to commence new domestic routes.

After months of dialogue, Heathrow and RABA signed a Memorandum of Understanding which advanced the debate further still. The "Regional Package" will not only see further fleshing-out of Heathrow's commercial offer to support domestic services – including a RABA-led review of how the £10m route development fund should be implemented – but also a joint approach to secure the regulatory package from the UK government and the European Commission that will protect greater domestic connectivity.

Today we have seen the latest plans from Heathrow that further underline its commitment to be a hub airport for the whole of the UK. A 20-year guarantee that domestic flights will be cheaper than their EU equivalents and the ambition to create new slots on the existing two runways – creating the opportunity to ring-fence slots for new UK routes. That's the chance to start the long march back to a fully connected UK within the next five years.

Gateway to our regions
RABA airports are greatly valued by inward investors, the local business community and regional visitors for the convenient access they provide to all parts of the UK, to the EU and, via hub airports, to a full range of global destinations; all without the need for long surface journeys.

As brownfield sites, they frequently provide excellent locations around which to attract substantive aviation, and even non-aviation, related employment clusters – because of the high levels of connectivity (air, surface and utilities) they offer.

As such, they are significant generators of jobs and local economic activity, important anchors and catalysts to the growth of the UK's fast-growing secondary and tertiary cities, and cumulatively have the potential to make an important contribution towards UK economic re-balancing.

This "Regional Package" can be the vehicle that will allow Grayling to deliver a compelling plan. This would not be the product of one sectional interest fighting its corner against another: this comprehensive and broadly-supported blueprint would be the culmination of years of input from the scheme promoter, regional airports, regional businesses and the independent experts at the Airports Commission. It will also require a review of mechanisms for awarding and safeguarding slots for regional air services, which we trust will be accompanied by a radical review of the regulatory and policy context for reconnected and newly-vibrant regional airports.

By backing this sort of UK-wide ambition, the secretary of state could stimulate the UK economy and at the same time make a significant contribution to rebalancing growth toward the regions and away from London. I also know from personal experience in Ireland, he will also be doing our trade prospects with Ireland and other countries the world of good.

Heathrow North?
RABA members welcome the opportunity to connect at an affordable price to Heathrow from as early as 2021, but there's a chance for a solution for Q1 2017 too.

We are monitoring the potential to use RAF Northolt as a satellite for regional domestic services to access the international hub at Heathrow, and London itself, as a temporary measure.

This would allow many of the cities and regions served by our member airports to be better connected with the world and the capital, in advance of the new runway coming on-line, and would play a far more financially and economically valuable role for Northolt than its current private jet use.

RABA has already been in discussions with Heathrow over providing an executive coach service between the airports so as to achieve attractive transfer times and airlines – Flybe in particular – are clamouring to fly there.

Swapping our business jets for quieter turboprops means local communities benefit – take note Boris Johnson, local MP – and the eventual closure of RAF Northolt and its 800 acres would be a windfall for the taxpayer.

So RABA is at the forefront of delivering for our members and for the communities they serve: interim access to Northolt and lobbying government to make the right choice: an expanded Heathrow that is connected to every corner of the UK".

www.rabagroup.co.uk
OUR READERS' FINEST WORDS (All times and dates are GMT)
All comments are filtered to exclude any excesses but the Editor does not have to agree with what is being said. 100 words maximum
---
Robert Shaw, U.K. Burgess Hill
Please do not be fooled by Heathrow's interest in supporting the regions. In recent decades they have done all they can to get rid of domestic flights in favour of larger long haul aircraft. Nothing will change !
---