21 MARCH 2011
BTN DISTRIBUTION
BTN also goes out by email every Sunday night at midnight (UK time). To view this edition click here.
The Business Travel News
PO Box 758
Edgware HA8 4QF
United Kingdom
+44 (0)20 8952 8383
info@btnews.co.uk
© 2021 Business Travel News Ltd.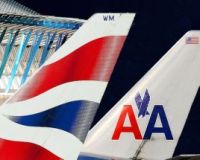 New York and London are to be linked with virtually hourly services by oneworld carriers American Airlines and British Airways following EU approval of the airlines' relationship.
Previously, of the 11 daily flights to New York, five left Heathrow at almost exactly the same time, leaving gaps of up to three hours between services. Now flights will depart every hour, on the hour between 13:00 and 20:00 from Heathrow. There will also be a maximum of only an hour and a half between morning departures with the first outbound (BA) at 08:30 arriving at JFK 11:00 (all times local).
A mixture of Boeing 747s and Boeing 777s are used for the services.
American only links Heathrow to Kennedy whilst British Airways flies from both Heathrow and London City to that airport but also from Heathrow to Newark, New York's New Jersey airport.
The Chicago flights have also been re-organised as have Miami. www.ba.com www.aa.com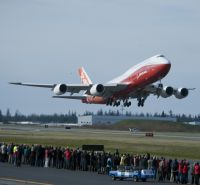 The actual aircraft destined for a 'private' customer later this year, Boeing's "all new" 747-8 International, made its debut flight from Everett yesterday (20 March 2011). The aircraft landed four hours and 25 minutes later at Boeing Field in Seattle. 600 hrs of flight testing will be required. Currently 1,418 Boeing 747s have been built since the original aircraft, just like this one in a company paint scheme, first flew on 9 February 1969.
The 747-8 is a stretched and re-engined version of the 747-400. At 251ft it is the world's longest aircraft. To date orders have been received from Lufthansa (20), Korean Air (5), Air China (5). Eight executive versions have been confirmed. A freight version has sold in larger numbers, the total order book standing at 109.
Whilst details have not been released by either Boeing or its client carriers the aircraft is expected to offer around 50 more seats than its predecessors, about 467 passengers in a typical three-class arrangement. Boeing claims the GE engined aircraft will consume 11% less fuel per passenger than the 555-seat Airbus A380. Many of the features of the 787 cabin will also be incorporated in the 747-8 including LED lighting and brand new lightweight seating. www.boeing.com/commercial/747family/747-8_facts.html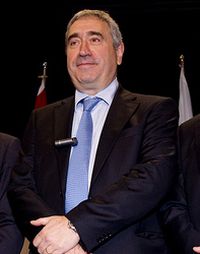 Malta's Westin Dragonara is the venue for the ERA Regional Airline conference 2011 6/7 April 2011. Some 29 airlines are attending including Aer Arann, Aigle Azur, Air Contractors Ireland, Air Iceland, Airlinair, Amapola Flyg AB, Atlantic Airways, Augsburg Airways, Aurigny Air Services, Belavia – Belarusian Airlines, Binter Canarias, Blue1, Brit Air, Cimber Sterling, CityJet, Darwin Airline, Eastern Airways (UK), KLM Cityhopper, Luxair Luxembourg Airlines, Malmö Aviation, OLT, Olympic Air, PGA-Portugália Airlines, Régional, Sky Work Airlines, Sverigeflyg Service AB, Welcome Air, Widerøe
This year's conference will focus on the importance of the passenger experience from pre-flight to airport to boarding. Each of the four conference sessions will focus on one of the key stages of a passenger's travel experience and will conclude with a ciscussion on additional challenges which the industry will face during the 'twenty tens'. www.eraa.org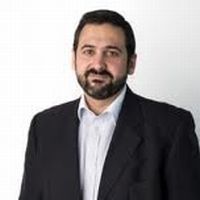 Vueling has taken over the Madrid (MAD) to Warsaw (WAW) route from Iberia, which holds a 46% shareholding in the low-cost carrier. Flights now operate four times weekly with the airline's 180-seat Airbus A320s, competing with LOT Polish Airlines' five weekly flights. During the summer season, the route is also operated by Wizz Air.
The Warsaw announcement was made at the same time as the airline announced its 2010 results. Vueling carried 11,036,183 passengers in 2010 an increase of 35% on that of the previous year. Now Spain's second largest airline Vueling increased its revenue by 32% posting a profit of €46m, an increase of two-thirds over the previous year's €27.78m. However the results for the last quarter have been affected by the sharp rise in the price of fuel. These have increased by 45%, whereas the remaining costs have dropped by -0.3%.
Vueling continues as the lead carrier at Barcelona's El Prat Airport with a 26% share of passenger throughput. It is also number one at Bilbao, Seville and Ibiza. www.vueling.com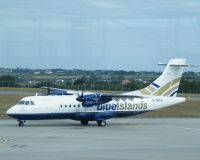 Blue Islands, the Channel Islands airline, is to launch a twice daily return service between Jersey and London City Airport starting on 18 April.
Peak slots have been secured at London City Airport which will provide travel straight into London's financial district. Flights will depart from Jersey on Monday to Friday at 07:25, returning from London City at 09:15, with an evening service leaving Jersey at 17:15 and departing City at 19:05. A further flight is scheduled for Sunday evenings at the same times as the weekday service. There are no services planned for Saturday. Flight time is 1hr 20mins.
The route will be serviced by a Blue Islands latest acquisition fast new ATR 42-500 series aircraft, specifically purchased for the London service, seating up to 48 passengers. The same aircraft will operate the carrier's route to Geneva and Zurich in the middle of the day from Jersey.
Blue Islands airline dates back to 1999 and is owned by Healthspan Leisure Ltd, a major UK distributor of vitamin supplements. The airline operates inter island routes and to several mainland destinations including Southampton with a fleet of BAe Jetstream and BN Trislander aircraft. www.blueislands.com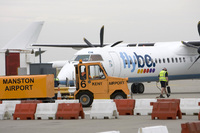 Flybe is to pull its service from Manchester to the Kent airport of Manston from 4 April and to replace it with a three times per week flight to Belfast City Airport on Tuesday, Thursday and Sunday. The airline said that passenger numbers made the Manchester route economically unviable. The new service will be flown by a Bombardier Q400 72-seat turboprop with a flight time of 1hr 40mins.
The daily service to Edinburgh continues and here the flight time is 1hr 35 minutes.
Manston, which calls itself "Kent's International Airport" is the most south easterly airport in the UK and with its long 2752m runway was once a RAF "Major Diversion" airfield. It is four miles from Ramsgate, 18 miles from Dover, and 75 miles from London. www.london-manston.com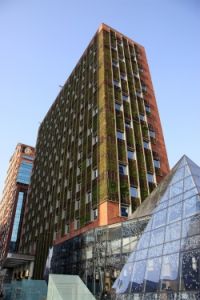 Intercontinental Hotels Group (IHG) has announced the opening of a 16-storey addition to its existing property in Santiago (Chile). The stunning new extension features 81-guestrooms, two swimming pools, VIP lounge, Lobby Café, four restaurants and 20 meeting rooms, totalling 27,200sq ft of meeting and function space, making the 377-room InterContinental Santiago one of the largest convention centres in the country.
Ideally situated in 'El Golf' area of Las Condes, the hotel is in the heart of Santiago's financial district and a short distance from exclusive restaurants, upscale shops and top attractions such as San Cristobal Hill, Plaza de Armas and La Moneda Presidential Palace.
Along with this flagship InterContinental Santiago, IHG has a strong presence in Chile with nine properties currently open in the country. IHG also recently announced it has signed a 20-year agreement with Chile-based Inmobiliaria Punta Piqueros SA for a new-build InterContinental hotel in Punta Piqueros, within the district of Concon, in north central Chile, and in close proximity to Viña del Mar, one of the country's most fashionable resort areas. www.intercontinental.com