Ed Anderson has been Executive Chairman of the AOA since 2008. He has held a number of senior executive positions in the airports industry including deputy managing director of East Midlands Airport from 1987 to 1990 and managing director of Leeds Bradford Airport from 1997 to 2007. He was Chairman of the AOA in 2001-02.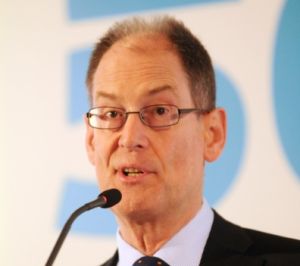 "For the UK's airports, 2016 is likely to be a landmark year. We expect record numbers of passengers over the next 12 months, we are hopeful that the Government will at long last take a decision on airport capacity in the South East and we are pressing Ministers to update their aviation strategy for the whole of the country.

Passenger numbers have been increasing steadily since the start of the economic crisis in 2007 and now stand at near-record levels and that is a trend that we think will continue long into the future. Government forecasts suggest that demand for air travel will see numbers up from 238 million in 2014 to more than 445 million by 2050.

That is a huge increase by any standards and the aviation sector will need to work hard to ensure that we can meet that demand, while also delivering on the commitments that we have made to cut carbon emissions and noise.
Support from the Government will be essential. Firstly, we need an end to decades of prevarication from successive Governments on addressing the capacity crunch in London and the South East. Of course we are pleased that Ministers have put on the record their view that capacity in the region needs to increase. We know that there won't be a decision on where an additional runway should be built until the summer, at the earliest, but we believe that this is the right moment for the Government to make its choice.

But that shouldn't be the end of the story. Even with a decision this year it could be 2030 before a new runway is operational and other ways will have to be found to accommodate passenger growth in the intervening years.

That is why we have suggested to the Department for Transport that this would be a good time for it to update its Aviation Policy Framework. Published three years ago, there was much in the framework document that we welcomed, not least a clear recognition that aviation needs to grow to deliver the prosperity that the UK needs and a commitment to ensuring that the UK's air links continue to make us one of the best-connected countries in the world. However, a lot has changed since then and we think that it is time for an updated policy statement that will help to support sustainable growth at all UK airports over the coming decades.

This isn't just an issue for the South East. The fact is that the UK requires excellent aviation connectivity right across the country, making sure that we have both vibrant point-to-point airports and world class hub capacity. We can and should make better use of existing capacity and the Government should be doing more to support all airports that wish to expand.

One of the big things that has changed, which we have welcomed, is the establishment of the new National Infrastructure Commission, chaired by Lord Adonis, to help the country to make informed and joined-up decisions about infrastructure improvements, including airports and links to them. We are convinced that by working in partnership with the Government the Commission could help us to make progress in better using existing spare capacity.

An updated Aviation Policy Framework should spell out how this could happen. It should include further detail on how improvements in surface access, including HS2, could make it faster and easier for passengers to travel to airports, but also the impact that reduced levels of Air Passenger Duty could have on passenger and airline demand and the importance of airspace change to accommodating future growth in air travel.

Right across the country UK airports are keen to grow sustainably to meet the demands of their customers. Let us hope that 2016 will be the year when the Government signals clearly that such aviation growth is in the national interest and will receive the necessary long-term policy support that will help to ensure that aviation continues to be one of the great UK success stories". www.aoa.org.uk
OUR READERS' FINEST WORDS (All times and dates are GMT)
All comments are filtered to exclude any excesses but the Editor does not have to agree with what is being said. 100 words maximum
---
David Starkie, London
Ed Anderson's comments are generally sensible but one has to be careful at asking the Government to intervene. You may get what you didn't ask for or in the least expect. When governments intervene they usually cock things up. The London runway issue is a case in point.
---