THE REGIONAL REVIVAL

Following last week's review of the ERA (European Regional Airlines) gathering in Berlin it seemed a fairly obvious choice for Simon McNamara, Director General, to be ON THE SOAPBOX for November.

Previously he was Director Industry Affairs covering the development, promotion and implementation of ERA's policies on air traffic infrastructure, user charges, airport matters, the environment and air transport policy. Simon joined ERA in 1999 from the Flight Data Company, responsible for Asian airlines' quality assurance programmes. Previously he worked for the International Federation of Airline Pilots' Associations (IFALPA). He has a degree in Aeronautical Engineering and an MSc in Air Transport Management.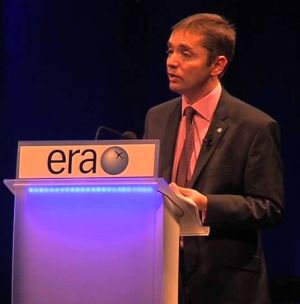 "Upheaval in the European airline business is nothing new. The early days of deregulation in the late 80s heralded the onslaught of change with the consumer being the one real winner, benefitting from lower prices, more airlines, higher frequencies and an increased number of destinations. Deregulation prompted the birth of regional carriers in Europe, which was good news, but what is the market for regionals now?

Let's look at some history. Regional carriers were created by deregulation – during the late 80s and early 90s a series of new airline brands were conceived with almost all posting double digit growth in their early years. But in the mid-90s the low-cost carrier arrived in Europe with a very loud bang and the aviation landscape changed yet again, with the inevitable upheaval. Regionals were squeezed out of the niche and mainstream markets they had opened up and were forced to retrench back to their traditional niche routes, often in peripheral regions. Many brands disappeared either through bankruptcy or by being swallowed up by the rapidly evolving network carriers who were restructuring (and still are) to compete with the low-cost threat to their short-haul networks. In the face of this relentless competition regionals faced the very real threat of extinction.

During the 2000s and early 2010s, the airline landscape in Europe has become increasingly dominated by a small number of extremely large carriers and groups that grab the media attention (aided and abetted by their outspoken and media-savvy CEOs). While these mega carriers cast a long shadow over the aviation landscape, look a bit further and a reinvented and healthy regional air transport industry is clearly visible with, I believe, a very bright future.

As Director General of the European Regions Airline Association I would, of course, be expected to say this, but it is something that I steadfastly believe in. This year ERA is celebrating its 35th year of service to members and two weeks ago the association held its General Assembly in Berlin where we welcomed over 400 attendees and 48 airlines. In total, ERA has 54 airlines in membership and more than 120 associate and affiliate members from the entire supply chain. I am proud to say that regional airlines no longer just serve niche routes, many now spread their risk and operate across multiple markets including passenger and freight services, ACMI, ad hoc charter, franchise and own brand point-to-point services in Europe and worldwide.

Across Europe, five airline groups (IAG, KLM/Air France, Lufthansa Group, Easyjet and Ryanair) have 54% of market share on intra-European seats. While such impressive statistics make these carriers very powerful, it also makes them increasingly slow to react to market demand as corporate complexity and union power weigh them down. ERA's members aren't burdened by such bureaucracy – they are agile and flexible and therefore able to fill the gaps for these carriers on low volume, operationally complex routes. They provide capacity to these carriers (and others) on a flexible basis for seasonal peaks or short-term shortfalls where the ability to be able to step into and out of a market is essential. Often regionals can provide capacity to large operators (even low-cost carriers) at significantly lower unit costs as they are not bound by the crippling union legacy that inhibits many large carriers. This is in addition to regionals' expertise in servicing traditional regional and peripheral routes.

As the market evolves there is an increasingly bright future for regionals. Network carriers and the newly reinvented low-cost carriers are fighting it out in Europe with low-cost carriers upgrading their products while traditional network carriers are stripping them away in a quest to attract business in a market where there are, arguably, still too many seats sold too cheaply. Away from this battleground, regionals have refocused and found their niche and ERA is the focal point where they meet to network, learn, do business together and take advantage of the power that comes from being small, agile and flexible in what is a rapidly consolidating market.

Long may it last – until the next upheaval at least!" www.eraa.org
OUR READERS' FINEST WORDS (All times and dates are GMT)
All comments are filtered to exclude any excesses but the Editor does not have to agree with what is being said. 100 words maximum
---
David Bentley, Manchester/UK
I support the sentiments in this article. But since when has there been union power at Ryanair?
---