The Billion Dollar Cruise Ship

Just a couple of weeks back Royal Caribbean International, the world's largest cruise line, introduced Anthem of the Seas with an extravagant naming ceremony at Southampton, Britain's largest cruise port.

One month previously it had been P&O showcasing a new vessel, Britannia, perhaps a slightly less hectic occasion, with The Queen as guest of honour.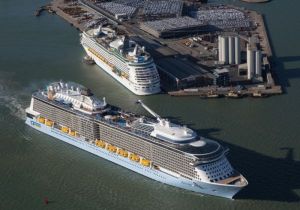 With P&O it was 24 hours for trade and media, whilst RCCL took the ship to sea for two nights into the English Channel on the Monday (20 April). At some point our iPads changed to French time and it is likely we passed by Guernsey and Jersey although with the very generous open bars and eating places (there are 18 of them) for most it did not matter. Some even stayed on in Southampton for a further night after disembarking Anthem. Explorer of the Seas arrived on the Thursday prior to an inaugural cruise after a $100m refurbishment. Both ships have a busy summer programme out of the port until October. BTN will report on Explorer next month.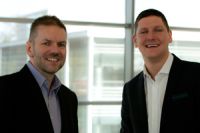 One thing was made clear by both Stuart Leven, Managing Director of Royal Caribbean International, and previously David Dingle, Chairman of Carnival UK Britannia's owner, the two ships do not compete, Anthem slightly larger (167,800 tons and 4,180 lower bed passengers v Britannia (141,000 tons and 3,647 guests).
Whilst initially set up for the UK market (80% of customers for this season) Anthem is designed for America and US tastes. There is an 18% service charge on the bars and speciality restaurants. Britannia is more reserved and the styling less flamboyant. With both ships the entertainment is outstanding "We will Rock You" on Anthem at 90 minutes probably the longest show at sea, a fantastic production, easily worthy of London's West End, in the world's most modern theatre. And it is free too (or at least part of the package).

The two ships complement each other, the mass national advertising by all cruise companies helping to expand the market. Stuart Leven noted that 30m holiday packages were sold last year against 1.6m cruise trips. There is ample room for growth. He said that cruising offered tremendous value. You can't argue with that.

Where do you start with Anthem?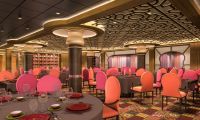 Yes it is very big, but also extremely easy to find one's way around. It all flows very nicely and with the Quantum Class ships (Athem is the second with Ovation to come next year) RCCL have done away with the large three-storey balcony restaurants featured on earlier ships and introduced four themed main eating places. It works very well. 'Dynamic dining', a new innovation, comes in two styles. 'Choice' gives you the freedom to pick and choose your restaurant and dining times each day and night. 'Classic' is a new option for those who prefer the traditional main dining style with the same dining time each night, with the same waiters and companions throughout the cruise. There is a selection of 10 dining areas every evening.

RCCL have been in the cruise business since 1968, has enormous experience, and since 1995 has been developing a whole series of mighty ships currently offering 23 vessels or 106,000 sea rooms per night. Anthem is the second of the Quantum class, built by Meyer Werft, Papenburg (Germany), with Harmony of the Seas due in 2016.

What is most important?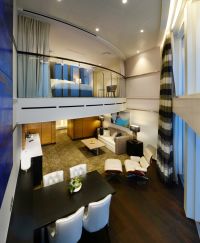 For some it is the staterooms, which will be your home for on average two weeks. Yes there is the Royal Loft at the stern, a duplex complete with outside hot tub, but the vast majority, around 1,500, are very generously-sized balcony offerings, more than adequate for up to four, some interconnecting. The private area is well thought out too, the showers with screens rather than the (awful) plastic curtains supplied on some ships. The on-board wi-fi sets new standards with its wide-band reception and is indistinguishable from a good land-based system (and Etihad airborne). The cost is US$12 per day. It works all over the ship. Skype your family once or twice during the trip for as long as you like. Very cost effective. Perhaps even from the 'Adult only' Solarium

RCCL is very proud of its interior staterooms with a Virtual Balcony, a high-definition screen that spans nearly floor to ceiling, providing real-time views of the ocean and destinations. We are told you will not be seasick if the ship has any motion, your balcony video will go up and down but your brain is even cleverer not noticing the movement. (In any case there is a very sophisticated stabilising system fitted).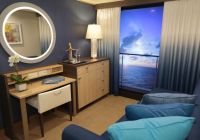 Perhaps RCCL should leave one (virtual) stateroom free as another attraction. It does feel very real and should be very interesting at sea!
Some interior cabins can be made up as a suite, ideal for families. This is also available with certain standard balcony staterooms.

The whole ship is very high tech, a wrist band provided for opening your stateroom door, checking the programme, paying for an item, booking a restaurant or tour, or perhaps viewing (and ordering) images taken by the ship's photo team. Tablet stations are provided throughout the ship and also large interactive ship diagrams. It is difficult to get lost.

Readers will note that it is impossible to get around Anthem in 24 hours, suffice to say that Stuart Levi has a pedometer and claimed to walk 12 miles on the first day. He is a fit Scot!

The media were allowed down into the impressive engine/services control room and used 950ft long spine corridor on deck one to also visit the laundry, very much automated. The days of hand pressing table clothes are long gone. The stewardship of waste is also very carefully managed, virtually everything being recycled.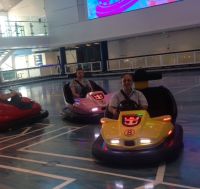 There is no ice skating rink on Anthem, as on other RCCL ships, and no ice show, replaced by SeaPlex, the largest indoor active space at sea, complete with bumper cars, a circus school, roller skating and all sorts of sports activities including basketball. There is a DJ to keep things moving. Another innovation is North Star, providing guests with breath-taking, panoramic views from 300ft above sea level. RipCord by iFLY is the first skydiving experience at sea. Flowrider is for surfers (water type). Training given.

For the children the facilities are exceptional. The wrist bands do help with checking in and out for the under 13s but you can leave them in professional care from 09:00 to 22:00 including meal times (you have to pay for later assistance). The RCCL solution to eating is easy. Room service is pointed in the direction of the "Adventure Ocean" area, the children's paradise. They choose from a quite extensive menu without the parents standing over them! You can even go off the ship and spend the day on a tour knowing that the youngsters are being properly looked after and probably having the time of their lives.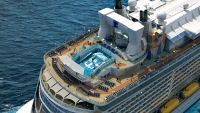 You can fill a fortnight on Anthem and not spend a penny (or dollar) except for the obligatory US$12 per day gratuities charge. Ice cream is free and the Windjammer Marketplace always has a good selection of nourishment delights until 21:00 with the Sorrento Pizzeria open until 03:00. Along the impressive Royal Promenade shops, pubs and more, deep down on deck 4 The Café is always open.

There is one concession to the UK market. Every stateroom has tea and coffee making facilities.

For the 2105 summer season Royal Caribbean will home port both Anthem and Explorer at Southampton, and from May to August Brilliance of the Seas, a Radiance class ship of 90,000 tons and 2,139 capacity out of Harwich. From Southampton the programme is mainly 12/14-night cruises into the Mediterranean and also the Canaries plus some 3/8-night trips across to Northern Europe. All the cruises out of Harwich are 12 nights with Iceland or St Petersburg the turnaround point depending on your choice. Anthem crosses the North Atlantic to Cape Liberty New York 27 October and will undertake a winter in the Caribbean whilst Explorer will pass through the Suez Canal and onwards to Sydney. For Brilliance she leaves Harwich 3 September via Le Havre, Portland, Cork and onwards to Boston. www.royalcaribbean.co.uk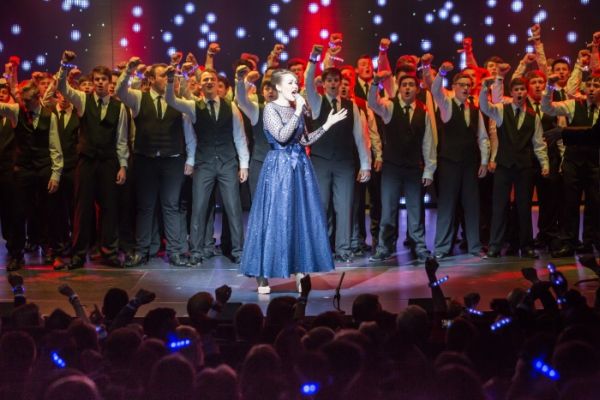 CRUISE INTELIGENCE

Please note for the June Cruising Intelligence we will be featuring summer deep sea bargains. Cruise companies please send details in the format of company, ship, start date, length, itinerary, inclusive of (flights perhaps?) to info@btnews.co.uk by 27 May.


Crystal Cruises, very much 5-star plus, is to change hands. Owner Nippon Yusen Kaisha (NYK) has confirmed an agreement with Star Cruises owner Genting Hong Kong (GHK) as the purchaser. The sale is expected to close in the second quarter of 2015. Crystal Cruises was founded by NYK in 1988 and introduced its first ship, the 940-berth Crystal Harmony in 1990 setting new standards in luxury cruising. GHK wholly owns Star Cruises, and has a 25% shareholding in Norwegian Cruise Line, which now also includes Oceania and Regent Seven Seas. Crystal's current fleet consists of the 960-berth Crystal Symphony and 1,090-berth Crystal Serenity. Harmony is these days Asuka II under the NYK banner. With the support of GHK, Crystal Cruises' fleet size will build a third ultra-luxury cruise ship for its top-rated fleet of 5-star ships. www.crystalcruises.com

Cunard celebrated 175 years at Southampton yesterday (3 May) with Queen Elizabeth, Queen Mary 2 and Queen Victoria all on parade, the three ships meeting up again for a Liverpool homecoming on the next UK Bank Holiday Monday 25 May where the real celebrations will take place. Over one million people are expected to line the banks of the Mersey as Queen Mary 2 leaves her berth to meet her smaller sisters. Queen Mary 2 arrives on the Sunday. Cunard was founded in 1840, with Canadian Samuel Cunard's mail steamship RMS Britannia beginning a transatlantic service to Halifax and Boston from Liverpool. www.cunard.com

Southampton's Mayflower Cruise Terminal, used by the Carnival Group, has reopened following a multi-million pound refurbishment that will enable it to cater for some of the largest cruise vessels afloat, long into the future. The terminal, which handles a significant proportion of the city's cruise turnaround calls, now features a remodelled open plan interior, with expanded security, check-in and passenger reception areas. ABP Southampton says the project has been critical to ensure Southampton retains its title as Europe's Leading Cruise Turnaround Port amidst a predicted rise in passengers. cruisesouthampton.com/markers/mayflower-cruise-terminal. http://cruisesouthampton.com/markers/mayflower-cruise-terminal

Thomson Cruises has revealed its programme for summer 2016, leading with the announcement of itineraries for the latest addition to its fleet, to be named Thomson Discovery and sailing out of Palma. Cruise regulars will note the "Discovery" was previously Royal Caribbean International's Splendour of the Seas, a joint company being created between RCCL and Thomson owner TUI. It is a very neat way of disposing of a ship that no longer fits in with the fleet. As "Discovery" she has 915 cabins, nearly 4% with balconies. The family-friendly ship boasts an outdoor movie screen, rock climbing wall, nine-hole mini-golf course and extensive dining choices with three à la carte restaurants and eight bars and lounges. www.thomson.co.uk/cruise.html

CroisiEurope, Europe's largest river cruise operator, continued its expansion last month with the inauguration of three new ships. On 1 April in Lyon, the MS Camargue was christened on the Rhône. The two-deck MS Camargue can accommodate 104 passengers in 54 cabins and will cruise from April to November on six- and eight-day trips from Lyon through Macon, Vienne, Arles, Avignon, Viviers and Tournon. Next day it was Nantes, the MS Loire Princesse. Thanks to innovative paddle wheel technology, the Loire Princesse is the first hotel ship to cruise the shallow waters of the Loire, the longest river in France. The three-deck MS Loire Princesse accommodates 96 guests in 48 cabins. On 17 April in Porto, the MS Gil Eanes was christened on the Douro. She offers 66 cabins and joins CroisiEurope's three ships already sailing the Douro. www.croisieurope.co.uk

Regent Seven Seas Explorer will debut in summer 2016. At 56,000 gross-registered tons and carrying just 750 guests, the all-suite ship claimed to be the most elegant in shipbuilding history. "We've set a high benchmark for Seven Seas Explorer, not only to build a ship that far outshines the current standard in luxury cruising, but to design a ship that will be recognized industry-wide as the most luxurious ship ever," said Graham Sadler, Managing Director for Regent Seven Seas Cruises UK. www.rssc.com

Star Clippers, the tall ship sailing specialist, has announced a varied and exciting programme of Mediterranean sailing voyages for 2016, ranging from three to 17 nights and calling at ports as varied as Istanbul and some of the smallest Greek islands. Royal Clipper, the 227-passenger flagship, starts the season with cruises from Lisbon and Malaga and will spend June and July sailing between Rome and Venice on 10 and 11-night explorations of Italy, Montenegro and Croatia. She then operates a series of early autumn cruises between Athens and Istanbul before heading west for Lisbon, sailing for Barbados on 3 November. Star Flyer and Star Clipper, with room for 170 passengers, operate a similar programme. www.starclippers.com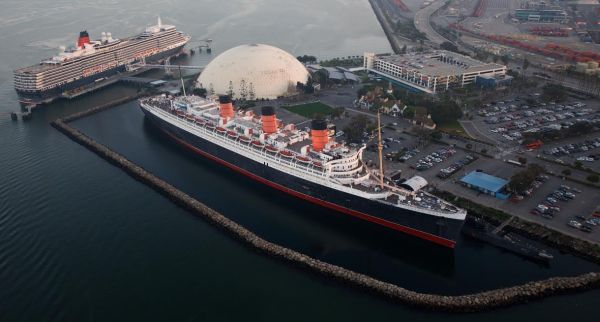 This is neither Liverpool nor Southampton, but Long Beach California, home of the legendary Queen Mary. As part of the 175th celebrations Queen Elizabeth docked for the first time ever by her celebrated predecessor earlier this year. The camera lies a little. The earlier ship, an ocean greyhound, displaces slightly less than the 2010 model (81,000 tons v 90,000 tons), but at 1019ft is 55ft longer. Queen Mary will celebrate the 80th anniversary of her maiden voyage in May 2016. Cunard is always ready for a party!

OUR READERS' FINEST WORDS (All times and dates are GMT)
All comments are filtered to exclude any excesses but the Editor does not have to agree with what is being said. 100 words maximum
---
John Davidson, France
Thank you for the ocean cruises, but please give a thought to your readers in France (and elsewhere) eager for a river cruise such as on the Seine. A particularly nice one, about 10 years ago, with...hmm, Ama? Perhaps you could find one for next spring -- May or June, to give us a review.
---