John was appointed CEO of Heathrow Airport Ltd with effect from 1 July 2014. He joined the company as Commercial Director in May 2009. From November 2012, John was Development Director, responsible for delivering the £1bn annual investment in transforming Heathrow, including the new Terminal 2: The Queen's Terminal, which opened on 4 June 2014.

He was previously Divisional CEO with Taylor Wimpey Plc, having held a number of positions including Operations Director of Taylor Woodrow Developments and Commercial Director of Taylor Woodrow Inc. Prior to that, John was Managing Director, National Sales Division, of Bass Brewers, and has also worked as a strategy consultant with LEK Consulting for a number of high-profile businesses.
Britain's Airport Dilemma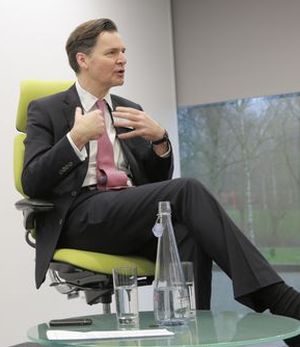 As the UK's only hub airport, Heathrow is Britain's gateway to the world. It is the launch pad for British enterprise and the red carpet for tourists, students and international inward investment. It is also our biggest port, handling 26% of UK exports by value. With world class facilities like Terminals 5 and 2, it is a national asset Britain can be proud of.

The Airports Commission was asked one question by government – how do we maintain the UK's status as a global aviation hub? Over the last two years, the answer has become clear – only by expanding Heathrow.

Britain has been at the heart of global trade for 350 years. But the world is changing. Economic growth is in distant markets such as the Americas and Asia; markets you can only get to by air. If Britain is to win the race for growth we not only need regular direct connections to these markets, we need to be better connected than our competitors. But with Heathrow full, Paris has now overtaken us with more long haul destinations and Dubai with more international passengers. This is a competition Britain should win. Heathrow is the best located hub in the world, with 95% of the world's economy within range of a direct flight.

With Heathrow operating at capacity, we are having to turn away airlines who go not to other UK airports, but to our competitors in France and Germany – countries which have expanded their hubs. Turn the clock forward and British businesses will increasingly be on a branchline to growth, having to go through Paris, Frankfurt or Dubai to get to growing markets. We need to be more ambitious than this – but only by expanding Heathrow can we keep Britain right at the heart of the global economy.

The independent Airports Commission agrees. Heathrow expansion will create up to £211 billion and 180,000 jobs across the UK. It will boost exports, helping to balance the UK's trade. It will benefit all of Britain, not just London and the South East. That is why businesses and unions, individuals and politicians, locally and nationally, from Cornwall to Inverness, from Belfast to East Anglia are saying "we back Heathrow expansion". It is best for Britain and backed by Britain.

Heathrow will also be one of the most sustainable airports in the world, and can be delivered within the UK's carbon targets, air quality limits and with fewer people impacted by noise than today. The new airport layout has been designed to fit in better to the local community, minimising the noise impact, and we have also developed a world leading insulation package for schools and homes.

By expanding Heathrow, we can create the world's best connected, most modern and efficient airport, at the heart of an integrated transport system. It will be served by five motorways and five railway lines with easy access from all parts of the country. It will also have flights from more parts of the UK and allow airlines like easyJet to operate, providing more competition and choice.

We have a great track record. Over the last 10 years we have invested £11 billion of private money to make Heathrow better. On time and on budget. Over the next 15 years we want to invest £16 billion more to make it bigger. We will create skilled jobs and 10,000 apprenticeships while we are building and when we have built, providing an opportunity to end youth unemployment in the local area.

This debate isn't about concrete. It's about the future we want for Britain. Let's be ambitious for our country. Let's expand Heathrow. Let's get on with it.

John Holland-Kaye
Chief Executive Officer
Heathrow Airport
OUR READERS' FINEST WORDS (All times and dates are GMT)
All comments are filtered to exclude any excesses but the Editor does not have to agree with what is being said. 100 words maximum
---
Mike Garland, Ireland - Dublin
Its a joke that Gatwick (1 runway) and Heathrow (2 runways) are so poorly supported yet do so much for the economy of the UK. Both should have more runways (Gatwick 3 and Heathrow 4). I am tired of the fact that negative campaigns get all the media attention and no-one is doing a positive campaign to get these runways built. Lets form a tent city at both Heathrow and Gatwick and say "yes we do want this expansion for the greater good" Do people know that even if they finally decide to proceed and not postpone yet again making a decision that in Gatwick\'s case the first bulldozer will not be allowed to start until 2019! I admire the French they just get on with it!
---
David Tarsh, London
John has not addressed the question of noise and he should have done because it is the main reason local people object to any expansion of Heathrow. With an extra runway, located to the West of the current facility,there would be scope to reduce noise over West London because the planes could be higher in the Sky over the most densely populated areas.
---