Over 1,200 delegates from 64 countries with over 100 airlines, 350 airports, and 45 tourism authorities joined the speed dating format where airlines and airports exchange perspectives and propositions in a concentrated new air route development festival. That was Routes Europe 2015 in Aberdeen. Basil O'Fee, our man in Scotland, reports.

The format is in its 21st year and now with an annual World Routes and five world sub regional gatherings each year. Much of the serious talk is held across a hall full of tables with 20-minute meetings progressing relentlessly over the three-day marathon.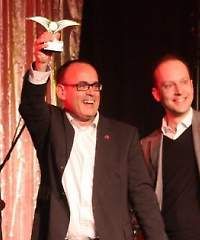 The event opened with a Strategy Summit. John Grant, Executive Vice President Data and Market Intelligence for schedules specialist, OAG, set the scene by highlighting that in the last five years Europe has already 'lost' many scheduled airlines with numbers declining from 241 in 2011 to 168 in 2015. Turkey's domestic market is now home to three of the four largest intra-European routes. While Poland, Russia and Turkey have seen fast growth over the past five years, capacity in countries such as Italy and Spain has declined.

The Summit provided firm evidence on the key role that low-fare carriers continue to play in Europe and how the legacy airlines are struggling to compete. The region's big two low-fare carriers, easyJet and Ryanair, will command an estimated 35% of the intra-Europe market by 2024, up from the current 22% and legacy airlines are making moves to respond.

There was a lively debate on how the Gulf carriers are further influencing the market both through acquisitions and growing network capacity.

Against this challenging backdrop, the European Commission is currently drafting a new aviation strategy for Europe, which is expected to come out in late 2015, while Germany is also in the process of drafting a new aviation strategy. Both documents will focus on the competitive situation of the sector and of European airlines in particular. The fact that the UK, Europe's largest aviation market, does not have an aviation strategy was called a "shambles" by Jochen Schnadt, Managing Director at Latitude Aviation.

Regardless of governments' strategic considerations, a route down the consolidation path has already started with legacy flag carriers coming together and even low-cost and regional airlines joining together through takeovers and mergers.

However, is consolidation the right way to move forward in Europe?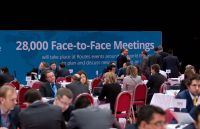 Not according to Peter Morris, chief economist at Ascend, the Flight Global owned consultancy during the afternoon's second Strategy Summit panel session: "If you wanted to breed a racehorse, you are probably not going to take two dinosaurs to start your breeding programme," offered Morris as an analogy for the European airline sector. According to Simon McNamara, director general, European Regions Airlines Association (ERAA), one of the biggest challenges the aviation sector will face in regards to investment decisions is attracting capital, finance and investors due to current restrictions. "Attracting finance to the European industry is very, very difficult," he said. "We have some quite closed rules in Europe when it comes to foreign investment especially – a limit of 49 per cent by foreign companies in European airlines and no effective control."

Commenting on the Strategy Summit, Mike Miller, Routes' Head of Content and Industry Relations, said "It's great to see the defining issues for aviation being debated with enthusiasm at Routes Europe. Europe's skies are changing fast in more ways than one, from the march of the low-cost carriers to the rise of Turkish and Middle Eastern airlines and the global open skies vs. fair skies debate."

Being on their home patch the UK was well represented at the event, and Scotland got a particular chance to showcase their offer. Glasgow, Edinburgh, Glasgow Prestwick and Inverness Airports all had stands as did VisitScotland, Aberdeen/Aberdeenshire and Transport Scotland.

The author had explained to him the Team Scotland approach to route development whereby various public agencies support airports that present strategically relevant route propositions. Airports can then seek additional support from a combined team of these agencies. Key successes in 2014 were new long haul routes with Qatar, Etihad and United.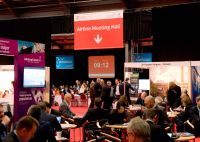 John Watson, Chief Commercial Officer of Edinburgh Airport concurred "Working with Team Scotland we have been able to offer even greater support to our airline partners. Our close relationship is vital to being able to respond to opportunities quickly". Gary Cox of Transport Scotland portrayed the support as the icing on top of basically viable and attractive route propositions that benefit from additional support in their early years.

Denise Hill (the VisitScotland part of the Team) was gratified that major events such as the 2014 Commonwealth Games and the Ryder Cup have demonstrated that Scotland can successfully host major events with the infrastructure for Business and Sporting events developing all the time. Aberdeen for instance has a spanking new double sized Exhibition Centre planned to open beside the airport in 2017. Scotland has had success in adopting 'Focus Years' such as last year's Homecoming aimed at the extensive Scottish diaspora. Looking forward in 2015 to – Scotland's Food And Drink; 2016 – Innovation, Architecture And Design; 2017 –History, Heritage And Archaeology; 2018 –Young People.
Budapest Airport (BUD) outlined their saga to recover from the loss of Hungarian Flag carrier (Malev) in February 2012, an armageddon scenario that few countries have endured, but some more may yet face with flag carriers facing the rigours of a dynamic market and their increasing difficulty is securing state aid. The airport is delighted to report that they have now exceeded their previous 2011 record of 8.9mn passengers with a 9.1m throughput in 2014. Basically the low cost carriers (led by Ryanair and Wizz) have taken up much of the slack growing the LCC share of the Budapest market from 25% to 50%. The flag carriers such as Lufthansa, AirFrance/KLM also took up some of the unsated demand as did some key regional operators such as Transavia and Air Berlin. The number of visitors from UK to BUD for instance increased by 42% in 2014. Prospects for 2015 are buoyant with Qatar, Emirates, Air China and Air Transat all set to launch routes. There is life after the demise of the National flag carrier. www.routesonline.com
OUR READERS' FINEST WORDS (All times and dates are GMT)
All comments are filtered to exclude any excesses but the Editor does not have to agree with what is being said. 100 words maximum
---
No one has commented yet, why don't you start the ball rolling?
---