Our February cruise supplement features ferries, Carnival Vista, and of course CRUISE INTELLIGENCE

Britain's ferry industry continued its revival in 2014 on over 75 routes, posting increases across the board for passengers, cars and coaches carried during last year. Whilst the ships are affected by the weather from time to time troubles with Eurostar has meant a return to crossing the Channel by the short sea route for some.

According to 2014 "Ferrystat" figures, released by industry body Discover Ferries, passenger numbers were up 2.6% or a full million in 2014, to 39.01m (compared with 38.01m in 2013). Passenger cars carried by ferry increased by 1.6% at 8.5m, and over 163,300 coaches were carried by ferry in 2014, a rise of 3.1%.

Overall, Continental ferry routes were the strongest passenger growth sector in 2014, up 3.7% to 18.32m with the key Dover – Calais/Dunkirk Channel routes operated by DFDS, P&O Ferries and MyFerryLink up 4.4% to 13.29m. North Sea routes to Holland by DFDS, P&O Ferries and Stena Line were up 2.9% to 1.75m passengers, with the western Channel sector, operated by Brittany Ferries and DFDS, up 1.5% to 2.85m.

Ferry passengers travelling to Ireland by operators including Irish Ferries, P&O Ferries and Stena Line, were up 1.4% overall in 2014 to 4.87m, with the "central corridor" Holyhead and Liverpool routes to Dublin the best-performing sub-sector, showing 2.9% growth to 2.13m passengers.

"It has been another strong year for UK ferry industry, putting on more than a million passengers for the second year in succession, with us now in striking distance of 40 million passengers for 2015," said Discover Ferries director Bill Gibbons. "In the all-important France market, with 15.9m passenger journeys in 2014, ferries are the market leaders with 33%, compared to approximately 23% by air, 23% by Eurotunnel and 21% by Eurostar - and other ferry markets like Holland, Northern Ireland, and Scotland are all showing strong passenger growth."

National Ferry Fortnight, running this year March 2-15, when some excellent added value ferry offers will be available on www.discoverferries.com."

CARNIVAL RETURNS TO EUROPE


The headline has to be as noted 'Carnival Returns to Europe' but in truth for 2016 a better heading might have been 'Carnival births in Europe' the use of the English language perhaps not appreciated by the Miami moguls.

In any event the world's largest cruise line is not operating this side of the Atlantic in 2015. Next year, with its latest ship, Carnival Vista 3,954 passengers and 136,000 tons, and built in Italy (born in Italy), it will offer a season in the Med.

When this latest "Fun Ship", the Carnival Vista, is introduced 1 May 2016 on it will feature a bevy of new spaces that take on-board entertainment to a new level.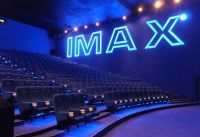 An IMAX cinema, 450-foot-plus-long water tube slide and the suspended open-air SkyRide are just some of the fun additions the ship will boast. Other new concepts will include an on-board brewery, Sportsquare, the New England-inspired Seafood Shack and a dedicated families-only zone with lounge and cabins.

Carnival Vista sets sail with a 13-night inaugural sailing departing Trieste (Italy). It will be the first Carnival ship to sail in Europe in three years.

"Our goal was to make this our most innovative ship to date," Mark Tamis, Senior Vice President of Guest Operations, told assembled guests at a launch announcement in Lincoln Center's JAZZ performance space in New York City. Carnival transformed the venue into several Carnival Vista restaurants and bars including Havana Bar, Seafood Shack, RedFrog Pub, Cherry on Top and Bonsai Sushi.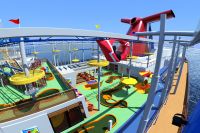 "Carnival Vista is so high energy, so much fun; the most amazing stage for our members to bring to life that fun vacation Carnival is famous for," Tamis said.

Tamis also emphasized the ship's connection to the ocean, apparent in its many indoor/outdoor spaces. All restaurants, with the exception of the two main dining rooms, offer outdoor seating.

SkyRide is outdoor fun. You don't have to be a cyclist to enjoy the industry's first pedal-powered, open-air aerial ride, though you best not be afraid of heights. With SkyRide, participants climb on-board hanging recumbent bikes to "cycle" their way around the 800ft suspended track, measuring in at up to 150ft above the sea.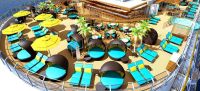 If the SkyRide doesn't provide enough adrenaline-pumping action, the suspended SkyCourse ropes circuit should do the trick. Both SkyRide and SkyCourse are part of SportSquare, which also offers an indoor hangout, The Clubhouse at SportSquare, featuring mini-bowling, Ping-Pong, arcade basketball, sports video gaming and more.

More outdoor fun can be found at the line's largest WaterWorks water park, including the enclosed water tube Kaleid-O-Slide, on which riders make their way around 455ft of twists and turns on one- or two-person rafts..

Carnival Vista will have two main dining rooms, Reflections and Horizons, the latter hosting a small bar in the middle perfectly situated as a meeting spot for pre-dinner drinks.

The ship will also feature the line's first dedicated space for Chef's Table. Located inside the main kitchen, the space is separate from all the action by glass walls so diners can watch as food is prepared for the entire ship.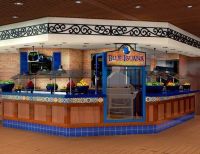 Carnival will debut two new cabin classes on-board Carnival Vista. The Havana Cabanas, on Deck 5, come with private outdoor patios that face the Lanai promenade for easy access to the Havana Bar and Pool. A hammock for snoozing the afternoon away gives the patios just the right dash of tropical languor.

Kids under 12 looking to get away from their parents can join Camp Ocean, which provides an undersea-themed play area with more than 200 fun and educational ocean-inspired activities.

Carnival Vista will sail a variety of Mediterranean itineraries in its first season, calling on ports throughout Italy, France, Spain, Croatia and Turkey.

After a season of 18 sailings in Europe, the ship will embark on a 13-night transatlantic crossing 21 October 2016, arriving in New York City on 3 November. It will then operate a series of sailings from New York. The ship's final homeport will be announced at a later date. www.carnival.co.uk/Cruises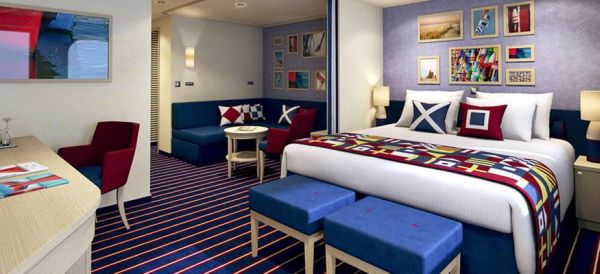 CRUISE INTELLIGENCE

THE 7th ANNUAL LONDON CRUISE SHOW takes place at Olympia on 14-15 February 2015. Business Travel News has negotiated a price of just £2 per ticket against the £10 if you turn up and go to the box office. Easily the largest exhibition of its kind in Europe, most of the major cruise operators will be showing, plus a collection of lesser known companies offering specialist trips, typically the Gallipolis and at the other extreme, the Scottish Islands. Both deep sea and river cruising are being promoted, entirely different products. The free talk programme is always interesting and is an ideal way of learning about cruising if you have never been before. Best of all are the show bargains which are usually dramatic. You can get expert advice and actually book your cabin. For tickets Quote E1 on 0871 620 4024 or visit http://cruiseshowlondon.seetickets.com The offer closes Friday 13 February at 13:00.

CRUISE & MARITIME VOYAGES (CMV) has taken delivery of their new flagship Magellan previously Grand Holiday of Costa Crociere (Berlitz rating 1156). She will reposition to Greece for a docking period before sailing up to the UK for her various launch events and Maiden Solar Eclipse & Northern Lights Cruise departing 15 March. www.cruiseandmaritime.com

CRYSTAL CRUISES will be joined by world-renowned peace and human rights crusader Archbishop Desmond Tutu aboard Crystal Serenity 13 March from Perth to Cape Town, part of the ship's World Cruise. The 1984 Nobel Laureate was considered his country's "voice of conscience" throughout its struggle against apartheid, and is still one of world's leading voices for freedom and justice. The Archbishop will share personal insights about South Africa's history and topics such as "Bridging the Chasm between Black and White", as well as speak on universal themes that can inspire all, such as the search for spiritual values in today's world and the power of unity and goodness in business. www.crystalcruises.co.uk

OCEANIA's highly successful award-winning sister ships Insignia, Regatta and Nautica are to be joined by Sirena with her first cruise planned for April 2016. Cruise buffs will note that Oceania will now operate four of the eight Renaissance Cruise Lines R class ships, that company a casualty of the 9/11 catastrophe. At 30,000 tons and 684-passenger capacity they are ideal for the smaller ports. Upon delivery in March 2016, Sirena will immediately undergo a 35-day, US$40m refit to elevate the ship to the Oceania Cruises' standard of elegance. Drawing on the recent transformation of Insignia as inspiration, the ship will feature Oceania's renowned specialty dining restaurants, Toscana and Polo Grill, along with more recent additions to the fleet such as Baristas and the cook-to-order grill at Terrace Café. www.oceaniacruises.com

P&O is ramping up visibility for the new Britannia, the largest cruise ship ever built for the British market which debuts 10 March at Southampton. New is a video providing a sneak preview of the outstanding art installation by renowned British artist, Johnny Bull, which reflects the theme "The Spirit of Modern Britain". Within the video, Bull explains how the concept of the artwork was decided by P&O Cruises while the content was suggested by the British public via Facebook and other social media platforms. Bull then incorporated the most popular suggestions into two pieces of art which he believes will be colourful and fun conversation pieces. https://www.youtube.com/watch?v=WM5ookIoWQc

SILVERSEA CRUISES is kicking off 2015 with an enticing new programme that includes shore excursions and wi-fi on any of the line's 52 Mediterranean cruises this year. Already included is open-seating gourmet dining; butler service for all suites complimentary select wines, champagnes and premium spirits. Silversea offers in-suite dining and 24-hour dining service (from a formal dinner ordered from The Restaurant menu and served in-suite, to lighter fare served in attended lounges); lecture and enrichment programmes; roundtrip transportation into town (in most ports); and on-board gratuities (exclusive of spa treatments). www.silversea.com

REGENT SEVEN SEAS CRUISES has released details of Seven Seas Explorer. At 56,000 gross-registered tons and carrying just 750-guests, the all-suite ship is designed to be the most luxurious liner ever built, with every inch of the vessel evoking elegance and grace. She will debut in summer of 2016. BTN will be previewing Explorer in the coming months. www.rssc.com

OUR READERS' FINEST WORDS (All times and dates are GMT)
All comments are filtered to exclude any excesses but the Editor does not have to agree with what is being said. 100 words maximum
---