Tomorrow (Tuesday 3 February) is the closing date for submissions to the Airport Commission. Jock Lowe is a Director of Heathrow Hub Ltd which proposed one of the three shortlisted options being considered by the Airports Commission for the addition of a runway in the Southeast of England.

Jock retired from British Airways in 2001 after 30 years having spent some of that time flying Concorde. He was the BA Chief Pilot and Flight Operations Director and completed a year as President of the Royal Aeronautical Society and another as Master of the Guild of Air Pilots.

He put forward the concept which allowed the runway at Southend to be extended and continues to be a Director of Regional Airlines Ltd.

The Davies Commission and Aviation Capacity in the UK and the South East.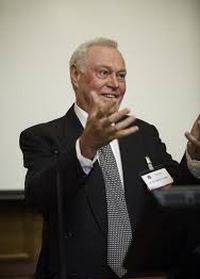 The Airports Commission led by Sir Howard Davies has already completed an enormous amount of data collection and analysis. They are a first class team who are striving to complete an evidence-based recommendation which will be difficult to contradict.

As part of their complex process they prepared and published a comprehensive consultation portfolio, all 8,000 or so pages. It is what it says – a consultation – and as such is asking for responses from as many people as possible.

Clearly if I can influence your views, of course I recommend our Heathrow runway extension. But no matter what your views, if you have not replied to the Consultation I would urge you to consider doing so before the 3 February deadline.

First, however I must stress the importance of Heathrow, not just to the South East but to the UK as a whole. The airport serves as our only viable national transport hub and is crucial to our economy. It allows all of us, tourists and business people alike, to travel around the world, no mean feat for a country located on the extreme north west corner of a continent. As important, it allows the same mix of visitors from overseas to fly direct to the UK. Without that direct connection many of them would simply not bother.

And it is not just passengers. Heathrow is the UK's largest port, carrying a quarter of our exports by value in the holds of the aircraft.

There is another crucial point; overseas airlines really do prefer Heathrow over other UK airports and will simply not operate anywhere else – and they do have that choice. They do not have to come here at all. Other European airports are happy to welcome them.

Looking ahead, what will happen when BA or Virgin want to expand in China, India, Brazil, Vietnam, Indonesia and so on? It is naïve to think those countries will say, come on in we don't want reciprocal rights into Heathrow. They will instead demand Heathrow slots only in exchange for their permissions.

Will these overseas countries and airlines accept the alternatives of landings at Gatwick, Stansted or Manchester? The chances of this are between zero and highly unlikely.

Is it worth taking that chance when expansion at Heathrow is fundable and more than feasible without, I hasten to add, shutting the M25 except for a few overnight lane closures throughout the building process?

Some claim there will be benefits from internal UK competition between airports. The words given are very close to those used to justify the second force airline policy of the eighties. BA and British Caledonian were supposed to offer the same competitive advantages as are now being postulated for airports but despite the valiant efforts of the BCal staff the plan was simply not sustainable. The main reason was that aviation is an international and competitive business, where there is little room for national intervention to try and distort the market.

So the answer to the question given to Sir Howard has to be Heathrow. The task of the expansion concepts becomes one to minimise problems and issues such as noise and local disruption whilst maximising benefits like road and rail improvements.

Turning now to the Heathrow Hub proposal. It is so relatively simple and cheap that the most frequent comment has been "why would anyone suggest anything else". The concept suggests the extension of the Northern runway 27R/09L to 6800metres and with a 650 metre intermediate safety zone using the first runway for landings and the other for take offs. The capacity offered is at least 700,000 annual movements and as many as 800,000 if needed.

The cost of the extension including any motorway and river changes we estimated at less than £10bn – a sum which the Heathrow owners would have no problem in raising.

Any changes in passenger charges would be tiny when compared to the average fare, unlike the same equation for Gatwick.

Reducing aircraft noise will continue to be important. A new analysis of the aircraft noise, just completed for us by the CAA applying respite and dispersal of flight paths, shows that at the 54 Db LAeq level the number of residents in the footprint decreases from 632,600 to 390,000 (yes, that is a decrease of 242,000 despite an increase in the population density). No new people are expected to be in the approach or departure envelopes unlike proposals at Gatwick.

Among the many other benefits our plan uses less land and only requires 247 houses to be moved and local flood risks will be greatly reduced. We also have proposals for a mainline railway station and road interchange just to the north of the M4 connected directly to the terminals.

In summary, Heathrow is in the right spot. Its worldwide status and the way in which it attracts visitors and business is something to be proud of. 160,000 new jobs would be created by its expansion and the UK economy will benefit by hundreds of billions of pounds. Our Heathrow Hub plan is simple, cost effective and could be finished. quickly with minimum disruption. So why would we not do it?

If you agree, please let Sir Howard know. Even if you prefer another scheme please communicate it to ensure that the eventual recommendation has the authority of a well researched and well published scheme backed by as many as possible.

Jock Lowe
OUR READERS' FINEST WORDS (All times and dates are GMT)
All comments are filtered to exclude any excesses but the Editor does not have to agree with what is being said. 100 words maximum
---