Alison Chambers has joined the chiefs of Europe's regional airlines (and some important guests from all over the world at their annual gathering. Here is her report.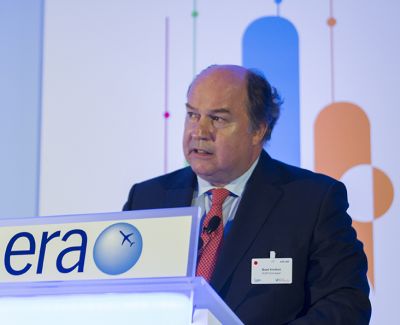 In his opening address to the 2014 Annual General Assembly of the European Regions Airline Association in Barcelona ERA President Boert Kreiken, Managing Director of KLM CityHopper, paid tribute to Spain's aviation companies – Vueling, Air Europa, Binter Canarias and Air Nostrum and their courage in surviving a nasty economic storm. They restructured, refinanced, regrouped, and merged alive and kicking. They are real Spanish bullfighters, he lauded. This indomitable spirit is exactly what ERA's 53 regional airlines continue to embrace. Not only are they seeing more and more low-cost carriers move to hybrid models with attractive flexible fares and near Business Class offerings, they continue to be battered by perceived unfair EU regulations, airport capacity constraints and increased costs.

Among the serious ongoing costs being faced is the contentious mandate for operators and air service operators to equip their aircraft with data-link (digital air to ground link) – representing an investment of some €500,000 per aircraft. ERA is lobbying to delay the proposed mandate for the introduction past February 2015. A dedicated workshop in Barcelona saw ARINC Rockwell Collins' Eduardo Bladi offer up some possible alternative uses to offset investment costs.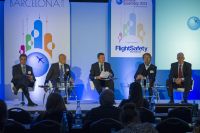 ERA continues to fight against passenger rights EU261 too, which unfairly exposes regional carriers providing feed to the legacy carriers at major hubs – so they are burdened with the full cost of compensation for delays at the final destination. ERA Director General Simon McNamara acknowledges "we are still in survival mode, but we are encouraged that for the first time in the past five years forecasts show a 3% increase in capacity for the upcoming winter. There were some notable bright spots in 2013 with France's Hop, CityJet and Stobart Air (the former Aer Arran) reporting a capacity growth of 15% versus 2013. This compares with overall LCC growth of 8 %.

"I see a bright outlook, says McNamara. Our typical business model, largely owing to consolidation, has definitely evolved and our members are now offering a little bit of everything – serving the remote regions like SATA; providing valuable feed traffic to major carriers and performing sub-contract and ACMI work. This means they are able to spread the risk of their businesses. Tony Tyler, IATA's Director General and special guest in Barcelona, concurred. "European aviation is at a crossroads – plenty of opportunities, but obstacles too. The biggest challenge is to get the regulators and politicians to recognize that aviation is not a cash cow."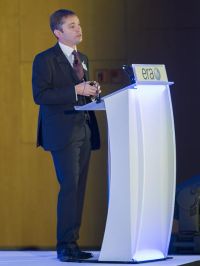 Being solely dependent on a major carrier for work, makes a small regional vulnerable of course. (As the meeting in Barcelona opened Cimber of Denmark, one of the longest established regional airlines, was briefing the Danish press about a forced closure in April 2015, citing the loss of an SAS contract). 39 ERA members are focused on ACMI routes, which in the most part is lucrative. Titan Airways' Operations Director Graham Baguley says the company will add two more Airbus A320s to support its business and while not yet an ERA member, Jota Aviation in the UK, has just announced its move into the sector – with a revamped BAe 146, that will be offered for charter. (See related story this issue)

European regional airlines have a 15% share of the market – carrying 45 million passengers a year, performing 960,000 flights over 1,200 point-to-point routes across Europe. They have created 280,000 direct and indirect jobs and contribute €47 billion to the European economy. Established for over three decades the theme of this year's annual meeting focused on the need to evolve, consolidate – although I and some other long standing attendees couldn't help thinking - isn't it time for some real creativity and investment with a revisit perhaps of a market that was their original pioneering niche in the early 80s – the 30 seater?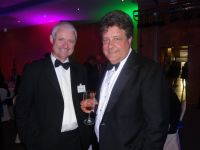 Boert Kreiken, Managing Director of KLM CityHopper, talked about the regional sector fondly, as niche and boutique – yet his airline, among the largest, is moving to a decision on larger aircraft. The real question is, says Patrick Edmond, Group Strategy Director from Shannon Airport, is there a gap in the market – and is there a market in the gap?

ATR is sitting pretty as its enhanced -72 Series mirrors that of the average ERA airline – flying an average 250 nm – journey time -71 minutes with 67-seat aircraft. There are a number of regional carriers in Europe flying 19-seaters. For them, the move up to 46 seater is a big, even risky step.

We now have a Twin Otter successor, being built by Canadian company Viking (Scotland is purchasing two to lease out to successful PSO airlines) to continue remote services in the Hebrides. Aurigny, an ERA member, has identified the next generation Dornier 228 from RUAG as a replacement for its Britten-Norman Trislander fleet, but has started its new Guernsey flights from LCY with a wet leased ATR.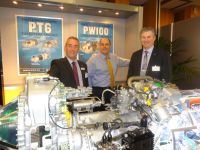 US Regional Airline Association (RAA) President Roger Cohen stated the lack of replacement aircraft was an issue with his members too. The average sized aircraft in the RAA fleet operated by its 52 airlines is 56 seats. Cape Air for example is struggling with a replacement for its mainstay Cessna 402s.

RAA is marking 40 years next year, its member airlines flying 156 million passengers a year. They too have experienced a lot of consolidation. Today 95% of its capacity is controlled by mainline carriers, but unlike Europe and its struggle with airport capacity constraints, its biggest obstacle is lack of pilots, he said.

On the same panel debating the evolution of the regional airline industry Per Braathan, Chairman of Braathans Aviation touched on the lack of aircraft under 50 seats but dismissed it as build costs versus return are just too high. The panel did not discuss the possibility of re-engineering parked aircraft like the Saab 340, Jetstream 41 or Dornier 328, however. ERA boasts a large membership of committed suppliers and support organisations who could get behind this, recognizing the fact that of Europe's 470 airports – 25% are served exclusively served by turboprops. However in Barcelona it was all about the New Generation regional jets – 80 seats and up. Embraer's new generation M2 regional jet family is faring well, benefiting from delays in the C Series.

Macquarie Airfinance of Australia and Senior VP Marketing Harry Forsythe attended ERA for the first time – as the company entices customers for its newly acquired C Series fleet, while Ilyushin Finance, represented by Stewart Cordner, formerly with BAE, was back networking in familiar territory.

Ilyushin Finance has sizeable orders for C Series and the Sukhoi Super Jet. ATR, now dominating the turboprop market with a 75% share, continues to have a 90-seat turboprop in its sights, for the future.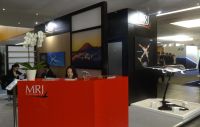 Mitsubishi Aircraft Corporation (MITAC) rolled out Japan's first aircraft in 40 years this week at its Nagoya facility is on target for the second quarter of 2015. Akinori Kojima, president of MITAC Europe, speaking in Barcelona disclosed he is confident of securing a European launch customer soon, to further bolster the now 400 commitments (191 firm, 184 options) following Japan Air Lines' recent Letter of Intent for 40 aircraft.

The event concluded with a look into the future, with an enjoyable presentation on commercial space travel by Will Whitehorn, former President of Virgin Galactic. Underlining the great vision of Sir Richard Branson Will noted that Virgin Space was registered at the same time as Virgin Atlantic in 1984. Will was the PR brains behind Virgin Atlantic in its early days when it really grabbed the headlines.


Interestingly The Spaceship Company – the jointly owned Virgin Galactic and Scaled Composites company relies on ATR's expertise for the undercarriage and Pratt & Whitney Canada (marking 30 years at ERA) for IRS PW308 turbofan engine to power the White Knight ii (WK2) launch aircraft for the world's first commercial passenger suborbital spaceship SpaceShipTwo.

SpaceShip Two, with a wing span as big as a 737, is the first machine to go supersonic since Concorde. Build it and the (high value) punters will come Sir Richard believes and so far the novelty of being the first in space has attracted 900 'astronauts' to pay £200,000 upfront to take a trip to infinitely.

No doubt a journalist will ask him about the actual first 'public' flight date this week in Atlanta. "It's in the air" will probably be the answer!

ERA General Assembly 2015 will be held in Berlin 13-15 October.
www.eraa.org

Alison Chambers alison.chambers@emeraldmedia.co.uk
OUR READERS' FINEST WORDS (All times and dates are GMT)
All comments are filtered to exclude any excesses but the Editor does not have to agree with what is being said. 100 words maximum
---
No one has commented yet, why don't you start the ball rolling?
---