As the world prepares to commemorate the centenary of the start of the Great War, Stephen Bridgewater makes a pilgrimage to Ypres in Belgium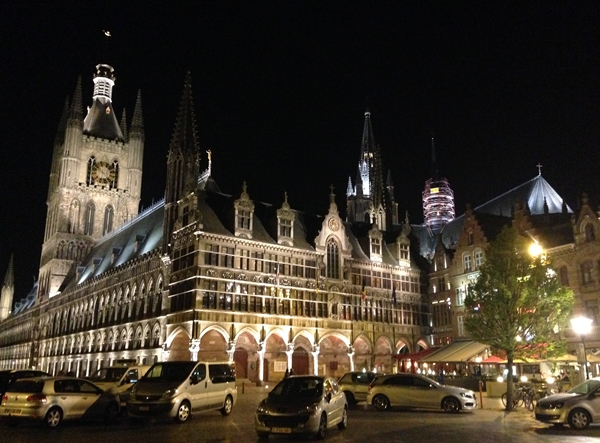 The small Belgian city of Ypres (or Ieper to give it its true Flemish name) is home to only around 35,000 people and had it not been for the events of almost a century ago this small rural area would never feature on the tourism map. However, during the 1914-18 'Great War', tens of thousands of soldiers lost their lives attacking or defending the city, which occupied a strategic position in the Flanders' fields. A century on, the streets and surrounding fields are home to memorials, cemeteries, museums and memories that stir the emotions.The First Battle of Ypres took place from October 19 to November 22, 1914 and as the centenary approaches, the city has been massively investing in its tourism infrastructure to prepare for all those wanting to pay their respects.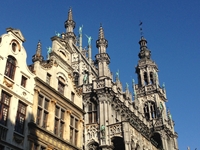 Our own small pilgrimage began at London's St Pancras station where we caught the Eurostar direct to Brussels. The usual high class of carriage, service and punctuality were much in evidence – which is even more impressive when you take into account that the journey can be booked for as little as £36 if you plan ahead. Included in the price of a ticket to Brussels Central is free onward travel to any station within Belgium – in this case west to Ypres. However, this journey can be taken any time within 24 hours from your arrival in Brussels so you may choose to spend a relaxing night in the Belgian capital… We did!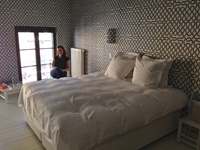 As you'd expect, there's no shortage of accommodation in the city; ranging from the usual multinational hotel chains to bed and breakfasts and some unusual boutique guesthouses. We opted for the latter and were very pleased we did… La Maison Haute only opened in January and is located above a soap shop in a quiet street a short walk from the station, the subway and most of the area's tourist attractions. Attractively decorated with Vivienne Westwood wallpaper and stylish contemporary minimalist artwork, the guesthouse is an oasis of calm in the bustling city.There's even a communal lounge/reading room for those with time to spare.
Affable and enthusiastic host Sébastian Botte (and his family) do everything they can to make you welcome; but be sure to leave plenty of time for breakfast as the artisan breads, local cheeses and homemade jams will leave you in a quandary about what to eat first.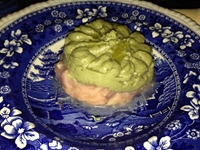 The city itself is awash with good eateries, including the unusual 'L'Idiot du Village' (The Village Idiot). On the whole most people in Belgium speak excellent English, and English menus are available on request, but the unusual fare in this restaurant did leave us a little perplexed when your truly inadvertently ordered a 'rhubarb and avocado mousse' for dessert…
Needless to say it's easy to occupy yourself in Brussels but with just 24 hours to play with it will soon be time to catch the train to Ypres. Trains depart approximately every thirty minutes and take around two hours to reach Ypres. The rail station is no more than a 15-minute walk from the city centre, although the cobbled streets can play havoc with 'wheeled' suitcases!
With a proven history of attracting large numbers of tourists, the city is already geared up to accommodate, feed and entertain the masses, but with the centenary of the war imminent, a large influx of investment is currently seeing the city transformed.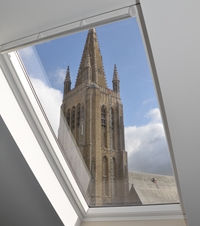 One great example was the Hotel Albion, a 17th century Flemish Renaissance-style house that was converted into a hotel just over a decade ago. Sympathetically restored to its original pre-World War One configuration, the hotel has been owned and managed by mother (Christiane) and daughter (Ruth) since it opened in 2000. The dynamic and welcoming duo have been working hard to extend the building and renovate the rooms in advance of the anniversary and we had the pleasure of being the first guests to stay in the new rooms – so much so that we helped peel the plastic covering off some of the fixtures and fittings.
The Albion is located less than a three-minute walk from the main square so is perfectly situated for exploring the shops, restaurants, bars and chocolatiers that abound. It is also less than five minutes away from Ypres' main – and most poignant – attraction…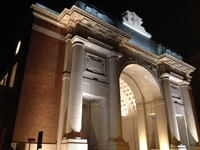 The Menin Gate was designed in 1921 by Reginald Blomfield and is a large gate and mausoleum that honours the missing men and boys for whom there are no known graves. The imposing structure straddles the road and carries the names of 54,896 Commonwealth soldiers who died in the Ypres Salient but whose bodies have never been identified or found. Amazingly, when it was completed the memorial was found to be too small and an arbitrary cut-off point of August 15, 1917 was chosen – with the names of British troops listed missing after this date (all 34,984 of them!) inscribed on the nearby Tyne Cot Memorial instead.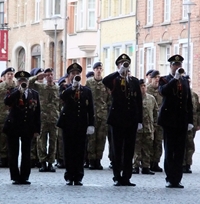 Every evening at 8pm the traffic is stopped and volunteer buglers sound the 'Last Post' beneath the gate. Huge crowds turn out to pay their respects during this ceremony (so you're advised to arrive at least an hour ahead if you want a front row view) and most evenings a number of wreaths are laid by groups from around the world.
If we could offer just one word of advice with regard to the Menin Gate it would be to visit it later in the evening and soak in the atmosphere in silence away from the crowds.
I'm not ashamed to admit that the eerie silence and thought-provoking nature of the floodlit sandstone panels reduced me to tears. If ever there was an epitome of the futility of war, this list of 54,896 names is it.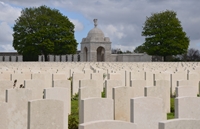 The aforementioned Tyne Cot Memorial should also feature high on your to-do list during your time in Ypres. Located just outside Passendale, in the rolling Flanders fields, some 11,954 Allied men are laid to rest here − 8,367 of them in unnamed graves. This is the largest Commonwealth war cemetery in the world, for any war, and is situated on the site of a battlefield that saw some of the most ferocious fighting of the war. A single statistic on one simple plaque has stuck with me since I visited. It noted that: "After 100 days the Allies had advanced no more than 8km. The cost in human lives is staggering: 245,000 British and 215,000 Germans dead, wounded or missing in the most appalling circumstances."
Back in the city, Ypres' 'In Flanders Fields' facility is, without doubt, one of the most impressive, thought provoking and powerful museums I have ever had the privilege to visit. The mix of exhibits, modern technology and powerful story-telling makes it a must-see.
A visit to Ypres is not easy; it is not pleasant and it is not a happy experience. Yet it is thought-provoking, memorable, moving and will be one of the most worthwhile trips you ever make. I'm pleased I went. I will go back. I will remember.

They went with songs to the battle, they were young.
Straight of limb, true of eye, steady and aglow.
They were staunch to the end against odds uncounted,
They fell with their faces to the foe.

They shall grow not old, as we that are left grow old:
Age shall not weary them, nor the years condemn.
At the going down of the sun and in the morning,
We will remember them.

They mingle not with their laughing comrades again;
They sit no more at familiar tables of home;
They have no lot in our labour of the day-time;
They sleep beyond England's foam

Lest We Forget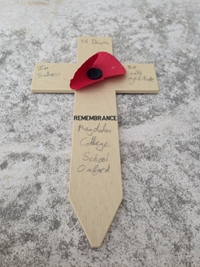 OUR READERS' FINEST WORDS (All times and dates are GMT)
All comments are filtered to exclude any excesses but the Editor does not have to agree with what is being said. 100 words maximum
---
No one has commented yet, why don't you start the ball rolling?
---