Queen Mary 2 plus Marco Polo and 'The News'

Prince Philip (93) was the Guest of Honour at Southampton on 9 May for celebrations to honour RMS Queen Mary 2's 10 years of Cunard service. He was in sparkling form.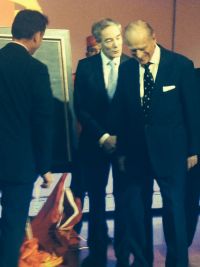 The Grand Staircase, over two decks into the splendid Queen's Room, proved no problem as he was welcomed by a beaming David Dingle, Chairman of Carnival UK, the ship's owner.

The visit by HRH was not just a lunch. It included a proper tour of the ship, including of course the bridge, but also the laundry department and other working areas. He was introduced to countless crew and Cunard people, and always seemed to say the right thing. As Phillip Mountbatten he was commissioned into the Royal Navy in 1940 and served with distinction on a number of ships including HMS Valiant in the Battle of Cape Matapan.
Prince Philip is a proper navy man.

Since her spectacular naming by Her Majesty The Queen on 8 January 2004, Queen Mary 2 has undertaken a total of 419 voyages including over 200 transatlantic crossings and called at 182 ports in 60 countries. She is perhaps the last real ocean liner (although that was also said of her predecessor, QE2). She can make 30 knots if needs be, far faster than the much shallower cruise ships, which are not designed for the North Atlantic in the winter.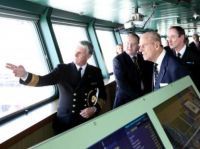 This summer QM2 will again be attracting her regulars from Europe to America (and vise versa), the non-flying fraternity and those who prefer one way of their crossing to be hassle free. For many it will be a 'once in a lifetime' experience, which in fact turns out to often be more than once!
A very large ship, 150,000 tonnes, and just 2,700 passengers it is unique in style. Quality rather than quantity. For the balance of 2014 the ship will undertake what has become a regular programme, back and forth between Southampton and New York, supplemented with Boston and the St Lawrence, plus eight-night Northern Europe trips and the occasional short 2/4-night English Channel introductions. There is one Canaries visit planned for the end of November and on 10 January she is off to Australia via Cape Town on the annual World Cruise and back through the Suez Canal. 118 nights. Prices from £12,000 inclusive.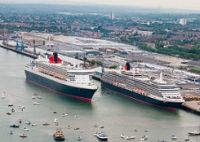 Queen Elizabeth has a slight change of schedule for this year. She is based in the Mediterranean through to December for the very first time with seven and 14-day fly-cruise packages available. This product includes transfers and hotel stays if required. No problem if you want to make your own arrangements. For Americans and Australians in particular to travel on the great ships in the Med is part of the Grand Tour. Her world cruise actually goes around the world, also 118 nights with the pricing much the same as QM2.

Victoria has proved to be very popular and like all three of the Cunarders is very British (except for money with your on-board expenses charged in dollars on all three ships). Her summer programme is again a mixture of seven and 14-night cruises, varying from the Black Sea to the North Cape. Victoria is Southampton-based until she too goes off on a World Cruise on 2 January, 116 nights (from £10,999), this time west bound to Sydney and back circumnavigating South America. www.cunard.com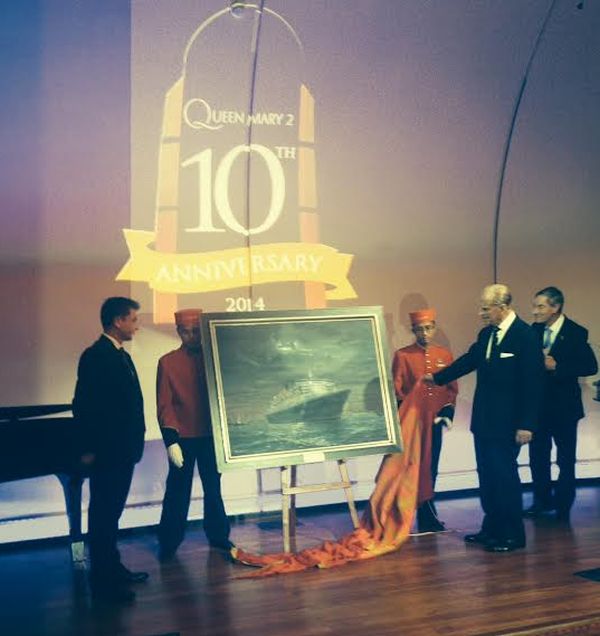 MARCO POLO – A VISIT



There comes a time with classic ships when they take on a special aura. Such is the case with the Aleksandra Pushkin, once the pride of the Soviet merchant navy, and since 1991 named Marco Polo, originally with Orient Lines. She is now part of Cruise and Maritime Voyages fleet which also comprises Astor and Discovery.

Aleksandra Pushkin was completed in 1966 and intended for the St Leningrad – Montreal service with a strengthened hull to combat the winter weather. The Russians more or less got it right, with decent sized cabins even on the inside, and a spacious sun deck at the stern complete with swimming pool. The very top deck now offers three whirlpools. Marco Polo has an indoor pool too adjoining the Jade Wellness Centre which offers hairdressing and beauty treatments, sauna and massage and also gym equipment. All post-Soviet of course.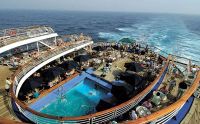 With Cruise and Maritime since she had a £3m upgrade/refit in 2009 and now offers real value. Certainly during a lunchtime visit at the London Cruise Terminal Tilbury the dining was excellent, a good old fashioned traditional British experience and the lounges nicely laid out and looking fresh. There is an intimacy about the ship and an old-world charm. It is as far as you can get from the mega liners. 22,000 tons and 800 passengers. Marco Polo is child free with 16 the youngest allowed on board. There are 10 single occupancy cabins. The public areas and accommodation is spread over seven decks.

Marco Polo does not venture very far for most of the year. Tilbury on the Thames is her home for cruises ranging from just two to 14 nights over Christmas and the New Year. This month (June) it bases itself at Newcastle for a short (and popular) season. Marco Polo's annual 42-night Amazon & West Indies voyage in January 2015 is selling well.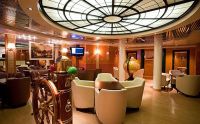 Cruise and Maritime has been very effective in attracting real British favourites as personality guests. On 6 August joining the ship for the 50th Anniversary of Pirate Radio (Amsterdam & Antwerp, 3 nights) are DJs Emperor Rosko, Dave Cash and Johnnie Walker plus guest appearances from Georgie Fame, Eddie Floyd and The Rhythm Kings. This is a truly unique cruise when Marco Polo will become 'the Ship That Rocks'.

On 15 October Marco Polo departs on a Comedy Legends cruise – Baltic Cities & St. Petersburg, 12 nights with stars from some of the most popular iconic BBC TV comedy series including: Vicky Michelle (Allo Allo), Melvyn Hayes (It Aint Half Hot Mum) and Frank Williams (Vicar in Dad's Army).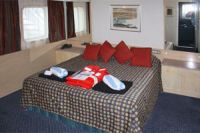 Cruise and Maritime is also promoting Astor and her 'Tilbury to Freemantle' (Perth) voyage leaving 5 November on a 38-night sailing visiting Lisbon, Le Havre, Tenerife, Cape Town, Durban, Reunion Island and Mauritius. Many years ago your Editor embarked on a similar size ship at Tilbury with his parents and younger brother. It was the time of the 'Ten Pound Pom'. The routing was via Suez. For 2014 prices start at around £3,000 one way twin. You can fly back or rejoin Astor for her return on 15 March but there is already a wait list for most cabin grades.

To commemorate the 50th Anniversary of Marco Polo next year an epic voyage is planned to Canada and Greenland. The 36-night cruise departs Tilbury 24 July 2015 returning 29 August. Prices start from £2599. www.cruiseandmaritime.com
(prices are based per person in a double cabin)

AND 'THE NEWS'

The first ever Berlitz River Cruising in Europe (£14.99) guide is out today (2 June 2014) but we have not had time to review it and will do so for the July Business Travel News cruising issue (7 July). www.amazon.com/Berlitz-River-Cruising-Europe-Cruise/dp/178004772X

FERRY TRAVEL: More than 9.4m passengers were carried by Britain's ferry operators in the first four months of this year to 30 April 2014 – an increase of 320,000 passengers or 3.5% over the same period last year – according to industry figures released by the trade organisation Discover Ferries. This continues an upward trend reported during 2013, when full year ferry passenger numbers of 38m rose by 2.6%, or a million extra passengers, compared with the previous year. All ferry route sectors reported growth over the first four months, led by passenger crossings to the Continent, up 4.1% to 4.45m, with ferry passengers on UK Domestic routes such as the Isle of Wight, Isle of Man, and Scottish Isles up 3.6% to 3.7m, and passenger numbers on Irish ferry routes up 1.3% to 1.17m. www.discoverferries.com
CRUISINGEXCURSIONS.COM, the company offering an alternative to the sometimes expensive excursions available on cruise ships, has announced a treat for ballet loving cruisers docking at St Petersburg overnight this summer. On selected dates in June, July and August on offer is a sightseeing tour of St Petersburg that includes an evening performance of either Swan Lake or the Nutcracker. With visas pre-arranged by the company passengers are met at their ship by an English speaking guide with an air conditioned coach and taken on a full day's tour of the city, including Peter the Great's Bronze monument, the Palace Square, The Hermitage Museum and The Church on Spilled Blood. The day culminates with the ballet at the either the Hermitage or Alexandrinksky theatres. With ships overnighting at the one time Russian capital there is no need to worry about missing the boat but in fact it is fully ABTA bonded and guaranteed. From £176pp. There are many others to choose from. www.cruisingexcursions.com
CROISIEUROPE is the latest river cruise company to go free wi-fi equipping all its European ships. While wi-fi is available in the reception area and lounge bar on most ships, with MS Gerard Schmitter, MS Cyrano de Bergerac, MS Lafayette and the fleet of four hotel barges – wi-fi is available throughout. CroisiEurope is a French family-run river cruise company, building, owning and operating 42 ships, with average capacity of 24 to 200 passengers. www.croisieurope.co.uk

REGAL PRINCESS has joined the Princess Cruises fleet and has embarked on a Mediterranean summer programme. She is a sister ship to Royal Princess, introduced last year and has two added features – access to the promenade on deck seven, which will enable guests to walk the length of the ship, and an additional extra swimming pool on the aft deck. The 19-deck ship, which can accommodate 3,600 guests, also has the dramatic over-water SeaWalk, a top-deck glass-bottomed walkway extending more than 28ft beyond the edge of the ship. All outside staterooms have balconies. And you can now book until 2016. The programme for two years ahead is out. www.princess.com

SAGA has come up with a new initiative and is now able to offer its customers cruises provided by other operators in addition to their own highly popular Saga Sapphire and Saga Pearl II. With more to be announced, Saga's first cruise partners include Azamara Club Cruises, Fred. Olsen Cruise Lines and Celebrity Cruises. Booking any of these cruises through Saga will provide people with the added extras that Saga cruisers have come to expect – such as door-to-door car service, a cruise escort and any necessary visas, along with included travel insurance. Overall, by combining their extensive travel experience, the partnerships will be able to offer some wonderful cruise, or cruise and stay, holiday options. www.saga.co.uk/cruises‎

VIKING is clearly getting very good feedback as it prepares to introduce its first ocean going cruise ship the 930-passenger Viking Star in 2015. Viking Sea and Viking Sky will both debut in 2016 and all three ships will sail in Scandinavia and the Baltic; and the Western and Eastern Mediterranean – as well as two itineraries that will explore the British Isles. www.vikingcruises.co.uk
VOYAGES TO ANTIQUITY, a destination-focused cruise line combining some outstanding itineraries with small-ship cruising, has announced its summer 2015 programme. Featuring 16 new destinations and six brand new itineraries, Voyages says that every voyage is structured to explore the most interesting sites in each of the regions visited. In addition to returning to Greece, Turkey and Italy, the centre of the classical civilisations of the Mediterranean, the next year's season ventures further afield to Southern Spain as well as France, Morocco and Gibraltar. www.voyagestoantiquity.com
OUR READERS' FINEST WORDS (All times and dates are GMT)
All comments are filtered to exclude any excesses but the Editor does not have to agree with what is being said. 100 words maximum
---