The timing of the March BTN Cruising Update is perfect in previewing the London Cruise Show Olympia 22-23 March. It is also National Ferry Fortnight running from 15-29 March 2014 with the theme "Join Our Ferry Families" highlighting the best family facilities on board the 12 ferry operators, members of Discover Ferries, who welcome thousands of car-borne families every year. CRUISE DEALS completes this months update.
With P&O's 2015 Britannia programme now on sale this also seemed a fine opportunity to interview boss David Dingle, who doubles as Chief Executive of Carnival UK, whose parent company is the owner of P&O, Cunard, Holland America, Princess and Seabourn and in total 10 cruise lines.
David started as a trainee at a then very different P&O 28 years ago and has been much the force behind the growth of the UK cruise holiday market over the last decade. He expects around 18m bookings for the total British market this year and further growth in 2015 when Britannia and other new ships arrive.
London Cruise Show will host the biggest collection of cruise lines and specialist operators to be found under one roof, certainly this side of the Atlantic, and will be packed with exciting new features and attractions for visitors to enjoy. There will also be plenty of special bargains available for the shoulder periods if you book up on the day.

Business Travel News readers can also avail themselves of a special discount deal at just £2 per person entry. Just go to the show website and quote BTN or call 0871 620 4024. The show is open 10:00-17:00 on the Saturday and 10:00-16:00 on the Sunday. For those in the Provinces there are further shows at Manchester Central Hall 13-14 September, Birmingham NEC 20-12 September and Glasgow SECC 4-5 October. There are theatre presentations including Ask the Experts, Meet the Cruise Lines, Small Ship Cruising, the Cruise Show TASTE Experience, all sorts of competitions and upgrade opportunities and what is intriguingly called "The Deck". There is wine tasting, fashion shows and entertainment. Virtually every cruise line is represented, big and small, ocean going and river experts too – for families, the solo traveller and the adventurer. www.cruisingshow.com www.nationalferryfortnight.co.uk

BRITANNIA Rules The Waves
March 2015 will see the maiden voyage of Britannia, at 141,000 tons the largest P&O ship ever. It will also be greenest yet and has been designed to deliver a much greater level of operational and environmental efficiency. The current ship craze of hull art is taken one step further with a massive Union Jack adorning the bow. A new hull form reduces unit fuel consumption by up to 20%.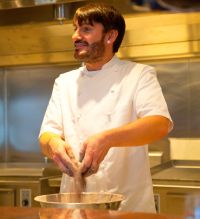 P&O introduced the ship with a spectular party hosted at Folman's Fish Island by the Olympic Stadium at Stratford with chefs James Martin, Marco Pierre White, Atul Kochhar and Master patissier Eric Lanlard doing their party pieces and a stunning "Strictly Come Dancing" display on an extremely limited dance floor.

The programme is already on sale with the maiden voyage set to leave Southampton on 14 March 2015, a 14-night trip visiting Gibraltar – Barcelona – Monte Carlo – Civitavecchia – Ajaccio – Cartagena – Cadiz and Southampton.

Mr Dingle is sanguine regarding the cruise market. He has seen it all before. Cruising has done well through a tough economic period. "We are always last in but not always last out," he says. "People might be wealthier but then have different priorities."

P&O is to have a change of strategies for this year with, for the first time, a full ex-UK 'cruise fly' programme in the Mediterranean with Ventura. It will offer a greater appeal to the European market and is modular. There are one week, two-week and three-week programmes on offer which can be packaged to suit different markets worldwide. American and Japanese like to take in a seven-night sea trip as part of a longer European tour, the Brits in the main for go for the traditional two weeks, whist the Antipodeans often like to stay on board for three weeks at a tim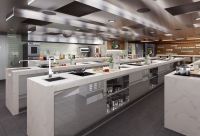 In April 2011 P&O reduced agency commissions to 5% as some agents were splitting their fees with customers. "All that did was make trading conditions difficult for everyone," said Mr Dingle. It is now back at 75%. He acknowledged that direct bookings did go up from the previous 10%. "We recognised that we would not get it right first time and it has now been fine tuned."

Mr Dingle noted that a big market for the cruise industry is airline staff (of which BTN has a large readership). "Barbados is particularly popular," he said. Adonia (30,000 tons and 680 passengers), Arcadia (83,000 tons and 2,000 passengers) and Oceana (77,000 tons and 2,000 passengers) are Adult Only ships with Arcadia more 'contemporary'.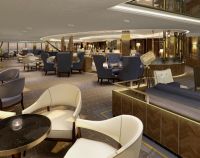 David Dingle ran Cunard for some years and holds a watching brief as part of his Carnival responsibilities. Queen Mary 2 (150,000 tons and 2,600 passengers) is now 10 years old and had an extensive refit in November 2011. She has settled in very nicely offering mainly 'summer only' North Atlantic crossings, a series out of New York to the St Lawrence, and some short European cruises. The traditional World Cruise is also fitted in this year to Sydney via Cape Town and back through the Suez Canal. Queen Elizabeth (90,000 tons and 2,000 passengers) is Mediterranean bound summer 2014 for a series of 'fly-cruises' whilst Queen Victoria (90.000 tons and 2,000 passengers) will 'home port' at Southampton. Its programme includes a three-night short break mainly aimed at potential new clients, Scandinavia, and also the Black Sea, 24 nights as far as Yalta in the Black Sea.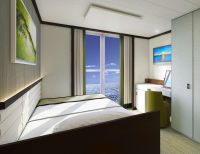 For summer 2014 the other major Carnival operator out of the UK is Princess with ships based at Dover (Ocean Princess 30,000 tons and 680 passengers, mainly Scandinavia), and Southampton (Emerald Princess,113,000 tons and 3,000 passengers). The new, yet to be introduced, Regal Princess (141,000 tons and 3,600 passengers) will link Barcelona and Venice on 12-night cruises and its sister ship Royal Princess is based at Copenhagen for Scandinavia and St Petersburg. Holland America and Seabourn have very limited ex-UK programmes.

On a wider front as an organisation Carnival is developing in Asia with Costa and Princess Cruises leading the way. Princess now has a dedicated Japanese programme for the cherry blossom period. While it is true that Russians tend to act as a closed community on board, this is also the case with all groups and is language-based. People want familiar language and familiar food.

The Britannia brochure is due to be published at the end of March and your local cruise specialist will have ample supplies. We will be taking a look at this 'family friendly' cruise liner over the coming months.

Will she ever moor near her namesake at Leith, Edinburgh? Only time will tell.

P&O is making every effort to make sure the new Britannia is worthy of the name.

And will Douglas Ward and Berlitz give her a higher rating than her close cousins Royal Princes and Regal Princess. Carnival House would like to know! www.pocruises.com/britannia


CRUISE DEALS MARCH 2014
The Berlitz rating is shown in brackets with the tonnage and passenger capacity
All prices based on two people sharing a stateroom

Azamara Club Cruises offers Azamara Journey (30,000 tons – 680 passengers – 1548) on a 10-night Baltic Rendezvous fly-cruise from £2,194 per person for 17 July. Price includes return flights, transfers and a 10-night cruise departing from Stockholm with an overnight stay before calling at Helsinki, St Petersburg (two-night stay), Tallinn, Warnemunde and Lubeck, before arriving in Copenhagen for the flight home. The cruise also includes selected standard spirits, wines and international beers; complimentary bottled water; soft drinks; speciality teas and coffees; meals and room service; housekeeping and dining gratuities. www.azamaraclubcruises.co.uk

Celebrity Reflection (125,000 tons – 3,000 passengers – 1571) has an 11-night Eastern Mediterranean fly-cruise from £1,694 with a 23 June departure. The price includes a choice of either a complimentary drinks' package, up to US$300 on board to spend or fully paid gratuities. Flights and transfers are included Heathrow to Rome calling at Santorini, Istanbul (overnight), Ephesus, Mykonos, Piraeus and Naples before returning to Civitavecchia/Rome. www.celebritycruises.co.uk

Crystal is 6-star and there is always the debate whether Serenity (69,000 tons – 1090 passengers – 1714) or the slightly smaller Symphony (51000 tons – 960 passengers – 1702) is the better ship. On 18 April Serenity departs Southampton to Rome for a 12-night cruise visiting Bordeaux (overnight), Le Verdon, Lisbon, Gibraltar, Monte Carlo (overnight), Porto Venere and Florence. All-inclusive fly-cruise prices from £2,852 per person. www.crystalcruises.co.uk

Cunard has on offer a number of Atlantic crossings on the Queen Mary 2 (150,000 tons – 2,000 passengers – 1673). No ports to worry about and plenty to do on board. Seven nights and westbound is probably best saving APD (Air Passenger Duty) and having five 25-hour days (change of clocks), giving extra value. The next crossing is 9 May with fares from £1,229. Included are the transfers in New York and US$80 on board credit. Queen Elizabeth is mentioned above which leaves Queen Victoria (90,000 tons – 2,000 passenger – 1579) Southampton-based with two cruises to highlight, 9 May 14 nights to St Petersburg followed by 'Around the British Isles' 13 nights, both from £1,099. www.cunard.com

Hebridean Princess is tiny (2,112 tons – 50 passengers – 1678), a cruise vessel which has in the past been chartered by the Queen. Departing Oban 25 March, a 7-night cruise taking in Fort William and picture postcard villages and breathtaking lochs as they awaken in spring. £3,170. www.hebridean.co.uk

Marco Polo (22,000 tons – 848 passengers – 1388) passengers reported wonderful views of the Northern Lights (also known as the Aurora Borealis) last week. There is another opportunity to see this wonder of nature departing London Cruise Terminal at Tilbury 1 March for a 14-night cruise from £799 for an inner cabin and £899pp ocean view cabin. As you sail up to the Norwegian coastline during your cruise visits are made to the towns of Narvik, Alta and Tromsø. NASA has already predicted the chances this winter are very good of seeing the lights. www.cruiseandmaritime.tv

MSC Cruises, MSC Lirica (60,000 tons – 1560 passengers – 1407). Has departures 7, 14, 21, 28 June – 7 nights from La Spezia calling at Marseille, Palma de Mallorca, Valletta, Trapani, Civitavecchia and back to La Spezia. The MSC product is very Italian and all the ships have the same Godmother, Sophia Loren. £749pp including flights. www.msccruises.co.uk

Oceania's Marina (66,000 tons – 1258 passengers – 1680) leaves Southampton on 2 September on a 12-night `Nordic Splendours' voyage, sailing along the north west coast of Europe, Scandinavia and the Baltics, with a two-day / overnight stay in St Petersburg. Prices start at £1,899 including return UK flight from Copenhagen, all meals, no supplement for speciality dining, gratuities, complimentary soft drinks and bottled water. A cruise ship built for food lovers. www.oceaniacruises.com

P&O Cruises is offering a 12-night Canary islands cruise on Oceana (77,000 tons – 1950 passengers – 1388) from £899 for an inside cabin. Terrific value for a fine distinctly British ship. Oceana's facilities include four pools, an Oasis Spa, theatre, gym, sports court housed in the funnel, golf nets, age-specific children's clubs and a variety of restaurants and bars including Cafe Jardin endorsed by celebrity Chef Marco Pierre White. From Southampton to Madeira, La Palma, Tenerife, Lanzarote and Lisbon. www.pocruises.com

Seabourn Legend (9961 tons – 212 passengers – 1654) has served Carnival Corporation well but 2014 will be the last season for the ship which has been bought by Windstar. By next year Seabourn will concentrate on three 32,000 tons ships with 450 passengers and rated at 1700. Legend departs Barcelona 15 May and with stops at London, Barcelona, Malaga, Cadiz, Portimao, Lisbon, Porto, Villagarcia, La Coruna, St Malo, Cherbourg, Le Harve and finally under Tower Bridge to moor to HMS Belfast. £4,629. www.seabourn.com

Silversea is a true luxury brand with service charges and bar items included. Silver Spirit is the largest and latest of the fleet (36,000 tons – 540 passengers – 1762) and has availability on a 12 May seven night cruise from Civitavecchia to Barcelona via Livorno, Alghero, Porto Mahon and Ibiza. From £2,050 in a very nice sea view cabin. All Silversea prices no longer include the air fare as travellers seem to want to be more and more independent. Both the company and agents will organise this segment at very competitive prices. www.silversea.com

Swan Hellenic Minerva (13,000 tons – 380 passengers – 1455) offers an all-inclusive educational package (see BTN 16 December 2013 www.btnarchive.co.uk/article/7123). Depart Portsmouth 28 April for a 12-day cruise in conjunction with the Royal Horticultural Society including Frederiksborg Palace, Gothenburg Botanical Gardens, Damsgaard Manor and Gardens in Bergen. Olso is also visited and Akrafjord. £2180 www.swanhellenic.com

Voyages of Discovery (21,000 tons – 710 passengers – 1112) has a 14-day Natural Wonders and Wildlife cruise, departing Portsmouth 17 May 2014. This exciting itinerary promises nature, wilderness, wildlife and natural wonders as it takes you on a springtime journey to the Shetland Islands, Iceland, Faroe Islands and Orkney islands. £1,799. www.voyagesofdiscovery.co.uk
OUR READERS' FINEST WORDS (All times and dates are GMT)
All comments are filtered to exclude any excesses but the Editor does not have to agree with what is being said. 100 words maximum
---
No one has commented yet, why don't you start the ball rolling?
---