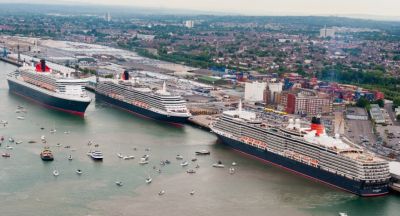 Ship enthusiasts and those just fancying a historical day out should note that next Friday 9 May, RMS Queen Mary 2, Queen Elizabeth and Queen Victoria will all be at Southampton replicating the Diamond Jubilee celebrations. HRH Prince Philip will help celebrate QM2's ten years of service joining a special lunch to honour the occasion.

This month's Business Travel News visits the river cruise market, with an outline on the current scene, a review of the brand new Emerald Sky, and also a listing of some current offers.

The ever-growing appeal of river cruising has led to a significant rise in the number of UK passengers taking a holiday on Europe's waterways, with 2013 seeing a jump of 22% according to figures released by CLIA UK & Ireland, the trade body. River cruising on the Continent has an appeal for those who do not want a long flight, or would prefer to join their ship by rail or even road. Canal and river limitations mean that the maximum vessel size is around 200 passengers, and the rivers themselves offer very smooth travel with no chance of sea sickness. The so-called ports are usually no more than tow path tie-up points, but these can be right in the middle of a city.

Emerald Sky, for her inaugural, berthed alongside Cologne's Am Leystapel promenade (and just by the Chocolate Museum (See ON TOUR). Getting off was just a few steps on a gangplank.

Around 110,000 Brits chose a river cruise holiday on the continent in 2013 plus 20,000 on the previous year. Europe now accounts for 83% of river cruises by UK passengers compared to 50% in 2009. The numbers have increased dramatically in recent times with the Rhine and Danube easily the favourites.

The growth on Europe's rivers was underpinned by a significant increase in the delivery of new cruise ships. Twenty-seven ships were introduced in 2012-3 and more are on the way. The 260 river cruise ships currently sailing the European waterways will be supplemented by a further 24 presently on order – an increase of 12%.

The Rhine, Danube and Moselle rivers and their tributaries are the most popular accounting for 52% of all UK passengers in 2013. However, other rivers are growing even faster with the Rhône and Seine seeing 38% more passengers in 2013 and the River Elbe leaping by 50% over the same period.

A key reason for the growing popularity of river cruising is the transformation of the holiday experience with new larger ships with greater amenities. A third of European river cruise ships have been built within the last 10 years – a quarter within the last five. These are larger and offer the kind of multiple dining venues, spa facilities and range of cabins with balconies which have already combined to transform the experience offered on many ocean cruise ships.

Andy Harmer, Director CLIA UK & Ireland, said: "Europe's phenomenal growth as a river cruise destination for UK passengers clearly shows how the industry has transformed the passenger experience in recent years. For UK passengers, the itinerary and destinations on a journey were by far the most important factor when choosing their last river cruise, with 78% citing it as one of the principal reasons for choosing their last river cruise."


EMERALD INTRODUCE SKY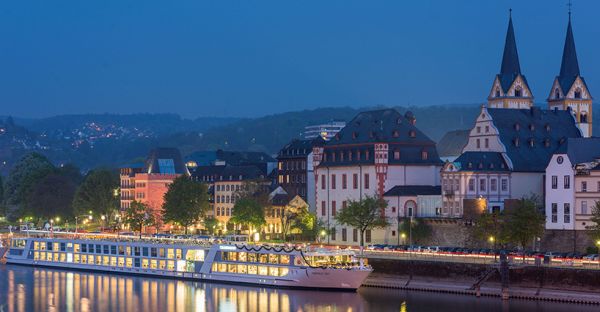 There is a new kid on the block with European river cruising, Emerald Waterways. But don't think that someone has looked at the market and is coming in without experience. Emerald Waterways is a new division of the highly successful Australian-based Scenic Tours (also know as Evergreen 'down under') founded by husband and wife team Glen and Karen Moroney 25 years ago and established in the UK 10 years back by Chris Townson, formerly Managing Director of travel operator Tradewinds.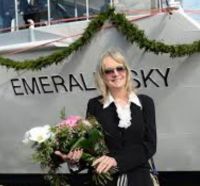 Scenic Tours is a premium package at the very top end of the market with just about everything included. They are the only river cruise company to offer a personal butler, and plus a choice of dining experiences, not usually found on river ships. Since Scenic Sapphire, the line's first purpose-built riverboat, was launched in 2008, eight other 169-passenger, Europe-based ships, all with 84 outside cabins, have debuted (or will debut this year). These are Scenic Gem, Scenic Jewel, Scenic Crystal, Scenic Pearl, Scenic Diamond, Scenic Ruby, Scenic Jade and Scenic Emerald. One additional ship, smaller than the rest of the fleet, is the Russia-based Scenic Tsar, debuted in 2012. This ship, with only 112 passengers, is not part of the "space ship" series of vessels but was significantly updated and refurbished before its launch.

Enough of Scenic. Another time perhaps. We will concentrate on Emerald which now sits in the market rather like Cunard does for Carnival Corporation with regards to Seabourn, that is a quality product in itself but with some of the bells and whistles missing.

European river ship designers are constrained by the length and width of the locks they have to negotiate, effectively limiting them all to 135m length and 11.4m width. But it is amazing how designers are able to make each series of ships individual whether it be the hull design (Emerald Sky is said to be extremely efficient as it ploughs through the waters at 7 knots) through to the cabin layout.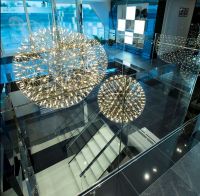 'Sky' has a mirror-walled 24-foot high atrium extending over three floors and a surfeit of windows makes for a very bright interior and in the cabins a new design replaces the French balcony, affording in the two upper decks suites with vertical sliding windows and an interior decked balcony, and others full-size balconies. Clever use of mirrors, particularly in the cabins, makes everything seem bigger than it actually is. Furnishings are contemporary and cabins and public areas are suffused with light. The bed mattresses are perhaps over generous in width and one has to shimmy sideways along one side of the bed to access the bathroom. Make them slightly smaller for the next ship!

On board is an interactive TV system which not only gives you a selection of stations but a route map (a variant of Google Earth is promised). Very large screens are placed in selected points around the ship. During the port lectures you can see the presentation from virtually anywhere.

Also available is hotelpress.net, a four page printed news review available as a financial edition, UK-European, USA-Canada and naturally an Australian version too.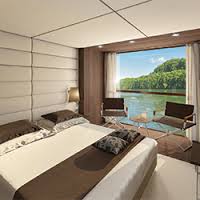 Breakfast and lunch are both buffet style, but with a cooking station for eggs and special dishes. Dinner more or less at a fixed time, usually 19:00, perhaps a little early for Brits but ideal with North Americans and Oz customers.

The maiden voyage was also a shakedown trip and a few minor deficiencies were noted, with the most important one the swimming pool steps. They only went down a couple of rungs into the water, OK for six foot plus Australians but hopeless for your Editor. This is being modified and Emerald Star is being delivered with the correct steps. The cabins have the usual single beds capable of acting as a double but the side tables were fixed and unable to be transferred into the centre in order to make the cabin a twin. This too is being sorted.

Supermodel and Broadway star Twiggy was the Godmother of the ship and broke the Champagne bottle with real aggression. She and husband Leigh Lawson stayed on for the whole trip and found time for a hilarious informal media briefing. She recalled a trip down the Moselle in her halcyon teenage modelling days.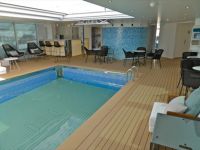 Making a splash in the world of river cruising doesn't require discovering a new river or creating a new route; it calls for innovation in ship design. And Emerald Waterways has come up with a gem: a heated swimming pool, surrounded by loungers, with its own bar, gelati station and, above all – in every sense of the word – a retractable roof, making this an inviting oasis whatever the weather. Even more imaginatively, retractable flooring and a giant, drop-down screen can transform this entire area into a cinema for evening entertainment complete with popcorn and ice cream. The sound quality is outstanding.

New thinking extends into eating and drinking areas as well, with an open-air Terrace at the bow, for al fresco dining, and a pop-up Sky Bar on the Sun Deck.

Other onboard amenities include a small gym, massage room and bicycles, which keen passengers can use to explore the river bank and ports of call. Daily excursions, beer, wine and soft drinks with lunch and dinner, plus all gratuities, are included in the price of cruises as well as return flight to most UK airports. www.emeraldwaterways.co.uk


RIVER CRUISE NEWS

A European river cruise is really a touring holiday where you take your hotel with you.

The facilities available on sea-going ships are for the most part not on offer, nor is river cruising suitable for younger children, or people with less mobility. The holidays are mostly 'total pacakges' which includes travel to and from the ship, dining, service and some off ship tours. Prices shown are per person.

Out in early June is the Berlitz River Cruising Europe guide. If it is anything like the long-established deep sea version it should be a mine of information. www.insightguides.com

AMAWATERWAYS is a proven quality product. Arles to Lyon 19th June includes chateaux, towns and vineyards accompanying a constantly changing riverside vista. Clients can participate in a ghost walk through the town of Viviers, join a Van Gogh tour in Arles or a wine tasting in Provence. Prices from £2,169 including free flowing wine, beer and soft drinks. www.amawaterways.co.uk

AVALON WATERWAYS Danube package lets you focus on some amazing sights in key destinations. Explore Prague and transfer by coach to Nuremberg for Passau – Melk – Vienna – Bratislava and Budapest. For hundreds of years the Danube (it is not blue) was the equivalent of the M1 with its commercial traffic. It is still a major trading route. 11 days, 3 June from £1,670. www.avalonwaterways.com

CROISIEUROPE has come up with something rather special this year, the new 24-guest Anne-Marie. In French it is called a barge but don't be put off by the description. Air conditioning, wi-fi and twin bed cabins are provided and you will be well looked after by five crew. Bicycles also come with the package and excursions. Space is available on a 26 May seven-day trip through Provence from Avignon to Sete. The cruise visits Beaucaire, Arles, Saint Gilles, Aiges-Mortes and Palavas-Les-Flots. Wine of course is included for all meals. From £1,575. www.croisieurope.co.uk

CRUISE AND MARITIME VOYAGES (CMV), a traditional deep sea operator, is cruising on the rivers of Europe for the first time. Their first 'Signature' cruise starts 19 May with a seven-night departure from Nuremberg and some of the most attractive parts of the Rhine Valley to Koblenz followed by Cologne before cruising to Kinderdijk in Holland with its iconic windmills and then Amsterdam. Priced at £1,199pp and 50% for the second occupant. www.cruiseandmaritime.com

EMERALD is the new kid on the block (see review – and also Scenic below) . Emerald Sky has already been delivered and Emerald Star is completing. There is very limited availability this summer on the major European waterways but on offer is Nuremburg – Amsterdam 27 September, eight days, £1,695 based on flights from Heathrow www.emeraldwaterways.co.uk

FRED. is promoting an exclusive Paris – Normandy River Cruise which departs on 5 June on AmaLegro, cruising along the river Seine, visiting the village of Giverny and Claude Monet's famous gardens; Honfleur and Rouen with its grand cathedral. Make use of one of the 20 bicycles on board. Standard Eurostar rail travel from St Pancras International to Paris and including local transfers to/from ship. From £1,989. www.fredrivercruises.co.uk

SAGA has some real bargains available with travel via coach and Eurotunnel. "Flemish Delights" is seven days on Regina Rheni ll with just 150 other passengers from Arnhem via Antwerp, Brussels, Ghent and Rotterdam to Amsterdam. Complimentary wine, beer or soft drinks are to be served with lunch and dinner whilst tea and coffee are available all day. Prices start at £928. http://travel.saga.co.uk

SCENIC is very much upmarket and caters for an international clientele. With just 112 passengers Scenic Tsar is much smaller and more exclusive than most of the ships operating Moscow – St Petersburg. Virtually every cabin has a balcony. At each end of the cruise you will have four nights to enjoy and explore two of the greatest cities on earth. Vodka on arrival. 2014 is virtually sold out but 21 September still available at £4,395 and 2015 is now on sale. For a week's trip Budapest – Nuremburg gives you Vienna. 16 July with flights from Heathrow is £2,020. www.scenictours.co.uk

SWAN HELLENIC'S Rhône & Saône is an eight-day cruise giving passengers the opportunity to wind their way from Lyon to the lavender-scented hills of Provence, through some of the most historic cities in France. Passengers will watch an ever-changing panorama as they journey through serene landscapes to the papal city of Avignon. There is availability 21 June. Prices start from £1,602 including all gratuities on board and ashore, flights, transfers, porterage of luggage plus all port taxes. http://rivercruises.swanhellenic.com

VIKING is offering one of Europe's most pristine destinations – Portugal. Spend two fascinating days and nights exploring the capital city of Lisbon, then proceed to Porto at the mouth of the Douro River to embark your cruise ship. The river winds between steeply terraced vineyards, stopping at villages largely unchanged for centuries with charming town squares, colourful castles, baroque mansions and historic monasteries. Included is a scenic ride into Spain to visit the medieval city of Salamanca before the voyage back to Porto. Friday departures from £2,145. www.vikingrivercruises.co.uk
OUR READERS' FINEST WORDS (All times and dates are GMT)
All comments are filtered to exclude any excesses but the Editor does not have to agree with what is being said. 100 words maximum
---