Plus a review of Royal Princess
AMA WATERWAYS, which claims to be the fastest growing river cruise line in Europe, is launching a new seven-night itinerary on the Mekong River through Vietnam and Cambodia aboard the luxurious, newly launched 92-passenger MS La Marguerite. Also offered is a 15-night trip including three days in Hanoi, overnight in Ha Long Bay, then travel to Siem Reap for a 3-night stay before embarking on the Mekong River. The journey is completed with an overnight stay in Ho Chi Minh City (Saigon). www.amawaterways.co.uk

CELEBRITY CRUISES has taken delivery of Equinox, a 2,850-passenger five-star liner from German shipbuilder Meyer Werft. Over the next week or so Celebrity will host a series of events at Southampton, the ship being formally named in a ceremony on 29 July. It will enter service 31 July on an 8-night Norwegian Fjords cruise. Rome will be its base for the rest of the summer before making a transatlantic crossing to Fort Lauderdale. www.celebritycruises.co.uk

COPENHAGEN will be used as a turnaround port by more than 160 cruise ships this season, a record number. This has brought a great deal more business to Copenhagen Airport which is now offering special facilities to operators. A special cruise area has been dedicated in Terminal 2 and at times when the airport is particularly busy Hangar 145 comes into play, specially equipped. Up to five ships can be dealt with at one time. www.cruisecopenhagen.com

DUBAI itself is fuelling rumours that the former Cunarder QE2 may be relocating from its present berth to Cape Town due to the current financial woes of the city state. A decision is expected shortly. The subject of a highly publicised retirement home as the centre piece of a waterside extravaganza it would seem that the ship is following a similar route to the first Queen Mary in having a number of owners before settling into a role as a hotel and convention centre. A permanent berth could be found at the Victoria and Albert Waterfront in Cape Town according to a spokesman for South Africa's department of tourism who said that officials were talking with local hotels and other tourism-related businesses. www.southafrica.net

MSC SPLENDIDA, the second in MSC Cruises 'Fantasia' class was christened in Barcelona last week. Jose Carreras showed once again why he is the world's greatest tenor, accompanied by the 60 musicians of the Orquestra Simfonica del Valles. The celebration was complete with a traditional ribbon cutting by the godmother of the MSC Cruises fleet, Italian icon Sophia Loren. Splendida comes in at 137,936 gross registered tons and has 1,637 staterooms. The ship features the company's new private area concept, MSC Yacht Club designed for a discriminating cruiser who wants all the amenities of a large ship, but also somewhere for quiet relaxation. www.msccruises.co.uk

NORWEIGAN EPIC, at 153,000 tonnes, is now afloat and preparing for fitting out. A ceremony was held last week at the same Saint-Nazaire shipyard where the very slightly smaller QM2 was built back in 2003. Epic has a capacity of 4,200 passengers and no less then 17 dining choices. It is due into service next May operating in the Caribbean. www.ncl.co.uk

THOMPSON DREAM is the new name of the former Costa Europa which will be rebranded and refurbished in time to be based out of Palma on seven-day cruises from April 2010. A feature of the ship is the two swimming pools, one of which has a retractable roof allowing for year-round swimming whatever the weather. www.thomson.co.uk/cruise
CRUISING IN ROYAL PRINCESS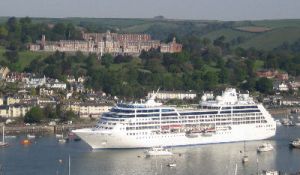 Princess is in its own nice way rather an odd ball as far as cruising is concerned. It could be argued that it is British, as for many years it was owned by the P & O Group, albeit as a US-based operation. It very successfully combined the best of the UK's ship owning skills with American hospitality plus European hotel management.

Today, like P & O itself, and Cunard, it is part of the mighty Carnival empire, and whilst it does have a well organised Southampton-based marketing operation it is very much run from California. The Princess ships however have hardly changed offering a good quality product for a sensible price.

Princess is not engaged in the shipbuilding war that some of its competitors probably would wish they were not exposed to. Last year the company said that it was very happy with its present fleet and that new orders were not for them. There are some giants now being prepared for the 2010 season. Will cruise companies be able to fill them with profit generating customers?


Three distinct classes of ships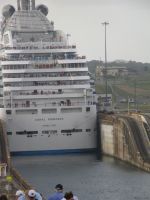 Operating in much the same market as P & O, that is four-star plus, Princess essentially offers three distinct classes of ships. On most cruises 80% of customers will come from North America with a smattering of Brits and Colonial types.

Largest, and top of the range are the Grand Princess and her sister ships, some with pool deck screens offering 'movies under the stars', for the latest cinema presentations. Blankets and popcorn are provided. The largest in the class Caribbean Princess accommodates up to 3,000 passengers and has a gross displacement of 113,000 tons. It has an extra deck.
Next up are the Sun class ships, which are for all intents and purposes smaller versions of the 'Grand' series but able to go through the Panama Canal. At around 2,000 passengers and 80,000 tons they are big ships by any standards. Some also feature 'movies under the stars'.

Royal Princess
The third class, the subject of this review, are Pacific Princess, Royal Princess and Tahitian Princess, called the R class. These are very much smaller, originally built for Renaissance Cruises, a victim of the post 9/11 financial crisis. Our comments refer to Royal Princess but all three are much the same.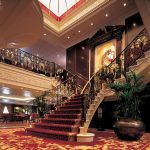 At 30,000 tons and just under 700 passengers they offer nearly everything that the big ships do, but on a smaller scale. For instance Princess very British afternoon tea, complete with strawberries and cream, is available in the ship's main restaurant, as is the courtesy ice cream service late in the afternoon. At other times one has to pay for the courtesy. Clients will probably never notice but the kitchens on the R class ships are below the main restaurant level connected by an escalator. The food is served hot. However for the most part it is fixed dining times, either early sitting, much favoured by Americans, or late meals (meaning a start at 20:30) which is the way that Europeans like it. Five-course meals if you like, to a very good standard, and varied. If you have a special diet they will try and help. No extra charge.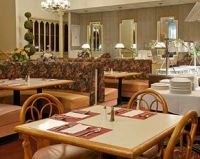 The ship has the two popular Princess specialist restaurants, Sabatini's, an up-market Italian trattoria, and the Sterling Steakhouse. Both add a service charge, USD20 and USD15 respectively. With an aperitif and a bottle of (well chosen) wine the bill can quickly mount up.

For late night meals, or more relaxed dining the Panorama buffet serves essentially the same food as the main restaurant and daytime there is also a grill for excellent quality fast food. It is just too easy to stop by for a quick snack. The pizza station is a little too tempting and at breakfast time it serves up a whole variety of individually produced omelettes plus waffles. This is a good time to point out that the ship has a fine fitness programme.

Unlike the big ships the shows and the facilities are pretty limited, the main entertainment area really a cabaret lounge. It does have its compensations. With the megaliths the entertainments team usually keep themselves away from the guests. On Royal Princess this is impossible, making for much more of a family atmosphere. Everyone mucks in, with the lead singer occasionally in charge of the daily fun quiz, and even the dancers getting involved with water sports around the pool. For whatever reasons Aussies usually provide the staff and providing your talk is cricket and not soccer they are happy.

Standard size cabins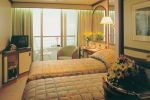 The vast majority of cabins are the same size, most with balconies except for deck four, which is nearest to the waterline. They offer good size essential accommodation but nothing more. All have showers. There are eight superior suits, much bigger and offering tubs but no butler service or other privileges. A limited 24-hour complimentary room service menu is provided. It is very much of a one class ship.

For those who can remember when Princess sailed as Minerva II one of its features was a delightful library right at the top of the ship, a quiet and cool room to sit and relax in. It has been retained and a casino added. The spa facilities and gym arrangements are much improved.

With less than one-third the number of passengers than most it is easy getting on and off the ship at the various ports and typically at St Petersburg, due to its size, it can get much closer to the city centre than its larger sister ships. No coach ride from the container port but an easy walk into town. Likewise at Livorno and when it comes to using the ships' tenders there are hardly any queues and with a reduced draft you moor nearer to the quayside. It all makes for a delightful and friendly ship.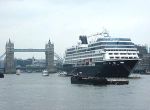 Royal Princess is based in the Mediterranean for the rest of the summer before a transatlantic crossing at the end of November from Rome to the amazing city of Manaus, one thousand miles from the sea on the mighty Amazon. From there it is to Ft Lauderdale, Florida, and a series of return trips up the world's longest waterway. As a small ship it is ideal for such voyages. www.princess.com
OUR READERS' FINEST WORDS (All times and dates are GMT)
All comments are filtered to exclude any excesses but the Editor does not have to agree with what is being said. 100 words maximum
---