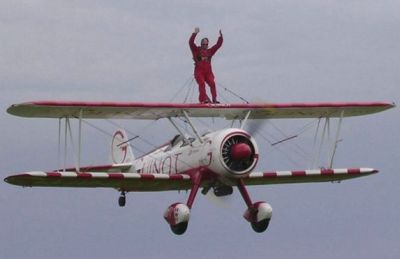 Perhaps best known by some mature types as Lufthansa's UK Sales Manager during the 1960s and 1970s Brian Walters, a most affable of souls and "a total aviation man", then carved out another career as a first rate, mainly defence, aerospace writer.

Here is his story.
At the age of two (76 years ago) I flew for the first time, with my family in a four-engine DH 86 Dragon Express airliner, which took off from Southampton's grass airfield and landed on the beach at St Aubin's Bay, Jersey. It seems implausible that it should have influenced my life thereafter but aviation has remained my enduring love.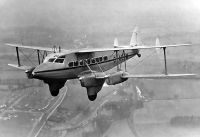 But maybe it is my genes: Unbeknownst to me until recently, my father had been accepted for pilot training in WWI but the end of that conflict meant that he was no longer required. I remember my family visited some civil airfields before the outbreak of WWII and needless to say my brother and I had plenty to see in the skies from 1939 onwards.

Being in the Air Training Corps presented some opportunities to fly in RAF aircraft and later during my National Service I enjoyed working in Air Traffic Control. This too opened opportunities to get airborne, notably in 1953 when I flew in my first jet, a Gloster Meteor T7, which was followed by flights in other marks.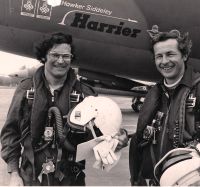 On being demobilised I worked for Air France for five years before joining Lufthansa where I remained for 20 years during which I experienced the dawn of the turboprop and jet airliner age. I also started to write on aviation in my spare time, eventually corresponding for several overseas magazines. Before I semi-retired 12 years ago (old journalists never die…) I had flown in more than 200 aircraft types, piloting about 20 of them. My passion for flying in different types of aerial devices had become a bit like collecting stamps you could say, although more exciting!

My airline years took me to different parts of the world, flying in many aircraft types, but aviation writing (still in my spare time) opened new doors and later by the time I had left the airline business in 1980 to write full time, I had amassed some 1,500 hours flying time and written a couple of books.

Lufthansa had not objected to my eccentric hobby, so flying in military aircraft often got the adrenaline pumping. For example, in 1971, the violent evasive action of a Buccaneer trying to avoid an 'attacking' Hunter brought me to feel airsick for the first (and last) time. Blest with a very tolerant stomach I have experienced aerobatics in aircraft as varied as the Pitts Special flown by the Rothmans team and the Gnats of the Red Arrows.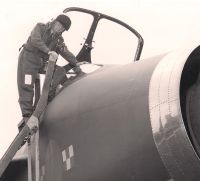 But 1973 was the first time I flew supersonically. This was in a Lighting T4, which climbed to 32,000 feet in 1½ minutes, and I held the control stick long enough to experience the 'rumble' (as if on cobblestones), when going through the sound barrier. But for something completely different, in the same year I was introduced to flying in an airship – aptly named as it pitched and rolled just like a ship.

Encouraged by my wife, I learned to fly, gaining my PPL in 1975 and within a month I flew the Harrier T4 demonstrator, now in the Brooklands museum. It was the first time I had flown a jet, and I carried out gentle aerobatics (brute force and ignorance) before making a vertical landing.

Strictly speaking I don't think you can claim to have flown an aircraft unless you have landed it and as a PPL holder most of my 20+ are light aircraft that have resulted in articles for World Airnews.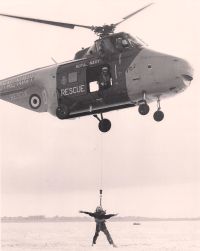 These have been entered in my Pilot's Flying Log Book and endorsed by a flying instructor authorised by the CAA. So the 20+ include single engine light aircraft produced by Piper, Cessna, Slingsby, Beagle, Socata, Robin, Bolkow, Zlin and more besides (including a Ukrainian microlight flown in the UAE).

However, the exciting jet aircraft that I have flown include the already mentioned Lightning, Hunter and Gnat, plus Jaguar, Hawk and the Tornado simulator.

And you may ask what is the quickest aircraft to have accommodated me. Concorde. Very comfortable as a passenger and the Champagne was fine. I tried to get a ride on the TU 144 too, but failed. Perhaps it was for the better.

Over the years, as a freelance journalist I have contributed to aviation and defence magazines published in Australia, Germany, South Africa, Malaysia, France and the UK. Latterly, show dailies have kept me active, working for Aviation International News, taking me to air shows in Dubai, Singapore, Geneva, Paris and Farnborough, but today Jane's Defence is my sole remaining client, for which I work at exhibitions in Paris, London, Amman, Abu Dhabi and South Africa.


Because I Fly

Because I fly
I laugh more than other men
I look up and see more than they
I know how the clouds feel
What it's like to have the blue in my lap
To look down on birds
To feel freedom in a thing called a stick…

Who but I can slice between God's billowed legs
And feel the laugh and crash with His step
Who else has seen the unclimbed peaks?
The rainbow's secret?
The real reason birds sing?
Because I Fly
I envy no man on earth.


Grover C. Norwood "Plan the Flight and Fly the Plan."
OUR READERS' FINEST WORDS (All times and dates are GMT)
All comments are filtered to exclude any excesses but the Editor does not have to agree with what is being said. 100 words maximum
---
No one has commented yet, why don't you start the ball rolling?
---