Our 10-story news review follows
Welcome to the March Cruise Review which for the first time takes a look at an embarkation port rather than a ship. For the future we would very much welcome reviews of both ships and ports by readers, but please, before making the effort and sending in potential articles, do make a request to info@aerbt.co.uk. Producing a thousand words of interesting copy is not easy and it could be that your well thought out critique is already in the pipeline from another writer.
This month's review: Portsmouth International Port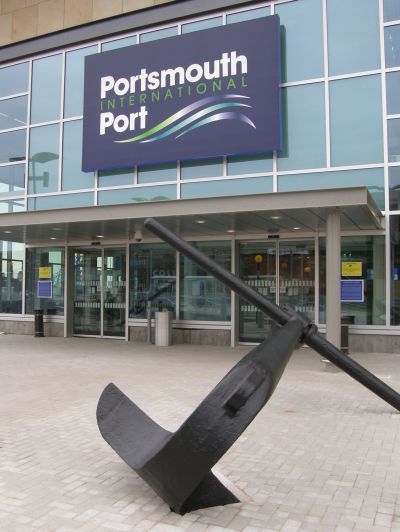 As the great Eric Morecambe used to say "not a lot of people know that". In this context it is the fact that Portsmouth is the second busiest passenger port in the UK with a 2.3m throughput last year. Dover leads with 13m. And just like Dover most are joining ferries, but not just across the Channel in this case, but to Northern Spain too.
Portsmouth is of course world famous as the home of the Royal Navy since it was founded by Henry VIII in the 16th century. It was from here that the Mary Rose started on its last tragic voyage in 1545, and it was to Portsmouth that the wreck was returned in 1982, today one of the great preservation sites. Nearby sits HMS Victory, Nelson's flagship, and Warrior, the most advanced warship of its day, both equally interesting.
In 1974, with the knowledge that the Royal Navy would grow smaller over the years, Portsmouth welcomed its first civilian car ferry operation and with it a 'temporary' building that was to last over the years.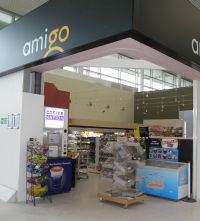 Just a few days ago a brand new purpose-built 21st century passenger terminal welcomed its first cruise ship, Athena all the way from Australia. Throughout the rest of the year 30+ more will follow. Part of a £16.5m investment, the two-storey building features electronic check-in facilities, a money exchange and a shop selling those last minute items that are always needed on holiday. There is a bar and café and an observation balcony overlooking the port. There is an adequate drop off area and long term parking is close by.
The building has been designed to be light and spacious, and to considerably reduce its impact on the environment. Revolutionary pumps that take heat from the sea form part of an air-cooling system that uses 'wind catchers' on the roof to heat and ventilate the building. After going through emigration and security passengers are bussed to their ship, making access particularly easy.
For vessels calling at Portsmouth just for the day coaches can park on the quayside by the ship, making tours very easy. A free bus service is offered to the city's main shopping area.The visiting ship market is something the port is actively cultivating, an attractive extra for the City of Portsmouth and more profitable than turnaround voyages.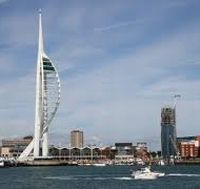 Portsmouth and the surrounding area have a great deal to offer including Arundel Castle, Goodwood, the Historic Dockyard, and the latest attraction The Spinnaker Tower. There are restaurants galore within easy walking distance and a fine selection of shops. Charles Dickens, Rudyard Kipling and Isambard Kingdom Brunel were all born in Portsmouth.
Portsmouth is fortunate with an excellent under two-hour train service to and from London every 30 minutes. The station is a 25-minute walk or five minutes by taxi. Southampton Airport, with its very good domestic network, is 20 miles to the north, Gatwick 65 miles minimum, depending on the route you take, and Heathrow much the same, although quicker. Or it will be from July onwards when the Hindhead Tunnel (Devil's Punch Bowl) opens on the A3 giving a dual carriageway from the M25 to the dock gates.
If you live in west Sussex the 1.5-mile tunnel is being specially opened to the public on Sunday 15 May. With wonderful countryside at each end it should make for a fine day out. Something of a party is planned.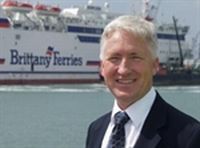 A year after the start of construction Martin Putman, Port Manager, was delighted to see passengers using the new terminal for the first time. He said: "We have always had a reputation as being the best connected cruise and ferry port in Britain, offering a trouble-free start to a journey to the continent. Now we have the best cruise and ferry terminal in the country too. We know the investment in top class facilities will not only improve the experience of passengers, but we fully expect it to attract new customers too."
The new terminal has already been the key to attracting more cruise ships to Portsmouth than ever before. All Leisure Group, that is Discovery, Swan Hellenic and Hebridean, are basing three ships at Portsmouth for its 2011 season, with several other cruise companies making the historic port a destination for the first time this year.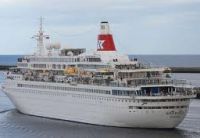 In technical terms Portsmouth can take two ships up to about 200 metres long at any one time. In the cruise market this means about 30,000 tons, Fred Olsen's 1,300 passenger Boudicca, a regular visitor this coming summer. In travel trade terms it is a boutique port rather than mass market operation which Southampton typifies. Unlike the soccer teams of the two cities the ports compliment each other.
Mr Putman sums it up. "We are proud to attract more cruise ships to Portsmouth and know the whole city benefits from our continued success. Our new terminal is a powerful symbol of a continued determination to develop our business in a considered and sustainable way." Portsmouth is a managed expansion. "That is the way we want it!" www.visitportsmouth.co.uk
Adonia, the latest addition to the P&O Cruises fleet, is being honoured with Dame Shirley Bassey as its Godmother. The Cardiff-born singer will name the ship in a glittering ceremony in Southampton on Saturday 21 May 2011.
During a career that has included 135m record sales, Dame Shirley has had many incredible highlights, including being the only singer to record three James Bond movie theme songs and most recently releasing The Performance – an album which she describes simply as "The performance of my life".
Adonia, perhaps like the lady herself, will offer an atmosphere that is intimate and refined. Carrying just 710 passengers, the ship will be able to reach off the beaten track ports of call, yet is big enough to provide an extensive range of on board facilities. It is exclusively for adults. www.pocruises.co.uk
Azamara Club Cruises has launched a series of engaging videos called "You'll Love Where We Take You." The series, presented by Azamara Club Cruises' Manager of Deployment and Destinations Claudius Docekal, provides potential guests (and travel agents too) a comprehensive overview of itineraries aboard Azamara Journey or Azamara Quest.
Each three- to five-minute video offers tips for guests to plan their upcoming holiday. Docekal provides a day-by-day account of the shore excursions and onboard activities available for guests to enjoy and offers personal suggestions of the not-to-be-missed and little-known gems at select ports of call. It's a great way of deciding which cruise to take, and perhaps just a few days before you are off, the perfect antidote to really get in the holiday mood. www.azamaraclubcruises.co.uk
CroisiEurope, the river cruise experts are to offer a series of short break voyages on the Upper Rhine Valley this summer focussing on "Wine and Gastronomy". Five-course gourmet dinners will be prepared by a selection of top French, German and Swiss Michelin-starred chefs during the two-day cruises, the first of which takes place in June.
Supported by the Alsace, Basel, Black Forest and Palatinate tourism authorities, there are eight offerings with four departures from Strasbourg and four from Basle between June and September. Prices start at €299 per person including a gastronomic excursion each day. www.croisieurope.com
Crystal Cruises, whose policy to date has always been to sail ships sometimes less than full, has announced a "Standby" programme allowing last-minute travellers to sail the ultra-luxury line at up to 75% off brochure fares on five May to June sailings in Alaska, the Baltic and North Cape. Greatly reduced tiered pricing offers fares as low as £2,264 per person for a 12-night cruise. Standby fares will be confirmed on a "first requested, first confirmed" basis no earlier than 45 days prior to departure.
"We haven't offered anything like this in almost a decade," says Philip Ordever, Crystal's Vice President International Sales & Marketing. "There is no doubt that travellers who make their decisions early are rewarded with early confirmation, a greater choice of accommodations and value-added spending credits. However, there are people making travel decisions closer in, and this is an extraordinary opportunity for luxury travellers who just can't plan their holidays that far in advance." www.crystalcruises.co.uk
Fred Olsen's Balmoral, will host a very special 'Around the UK' cruise in August (2011). A dedicated package for keen gardeners is offered and on board will be some of the best-known celebrity gardeners in the UK, giving talks and gardening tips, and answering guests' questions. They are Alan Titchmarsh, broadcaster, novelist, journalist and gardener; Adam Pasco, Editor of Gardeners' World Magazine; Pippa Greenwood and Matthew Biggs, both regular contributors to the popular magazine and panellists on BBC Radio 4's Gardeners' Question Time.
The cruise departs from Southampton on 8 August calling at St Peter Port (Guernsey), Holyhead (Wales), Dublin (Ireland), Greenock (for Glasgow, Scotland), Tobermory (Isle of Mull, Scotland), Scrabster (Scotland), and Harwich, returning to Southampton. Some exceptional gardens will be visited. www.fredolsencruises.co.uk
Grand Princess, the ship that really changed the whole cruise industry's ideas for the future when it entered service in May 1998 is, as AERBT is published, undergoing a major 24-day makeover at the Grand Bahama Shipyard in Freeport (Bahamas) ahead of her return to Southampton for a programme of summer cruises.
Two obvious features stand out. Removed is the iconic Skywalker Nightclub high over the stern. It is considered heavy and causes drag in these environmentally conscious times, although for its sister ships a lighter version will be retained. It is replaced by the One5 Lounge on (not surprisingly) deck 15. New is a completely reworked Piazza atrium, the multi-faceted social hub of the ship combining always-changing quick bites and light meals, beverages, entertainment, shopping and guest services. The Piazza will feature the International Café for pastries, grilled panini sandwiches, salads, fresh-baked cookies and a variety of coffee drinks. Passengers will also enjoy a new Vines wine bar offering a selection of more than 30 wines by the glass, plus a selection of tapas, sushi, artisan meats, and a wine shop where passengers can purchase their favourite bottle.
Created in partnership with Mighty Leaf Tea Company is the new Leaves Tea Lounge and Library – A fusion of tea lounge and library. A trained tea sommelier will assist passengers in blending a personalized tea creation, which they can enjoy in the midst of the library and a good book. Alfredo's Pizzeria features an open kitchen where passengers can watch chefs create the pizzas they'll enjoy with a glass of wine or other beverage.
There is lots more to the re-vamped Golden Princess and AERBT will be reporting once the ship docks at Southampton. www.princess.com
L'Austral is getting ready for sea and will join La Compagnie du Ponant's existing fleet of four mega-yachts on Wednesday (27 April) in a voyage from Marseilles to Lisbon. This ultra luxury vessel, with just 132 cabins is the result of the expertise of the Italian Fincantieri shipyard and French sophistication. Guests will encounter unique itineraries, calls inaccessible to large ships, chic and elegant yacht-like ambiance, refined and personalised service, as well as gastronomic cuisine.
Just as on a private yacht, passengers are free to do as they wish at their own pace. All the crew on board the yacht ships in the fleet are totally fluent in both English and French. www.ponant.com
Saga is to introduce its largest ever ship, Saga Sapphire at 37,000 tons, at the end of March next year. Currently sailing as the Bleu de France, and once called Europa, it will undergo a multi-million pound makeover during the winter, and embarks on her maiden voyage from Southampton on 26 March 2012.
Saga Pearl II, which only joined the Saga fleet last year, is being pensioned off. This is probably not the right term as Saga specialises in over 50 holidays, Pearl joining "Spirit of Adventure", another brand within the Saga ownership, and for those over 21!
Considered an up market cruise company Saga is certainly going for service with the new ship, limited to just over 700 passengers looked after by 400 crew.
"Pole to Pole" will be the main dining venue, themed around the seven continents. "The Grill" will focus on lighter meals offering passengers the opportunity to select their meat or fish cooked to order in a specially designed kitchen, "East to West" will be an Asian speciality restaurant for those of more adventurous tastes. More details to follow on what will be one of the most important introductions of 2012. www.saga.co.uk
Silversea is to re-name Prince Albert II, its expedition ship, Silver Explorer. The change will occur later this month whilst the ship is in dry dock undergoing routine maintenance prior to commencing a summer programme of Northern Europe and Arctic voyages.
With the largest average size accommodations of any expedition ship, guests enjoy spacious, ocean-view accommodations, butler service, sumptuous gourmet cuisine, warm hospitality and personalised service with a crew-to-guest ratio of nearly one to one. It is no hardship going to the Antarctic unlike the tragic Captain Scot whose epic journey we celebrate the 100th anniversary of next year. www.silversea.com
Windstar Cruises is making something big out of the Greek islands in 2011. For the first time in six years, the 312-guest Wind Surf will be sailing the Greek Isles in addition to the 148-guest Wind Star and Wind Spirit. Ports visited include Athens, Mykonos, Santorini, Rhodes, Bodrum, Kusadasi and Istanbul.
Unlike rival sailing ship operator, Star Cruises, whose vessels require a deck crew to manhandle the huge canvas spreads, the Windstar operation is totally controlled electronically from the wheelhouse. There is a range of seven-night voyages between Athens and Istanbul. www.windstarcruises.co.uk
OUR READERS' FINEST WORDS (All times and dates are GMT)
All comments are filtered to exclude any excesses but the Editor does not have to agree with what is being said. 100 words maximum
---