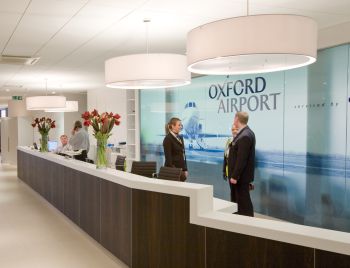 Oxford Airport was established in 1935 at a time when enlightened municipalities were realising that the aeroplane was here to stay. In the nineteen-sixties and seventies it thrived as the UK's leading general (light) aviation centre under the benevolent ownership of the Guinness Foundation. CSE and the Oxford Air Training School were synonymous with Piper Aircraft, Bell Helicopters, Learjet and the beginnings of Embraer in this country.

Training pilots from all over the world, Kidlington (using its wartime RAF name) was for a period the UK's busiest airport in terms of movements.

Students included Aer Lingus Willie Walsh, now BA CEO, and, for a short period, Osama bin Laden. Idi Admin's, sometime President of Uganda, lady helicopter pilot attempted to fly on a grass part of the field.

In 1981, the airport freehold was sold by the council and later owned by BBA Aviation plc. In July 2007 it was acquired by the property entrepreneurs David and Simon Reuben who since that time have invested heavily in the operation. The main runway has been resurfaced, strengthened and widened. New airfield ground lighting and a CAT 1 ILS (Instrument Landing System) has been installed.


In 2008 an impressive UKP2.5m business aviation terminal was completed and is operated by a dedicated business aviation terminal and FBO (fixed base operator) Oxfordjet. Runway 01/19 has a declared length of 1319m (4327ft) and is in total 1552m (5092ft) long and 30m (100ft) wide. It is easily capable of taking an Airbus A318, BBJ or Embraer Legacy/Lineage. Virtually complete is hangar 11, specifically designed for aircraft of this size.

Whilst hosting at any one time up to 350 pilots, with most of its basic flying now done in Florida, Oxford Aviation Academy represents only 35% of the airport's less than 50,000 movements per year. This is a huge reduction in the 150,000+ of a decade ago and 230,000 at its peak.

Business aviation flights at Oxford have increased 33% year-on-year – though slowing in the past six months – half-year results show a 10% increase year-on-year.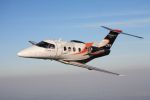 Oxford Airport is a seven-day per week operation and claims to be the only specialised business airport in the vicinity of London open from 06:30 to 22:30. This can be stretched for organ transport and medical emergency services to 24 hours, some 60 staff from the nearby and world famous John Radcliffe hospital 'on call' for specific duties.

The airport is five minutes drive from the M40, much less used than the M1 and M4, with connections both south and north.

For the executive aircraft operator, the airport is situated around one hour's drive time from the West End of London. A helicopter to the London Heliport at Battersea takes less than 20 minutes.

A new Saturday only scheduled summer service to Jersey was announced in December 2008. It is being launched by Channel Islands Travel Service and will be operated by Air Southwest from 11 July through to 12 September 2009, marketed through www.discoverjersey.com.



BUSINESS AIRCRAFT PRESENTATION

The business aviation tenants of Oxford Airport represent the whole diversity of this important aspect of the air transport business. Coinciding with the inauguration of PremiAir's new 20,000sq ft fixed wing maintenance centre for the Hawker Beechcraft aircraft family a media briefing was held last week at the airport. Most of the tenants participated.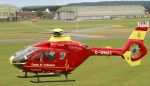 Eurocopter, as the world's leading helicopter manufacturer, led off the event with UK Managing Director Markus Steinke giving an overall discourse on the market. The company, part of EADS, purchased Oxford-based McAlpine helicopters in November 2007, and now specialises in helicopter sales, bespoke completions, maintenance and spares support. He confirmed Home Office funding for the purchase of six new police Eurocopter EC135 helicopters, the Police Air Support Units in Suffolk, Cheshire, North Wales, Cleveland, Midlands and Chilterns all benefiting. By year end 2008 Eurocopter increased their personnel by 20% to a total of 200 and its turnover 60% to UKP78m.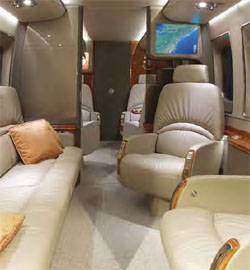 Capital Air Services used to be known as Oxford Air Services, but, as long standing Managing Director Michael Hampton put it "We are by helicopter just 20 minutes from central London. The new name is more synonymous with what we offer." Such is the way that aviation operates Capital Air Services also handles the AOC (Air Operators Certificate) for Harrods Aviation, the two long-established helicopter companies working closely together and offering a range of aircraft. Capitalair has recently gained approval from the CAA to offer flights to and from a site by the River Thames and near Canary Wharf called the Vanguard helipad. Later this year Harrods will take on an S92 16-seat VIP helicopter.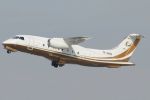 Icejet is now basing one 14-seat VIP Dornier 328 Jet and one 19-seat corporate shuttle version at the airport. This recent move has come about since the state of the economy in Iceland has encouraged Icejet to look for new bases for its aircraft in Europe. Managing Director Jon Ingi, a very experienced executive jet pilot himself, said that he was pleased with the decision to use Oxford. Icejet has aircraft based at Le Bourget and Riga.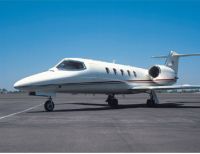 Air Med has acquired its first jet aircraft – a Learjet 35A. Managing Director Rupert Dent confirmed that it will arrive in late summer 2009 and that the specialist operator would consider a second. Oxford Airport has proved to be a perfect location for the service, founded nearly 25 years ago, and now operating an eight-aircraft fleet including Piper Cheyenne, Chieftain and Seneca. Passenger charter accounts for 25% of its workload, the rest is medevac repatriations.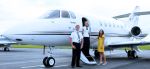 Hangar 8, the largest operator actually based on the airport, now has a fleet of 19 aircraft, all managed for private owners. By the end of the financial year this will be up to 30. In July it expects to take delivery of the first UK-registered Embraer Phenom, which can fly from Oxford to Cannes non-stop in 1h40m. It offers a proper private facility, a simple but important advantage over competitors. Managing Director Dustin Dryden said that there has been little negative media interest on private jets and just because a billionaire sees his net worth drop by half this does not mean he is going to start jumping on a budget airline.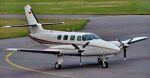 Oasis Flight is a new Oxford resident operating at the lower end of the corporate market. Oasis offer the Cessna 303 Crusader five-seater twin with a normal cruise speed of 170 knots (195mph) at 10,000ft. It is an ideal aircraft for European travel equipped with advanced avionics, including GPS mapping systems and digital weather radar, making it a versatile and comfortable aeroplane in almost any weather situation. Oasis Flight are also reviewing other aircraft to add to the fleet including the Beechcraft Baron 58, for many years the backbone of the small aircraft charter market with six seats in total.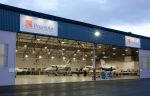 PremiAir used the opportunity to officially open its new operation with a lunch and open house for some 90 industry guests and senior representatives from Hawker Beechcraft. Perhaps better known as a helicopter operator (they took over the charter operations of McAlpine when it was purchased by Eurocopter – see above), it is owned by the luxury hotel group Von Essen. The 20,000sq ft hangar (formerly operated by CSE Aviation) has been the benefactor of a UKP1m investment including new apron areas and a total re-fit including bespoke electrics, lighting, heating and modern insulation. The facility now includes workshops, customer reception areas, office space and dedicated car parking. It is approved for EASA Part 145 for base maintenance and is a new centre of excellence for Beechcraft MRO (Maintenance and Repair Organization).

Oxford Airport provides for an impressive alternative to Biggin, Farnborough, Luton, Southend and Stansted as London's main business jet airport. London City and Northolt could also be considered. Kidlington's geographical location means that it stretches into Birmingham and Coventry territory. With the Reuben brothers behind it and a host of first rate tenants it looks like returning to a position of pre-eminence in British general aviation. www.oxfordairport.co.uk
OUR READERS' FINEST WORDS (All times and dates are GMT)
All comments are filtered to exclude any excesses but the Editor does not have to agree with what is being said. 100 words maximum
---
No one has commented yet, why don't you start the ball rolling?
---