This month's ship review is the Glen Tarsan – see below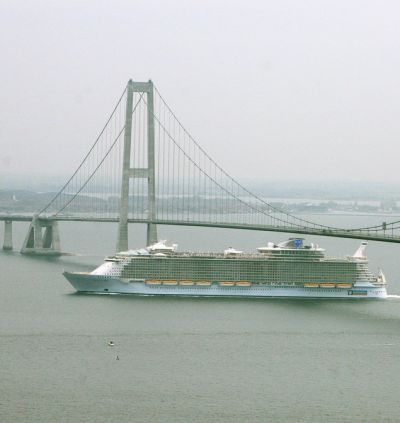 Allure of the Seas, Royal Caribbean's latest mega liner passed under the Storebaelt Bridge in Denmark on 30 October with a 20-inch (51cm) clearance. She is 1,181ft (360m) long and has a beam of 216.5ft (66m). At 225,000 tons, and together with sister ship Oasis of the Seas, is the largest passenger ships afloat and can carry and provide up to 8,500 souls including crew.
The ship features telescoping funnels, a two-deck dance hall, an open air sports court, a theatre with 1,380 seats, and an ice skating rink. There are six swimming pools available, a wave machine and numerous restaurants and eating places. Down the centre of the ship is a shopping arcade overlooked by internal balcony cabins.
Allure of the Sea and Oasis of the Sea are both based at Port Everglades, Ft Lauderdale, Florida and operate all the year round seven night cruises alternating with the Eastern and Western Caribbean. The size of the ships is such that they cannot pass through the Panama Canal.
OUR TEN-STORY CRUISE NEWS
APD may be having its effect on airlines but some inter-country operators, whilst not exactly cheering at its increase, are more than positive. Eurostar, for which passengers do not pay departure taxes, has not issued any statement, but the Passenger Shipping Association (PSA) – which also represents Britain's ferry lines – has been very positive.
"Ferry fares are superb value, with no baggage discrimination, and offer the ultimate in flexibility for those with properties on the Continent or Ireland," said William Gibbons, PSA Director, "Our members recognise that property owners, in particular, often need to ferry their home comforts with them on both outward and inward journeys, without unnecessary restrictions. An Englishman's home is his castle – wherever it is located – and our ferries are the logical way to cross the moat." www.the-psa.co.uk
Carnival Cruise Lines has cancelled voyages of the Carnival Splendor for a further week from the departure of 9 January 2011, to allow time for repairs following a serious engine room fire. Guests who were scheduled to sail on cancelled voyages will receive a full refund of their cruise fare and air transportation costs, along with a 25% discount on a future cruise.
Carnival Splendor was towed to San Diego following the fire which occurred off the Mexican coast on 8 November. A team from the US Coast Guard, National Transportation Safety Board (NTSB) and flag authorities, along with Carnival's engineers and technicians, is currently on board investigating the cause of the fire. Carnival personnel are being assisted by representatives of the shipyard that built the vessel and other manufacturers of engine room components in assessing damage and necessary repairs. www.carnival.com
Celebrity Cruises is what it calls "Solsticized" in April 2010 when it added some of the most popular attractions found onboard the Solstice class ships to Celebrity Constellation.
Celebrity Infinity is now following. When she leaves scheduled dry dock on 3 December 2011 new features will include the upgraded AquaClass accommodation which includes the speciality, "Blu," offered exclusively for passengers selecting that class of accommodation. New verandas will be added to the ship's Celebrity Suites and the Celebrity iLounge, which debuted on Celebrity Eclipse and made Celebrity Cruises the industry's first Authorised Apple Reseller. There is a general make-over of the cabins and various lounges.
Celebrity Cruises currently plans to similarly refurbish Celebrity Summit in January 2012, followed by Celebrity Millennium in April 2012. www.celebritycruises.co.uk
Crystal Cruises is to return to Alaska next year for the first time since 2005. Crystal Symphony, the subject of a major remodelling just 12 months ago, will operate nine 12-night sailings from San Francisco, taking in Vancouver, the stunning 'Inside Passage,' Juneau, Skagway and Glacier Bay. The first 2011 cruise starts on 9 May with the last itinerary departing 13 August.
New on the ship for next year is "Perfect Choice Dining". Offered in the Crystal Dining Room, Crystal will complement its choices of Classic Late Seating with a brand new option, Open Dining by Reservation. www.crystalcruises.com
Helsinki hosted 247 cruise ships this year, a remarkable achievement considering the Baltic port only has a relatively short season from 21 April until 12 October. Approximately 340,000 passengers from 143 countries visited the port. Up to six cruise ships called on Helsinki on the busiest days.
"The outlook for next season is positive, as we have already received more reservations for 2011 than we did for 2010," comments Cruise Network Manager Tuija Aavikko.
Visitors from the USA continued to represent the largest nationality, accounting for approximately 21% of the total. The share of visitors from Europe is growing with each year, however, with 18% passengers representing the UK and 15% Germany. Spain, Italy and Canada follow in that order. www.discoverthebaltic.com
P&O will revamp its operation somewhat from the beginning of December 2011. The Southampton-based cruise line is to offer four ships for what it calls family travel (Aurora, Azura, Oceana and Ventura) and three (Adonia, Arcadia and Oriana) exclusively for adults.
The cruise line says that with Artemis, an adult only ship, leaving the fleet next May, and with the demand for that style of cruising on the increase Oriana, which in fact is P&O's oldest vessel (1995), was ideal for a make-over. Oriana has 900 cabins as opposed to 600 on Artemis.
Based at Southampton P&O is these days owned by Miami's Carnival Corporation, as is Cunard. www.pocruises.com
Pacific Pearl (ex-Arcadia and Ocean Village) is the latest arrival on the Australasia cruise scene. She is presently undergoing a multi-million dollar refit in Singapore before heading to her new base at Auckland, her arrival signifying P&O Cruises' strong commitment to the New Zealand market.
Carrying 1,800 passengers, the 63,500-tonne vessel will feature a giant poolside entertainment screen, three restaurants including Waterfront, Plantation, and Salt Grill by Luke Mangan, seven bars and lounges, Aqua HealthSpaFitness centre, two swimming pools, a swim-up-bar, multi-level show lounge, four kids centres, a casino and duty-free shopping boutiques.
The arrival of Pacific Pearl in New Zealand this December brings P&O Cruises' Australasian fleet to four ships – Pacific Jewel, Pacific Dawn, Pacific Sun and Pacific Pearl. Pacific Sun, which previously sailed from Auckland, will now offer cruises from Sydney, Fremantle and Newcastle. http://pacificpearl.pocruises.com.au
Regent Seven Seas Cruises is to offer a complete circumnavigation of South American in January 2012 out of Fort Lauderdale.
The 72-night sailing on the 700-passenger Seven Seas Mariner will kick off on 6 January 2012 and include stops in four ports in Peru, six in Chile, five in Argentina, two in Uruguay and 15 in Brazil. The ship will visit the Amazon River, a detour which will be a highlight of the voyage. The 2012 voyage will differ from past trips in that it will not include a visit to Antarctica, a change forced by new regulations. www.rssc.co.uk
Seatrade, the Mediterranean biennial meeting place for the cruise industry, opens next week (30 November – 2 December) at the Palais des Festivals et des Congrès in Cannes. Held in association with French Riviera Cruise Club, and supported by MedCruise, Seatrade Med is coming to France for the first time in its history.
In 2009 152 cruise ships, collectively carrying a potential 3.33m passengers, were active in the Med, offering a total capacity of 26.31m passenger-nights. This number is expected to swell to 27.7m passenger-nights in 2010 and to continue to grow throughout 2011 as the region's popularity soars. www.seatrade-global.com
The Passenger Shipping Association (PSA) says that the UK ocean cruise market continues to buck the trend with a record number of passengers predicted for 2011. Figures last week show an estimated 1.77m passengers will take a cruise holiday next year, an increase of 8% on this year's figure of 1.64m passengers.
For the first time, the number of UK fly-cruise passengers is set to exceed one million with a 2011 forecast of 1,060,000, up 75,000 on this year's figure. The number of British passengers joining their ship in a UK port next year is also expected to rise by 55,000 to 710,000.
The organisation, to which virtually every cruise organisation with sales outlets in the UK belongs, says that next year's additional 130,000 cruise passengers reflect strong performances from the major UK cruise lines coupled with additional capacity that has come on stream this year.
The luxury cruise sector is also expected to continue to thrive, with new ships now in service and signs that strong growth will be maintained. Travel agents continuing to play an integral role, accounting for 80% of cruise sales. www.the-psa.co.uk
SHIP REVIEW: GLEN TARSAN
Vivien Devlin reports
"Sail away from the safe harbour. Catch the trade winds in your sails. Explore, Dream. Discover". Mark Twain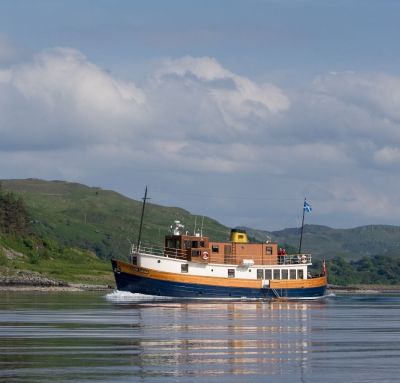 First launched in 2005, (inspired by Mediterranean cruising on a Turkish Gulet), the Majestic Line has developed into an award winning, distinctively different boating holiday and is probably the smallest cruise line in the world. Glen Massan and Glen Tarsan were formerly Irish fishing boats, now refurbished into luxury, motorised "yachts" with six double en suite cabins, saloon and sundecks to accommodate 11 guests, with a crew of skipper, chef, engineer and bosun.
The west coast of Scotland has the most spectacular, unspoilt, breathtaking scenery along its rugged rocky coastline and long necklace of islands from south Argyll to the Hebrides in the North West Highlands. The best way to experience the seascapes, mountains, lochs, heritage, history and wildlife is an authentic "messing about in boats" adventure. Glen Massan departs from Dunoon on cruises around the coastline of the Cowal Peninsula, Loch Long, Loch Fyne, Isles of Bute and Arran. Glen Tarsan is based in Oban for varied Hebridean island-hopping visiting Mull, Staffa, Iona, Skye, Colonsay, Treshnish and Slate Isles. Alternatively, a journey along the Caledonian Canal to Loch Ness, through ladders of locks with ancient castles, myths and monsters along the way.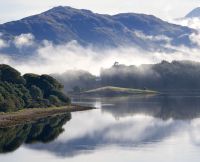 The great value, all-inclusive cruise fare covers accommodation, charming, caring hospitality, gourmet meals and ship to shore transfers. As well as joining a mixed group of couples and individuals, you can hire your own cruise line!. Whole boat charters are very popular for families and friends, corporate events and celebrity getaways for a celebration, weekend break or Highland holiday.
Life on Board
After a warm welcome on board Glen Tarsan, in traditional sail away fashion we raise a glass of champagne as we mix and mingle with our fellow boating companions for a voyage around Mull, Iona and Staffa.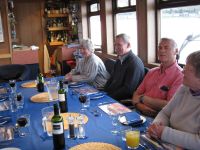 Mini-cruise ship life is leisurely and relaxed and we quickly settle into the rhythm of the day's routine as well as the gentle speed of the boat. No worries about sea-sickness travelling at around 7 knots in tranquil waters by day and anchored overnight.
Every day is different with a choice of shore excursions – idyllic island walks along deserted beaches, hill climbing, historic castles, a whisky distillery and picturesque fishing villages. Be as lazy or as active as you wish. Sit and read, snooze on a deck lounger, go for a 5 mile hike or try your hand at fishing and your mackerel will be cooked for lunch. Sit on deck with binoculars to spot gannets and cormorants or seals basking on the rocks. Visit the bridge for a bird's eye Captain's view, to learn about maps, charts, navigational instruments, radio communication with coastguards and weather reports.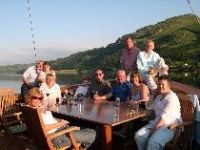 These intimate, wee ships have the atmosphere of a friendly house party and by 18:00 or 19:00, it's cocktail hour as we gather in the Saloon Bar before dinner. The superb Scottish cuisine emphasises fine local, seasonal produce, sourced en route – langoustines, scallops, mussels, salmon, lamb, organic vegetables, raspberries, farmhouse cheese.
Evening entertainment – don't expect a casino or cabaret. Expect CD music, board games, cards, and lively conversation over a whisky nightcap or two. With the boat moored in a sheltered bay, you'll be lulled to sleep by the gentle lapping of waves.
Highlights? On deck before breakfast – perfect, unadulterated peace and tranquillity, fresh pure air, the view of the loch against an iconic Highland backdrop; watching five dolphins diving around the bow of the tender boat off Calgary beach on the Isle of Mull; Mendelssohn's Hebrides Overture soundtrack as we approach Fingal's Cave; a G&T on the aft deck as the coral-pink sun sets slowly against a silhouette of shimmering islands on the horizon.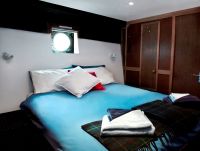 The Majestic Line is simply magical and the finest possible escape from modern urban life – a unique, exhilarating, inspiring and fun mini-cruise for all ages. No wonder they won the award for Best Visitor Experience from Highlands and Islands Tourism, 2009.
For a wintertime taster, Majestic Line chef Stephen Boswell, is offering exclusive dining on board the Glen Massan, moored at Holy Loch Marina near Dunoon from November 2010 until the end of March 2011.
The Majestic Line Facts
All inclusive fares : £895pp (3 nights) to £1695pp (6 nights). The cruise line has won the award for 'best customer care' by Highlands and Islands Tourism, beating some highly regarded properties on dry land.
Rent your own Cruise Ship: Private cruise charters. £8,860 to £16,780. (3-6 nights, up to 11 guests). www.themajesticline.co.uk
OUR READERS' FINEST WORDS (All times and dates are GMT)
All comments are filtered to exclude any excesses but the Editor does not have to agree with what is being said. 100 words maximum
---