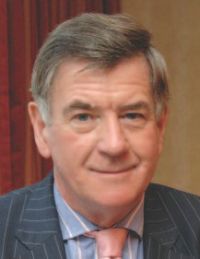 Last week the Passenger Shipping Association (PSA) unveiled the 2009 cruise figures at an unusual but very appropriate venue, the National Geographical Shop in London's Regent Street. Cruise passenger numbers have doubled since 2002, whilst ultra luxury trips are up 50% in 12 months.
PSA used the occasion to publish the annual Cruise Review, a very useful and well thought out document not only revealing the essential figures in terms of passengers carried, duration and port information, but also such useful items as booking methods and geographical spread. The highlight of the evening however was a short video presentation, illustrating in a visual form what cruising is all about. A fine selling product.
An impressive 1.53m Brits took a cruise last year with the figure expected to rise by 7% for the current 12 months. Fourteen new ships are launching in 2010 and passenger numbers are on course to rise further still to 2m by 2014. Whilst more people are using British ports in percentage terms, the fly cruise figures are still rising and were now 939,000 last year according to the PSA research.
One in ten package holidays booked is now a cruise, compared with one in nearly 30 in 1997. The sheer diversity of the cruise market means there is a holiday for virtually everyone, whether it is joining at a UK port, flying to the Caribbean, a cultural river cruise or a photographic expedition to the Fjords.
Cruise customers are loyal. Figures from The Cruise Review show that 60% of passengers take more than one cruise a year. Passengers are also cruising for longer, with the average length of a cruise increasing year on year from ten nights to eleven. The quality of service, value, high standards of facilities and huge variety of activities mean that passengers keep returning to cruising.
PSA Director, William Gibbons, said: "The success of UK cruising, during one of the toughest economic periods the world has seen, can be attributed to the value and high standards of a cruise holiday. The all-inclusive nature of cruising and exceptional standards of quality and service are the key to our continued growth, along with the huge choice of worldwide destinations and the wide range in styles of cruising.
OUR TEN STORY NEWS ROUNDUP
(followed by a report on Azura – P&O's latest and greatest)
ARCHANGEL: Voyages of Discovery is to introduce a new and challenging destination for June 2011 in an 18-day cruise from Harwich. Voyage to the White Sea will see Discovery travelling to the lesser-visited Solovestky Islands, a symbol of Russia's spiritual past, historic Trondheim, Norway's 'coronation city', Archangel; where revolution, war and communism have all left indelible marks and Murmansk, terminus for the most perilous and infamous of the World War II Allied convoys. On route, passengers will witness the spectacular view of the midnight sun from the North Cape accompanied by experts including Mark Baldwin from Bletchley Park, who will be bringing one of the few original working 1944 Enigma machines on board. The guest speakers also include a celebrated historian and natural scientist who will unlock the mysteries of wartime espionage, the legacy of revolution and the Soviet Union. www.voyagesofdiscovery.co.uk
BRAZIL: Royal Caribbean International is the latest cruise line to appreciate the growing Brazilian market making an announcement that Mariner of the Seas will offer a short Brazil season beginning 15 February, 2011. The Finish-built 133,000 ton superliner will operate four roundtrip sailings from Sao Paulo (Santos) on a six-night itinerary – the 5 March 2011 voyage coinciding with Brazil's carnival celebrations – featuring a call at Rio de Janeiro and an overnight at Salvador de Bahia. She will then depart for Rome on 13 March for a 14-night transatlantic itinerary via the Canary Islands to be counted among 11 record-setting Royal Caribbean ships to ply European waters in 2011. www.royalcaribbean.com
CRUISING ON THE THAMES: Magna Carta Steamship Company is the splendid name of a operator offering a series of four- and seven-day cruises on the River Thames. Spirit of Chartwell, was rebuilt completely in 2009 and features 18 guest cabins on two decks. All are outward-facing, air-conditioned and en-suite, with satellite TV. Other onboard facilities include a one-sitting restaurant, lounge and internet station. Using the ship as a base, guests will visit some of the most interesting landmarks on the Thames as Spirit of Chartwell typically cruises from Tower Bridge, past Westminster, Hampton Court, Runnymede, Windsor, and as far as Marlow. The package is fully very comprehensive of landside tours and the services of expert lecturers. www.magnacarta.bz
LE BOREAL: Compagnie du Ponant has introduced its fourth luxury boutique cruise yacht, Le Boreal, 10,000 tons of what it calls "a perfect balance between chic and casual". Designed for a maximum of 260 guests and offering 132 cabins (of which all but seven have balconies) the ship's maiden season takes in the Mediterranean, Iceland, a visit to Southampton (see above) and also St Petersburg in a series of mainly seven-night cruises visiting many smaller ports. She crosses the South Atlantic to Rio in November. From Montevideo, Le Boreal departs south on a 16-day voyage to South Georgia and Antarctica completing at Ushuaia (Argentina). Le Boreal is a all-inclusive ship with port charge, gratuities, and shore excursions included in the price of the holiday. www.ponant.com
LONDON: Seabourn Sojourn, a true six-star ship, will make a 48-hour stopover at Greenwich 4-5 June. It is possibly (and marginally) the largest ship ever to find its way this far up the Thames and is the second of Yachts of Seabourn's new three Odyssey class super luxury vessels. Godmother will be Twiggy, the London-born Hollywood star and model. For the summer season the ship will initially make a series of 14-day cruises out of Dover, before basing itself at Copenhagen for most of July, August and part of September. Lisbon is its base for the European autumn, before crossing the Atlantic in early November for its first ever Caribbean winter schedule out of Ft Lauderdale. www.seabourn.com
NEW SHIPS: Princess has confirmed a contract for two new 141,000 ton ships from the Fincantieri yard in Italy for spring 2013 and spring 2014. As yet unnamed ships will be the largest in the Princess Cruises fleet. Princess owner the Carnival Group says that it does not intent to build any larger ships. The ships' design will be evolutionary, in keeping with the themes of the line's newest vessels, but with some new features and innovations. For example, all outside cabins will feature balconies, bringing the percentage of balconies on the ships to 80% of all staterooms. www.princess.com
PORTUGAL: Amawaterways, which some may recall as both AMA and Amadeus, is promoting one of Europe's lesser known waterways, the wonderfully scenic Douro River Valley in Portugal. It is one of Europe's most pure and unspoiled rivers decorated with deep cleft gorges, lush vineyards, and sleepy villages. Portugal has not been that favoured with European largesse, and to some extent it shows. The cruise enters Spain to visit Salamanca, a UNESCO World Heritage Site, located at the centre of the Castilla y León region before returning to Portugal to visit the ancient and picturesque city of Lamego. With 65 staterooms MS Amadouro unusually offers a Sun Deck with a bar, swimming pool and two Jacuzzis. www.amawaterways.com
SHOWTIME: P & O has revealed its biggest ever programme of star speakers on board its seven-strong cruise ship fleet during the ex-Southampton season. At a quick count some 40 stars of the stage, screen, TV and sport have been recruited to offer a varied and intriguing line-up. New for P&O are TV presenter, Nick Owen; ex-Bath & England rugby union star, Gareth Chilcott; actress, Shirley Anne Field and boxing legend, Sir Henry Cooper. Passenger favourites on board include England World Cup winner Jack Charlton, retired MPs Edwina Curry and Martin Bell, plus actress Sue Holderness, all of whom will be sharing their stories and experiences. www.pocruises.com
SINGLE CABIN: Star Clippers has dropped its normal 50% supplement for single cabin occupancy for its summer 2010 Mediterranean sailings. This new policy is ideal for solo travellers, and also for those who want to travel with a friend/companion and prefer privacy (and no snoring problems). The offer includes itineraries that take in the Greek islands and Turkey on board both Star Clipper and Star Flyer, and Riviera cruises from the Cote d'Azur to Corsica, Sardinia and the Italian coast on Star Flyer. Each of the three tall ships is in the Mediterranean in summer 2010 and each has a qualified sports crew on board and offers complimentary water sports that include free use of sail boards, kayaks and snorkelling equipment. Scuba diving is also available at extra cost. www.starclippers.co.uk
SOUTHAMPTON: PSA and ACE (Passenger Shipping Association and Association of Cruise Experts) annual UK Cruise Convention, is now looming up, easily the largest gathering of ocean going cruise liners ever to happen this side of the Atlantic. It runs from 24 to 26 June. A record six ships will be showcased at the event led at one end of the scale by Norwegian Epic, 150,000 tons and just over one thousand ft long, overshadowing Compagnie du Ponant's Le Boréal, tiny by comparison at 10,000 tons with a length of just 465ft. Also on view will be Celebrity Eclipse, Cunard's QM2, P&O Cruises' Azura and Princess Cruises' Crown Princess (on Wednesday 23 June). The Convention includes a panel debate with Kathryn Beadle, Sales and Marketing Director of Hurtigruten; Giles Hawke, Sales and Customer Services Director, Complete Cruise Solution; Carol Marlow, Managing Director P&O Cruises; Trudy Redfern, Senior Vice President, Silversea; Jo Rzymowska, Associate Vice President, Royal Caribbean; David Selby, Head of Cruise, Thomson & Island Cruises; and Peter Shanks, President and Managing Director, Cunard. www.cruiseexperts.org
AZURA…..You'll love it

Last month P&O Azura, the Carnival Group's latest and greatest, made her maiden voyage from Southampton via Palma, Katakolon (for Ancient Olympia), Corfu, Dubrovnik, Venice, Korcula and Gibraltar, in 16 days. John Chatterley reports.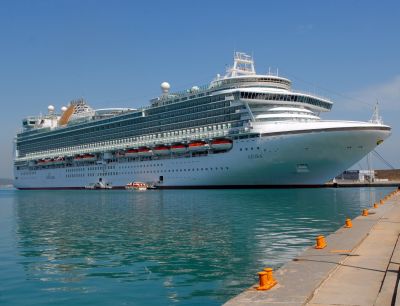 Everyone has a different idea of what luxury means to them. An offering of contemporary and indulgent ambience. Impressive service. Outstanding levels of comfort. Fine dining with elegant formal evenings.
Since our first voyage many years ago, the cruising experience has improved immensely, providing many new features but still maintaining the old and well loved traditions, and P&O's newest fleet addition Azura is no exception. 115,000 tons, 3,100 passengers, 1,226 crew and 19 decks. She is the sister ship of the Ventura and was named by Darcy Bussel at a no expenses spared ceremony in Southampton on 10 April, with P&O management, celebrities, travel agents, and gold tier cruisers experiencing a spectacular overnight stay onboard.
Our Azura story started in April 2008; we had never experienced a maiden cruise and therefore made our booking a year in advance. You can then enjoy the choice of cabins, 1st or 2nd sitting for dinner and extras that may be offered such as free parking and on board credit.
Why a maiden voyage?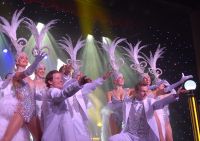 Many regular cruisers tend to stay clear of maidens as they would rather cruise later in the inaugural season, when any teething problems have been corrected but this inaugural seemed devoid of any major problems and was a very memorable experience. Let's face it P&O have been doing them for 160 years.
Our accommodation was excellent, a balcony cabin on B deck. Azura offers a range of state rooms from spacious suites, deluxe balcony, balcony, outside and inside cabins, together with a number of state rooms suitable for disabled passengers. She is the first ship in the fleet to have single cabins.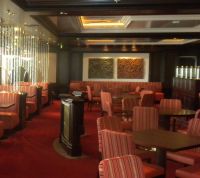 On our tour of this vast ship, built in Fincantieri (Italy) we discovered an array of new and innovative ideas – Michelin-starred chef Atul Kochhar's fine dining venue Sindhu and the Glass House, a restaurant and wine venue with fine wines selected by expert and extrovert Olly Smith.
Azura has three main restaurants (Peninsular, Oriental and Meridian) offering four-course silver service dining with restaurant Seventeen providing a venue for that special occasion.
The casual style Venezia and Verona buffet for breakfast and lunch is also available in the evening when the Verona becomes a Trattoria restaurant and the Venezia is a themed buffet area. Food is also available from the Poolside Grill and Pizzeria between 13:00 and 19:00.
Children are catered for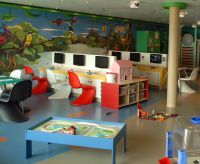 Children will be in their element on board. The Sea Bed (for toddlers), the Beach Hut (2-4 year olds), Frontiers (5-8), the Hub (9-12) and Apartment 16 (13-17).
The superb two-tier Playhouse Theatre seats 800 with three performances each evening. The players work hard. Amazingly in times gone by Broadway offered up to five shows per day. Get to the theatre early. It does fill up!
For those passengers who like to be pampered you will be surprised with the expansive Spa Retreat and fitness areas at the front of the ship.
The ship's pub is Brodie's, named after Brodie McGhie Willcox (1786-1862), the co-founder of the Peninsular & Oriental Steam Navigation Company (P&O) and a Liberal Member of Parliament. This popular area was well used and at times very crowded with passengers watching live sports, playing pool or playing the machines, roulette, black jack or poker in the adjoining casino.
Manhattan and Malabar were well utilized areas for lectures, classical recitals, dancing and general music venues.
The Atrium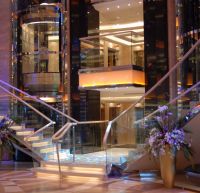 The Atrium is the hub, around which are numerous shops, the library and internet centre, reception, coffee lounge, cruise sales with the central floor area for dance classes and dancing. I feel that this area is far too "busy", selecting a book in the library to the music of the line dancing class, (two to the right, two to the left then clap your hands!) or maybe wishing to have a quiet moment having a coffee.
If you venture to the photo gallery or the walk through art gallery, but definitely the shop area, you become a P&O merchandising opportunity with trays of trinkets and sale items. Watch the wife. You only have to offer your cruise card . It does not seem so cash draining!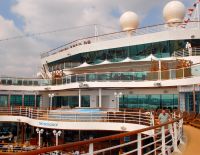 The cinematic experience on Azura is special, a large outside screen suspended above one of the three pools on the ship. Bars there are a plenty.
The evening entertainment on board was wide and varied, trying to cater for all tastes. An array of stars were lined up for the cruise including Ronnie Corbett, Brian Conley, Kev Orkian, Clair Sweeny, Adrian Walsh, Westenders, John Martin, Gary Wilmot and Mike Alexandra. Owing to problems with flights due to the dust cloud from the Icelandic volcano, Russell Watson and Donald Sinden were unable to join the ship.
The shows from the Headliners Theatre Company was excellent, a talented group of multi-talented singers, actors and dancers who performed three shows; Destination Music, Blame it on the Boogie and When Swing was King. The versatile team of 14 included Valerie Murzak, a speciality artiste who amazed audiences with her fantastic acrobatic skills.
Azura is a worthy edition to the P&O fleet, but why the daft name? Canberra, Orcades or even Southern Cross. P&O is proud of its history. Flaunt it.
OUR READERS' FINEST WORDS (All times and dates are GMT)
All comments are filtered to exclude any excesses but the Editor does not have to agree with what is being said. 100 words maximum
---