Plymouth Airport – Still here; still worth fighting for.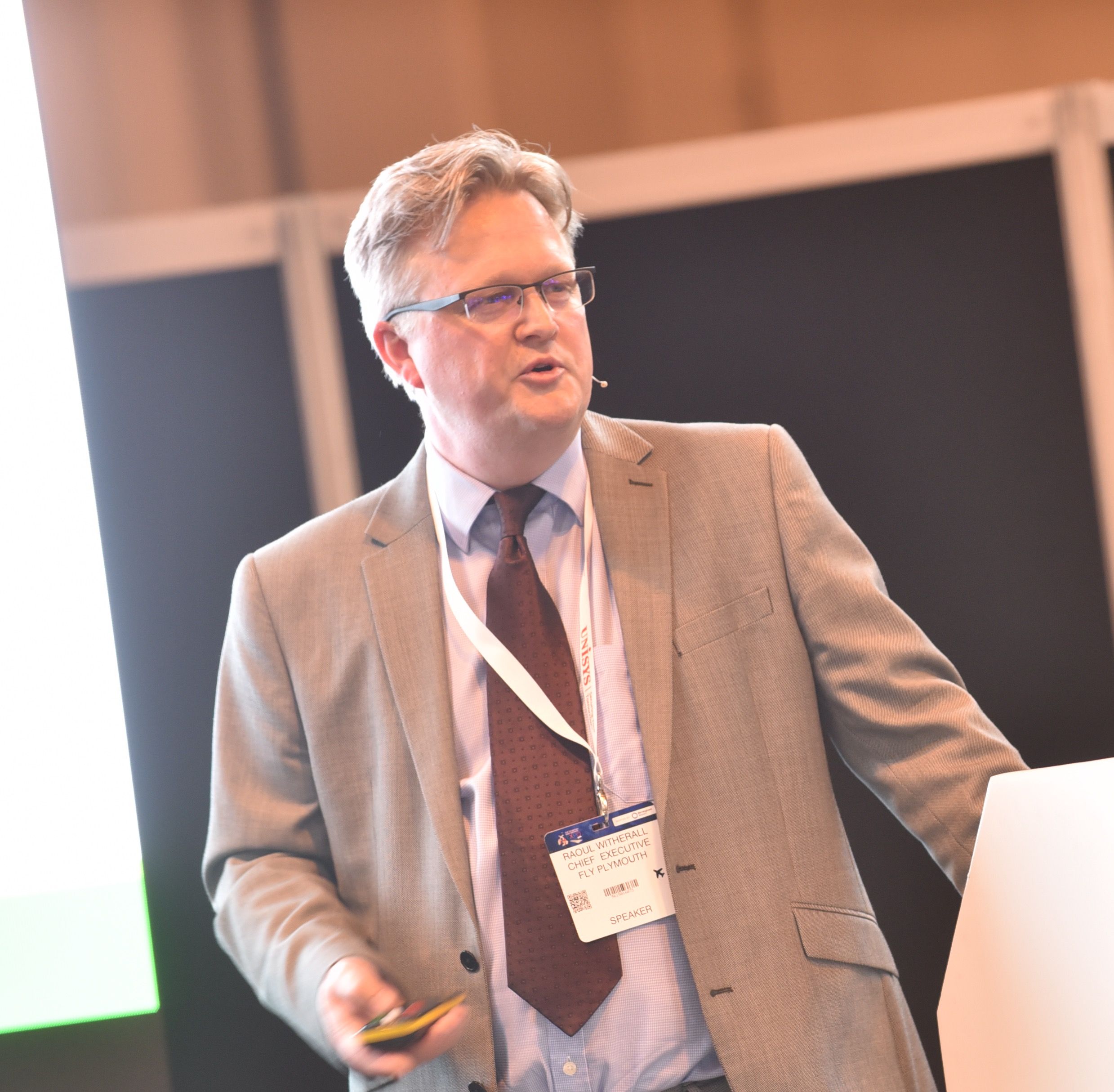 Raoul Witherall is Chief Executive of FlyPlymouth, the airport start-up founded to acquire, reopen and operate Plymouth Airport.

FlyPlymouth was created by individuals from the local business community and has the plans, the team and the backers in place to deliver. Prior to FlyPlymouth, Witherall founded a big-data predictive analytics start-up in Plymouth with 70 employees working at the limits of speed and scale. The company went on to raise more than £30m funding, eventually listing on the AIM market.


"Let's talk about Plymouth. A growing city in the southwest of England that is home to a major naval base, two universities and a League One football club.

Some 400,000 people live within the Plymouth area, enjoying the Devon lifestyle surrounded by areas of outstanding natural beauty, moorlands, beaches and nearby coastal towns and villages.

But Plymouth is a peripheral city, with rail journeys from London of three to four hours.

It does have an airport though. For now. Mothballed and safeguarded until it can be reopened, Plymouth was home to the airlines Brymon and Air Southwest.

Despite its modest size, Plymouth Airport was busy and growing. Destinations included London City and Gatwick, Edinburgh, Glasgow, Leeds Bradford, Manchester, Newcastle, Channel Islands, Dublin, Cork with seasonal services to Grenoble.

British Airways purchased Brymon for its Heathrow slots and the airport lease was taken on by Sutton Harbour, a local property company, who created Air Southwest.
Between 2003 and 2009, the number of scheduled services almost doubled to 22 flights a day. In 2007, York Aviation produced a report for Plymouth City Council forecasting bullish growth despite the lost five-times daily Heathrow air link.

Then, in 2010 things shuddered to a halt. As the global credit crunch bit deep, Air Southwest was sold, and then collapsed, air services were withdrawn, and application for closure was made by the airport's operator. The local authority offered no resistance.

When airports are worth more as development land; when leases are poorly drafted, priorities can become blurred. And there is no shortage of economic events to create turbulence for an industry which lives by its margins.

Welcome to the unstable world of Britain's small airports and airfields.

Perhaps we shouldn't be surprised that airport ownership is often in the hands of developers. Or that airfield owners are offered enormous sums to bring about some new 'garden village' scheme.

Pristine airport land is deemed brownfield and can be a soft target for 'regeneration'. It is often politically less painful to 'regenerate' brownfield sites than develop greenfield alternatives.

We may not be surprised that sometimes local authorities find themselves conflicted. Of course, most councils want good transport links. But big-ticket, low-hanging income associated with development schemes is more bankable than the pursuit of transport connections.

This appears to be the way the world is. But should it be?

Grant Shapps made the point five years ago to an RAeS conference on the Future of UK Airfields that the aviation industry, being professional and well-run, rarely made a fuss and therefore didn't get the attention from Government that it merited. This left airfields hopelessly exposed.

That was five years ago. We hear and read of progress but it has been slow. So far, the message from Government has largely been that airports are a local matter.

In Plymouth 40,000 people petitioned to retain the airport provoking a unanimous vote of Councillors in support. As a result, Plymouth's airport is protected in the Local Plan. The business community is supportive; most MPs have been supportive for most of the time – even joining the All-Party Parliamentary Group on General Aviation.

Local political parties have been verbally supportive; a recent Council administration adopted reopening as policy with one Cabinet member describing plans for the airport as 'a breath of fresh air' – the best thing for Plymouth they had heard in ten years.

FlyPlymouth, the airport operator created to acquire and operate Plymouth Airport, has a robust plan supported by current evidence and financial backers. There are so many good opportunities right now around electric aviation, UAV operations, skills and training in emergent industries for a city that has been granted freeport status.

We have held many meetings with the various parties; made funded offers to acquire the airport at multiples of the market value in an attempt to get the thing done.

Yet nothing happens. Council officers press on with their 'airport options' paying little heed to external influences.

Not that the aviation evidence is absent. The research is clear. Commercial aviation opportunities at Plymouth have never been as strong as they are now.

So we press on. Convinced of the case for aviation at Plymouth. Convinced of the importance of an airport to Plymouth's future prosperity and well-being.

It has cost a substantial amount of time and money backed by a few private individuals to stay with this issue. But we see ourselves as contending for a better future for Plymouth, so we consider it worthwhile.

What is the story with your local airport?"

www.flyplymouth.com
BTN Editor-in-Chief Malcolm Ginsberg was a member of the Brymon Airways Executive Board during much of the airline's life. He has fond memories of Plymouth. Plymouth Airport was the model for London City Airport. The airline was a Air Transport World Commuter Airline of the Year.

Brymon history can be found in LONDON CITY AIRPORT – 30 Years Serving the Capital
Now available from www.crecy.co.uk/london-city-airport ISBN 978-1-900438-07-0

OUR READERS' FINEST WORDS (All times and dates are GMT)
All comments are filtered to exclude any excesses but the Editor does not have to agree with what is being said. 100 words maximum
---
Barry Humphreys, United Kingdom
Excellent article. It is difficult to believe that many other countries would be having this debate.
---
David Starkie, United Kingdom
Yes, used Plymouth more than once with Southwest. (Does anyone remember Air Furness: Manchester Airport to Barrow?). One suggestion for Mr Witherall: MoD might have an interest in a regular link to Gosport (ex-HMS Daedalus, now Solent Airport). Might get you established for bigger things.
---