Gatwick CEO since 2009 Stewart Wingate has over the years been keen to comment from time to time in BTN's monthly ON THE SOAPBOX. This week's column was suggested before the outbreak of war in Eastern Europe to highlight the reopening of the southern terminal with British Airways EuroFlyer at the end of this month.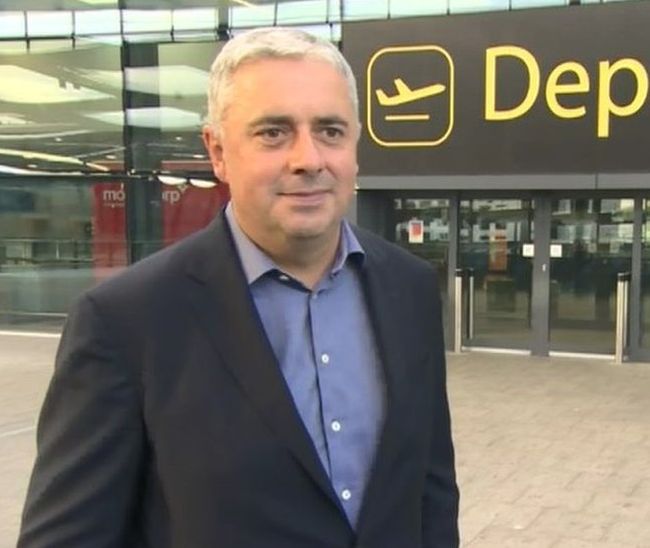 "The conflict in Ukraine is now in its third week. The unimaginable terror that the people of Ukraine are experiencing puts the difficulties our industry has experienced in recent years into a different perspective.

Before discussing what, I am pleased to say, are some positive developments on aviation and Gatwick, I first want to express my support for the Ukrainian people, including civilians living or trapped inside the country and those who have been forced to flee to a safe haven.

In terms of aviation, it is fair to say that our industry is now much more optimistic about this coming summer, as both consumer confidence improves, and bookings increase.

We are now learning to live with Covid-19 and I expect to see better processes put in place by Government to manage it, as our now considerable experience of managing a global pandemic embeds itself into our way of life.

In terms of aviation, the measures we experienced over the last 24 months severely restricted everyone's freedom to travel and had major impacts on our teams, our business, and our local economies.

Going forward, it is vital that the Government does not resort to draconian travel restrictions each and every time a new Covid-19 variant takes hold, unless of course the science says this is absolutely necessary.

Government must instead develop proportionate responses that protect public health, but that also balance the impact these have on the economy, jobs and people's livelihoods.

The recent removal of testing requirements and the relaxation of isolation rules reflects just this sort of balanced, progressive thinking.

We are not, however, anywhere near out of the woods. The pandemic has been prolonged and the damage to our sector has been significant.

Despite the expected pent-up demand for travel, full recovery will take some time and a new approach from Government is needed.

The constantly changing travel rules have been difficult for passengers to understand, so accelerated engagement with other countries to coordinate more consistent, uniform international entry requirements would bolster consumer confidence.

So too would the streamlining and the eventual removal of the irritating Passenger Locator Form.

Government must also act fast and put these measures in place soon to encourage more people to book that well-earned summer break or visit to family and friends they may have only seen on Zoom over the past two years.

This would truly restore our freedom to travel and make international travel easier, simpler, and cheaper. And the benefits would be felt far and wide, including by the UK's fantastic hotels, restaurants, pubs, theatres, world-beating attractions and right across the tourism sector.

There are also other reasons for optimism that, together, are helping build genuine momentum and confidence that, this time, we are starting a recovery proper.

The Government announced the outcome from its consultation on airport slots and returned discipline back to the system with a 70/30 use it or lose it rule for the summer 2022 season.

This means UK consumers will once again benefit from effective choice and fair pricing, both products of a truly competitive market. This will also encourage new entrants into the market as the regulations incentivise airlines to use, trade or hand back unused slots. 

The regulations were rightly suspended during the pandemic, but passenger and flight numbers are widely expected to rise significantly this summer, so more discipline and competition had to be returned into the system. 

We believe the new slot regulations were a key driver behind some major uplifts in flying programmes at Gatwick. BA will restart their short-haul operation later this month, and Wizz Air – one of Europe's largest airlines – will significantly increase its operation from the airport with many new routes, as will BA's sister airline Vueling.

easyJet will also fly their biggest ever operation from the airport, and a wide range of other airlines such as Emirates, TUI, Turkish and Westjet will increase their schedules toward pre-covid levels.

Indications are that recent changes to UK travel restrictions and slot regulations are driving strong bookings for Easter and Summer.

These very positive indicators means that, after an incredibly challenging two years for the airport, our partners and local communities, we were finally able to announce that we will reopen our South Terminal at the end of this month.

Reopening a large terminal is no easy task and a huge amount of work is taking place behind the scenes to make sure we are ready to welcome back passengers in large numbers.

We're testing all sorts of equipment – making sure baggage systems, information screens, and travelators are all operational – and we are updating signage to reflect changes in health regulations and to the terminals our airlines will fly from come 27 March.

We are also busy training hundreds of new staff, and the airport is full of workmen refitting and refurbishing our shops, cafes and bars to make sure passengers have the most pleasurable experience possible.

Reopening the terminal is also great news for the local job market, with Gatwick's communities among some of the country's worst affected by the impacts of the pandemic.

With our airlines now selling tickets for hugely increased flying programmes, our passengers will once again be able to choose from a fantastic range of destinations – both short- and long-haul – at a range of price points to suit their budget.

As we learn to live with Covid-19, I am looking forward to 2022 being the year when all travel restrictions are removed. And to the return of Gatwick as a busy, efficient, passenger-orientated airport that contributes positively to the community and the economy.

Like many of us, I also hope for an end to the conflict in Ukraine as soon as possible.

Stewart Wingate, CEO, Gatwick Airport

www.gatwickairport.com
OUR READERS' FINEST WORDS (All times and dates are GMT)
All comments are filtered to exclude any excesses but the Editor does not have to agree with what is being said. 100 words maximum
---
David Nicholas Starkie, United Kingdom
The process of managing Covid at airports is not just a matter for the airports. A recent trip to Faro out of Gatwick was a queueing nightmare at both ends, because EZY had not got its act together on the passenger locator form.
---