Without doubt the Caterham Seven (the Lotus 7 for some) is the world's longest running production car still recognizable in its current styling. If you are old enough to know what a Lotus 7 was (and still is) you might well still want to call a Caterham a Lotus 7.

Hazel Chapman, joint founder of Lotus Cars with husband Colin, passed away peacefully (94) on 13 December surrounded by her family. A comprehensive obituary can be found on the Classic Team Lotus website. She was very much involved in the early days of the Lotus 7. A memorial service will be held at an as yet unconfirmed date in 2022.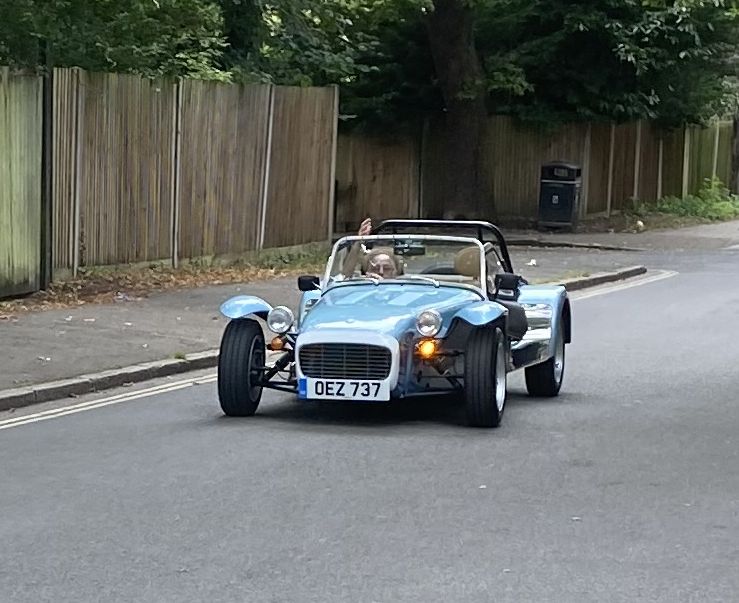 A Lotus 7 was the car used by Patrick McGoohan, in the opening titles of the 1967–1968 television series The Prisoner. It has been featured in many films, comics and games over the years and there are said to be over 160 replica series, some very small with single figure production. The one appearance it should have made was in Stanley Kubrick's The Clockwork Orange, the Elstree Studio getting it muddled up with the Lotus Europa. That car was not the right fit but the 7 could have been!

The Lotus 7 was launched in 1957 to replace the Mark VI, the then Hornsey north London company first road-going production car. The Elite was to quickly follow and the Elan in 1962.

Lotus moved to Cheshunt in 1959 and then in 1966 to Hethel, a former RAF base near Norwich. Here production of the Lotus 7 was in a separate part of the factory from the Elan/Plus 2 assembly line, as Lotus Components Ltd. Team Lotus, World Motor Racing Champions, were in the same building, but by this time a separate company.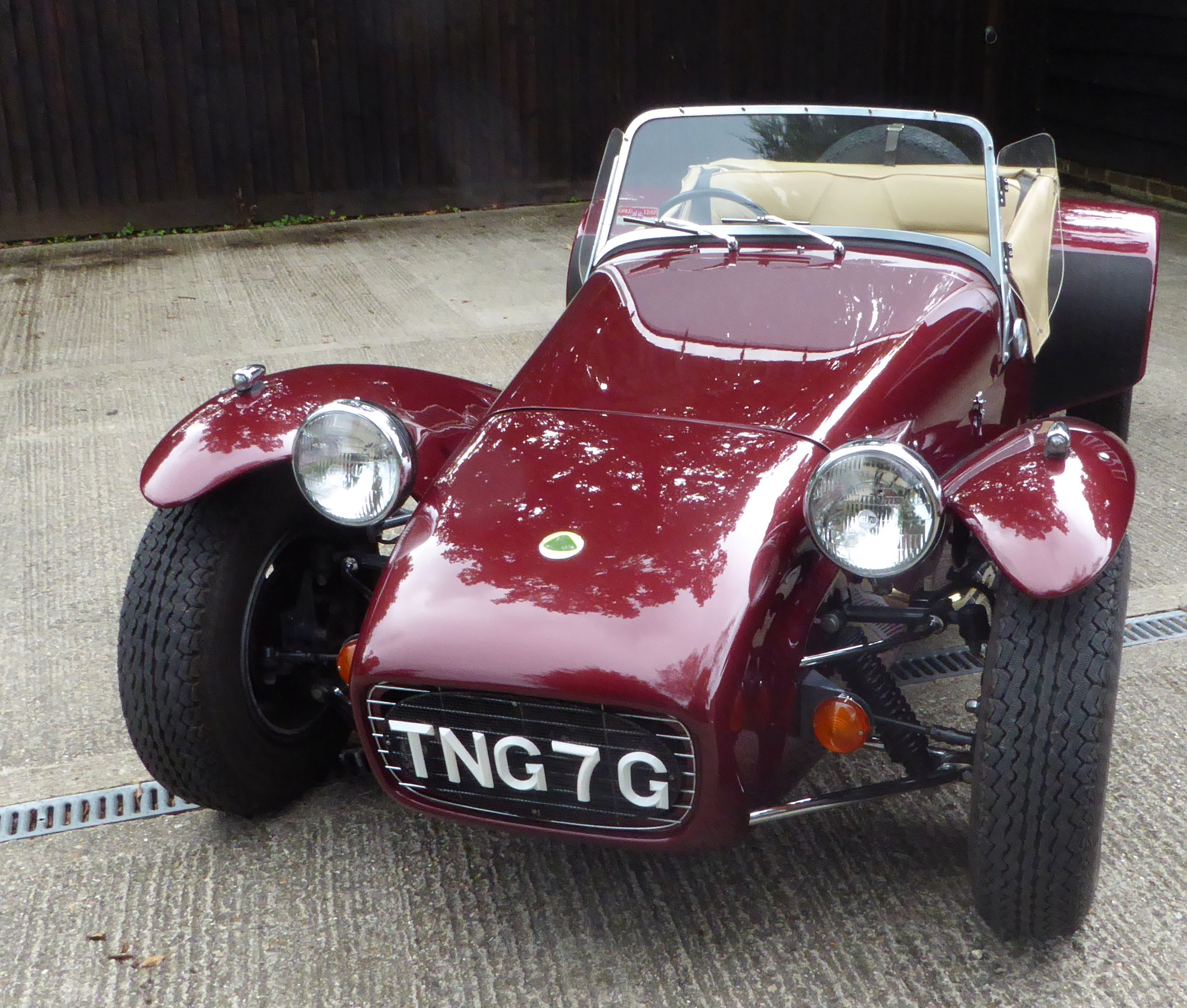 For the 1969 Motor Show at Earl's Court, Lotus introduced the Mk3 version, the display car then used as press demonstrator and still on the road today with Haydon Cars in the New Forest.

In 1971 Lotus Components produced the Lotus 7 series 4, a plastic-bodied update on the original car, introduced at a splash affair in London's Grosvenor House Hotel. Colin Chapman had not even seen the prototype, and the car was not a success, with the late Mike Warner, Managing Director of the subsidiary, leaving shortly afterwards.

The original Lotus 7 was produced as a 'kit car' to evade the then British Purchase Tax. With the UK joining the EU on 1 January 1973 VAT took over. By then Chapman had lost interest in the car and the late Graham Nearn bought the rights for a reputed one pound per car licence fee. Whether anything was ever paid is questionable. Lotus produced around 2,500 kits.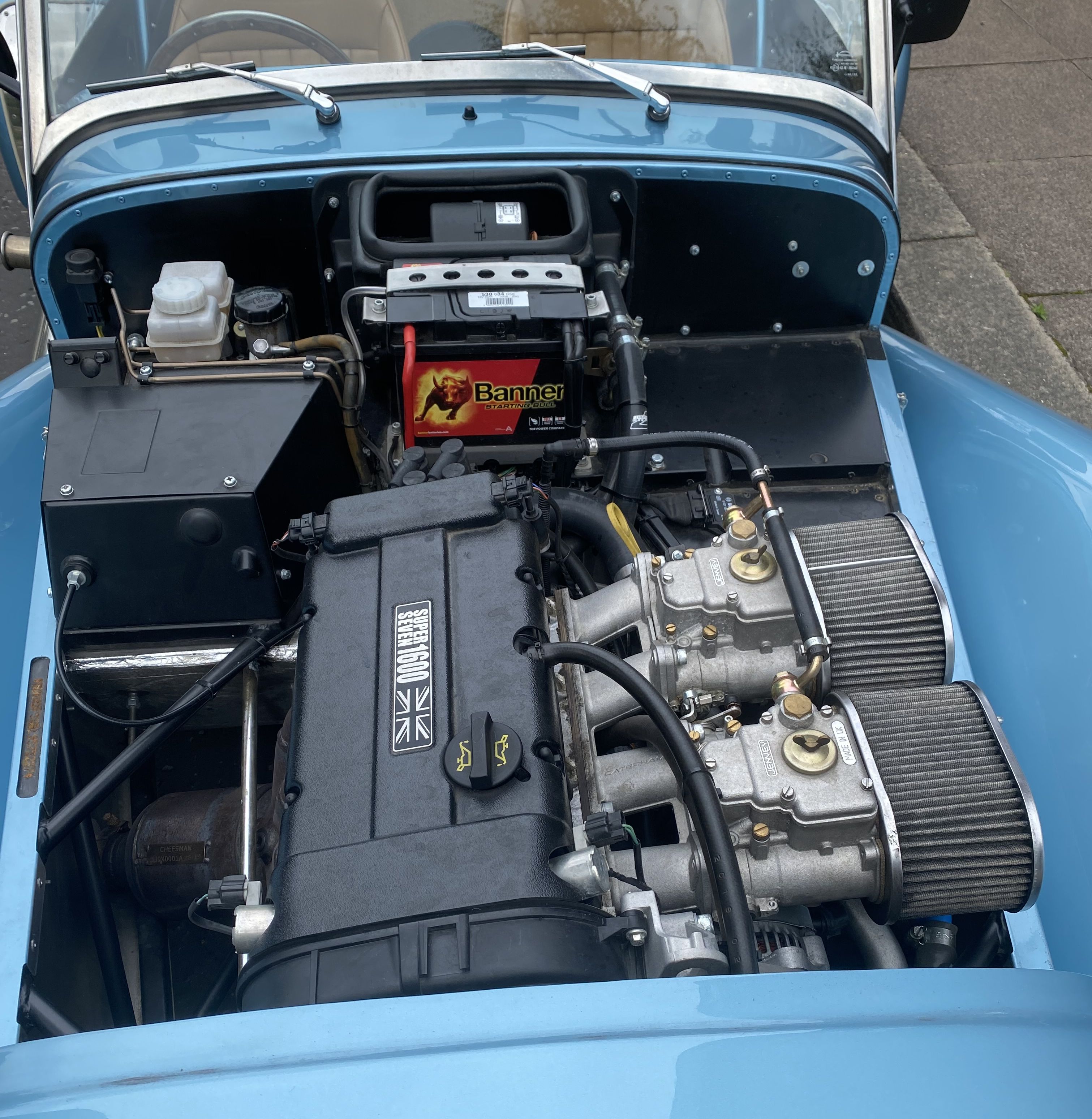 Originally based in Caterham in 1987 the company moved to a purpose-built factory just 3 miles from the M25 and QE bridge near Dartford. It is its home to this day. Current Caterham Seven production is over 500 units per annum with around 19,000 built to date. 20,000 could be reached by the time of the of the Caterham Seven's 50 anniversary in 2023.

On 31 March Caterham Cars Ltd was acquired by VT Holdings Ltd, the Japanese importer for the Seven since 2009.

Today's Caterham Seven more or less looks like a 1957 model, but other than minor details the similarity ends, except for one major consideration. It is still not much more than a two-wheeled motor bike with minimal luxuries and space, whether it be for the occupants or luggage. Getting in is a special knack and the five-speed manual gearbox something from an earlier era which will not worry the sporting owner.

The original car had exceptional performance for its time with a 1172cc Ford Anglia engine 60mph being reached in 6.2secs, astonishing for the time. Top speed was 80mph if you could make it.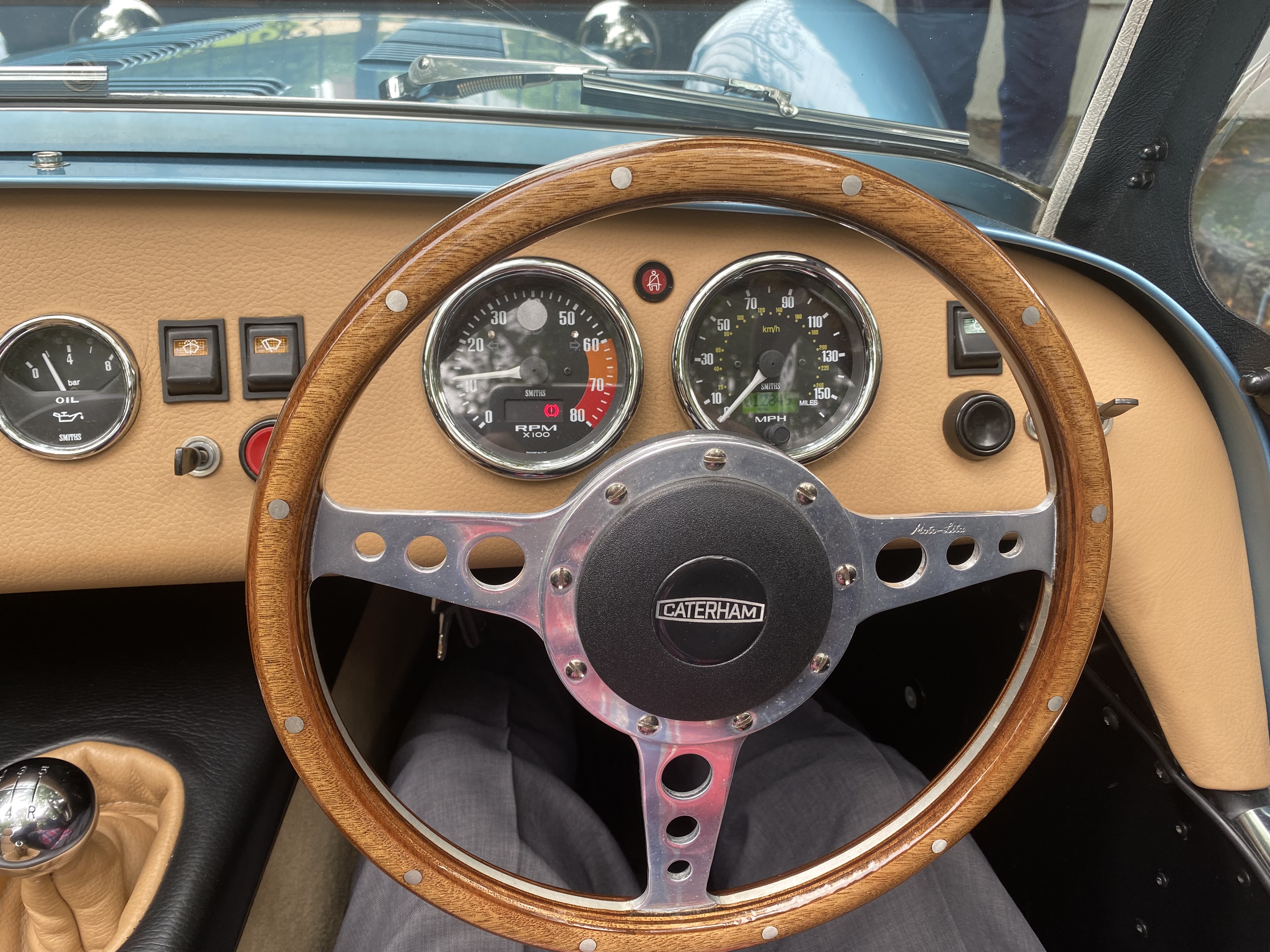 car was tested by The Motor in 1958. It was found to have a top speed of 80.4mph, could accelerate from 0-60mph in 6.2secs with a fuel consumption of 31mpg. The test car cost £1,157 including taxes of £386. They commented that the car could be bought in component form and then it would have cost £399 for the parts from Lotus, £100 for the Ford engine and gearbox and £27 for the BMC rear axle.

The version as tested (Super Seven 1600 SV) was priced at £33,495 plus £6,160 extras including a mohair hood, boot cover and side-screens. The rather nice biscuit beige seats with a unique stitching pattern are £1,000 and the painted noseband £595. With some other extras the finished total is just under £40k. Ford is still the main engine supplier with a four-cylinder naturally aspirated 1.6 Sigma engine giving 0-60 in just 5secs and a top speed of 122mph – 40mpg is quite possible. There are disc brakes and not drums and you can get it in kit form.

The chassis is still a simple spaceframe design, the body made from a mix of aluminium and glass fibre components. An actual spare wheel is included and she sits on 14inch silver alloy tyres.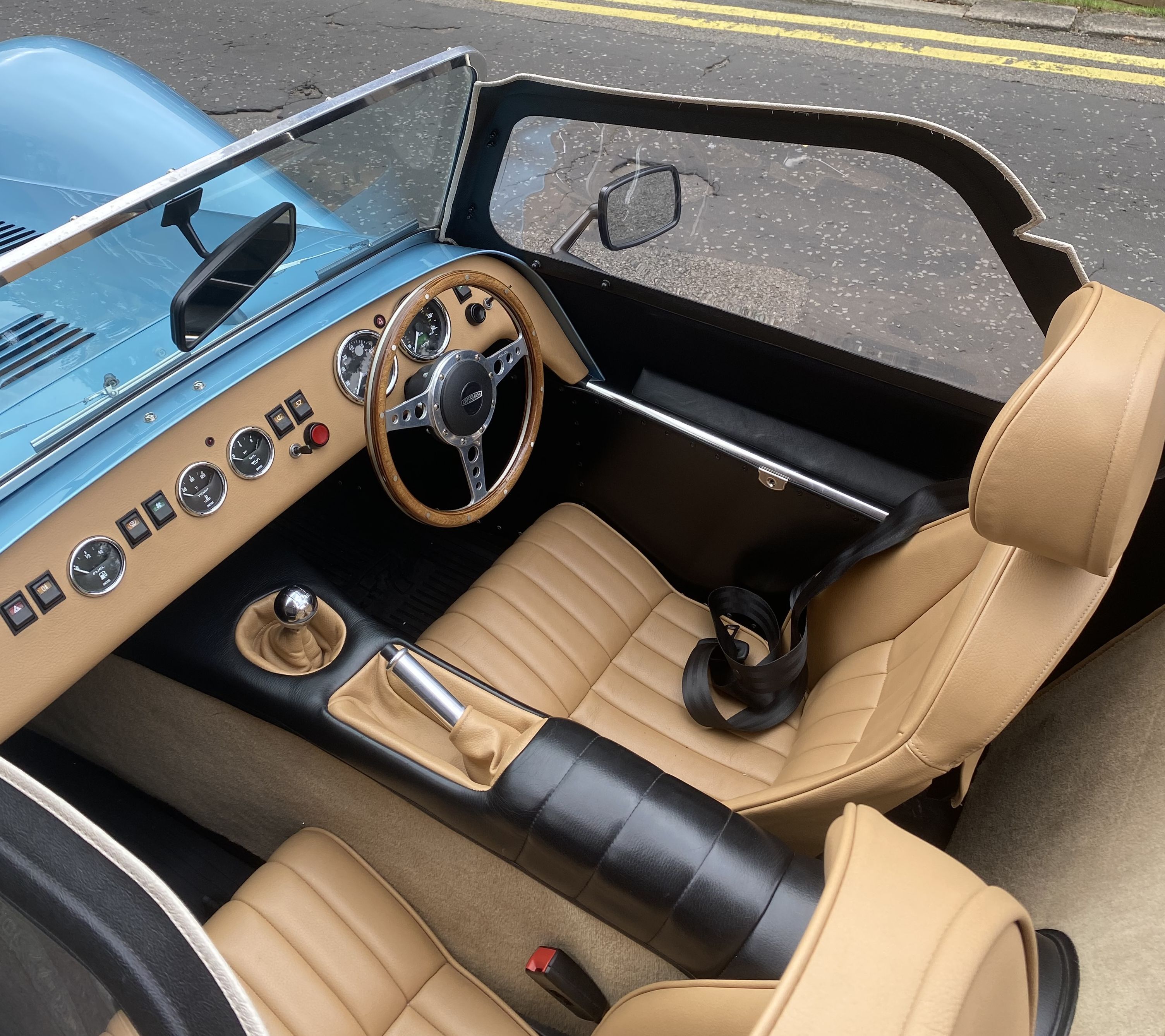 The front suspension is now a proper double wishbone arrangement and she had a De Dion rear end. In fact styling and detailing have changed quite considerably, chiefly to keep the car up to current safety standards but it is not noticeable unless a Seven aficionado.

Even in the wet, traction is excellent for a car with a live rear axle, and when it slides it is all very natural and easy to control. And of course it is quick and sits very low on the road. The press demonstrator was delivered in a specially adapted van and winched on and off.

Caterham produce all sorts of variants of the Seven and they are the backbone of club racing and track experience. The Super Seven 1600 is no longer available to order, as the Ford Sigma has gone out of production. Ford continues as engine supplier with its Duratec model for the 360/420/620 model ranges with prices starting at £31,490 for the base 360 (kit, no options). The starting price point for the recently announced Caterham Seven 170 is £22,990 (kit, no options).

And the final question is:

Would it make for a nice Christmas present?

Certainly yes.

But you also will need a Range Rover for the day job.

Performance 9
Handling 9
Transmission 6
Noise 6
Economy 9
Ride and Comfort 7
Accommodation 5
Styling 7
Brakes 8
Finish 8
TOTAL 74%

See also AND FINALLY in this edition of BTN.

www.caterhamcars.com

https://vincenthaydoncars.com
OUR READERS' FINEST WORDS (All times and dates are GMT)
All comments are filtered to exclude any excesses but the Editor does not have to agree with what is being said. 100 words maximum
---
John Jones,
An expert commentary from the leading Lotus expert. Beats me though that 500 customers a year pay forty thousand pounds for one.
---
John Jones,
An expert commentary from the leading Lotus expert. Beats me though that 500 customers a year pay forty thousand pounds for one.
---
John Jones,
An expert commentary from the leading Lotus expert. Beats me though that 500 customers a year pay forty thousand pounds for one.
---