With the United Nations Climate Change Conference (COP 26) looming up, it officially starts 1 November, BTN previews the host city, but with acknowledgement to the capital of Scotland, Edinburgh.

John Bell, the former BBC Radio transport correspondent leads off, a Londoner, followed by Derek Guthrie, he also once of the ITN and CNN but much into art and born in Scotland's first city.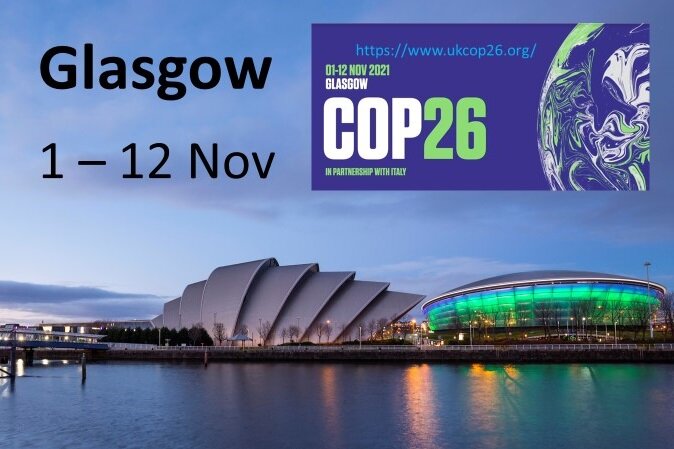 "It was sung in many a British music hall more than a century ago:

I belong to Glasgow,
Dear old Glasgow town;
But what's the matter wi' Glasgow,
For it's goin' roun' and roun'!

And possibly because of its traditional working class, industrial, heavy drinking background and reputation this city has always played second fiddle to the more 'refined' capital of Scotland – Edinburgh, only 40 minutes away by train. But on the last day of October this year the 600,000 citizens of Scotland's second city will be joined by 20,000 delegates from over 200 countries at the United Nations Climate Change Conference (COP26) which is taking over Glasgow – and much of Scotland – for nearly two weeks.

According to the official web sites the COP26 is bringing together leaders, negotiators, climate experts, civil society, companies and people on the frontline of climate change to adopt harmonised action for tackling the global climate crisis.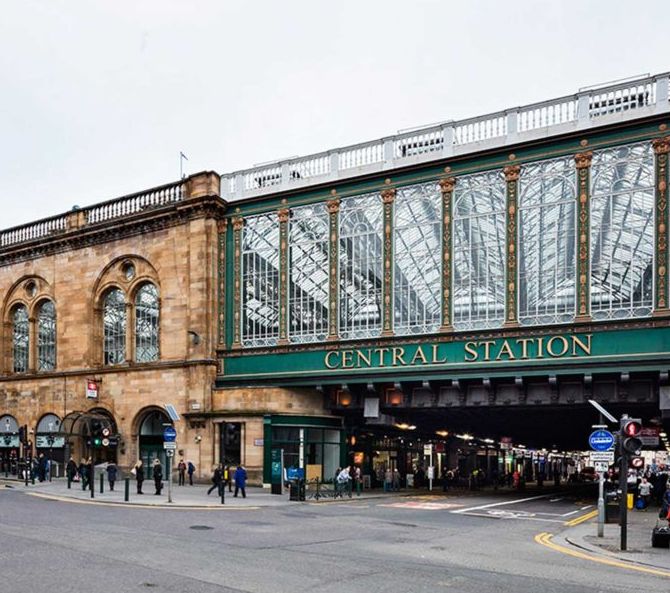 The summit will be the first COP meeting to be held since the coronavirus pandemic began, and the largest gathering of world leaders (well over 100) ever hosted by the United Kingdom and therefore, I assume, by Scotland.

But can Glasgow stand up to the pressure created by 20,000 visitors and take advantage of such a unique marketing opportunity without blotting its copybook? The research behind its current 2023 tourism plan talks of a 'Lack of awareness' of what the city has to offer accompanied by 'a sometime negative perception' which presumably comes from its former, and rather rough, reputation. The Plan also highlights the lack of an iconic attraction and that's particularly true at the moment when one of the city's best assets – the Burrell Collection – two years late in a renovation that won't be completed now until March next year.

In some ways the city has made huge advances with its 10,741 hotel rooms in 2019 increasing by nearly 46% by the time the conference opens. The Maldron, Ibis Styles, Moxy, Motel One, Radisson Red, Hampton by Hilton, Dakota, etc etc are just a few of the hotels that have opened recently and if you want something with a Scottish feel then try The Pipers' Tryst – a small hotel located in the National Piping Centre – the home of Scottish Bagpiping! But even as the city approaches 15,000 hotel rooms all the official conference accommodation is full so much of the business will be going to Edinburgh which had nearly three times the 8.3 million overnights that Glasgow attracted prior to the pandemic.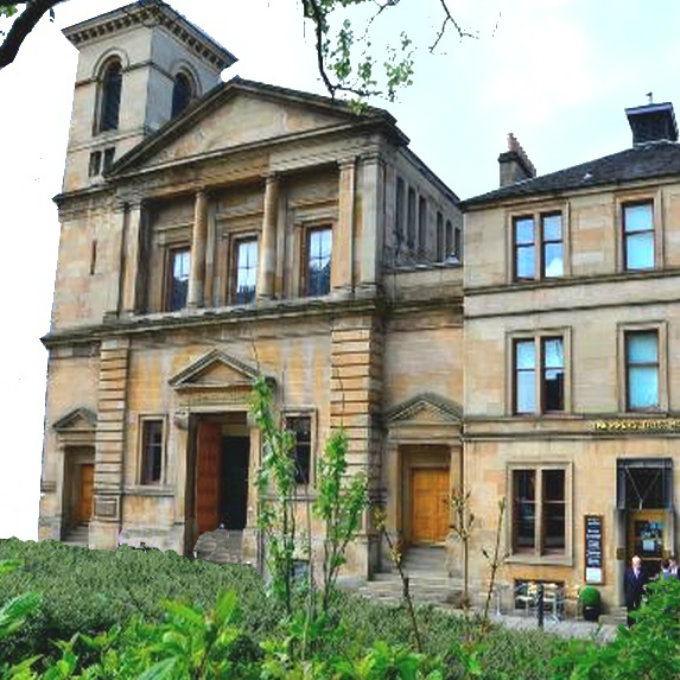 With the vital importance of this conference to the environment it's no surprise to note that 'cars' and 'parking' are dirty words in Glasgow this November and Scotland has, to give it its due, more than a reasonable rail network. There are frequent trains between Edinburgh and Glasgow and hourly trains from Avanti and LNER from London Euston and King's Cross (although for most LNER trains you have to change in Edinburgh) but the worry comes when those 20,000 delegates, and, I assume, the Prime Minister with his wish to protect the environment, descend on the city itself. Will the refurbished 'clockwork orange' underground system cope and what about all those delegates arriving via the rail network at the recently named Exhibition Centre (Glasgow) Station? Will a station with two platforms, built in 1894 with six trains an hour – three in each direction – perhaps become a little overcrowded?

So far no mention of arrivals by air – the Queen and Greta Thunberg will doubtless let the train take the strain – the Pope may kiss the tarmac at Glasgow Airport and doubtless the environmental disaster which announces the arrival of the President of the USA will hide down at Glasgow Prestwick but what will all these delegates discover when they arrive at Scotland's second city – a city which suggests that excellent day trips are a three-hour, if beautiful, train journey to Oban and the Western Isles or a visit to its main competitor – Edinburgh!"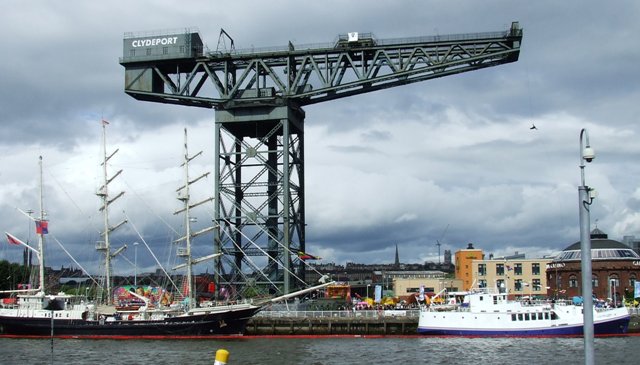 Well, maybe Derek Guthrie has the answer:

Born in Edinburgh, brought up in Glasgow. Two camps? You bet!

"Glasgow may appear to have less immediate appeal than its beautiful rival Edinburgh, there's no mighty castle looming over the skyline for a start, but industrial heritage has left as many striking souvenirs from the past as scars.

The Stobcross Crane is a disused giant cantilever crane which is no longer operational, but is retained as a symbol of the city's engineering heritage and is adjacent to the Scottish Event Campus or SEC (the home of COP 26) so it's a good place to start. Modernisation and road building took out great swathes of traditional domestic housing stock, the famous Tenements, but these handsome sandstone apartment blocks are still, thankfully, fairly widespread. The best are by Alexander 'Greek' Thompson and should you want to see inside one the Scottish National Trust has opened The Tenement House at 145 Buccleuch Street – where you can use your National Trust membership.


Geography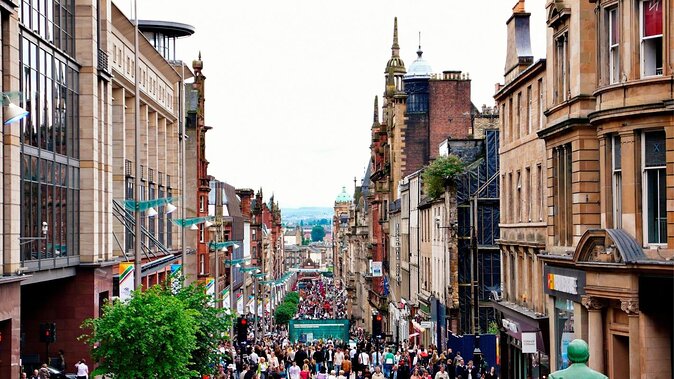 The 'City Centre', Glasgow's compact retail heart, may now be slightly less busy, like most high streets, but the commercial architecture, built on a grid system, is surprisingly similar in layout to midtown Manhattan, if a little less dramatic. As a consequence, Hollywood sets up camp regularly – Indiana Jones was jostling for attention with Batman earlier this year. It's also where you'll find Charles Rennie Mackintosh's 19th century Glasgow School of Art, the crowning glory of his Art Nouveau architectural legacy. The main building was severely damaged by two fires – 2014 and 2018 – and remains under repair. Nearby CRM's Willow Tea Room is an attractive, if smaller, example of his highly decorative design work.

The West End sprawls over many districts west of the city centre, a large amorphous area that includes Finnieston and Anderston, (where the SEC is) and then on to Partick and Hillhead, at the south and north ends of Byres Road, the city's bohemian neighbourhood thanks to a large student population attending Glasgow University.

The East End still has sizeable pockets of real deprivation but for a view of Old Glasgow there's nothing better than a visit to The People's Palace, Glasgow Green and the Cathedral. The South Side i.e. south of the River Clyde, is mostly residential but houses the magnificent, if currently closed, Burrell art collection.

Getting around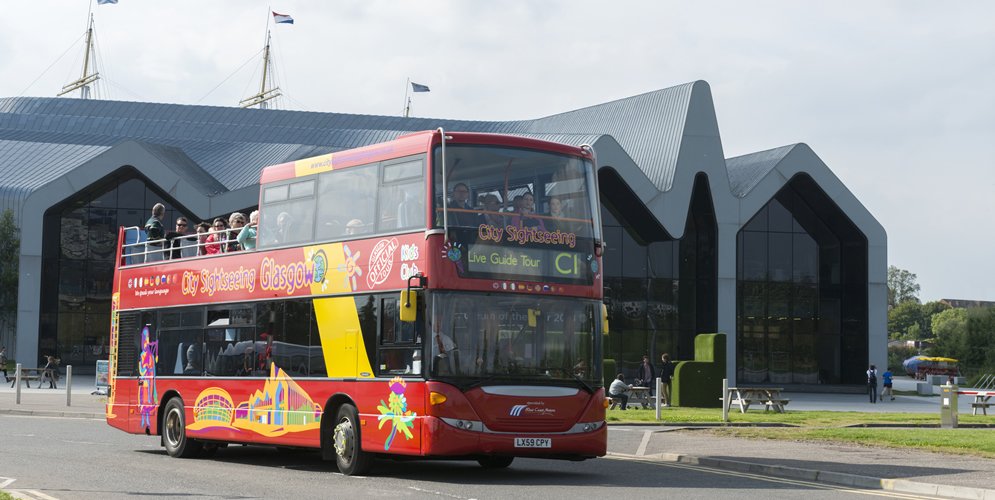 There are Hop On – Hop Off tour buses to get your bearings and two main railway termini for suburban services, Central and Queen Street stations, both of which have low level services connecting to the Exhibition Centre (the SEC).

Bus services can be confusing at first but the small subway system, aka The Clockwork Orange (the colour of the trains) couldn't be simpler. One circle connecting 15 stations around the city centre, west end and south side. Uber and licensed black cabs are plentiful.

Where to head / Personal recommendations

Byres Road is the heart of the West End and is lively, with small shops and bars down little alleyways (Ashton Lane especially) here and there (Hillhead Subway).

Great Western Road around Kelvinbridge (Kelvinbridge Subway) and Otago Street for hidden bookshops.

Buchanan Street is the main axis through the city centre. (Buchanan Street and St Enoch Subways). It's walking distance from the recently gentrified Merchant City.
Culture
Kelvingrove Art Gallery. Magnificent civic collection housed in a splendid red sandstone Spanish baroque palace. Weekday lunchtimes are best when the gigantic pipe organ is played.

Eat/Drink
Glasgow's new restaurant scene is along Argyle Street at Finnieston, adjacent to the SEC. Crabshakk, The Gannet, The Finnieston and many, many more.
Glasgow is replete with Indian restaurants. The best is Mother India.
The Ubiquitous Chip led the way for provenance and locally sourced ingredients.
Pubs? The Chip Bar (upstairs), The Halt Bar, The Ben Nevis or The Oran Mor.
Deep fried pakora is the Punjabi snack that has somehow never fully escaped from Glasgow to the rest of the UK. It can be bought in most chip shops or as a starter in those Indian restaurants.

Day Trip

Without a car the best two-day trips are:
Train from Queen Street Station to Edinburgh (45 minutes)
Train from Queen Street Station to Oban and/or Fort William. A Highland Fling!

and if you need a Guide?


I never hesitate to recommend "Scotland The Best" by Peter Irvine, now in its 13th edition, not only the best guide book to Scotland, but the best actual guide book I know to anywhere. I hand them out to friends and strangers alike. Peter lives in Edinburgh but despite this the book's strong on Glasgow: accurate, detailed, and highly celebratory (be mindful that like everywhere else the pandemic has taken its toll).

The truth is that both Edinburgh and Glasgow are equally attractive but in markedly different ways. Glaswegians are essentially a warm, down to earth citizenry, fiercely protective of their city (and its football teams!) and very, very self-deprecating, but don't take all that kindly to criticism from the outside. Edinburgh may be more physically beautiful, but the trick in Glasgow is to look up. All the history is there, above the street level shops and bars, just waiting to be found.
www.visitscotland.com

https://glasgowtourismandvisitorplan.com

https://books.harpercollins.co.uk/scotlandthebest

OUR READERS' FINEST WORDS (All times and dates are GMT)
All comments are filtered to exclude any excesses but the Editor does not have to agree with what is being said. 100 words maximum
---
John Richmond, Lochwinnoch United Kingdom
This is a great article and a great boost foe Glasgow.
---