The British Home Office is pursuing its policy of effectively giving a 10-week travel ban for UK passport holders wishing to renew their passport. "The old passport requires sending off when the application is made and paid for." it states on its website.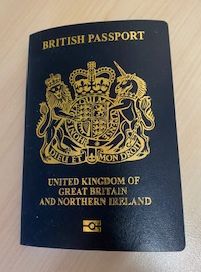 If you apply for a passport on-line the warning comes back that it will take up to 10 weeks for a new one to be issued. Until the new one arrives leaving Britain is not on.

It will also affect cruise customers taking advantage of the short trips now available. A passport is required even if not getting off the ship and travelling around UK waters.

"Simply crazy", was the view of a prospective holiday maker. "Lockdown was a necessity we all had to endure, but the Home Secretary Priti Patel must quickly find a solution to this problem. The holiday trade needs all the help it can get".

If you decide you want to speed things up there is a special 'high-speed service' at a premium but if you miss on screen there is no credit or cancellation facility! As things stand users will have to pay twice, plus the fast-track fee.

From an operational point of view the Home Office is adamant that the old passport be sent back before work is started on a replacement. A whole swarth of prospective tourists and business travellers are affected. The work involved is no more at the start or end of the procedure.

With the new passport paid for weeks ago, and first class post, 3-4 days should do.

A Home Office spokesperson said: "Due to Covid-19 about three million fewer people applied for a passport in 2020 compared to a typical year. This could lead to an unprecedented number of applications when customers who have delayed making their application choose to renew.

"We have been very clear that applications will take longer to help ensure that customers will continue to receive their passport in good time even during periods of the very highest demand. Although applications will be processed as quickly as possible, people should allow up to 10 weeks when applying."

You need at least six months left on your passport to travel to certain countries. TRAVELLERS TO THE CHAMPIONS LEAGUE FINAL BE WARNED.

www.gov.uk/renew-adult-passport/renew
OUR READERS' FINEST WORDS (All times and dates are GMT)
All comments are filtered to exclude any excesses but the Editor does not have to agree with what is being said. 100 words maximum
---
John Edward Baxter-Smith, United Kingdom
Proably a way to get people to pay extra but you still get a shitty blue one that gives you far less rights than our old EU ones.
---
Denis Micallef , UK
Canít understand this. Myself and other family members renewed our passports on line and got the new ones back within 10 working days !
---
Malcolm Ginsberg, Edgware
The alarm was sounded by the Home Office. They should issue a statment saying the process has been speeded up. Or are they trying to cover up for any delays!
---
Robert Plummer, London
This story is overblown. I applied for my passport online on 12 May and sent the old one back the same day. The new one arrived today, 12 days later. No need to apply for an urgent deal.
---
Franz Plachy, Norfolk
My wife got her passport renewed at the post office. It took a week from sending it in to get the new passport. It is worth paying the premium.
---
Ann Jones, United Kingdom
I am able to trace the progress of my passport application. Surely one week before it is ready some sort of auto alarm can be sent out from the Passport Office to remind me to send the old one back.
---
Jill Jones, West Ham
Easy. At the start of the application form it should say for an urgent passport deal with it a certain way. Not hide the information within all the words. I too got caught out but as things stand am not going anywhere and will wait.
---