The collapse of Norwegian's long-haul Boeing Dreamliner operation at Gatwick is a blow for the south London airport but not fatal and not unexpected. In time the US will come back, and the summer will see jetBlue introducing narrow-bodied flights to New York. British Airways still has a foothold to the Caribbean with TUI serving some destinations in the region and WestJet and Air Transat serving Canada.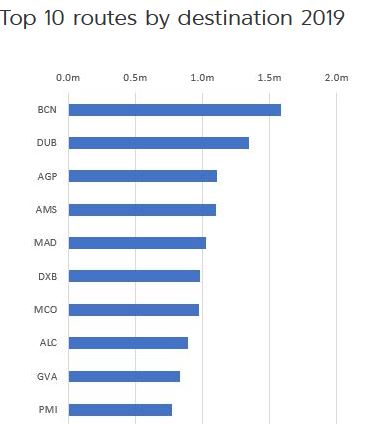 Just to put things completely in perspective, total passenger numbers for 2020 were 10.2m compared with 46m in 2019, a 78.2% drop.

The real key to Gatwick's future is the regional services. Long-haul is important but not the be-all. From Laker, through British Caledonian and now Norwegian, Gatwick has survived and steadily grown. In the last full year (2019) easyJet had 40% of departure seats available, British Airways 16% and Norwegian 10% (according to the OAG statistics). The Norwegian split is interesting 60/40 in favour of short-haul.

What happens to Norwegian's European short-haul operation is questionable but if Oslo is going to have any serious aspirations, then Europe's largest leisure airport has to be in the frame.

EasyJet is now by far and away the largest operator at the airport and is well ensconced into the North Terminal. Its Gatwick operation is now greater than the Luton Airport headquarters and has scope for further expansion.

British Airways remains an enigma, no definitive statement yet made on how it sees its European operation for the future, the Spanish-controlled British national airline faced with a dilemma whether to downsize for the future with just Heathrow, or to continue investment in Gatwick, and for that matter London City Airport. As noted, BA retains visibility with its Caribbean flights as well as through Vueling, part of the IAG Group, but a retraction for BA into Heathrow cannot be ruled out. Sean Doyle and his IAG colleagues have a decision to make for winter 2021. With Heathrow expected to have spare capacity for at least five years the bottom line is likely to rule.

Making a play for Gatwick slots is Wizz Air, a UK Plc, with headquarters in Budapest, whose inroads at Luton have been dramatic, specialising in thin services to a large spread of destinations. At Gatwick it is already proving a challenge to the incumbents, but easyJet has lived with competition from Norwegian in the past. EasyJet is in a strong position for future Gatwick expansion. Wizz Air's involvement at Abu Dhabi is largely stand-alone and should not impinge on its UK operation. Whether its management is too stretched remains to be seen.

The proprietor
In 2019, a new long-term partnership was formed by the then Gatwick owner GIP (Global Infrastructure Partners) with VINCI Airports who purchased a 50.01% stake in the airport. This saw Gatwick Airport integrate into the network of the French-owned company, the leading airport operator in the world, which manages the development and operation of 45 airports globally. In many ways Gatwick is their flagship operation but it does not have government support, which happens in some countries. GIP (a New York-based consortium) also owns Edinburgh Airport but sold London City Airport in 2016 to a Canadian consortium and the Kuwait Investment Authority.

The Northern Runway
Gatwick Airport has an existing parallel runway, currently used in emergencies or when the main runway (the existing 3316m 08/26 strip) is undergoing maintenance and is routinely used as a taxiway. Careful airfield management can allow for the handling 45 movements per hour on the existing runway, meeting pre-Covid expectations. The former taxiway would be suitable for smaller aircraft such as the Airbus A320 variants and Boeing 737 series which habitually use airports with less than 2000m although this proposed second runway is cira 2500m.

Originally restrained by legal covenants Gatwick management have now been approved to develop this runway, subject to the usual detailed planning authorisations. The airport says it is going ahead with the development but clearly cannot give a target date for opening due to the current pandemic situation and investment plans.

Terminal reconstruction
With the new owners the airport embarked in July 2019 on a £1.11bn investment plan. Much of the initiatives have been, or are being, instigated including robotic parking (see BTN 27 January) and automated boarding technology, which will speed up boarding making the airport transit less stressful.

Key to the whole enterprise is the Pier 6 western extension which will offer over half a million more North Terminal passengers the opportunity to embark and disembark their aircraft via a jetty-served stand, as well as improved gate waiting areas. The design incorporates automated boarding technology which uses biometrics to process passengers through e-gates straight onto the aircraft.

Similar projects successfully run by other VINCI Airports will provide inspiration for the Pier 6 extension's coffee shops and retail, which will ensure passengers can enjoy these facilities right up to the point of boarding. This multi-phased project is still very much under way although no completion date has been confirmed.

Gatwick is keen to highlight the check-in automation and the biometric auto-boarding technology development.

On the operations side new technology such as Time-Based Flow Management, which is already deployed at other UK airports and offering the potential to increase even more the capability on the main runway and a new Rapid Exit Taxiway which allows aircraft to vacate the runway at the optimum location, enabling the best usage and operational performance. Baggage auto re-flighting is being progressed. On the rare occasions when bags do not make a flight connection, the re-flighting process will be automated, allowing it to be sent on without being first retrieved from the system.

Railway station
Very visible at the present time is the railway station development.

Gatwick is investing £37m part of the £150m project that the Department for Transport (DfT) has committed to undertake to upgrade the station. Work continues and over Christmas the final span of the site access bridge across platforms 3 to 7 was lifted in, allowing work to continue throughout 2021. When finally competed in September 2023 it will be virtually a new station and a worthy gateway to the airport. Eight new escalators, five new lifts and four new stairways are part of the project.

What many people do not realise is that whilst the non-stop Gatwick Express is the high-profile route into the airport from Victoria, the Thameslink services from London Bridge are quicker, more frequent and cheaper, and with the Crossrail link at Farringdon will offer some very good connections into East Anglia, the North-East and beyond, broadening the catchment area. There are also direct services from Southampton and Reading.

And by road
If you are traveling to the airport by car on the M23 the SMART motorway is fully open with four lanes each way and the airport turnoff easy to use. The total improvement adds significant capacity to the road network right up to the airport's front door.

In conclusion
At this point in time things are not good for Gatwick, but no worse than other airports around the UK or across the world in democracies.

Some of us can remember the old Gatwick Racecourse station on the way to Brighton. The original terminal still exists, symbolic perhaps of the airport's capacity to change. Times are hard but the future is bright.
www.gatwickairport.com

Gatwick Current Operations (subject to short notice change)
| | |
| --- | --- |
| Air Baltic | Riga |
| Air Europa | Madrid |
| Belavia | Minsk |
| British Airways | Antigua (and other Caribbean islands) |
| EasyJet | Alicante |
| EasyJet | Belfast |
| EasyJet | Edinburgh |
| EasyJet | Funchal |
| EasyJet | Geneva |
| EasyJet | Gibraltar |
| EasyJet | Glasgow |
| EasyJet | Milan-Malpensa |
| EasyJet | Tenerife |
| Ryanair | Dublin |
| UIA | Kyiv |
OUR READERS' FINEST WORDS (All times and dates are GMT)
All comments are filtered to exclude any excesses but the Editor does not have to agree with what is being said. 100 words maximum
---
WILLIAM ASHPOLE, NORWICH
The comments on the use of the existing parallel runway 26R/08L at LGW seem to indicate some kind of integrated operation with 26L/08R. Interesting as in July 1987, under the direction of the late Alistair Pugh, former MD of BCal, I made a presentation at CAA House to the great and good of British airlines including, Colin Marshall, Michael Bishop and Alan Snudden, on just such a project. It was evident that NATS had a brief to kill it at all costs. Good to see that times may have changed!
---
John Douglas, Crawley
Let us hope that either jetBlue steps up its proposed frequency to New York or another airline comes in to the USA. I don't want to go to Los Angeles via Heathrow if I can help it. The flights were always busy. Clearly to cheap.
---