Catalytic converter thefts from cars rise sixfold.

By Graeme Paton, Transport Correspondent.

The number of catalytic converters stolen from cars has soared sixfold in a year, prompting demands for a crackdown on rogue scrap dealers.

Figures obtained by The Times under freedom of information laws show that police have logged 14,690 incidents across Britain this year, a rise from 2,484 a year earlier and 985 the year before. In some areas such as Avon and Somerset and South Yorkshire recorded or attempted thefts have increased more than tenfold in 12 months.

London recorded 9,576 thefts last year, the highest number in the country and six times the total a year earlier.

The rise is believed to have been driven by a sharp rise in the value of the precious metals in catalytic converters, which control toxic engine emissions. It has also been linked to the growth in popularity of hybrid cars, which tend to contain higher concentrations of the metals, and 4x4s, whose higher chassis makes it easier for thieves.

Criminals can remove the devices in less than a minute using an electric handsaw. The National Police Chiefs' Council said that organised gangs were involved in the trade.

One garage owner in Stanmore, northwest London, said that it could cost up to £3,000 to replace the converter and repair the damage. He said that the scale of thefts over the past year had led to shortages in the supply of replacement parts, with lengthy delays until vehicles were back on the road.

A motorist in southeast London told how his catalytic converter was stolen three times in 18 months. He said that he fitted restraining bolts to the underside of the car, as recommended, but the thieves simply cut them off.

Car manufacturers have been criticised for failing to make catalytic converters more secure. Edmund King, the AA president, called for manufacturers to "design better protection". Figures from the insurer Admiral show that the hybrids "most susceptible" to catalytic converter theft in the past year included the Honda Jazz, Toyota Prius, Toyota Auris and Lexus RX.

Mike Hawes, chief executive of the Society of Motor Manufacturers and Traders, said car makers were "taking what steps they can to make catalytic converter theft as difficult as possible".

Scrap metal dealers can pay up to £500 per catalytic converter. Rhodium, which is found in the devices, is selling at $12,800 an ounce – six times the value of gold. The Scrap Metal Dealers Act 2013 banned cash sales and demanded better identity checks. The law is believed to be widely flouted, however. Police in Staffordshire investigated 30 scrap metal sites last month and found 22 breaches of the act.

The BBC reported in February that half of councils had failed to inspect any dealers in the previous two-and-a-half years. The Local Government Association said that councils were working with their limited resources.

The Times obtained figures from more than three quarters of police forces in England, Wales and Northern Ireland. Police Scotland was unable to supply data.

Minimising the risk

• Park in a locked garage or in a well-lit, densely populated area.

• Park close to fences, walls or kerbs with the exhaust being closest to the barrier to make the theft more difficult.

• Avoid mounting the kerb to park as it gives thieves easy access.

• Consider fitting a "cage clamp" that locks around the converter.

• Invest in a "tilt sensor" that activates the alarm if someone tries to jack up your vehicle.

Case study

Thieves caused £1,200 worth of damage to Malcolm Ginsberg's hybrid car when they stole the catalytic converter.

The Lexus CT 200h was on the road outside his house in Edgware, northwest London, this month when thieves struck overnight. Mr Ginsberg, 78, was not even aware of the theft until the car – minus its exhaust – made a din when his wife tried to drive it the next morning. It was one of three catalytic converter thefts on or near his road within a few days of each other. He had to pay the £350 excess on his motoring premium to have the five-year-old vehicle repaired by insurers.

Older hybrids in particular are seen as vulnerable to thieves as catalytic converters have a higher precious metal content. Newer models have less valuable metal as a deterrent.

"The responsibility to so something should rest with the carmakers," he said. "You normally get cars recalled when there's something not right. Catalytic converters are clearly too easy to steal and they should be putting their hands in their pockets and paying for a replacement."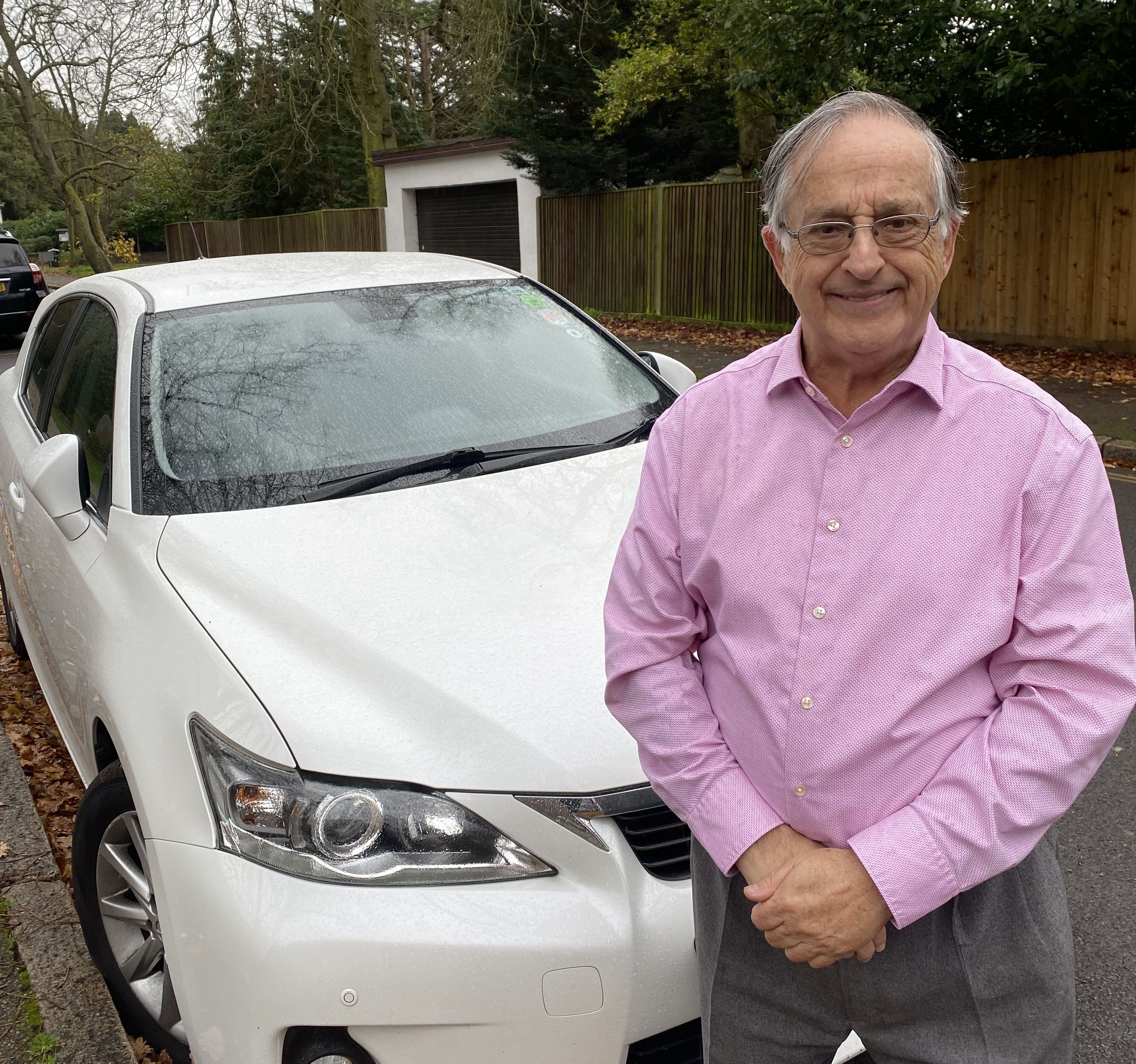 Image by Linda Press with an Apple 11.
OUR READERS' FINEST WORDS (All times and dates are GMT)
All comments are filtered to exclude any excesses but the Editor does not have to agree with what is being said. 100 words maximum
---