The doyen of British cruising, Douglas Ward, he of the Berlitz Cruising & Cruise Ships, has recently been to sea on MSC Grandiosa.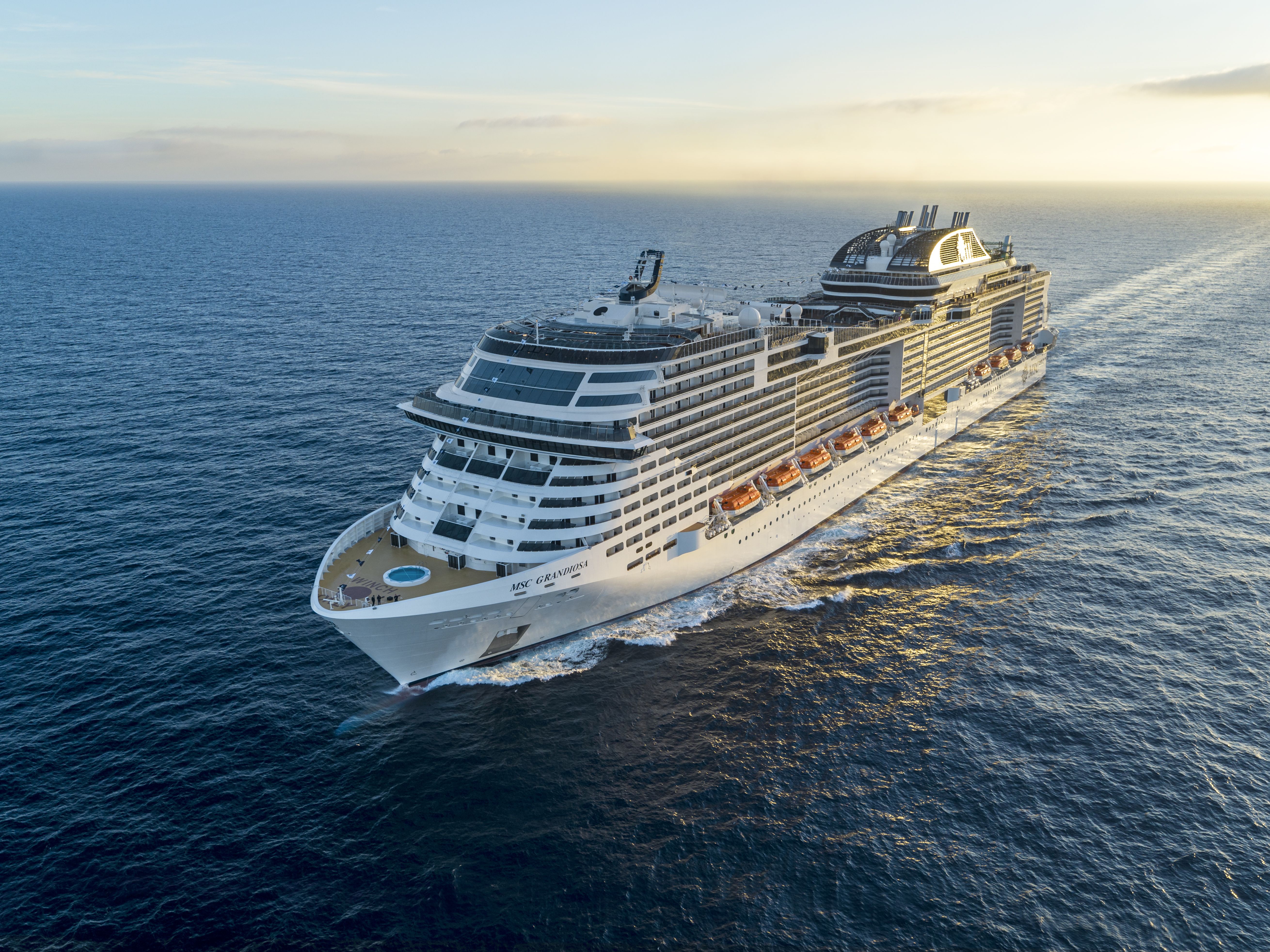 Grandiosa does not get a rating in the 2020 edition but Douglas was not going to let the problems of the pandemic get in the way of a review for the next publication.

She is a sister ship of Bellissima and Meraviglia, and has put on a bit of weight (10,000 tons, coming in at 181,000 tons and offering the same 4,800 passengers (lower beds – plenty more bunks for children).

The home port for Grandiosa is Genoa, not blessed with the best of air links to the UK, and awkward to get to in Covid-19 times. Douglas routing was via Nice and an easy coastal two-hour 125 mile drive. Milan and Turin are about the same distance and the port, with its wonderful aquarium, is good for a night stop.

MSC Magnifica is also now offering a programme from Genoa, but ten nights, and with the same panacea restraints.

Currently MSC Grandiosa and MSC Magnifica cruises are only on sale to guests who are resident in Schengen countries but they will be available to British residents once the advice from the UK Government's FCO changes.


"For me it was a 7-day cruise aboard MSC Grandiosa and a PCR check within 72 hours of boarding. At the cruise terminal I had a full Covid-19 test and provided a completed health questionnaire. One hour+ later my negative result arrived, and I was allowed to proceed to the check-in area of what is a beautiful historic building and the home port of the Italian North Atlantic liners pre and post the Second World War.

Everyone has a Covid-19 antigen test at the cruise terminal before they are allowed to embark. MSC publishes a list of 'high risk' countries and only those who are on the register, which is regularly updated, also need to have an RT-PCR Covid test within 72 hours of embarkation.

All crew members have three tests: Before leaving home, prior to joining the ship, then quarantine for 14 days, before being tested again. If they are Covid-19 negative, they are allowed to board. There were 1,000 guests on this cruise but for subsequent trips the number allowed has been increased. MSC lost money but considered it a training and PR exercise.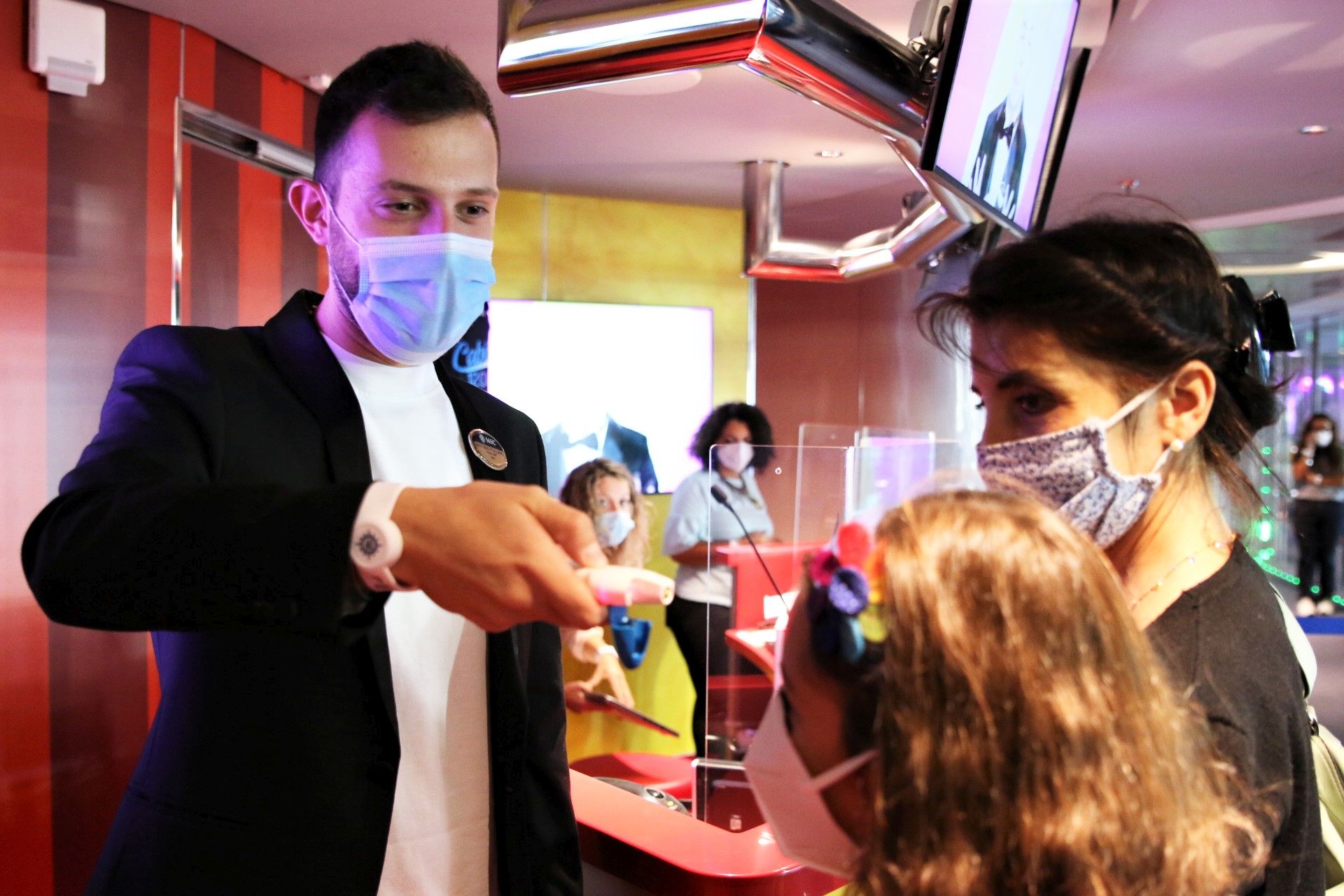 Believe me, this is the way it has to be! Once on board, health protocols are strictly observed and monitored, with constant training. It is the future of cruising, and I hope that all cruise lines adopt the same multi-point protocols proposed and in place at MSC Cruises.

I am satisfied and impressed with everything that this company has achieved so far, and the concern for the health and safety of passengers and crew alike. The cruise experience itself is different, because there is so much space per passenger aboard this large resort ship. Passengers I talked to were extremely happy and enjoyed the cruise.

Also, in order to protect the health of everyone on board, holiday makers are not permitted to go ashore independently in any ports during the 7-day cruise from Genoa to Genoa (ports of call: Naples, Civitavecchia, Palermo, Valletta). Passengers may only go on MSC Cruises organised excursions, which are carefully controlled and socially distanced. Ah, the new way of cruising!"

MSC has further explained some of the arrangements on board.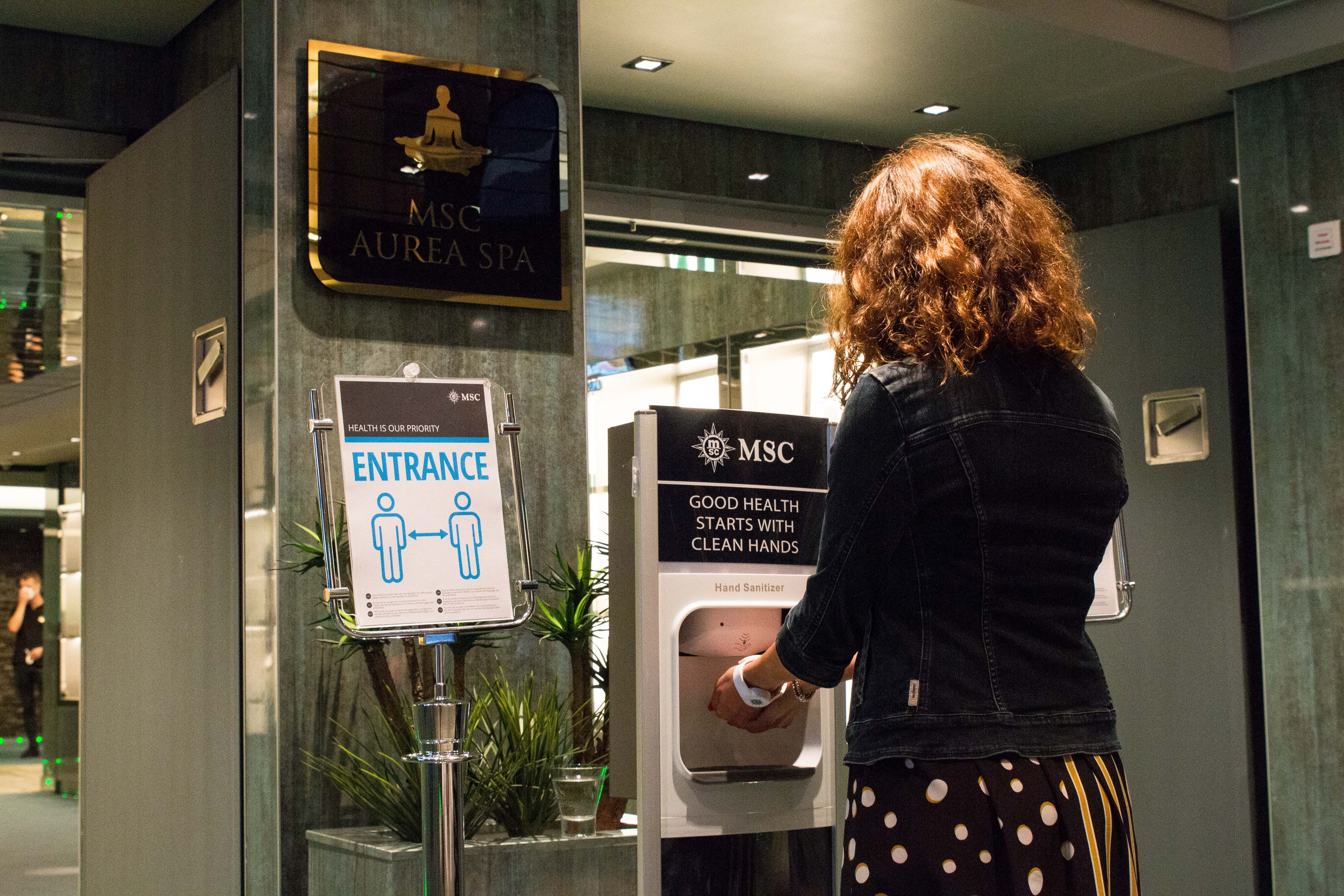 The theatre has a lower capacity than normal, and every other seat is empty to ensure social distancing. MSC has chosen what they consider is the three best productions, and these are performed over two nights in order that all guests can see the shows. In addition, MSC Grandiosa has additional live entertainment in the Carousel Lounge.

Shows are pre-booked to manage the number of guests for each show, guests wear face masks when in the theatre to maintain social distancing under the new protocol.

MSC offers a range of pre-bookable activities in lounges across the ship, with capacity carefully considered for each one.

Entertainment is a popular part of the cruise experience, and the line continues to offer plenty of activities but with the guests' wellbeing in mind.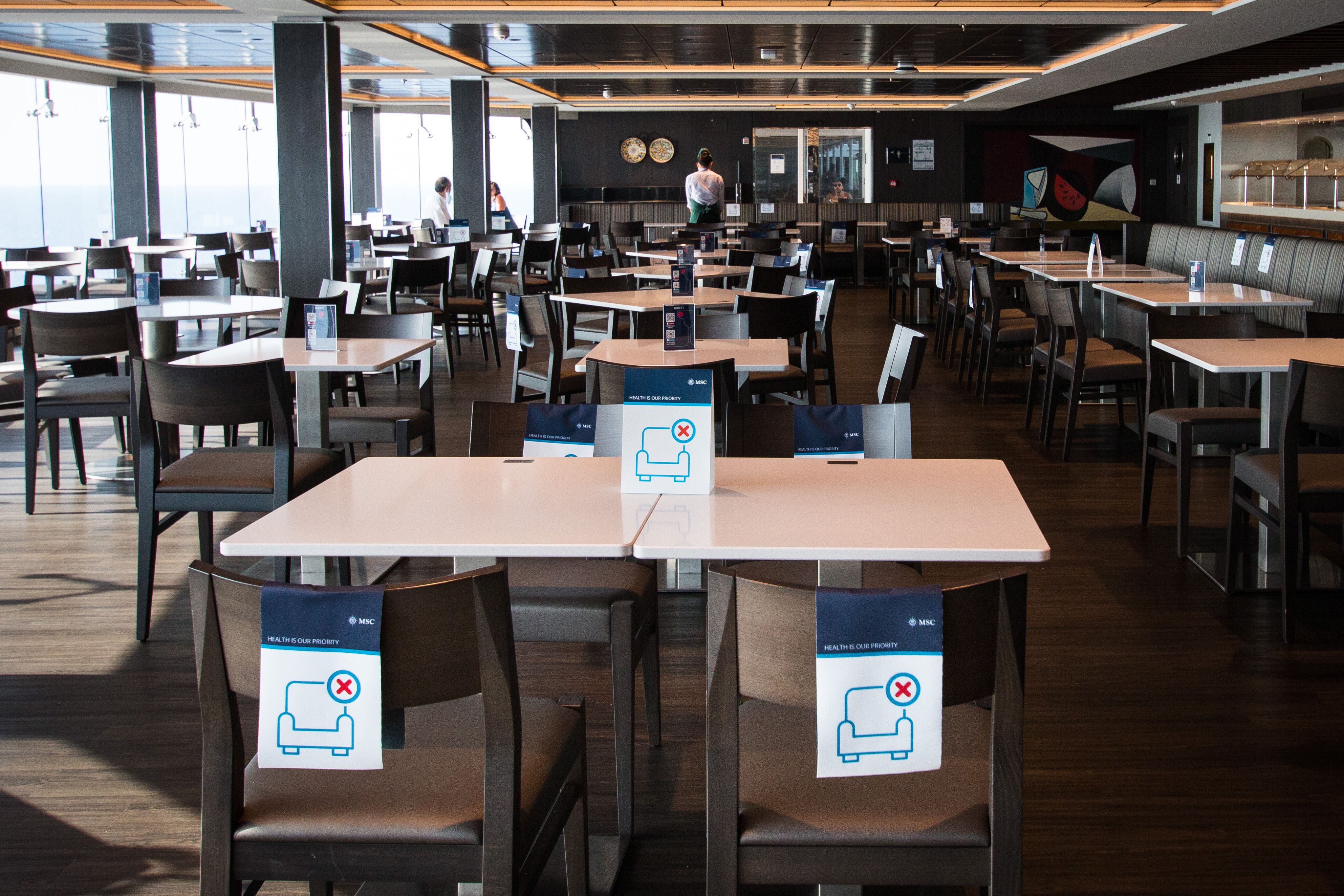 There are no large gatherings on board but there are smaller-scale activities including themed events, games, kids and family activities, talent shows, dance and more.

The casino remains fully functional with added sanitation and social distancing measures in place, such as frequently sanitising chips, replacing playing cards on a regular basis and a reduced number of seats at the game tables.

To allow for appropriate social distancing in the restaurants, bars and lounges, all meals and drinks are served to guests at their table. The buffet offers a new service concept and a guest flow to ensure social distancing. Instead of self-service, the guests select what they want, and the food is plated and handed to them to take back to their table to ensure the highest level of health and hygiene measures are followed. For a contactless experience, guests are able to access restaurant and bar menus from their personal mobile device by scanning a QR code.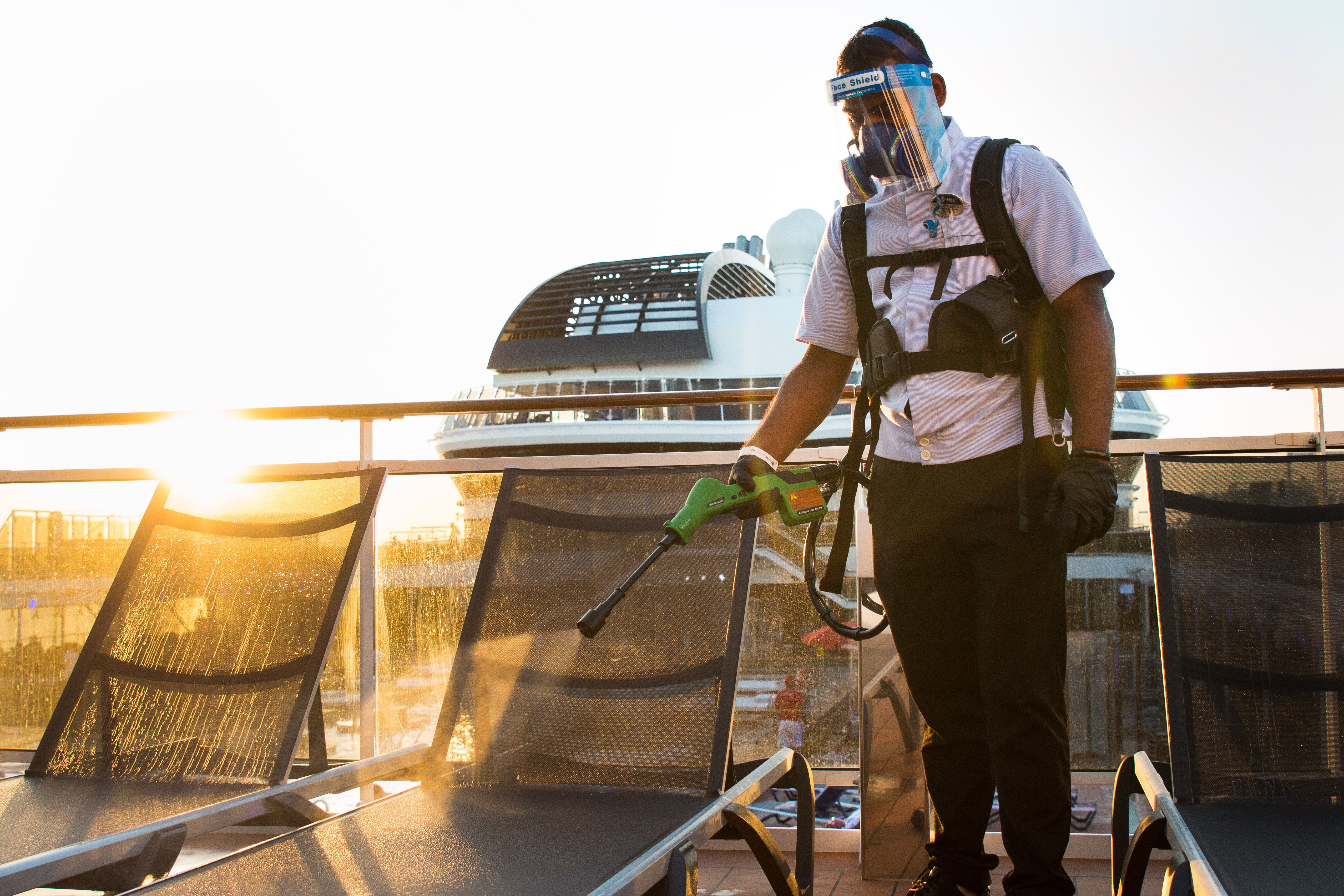 The main restaurants continue to serve guests with a wide array of inspiring dishes and high-quality food, with great service throughout the stay on board. Already established with most cruise lines, hand sanitising before entering the dining areas and Specialty Restaurants continues as mandatory. All servers wear the appropriate personal protective equipment and new seating layouts help maintain social distancing. All frequently handled items such as salt, pepper and other condiment shakers are available upon request. Tableware is set once everyone at the table is seated. Booking in advance for meals is suggested.

All the bars are open to serve guests with their favourite cocktail or aperitif but the numbers are limited in each area to ensure there is social distancing in place and that they never become crowded. Understandably, there is no self-service food in bars and lounges but guests can order and be served at their seat.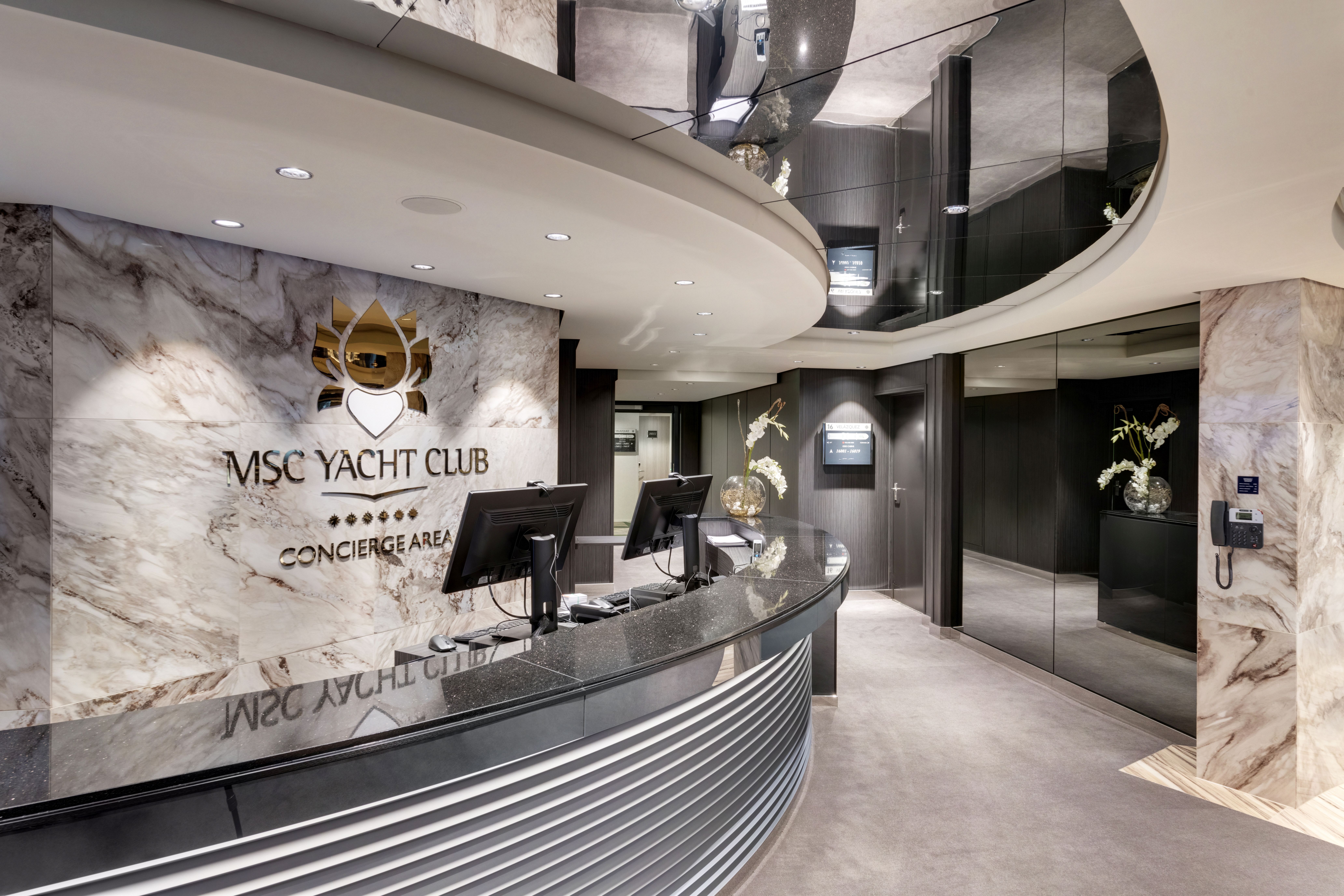 And then there is the Yacht Club, exclusive and at the top of the ship and another experience. But the same rules apply.

The 2020 Berlitz describes Grandiosa as "A family-friendly, lively, and ultra-stylish ship with many – Wow- factors."

Douglas sums it up. "Pushing for an early comeback will not be as easy as some people think, particularly when it comes to sourcing crew, obtaining visas and air transportation, and training, with multinational or language-specific crew being one of the most difficult aspects to the success of any cruise operation.

"I, for one, will have no hesitation in being aboard another cruise ship or river ship soon, and I think that many, many people will see cruising as a very viable and desirable way to have a holiday.

Cruising will return, better and even safer. It is still the best value for money vacation."

See CRUISE NEWS in this week's BTN.

https://cruisevoice.com

www.msccruises.co.uk

OUR READERS' FINEST WORDS (All times and dates are GMT)
All comments are filtered to exclude any excesses but the Editor does not have to agree with what is being said. 100 words maximum
---
Joe Jones, West Ham
Well done Douglas in pursuing this one. It must have been a bit lonely on such a large ship, but fun all the same. I do love MSC for their vibrancy. I guess that was missing.
---