Paul Kehoe CBE recently retired as Chief Executive of the Gulf Air Group based in Bahrain. During his career he has been CEO in charge of a number of UK airports including Birmingham, Bristol, Luton and Belfast International. As he explains he began in the RAF, his last tour as an ATC controller Brize Norton in 1987, then joining BAe, latterly as Airports Manager, which at that time included Liverpool, Bristol – Filton, Hawarden and Hatfield.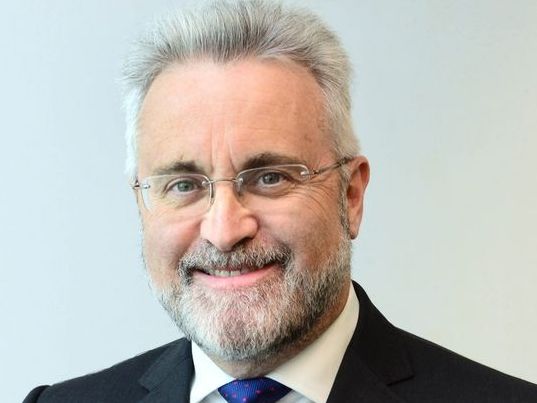 Can you imagine the commander of one of HM Trident Nuclear submarines or the captain of one of new super carriers advising the Prime Minister that they can't put to sea because they don't have the ratings, material, resources missiles or whatever makes them work to do the job at hand – i.e. the defence of the nation? No, neither can I. There are some tasks that Government must do to keep the nation safe and prosperous.

Take then an industry with which I am familiar; the aviation business, where over my career of 42 years, I have seen it transform from a moribund, nationally owned airline operation with locally run airports to create a vibrant and mission critical infrastructure system that became a template for the rest of the world to copy and one which over that time has delivered for the an outward facing global UK – an island with a population of some 66m people with a travelling population of some 300m passengers per annum supporting some 2m jobs and generating billions of pounds for the UK economy.

There is a reason that Britain had the second largest air market in the world, until recently, it was because successive Governments recognised the power of the economic air bridges that airports and airlines brought to this island economy. However, that success of a network, of airports with major hubs connecting parts of Britain to other important cities within the UK and the rest of the world, now hangs in the balance because of a small virus, its pandemic impact and the economic side effects of its virulence.

When I started in the business as an air traffic control officer in the in the late 1970s, being the RAF's first air traffic control university cadet, I don't believe that anyone could have imagined the massive changes that would occur to what was at the time almost a cottage industry. In those days, if you wanted to go anywhere you had to get to Heathrow. The business consisted of a nationalised carrier, a few charter operators and the smaller second airline groups, including Dan Air, British Midland, Monarch and Laker. The airports were all government-owned whether by national or local; it was a civil service but military-like operation. Even the security officers wore military style uniforms – brown with yellow patches in the case of British Airports Authority operations. Even that name gave away the problem – it was an authority not a business.

However, what a change over those 40 years. Privatisation of airlines and airports has been transformative to the point where despite the odd market failure, until 2020, the UK consumer had a massive choice of air carrier, airport and product. They could truly fly local to the rest of the world. Who in 1979 would have thought that places like Newcastle could be connected to Dubai or Cardiff to Doha, or that A380s would grace not only the big airports of Heathrow, Gatwick and Manchester but also regional airports such as Birmingham and Glasgow.

When I was at Bristol, my predecessor reminded me that there was a change afoot in the industry and the days of former air traffic controllers and pilots running the establishment were over. The new guns in town were the accountants and financiers. I rejected that analysis by saying that I was a businessman who just happened to work in aviation and that the focus had to be business. I was delighted to be part of that transformation as it continued with far sighted organisational change where the public good was managed by private risk and over time local people appreciated that the airport was a centre of economic activity providing air bridges to many destinations and giving consumers a choice.

At the same time, the low-cost revolution brought more travel opportunities to the mass market. Who wouldn't want to fly for the price of a pair of jeans from Luton to Edinburgh or 25 pence one way from Stansted to Bergamo? There is no doubt that low-cost airlines led to a revolution in airport operations and sharpened the minds and pencils of airport operators who had to compete with rival airports to gain a foothold in those new markets.

The air transport industry and its up/downstream suppliers and customers showed resilience and ingenuity when faced with the many crises that befell them; Gulf War 1, 9/11, the liquids ban, the financial crash in 2008, Eyjafjalljoekull – the Icelandic volcano, each time bouncing back with ever greater vigour.

Moreover, notwithstanding the introduction of Air Passenger Duty – the so-called environmental brake on the industry which stopped being a specialist tax and became a £3bn revenue injection into the Treasury and which the consumers just paid because they loved to travel – the business continued to grow.

This industry selling the upside of economic regeneration was also conscious of its environmental responsibility and through the sustainable aviation programme was a leading player in reducing aviation's impact on the environment and the communities that surround airports. Although climate change is likely to be more problematic than Covid-19, in both short- and long-term, a vibrant industry would continue to invest in emission and noise reduction programmes because they know that they had to do so to achieve the permission from governments, local and national, to grow.

Imagine, then when I stepped off the plane recently as I ended my 42-year stint in aviation landing at Heathrow only to find that the industry here, like elsewhere was in a state of crisis but that the crisis here was only really acknowledged by the providers of the service who have experienced between a 90-99% reduction in traffic during the Covid-19 period thus far. Whilst we might have handled a small reduction in traffic in the past of between 10% and 20% or had to place extra burdens on passengers by changing the processes, the industry has never faced such an industry threatening apocalyptic crisis as it does now.

What should an airline or airport executive do when the top line has been decimated? Current advice seems to be go to the market and refinance, recapitalise or borrow more. However, the risk profile of these assets has changed. With no revenue, what do you borrow against, how do pay staff and suppliers, how do you ensure that safety and security corners aren't cut?

We know that Government has many problems and that aviation may not be a special case, but just imagine if the Chief Executive of Heathrow advised the Department for Transport that after its half year £1bn loss, he was shutting shop for a while. Imagine, even more so, if Manchester, Stansted and others were to do likewise to save themselves for the time when the virus had gone – do we really think that all that Chinese PPE for the NHS could come through RAF Brize Norton? No, it's like my opening remark about the Navy Captain saying we can't go to sea. It just shouldn't happen, should it?

I spent 30 years of my career convincing people that airports weren't just places where aircraft landed and people and goods enplaned and deplaned but that they were places for business – real pieces of vital economic infrastructure that can connect Britain to the world. In my last job, my Government shareholder did not need convincing of that – Bahrain is an island economy and aviation is its vital airbridge to the world.

Aviation is part of a passenger network where transport integration is the key to making journeys work for consumers – whether it was an interchange station on HS2 or a Cross-Rail link for London City Airport – "jointery" – integrated transport operations is not rocket science! It is simple but we somehow make it difficult. For example, perhaps a small cut of say £5bn from HS2 to support aviation might just help HS2 build its traffic profile in the longer term.

Following Brexit, Britain – a global United Kingdom – is going to need primary and secondary ports of arrival to transport goods and people to all those places that will be trading with us. It will be a real pity if in that new tomorrow, the number of airports or quality of the operations provided can't meet the challenge. It may be true that the market must decide but when it comes to these critical connectors, not supporting them will leave us all wanting.

After four decades, I believe, that I've had the best of an industry which has rewarded me back from my time in air traffic control, aircraft manufacturing, aviation support services, airports and most recently an airline group. It truly pains me to see the crisis that my colleagues are now having to face. It's time to do things differently: no head in sand, no banging head against wall – perhaps just a swab up the nose because testing, measuring and managing means you can fix the problem. If you don't it may be more than Covid-19 that comes to visit but not necessarily through our airport system.

Paul Kehoe CBE
OUR READERS' FINEST WORDS (All times and dates are GMT)
All comments are filtered to exclude any excesses but the Editor does not have to agree with what is being said. 100 words maximum
---
David Wilson, Teesside
A scintillating read and accurate summary of our current status. It was a pleasure to know and work with you, not realising your ATC grounding similar to my father. Hope you stay connected and champion regional connectivity for airports such as ours. Have a well deserved retirement Paul!
---
Roy Tanga, Nairobi- KENYA (East Africa)
Thank you Paul for this wonderful piece of writing. Very much informative!
---
Jason Whitaker , UK/Shepperton
What a Great article Paul! Thank you for supporting a Cross-Rail station to be built at London City airport; Silvertown is the best location. This new rail station would allow huge passenger feed for London City airport & a non-stop connection to the City of London, Londonís West End, London Heathrow airport and North Kent!
---
David Bentley, Oldham, England
Can't find anything to disagree with here. Spot on. I've been in it since the late 1970s as well and find it extremely sad that it should fall to a satanic combination of government ineptitude and Greta Covid.
---
David Starkie, London
Excellent discription of the transformation of the industry. Prior to Covid , the UK was the largest aviation market in Europe by far, due to enterprise. But it is just not Covid that has been the problem. APD which was brought in with the interllectual cover of the environment, but the evidential link has been lost. No other European nation taxes aviation to the same degree
---
David Myers,
Great article Paul. Sadly itís far to clear and logical for the current political equivocators to grasp.
---
Patrick Cuschieri, Bahrain Airport Company
Great Article Paul. While you are having fun remember that the aviation industry still need you in.....so pls hang in there for an additional while!
---
Lee Boyle,
Paul, a really well written balanced article which strikes the right tone. Letís hope that our long history as a trading island nation is supported through government intervention to allow those who follow behind us to have the pleasure of a career in aviation, business and tourism.
---
Andrew Myers,
Excellent article Paul. I too retired from aviation last Summer (after 25 years in my case) and whilst I consider myself beyond lucky, it is heart-breaking to watch the destruction of the industry I loved from the sidelines. I hope for everyone I knew and worked with that solutions are found soon before the damage becomes irreversible. On a personal note I wish you the best for the future and a happy retirement.
---
Martyn Jupp,
Excellent article Paul!
---
David Bligh, Birmingham
Great piece, Paul. As a SME, where our business is strongly involved in the transport, particularly aviation, sector, the knock-on impact to our business has been huge. We are not alone in being adversely affected by the instant cancellation of key works at airports resulting from COVID as 1000s of other people's livelihoods and long-term careers in airport support and supply have been put at a virtual standstill. However, there is no quick fix to replace either the work or lost revenues because of this and the looming prospect of a no-deal Brexit is potentially going to be catastrophic without significant government support. It's potentially similar to the loss of manufacturing in the UK during the 1970s and 80s, but enacted instantaneously, rather than gradually. Anyway, enough with the doom and gloom - best wishes in your retirement, it's been a pleasure working with you over the years.
---
John Jacobs, London
First class piece Paul. Surely you are not going to retire
---