Was the Rod Eddington appointment of Willie Walsh the correct one at the time?

Probably yes.

There were not that many candidates around in early 2005. Rod in five years had steadied a shaky ship and was ready to take his Knighthood and Golden Pass, look for less arduous transport interests and spend more time in his native Australia.

Walsh had the right credentials although his departure from Aer Lingus had something of a cloud about it and his time at Futura is best forgotten. Likewise, a short senior recruitment at Virgin Atlantic lasted no more than weeks.

A pilot with a business degree, he met the recruitment qualifications. Yes 'Lingus' was a much smaller airline but it was Transatlantic and regional, in many ways a mini BA.

It was soon apparent Walsh was not part of the London 'establishment' and in his 15 years at Waterside he has never attempted to cross that bridge. He could be abrasive, was very selective with friendships and on several occasions lacked good grace. Yes, he could turn on the charm when required, but that was not often.

At Aer Lingus he was called 'slasher Walsh' and that reputation followed him, as he tried to reduce staffing levels. In this he was partially successful, BA's headcount reduced from 41k in 2008 to 37k by 2010 and back to near 42k today, prior to the Covid-19 cutbacks. Outsourcing various areas such as catering and IT did not make much difference. Crewing and his relationship with cabin staff, their pay and perks always proved difficult. Pilot negotiations less so.

His strategy from day one was to produce a European airline powerhouse to compete with Air France/KLM and the Lufthansa Group. Whether he envisaged what has become a reverse takeover of the Iberia Group we will never know.

Over his years in command he has satisfied shareholders, but there is a strong argument when IAG was created in 2012 that Iberia would be a drain on resources and investment, the outlay would have been better spent on British Airways. The reasoning has never gone away.

Keith Williams, previously Chief Financial Officer, replaced Walsh as British Airways CEO in 2011 and left in 2016, replaced by Alex Cruz the present BA Chairman and Chief Executive.

There can be no doubt that the standards of BA have dropped over Willie Walsh's tenure, the European division's quality of cabin service now no better than its low-cost competitors. The fact is there was never a need to try and compete with the likes of easyJet and Ryanair at Heathrow. Gatwick (LGW) was a different matter and it has over the years gradually retreated, no longer the airport's major carrier, its LGW operation currently closed. Walsh did not bid for GB Airlines allowing easyJet to increase its foothold at the South London mini-hub.

The retention of Business Class on the short-haul European flights was a sup to government and civil servants who must sit separately, rather like the retention of First Class on some long-haul routes, essentially as a private area for VIPs. Nothing wrong with that.

Amongst the many things Walsh got wrong was the fleet planning and aircraft refurbishment which has taken years to sort out. The resources that went into IAG in developing separate offices and employing 100 non-revenue earning staff were plain daft. IAG is back at Waterside now, but much of its activities duplicate BA (and Iberia). And the idea of hubbing to South America via the Spanish capital is summed up by its three letter airport code – MAD. BA now serves more direct destinations in that part of the world than it did in 2012.

On the financial front the legacy left behind by Eddington, the previous CEO, meant good profits for a few years but the economic downturn resulted in a loss in 2009 and 2010.

In 2012 it was reported that BA's profits had been wiped out by Iberia's losses, and that the Spanish airline was in a fight for its survival. By 2013, Iberia had lost a billion Euros, with Walsh defending the IAG merger. After further losses, IAG's balance sheet was in deep deficit as Iberia fought low-cost competition and a recession, and Walsh admitted that BA should perhaps have postponed the merger, saying, "If I'd known the Spanish economy was going to deteriorate to the scale that it did, we may have delayed the decision but ultimately I believe the merger is the right thing."

As things stand BA represents 80% of IAG profit (pre Covid-19) and turnover.

Time and time again BA has come in for criticism essentially on its service levels, although there appears to have been an improvement on long-haul Business Class prior to Covid. Alex Cruz seems to have worked in awe of Walsh and now ranks below Luis Gallego, his former staff man, the new IAG boss.

Will Cruz stay on?

Will the panel of MPs ask him that question on Wednesday? In any event the general public is confused on who is the face of BA, Cruz or Walsh. Gallego will surely leave whoever the boss of BA is to front that organisation?

There have been many curious decisions by BA marketing over the years, pre- and post-Walsh's time as CEO, although the airline to its credit did strongly support the London 2012 Olympics. Created in 1974 it tried to pretend it is 100 years old.

BA failed to back a planned exhibition celebrating 50 years of Concorde by the Science Museum in 2019 (for a measly sum of £30k) and several attempts to call First Class Concorde Class was turned down by the senior management. "Not invented here". But a Concorde Lounge is in place in Heathrow and New York JFK. Flying Concorde Class would be something that the Middle East airlines could not offer. Dining in the Concorde Lounge may be very nice but not a dinner party conversation piece.

The going of Walsh will be quickly forgotten about by the press, whom he distained. "Work the media" is an old airline ploy. His Board member Akbar Al Baker of Qatar Airways does it superbly, and nearer to home fellow Irishman Michael O'Leary can sometimes overdo things but he is certainly the airline's chief salesman.

The seemingly Spanish takeover of BA is a worry. What happens next? It is not for BTN to speculate but Drake will not be resting quietly in his hammock.

At the end of the day, including Covid-19, one thing has saved British Airways.
The brand. It has not gone away and can be rescued and made stronger than ever. It's all a question of leadership.

Willie Walsh was supposed to go in March. His was a late departure.

Also see in this week's BTN: Alex Cruz goes live All change at IAG Luis Gallego starts at Waterside More funds for airlines

www.iairgroup.com

PRIVATE EYE is in the public domain and we publish a cutting.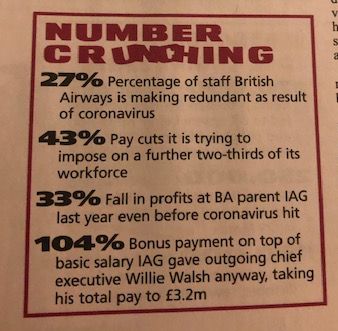 OUR READERS' FINEST WORDS (All times and dates are GMT)
All comments are filtered to exclude any excesses but the Editor does not have to agree with what is being said. 100 words maximum
---
Barry Humphreys, UK
You say that Walsh worked for Virgin Atlantic for a while. News to me. What did he do?
---
Ron Lindsay, Gerrards Cross
I worked for the company for 36 happy years. I have had many poor experiences on board but my last (paid for) BC flight FAO/LGW was superb. When BA CC do it well there is no better on-board experience. BA needs to foster the spirit that existed in the 90's/00's. Effective leadership & innovative marketing will ensure success.
---
Sean O\'Hare, Dublin
2004 is along while back. Aer Lingus has done pretty well since then but why can't it move to T5.
---
Jeff Spring , Reading
Let's get behind the new man. He needs to get his feet under the table but also make himself very visible to us staff but also the public. We need them back.
---
Joan Jones, Isleworth
I retired in January and took a generous package. Hopefully all the benefits will stay in place but I do feel very sorry for my former colleagues working on.
---
Susie Smith, Harrow
I have worked in T5 since it opened and before that T4. Also T3. I was given an ultimatum. Take what might be offered or redundancy. Clearly it better to have a job than not given the present circumstance. We all know the problems but my friends at Virgin Atlantic have been much better treated.
---
Ivan Jones, London
One of the problems with Walsh was his inflexibility and refusal to change policies. He lacked any proper charisma. No profits were distributed to shareholders for some years, but he clearly was doing well. When other air bosses took a wage cut he did not. The staff had no choice.
---
Former BA Executive Board Member, London
'Almost kind!'
---
Toby Unattributed , London
You have summed him and his achievements up very well where in effect BA rode the economic cycle and where against the background of the Joint Business Arrangements on the North Atlantic prospered – he underinvested in BA and this is why it is where it is now in terms of reputation – he tried to do exactly what he had at EI and get involved in a race to the bottom and where in that case subsequent CEOs Dermot, Christoph and Stephen had to move the pendulum back.
---