JHK requires no introduction for regular BTN readers. He has been CEO of Heathrow Airport since 2014.

This is the full speech he gave to members of the Aviation Club, and friends, via Webinar, last Wednesday (2 September), delivered in firm but non-confronting manner which is his style. It is much longer than a usual SOAPBOX but worth taking in. Let us hope that members of the Government will have time to digest his words.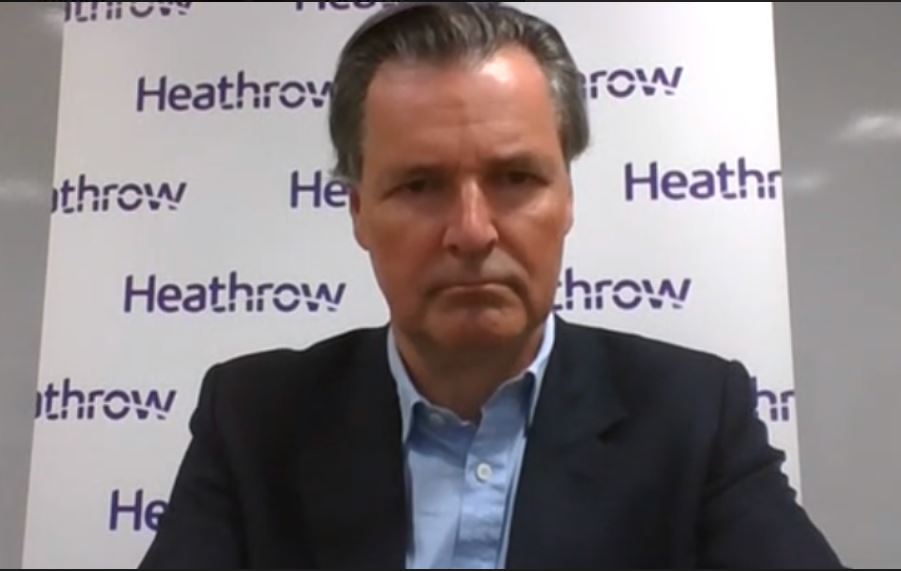 Good afternoon. I hope you are keeping well in these challenging times for aviation. Today, I want to talk about the existential threat we face. But I would also like to give you some hope about our future, encourage us to stand up for aviation as a force for good and to work with government so that we can help lead Britain out of recession and build a global consensus that protects the benefits of aviation in a world without carbon.

Coming into this crisis, this small island on the edge of Europe was an economic powerhouse. Trade in goods and services with the rest of the world, including inbound tourism and education, allowed us to become the fifth or sixth largest economy in the world, punching well above our weight.

Aviation was the lifeblood of the economy, carrying goods and services to every corner of the planet, helping to support 33m jobs in this country.

The UK enjoyed the third largest aviation sector in the world. We were one of the few countries to have leading players at all sectors of the value chain; fuel, engines, aircraft manufacture, airlines and airports.

Heathrow was the best connected airport in the world; you could get to 96% of global GDP within 24 hours. There was a flight to New York every 30 minutes, and direct flights to 30 cities in the US and 12 in China, more than any other European city. Global companies chose the UK for their headquarters because of the easy access to anywhere in the world. The same planes that carried motor executives between Japan and their manufacturing plants in the North East also carried language students and tourists, and got high quality, fresh Scottish salmon to the sushi markets of Tokyo within 24 hours.

Heathrow was the UK's biggest port by an order of magnitude, with around 40% of UK exports travelling in the belly holds of passenger planes. Anything high value, needed just in time and with a short shelf life went by plane. And that is just the physical exports. Those planes to New York also carried our world class services sector; bankers, lawyers and accountants; engineers who cut their teeth building Heathrow T5 sold their expertise around the world – high value, needed just in time and hopefully with a long shelf life.

I have told you what you already know because aviation's role in supporting millions of jobs in many seemingly unrelated sectors is not well understood. For many, aviation is for going on holiday and is seen as discretionary, or is just a door to import Covid that needs to be closed – or even a symbol of a culture that is addicted to fossil fuels that needs to be stopped. We need to stand up for aviation as a force for good in the world.

UK aviation is in a battle for survival, while the UK economy faces the biggest recession of our lifetime. 730,000 people lost their jobs between March and July, but that could be two or three million before we are through this. At Heathrow alone, 25,000 jobs have gone already or are at risk. These are not statistics, but real people, colleagues and friends. Experts talk about this as "letting people go" in "an economic adjustment" – as if it is inevitable and reasonable. The reality is that hard-working people face losing their livelihoods, their sense of self-worth, perhaps even their homes, families and mental health. Some will never make the "economic adjustment" and will spend their lives on benefits. We owe them better than that, and should fight for every job.

Let me just describe what has happened in aviation in the last six months. Demand for international travel dried up over March, as countries closed their borders, down to only 3% of 2019 volumes through April and May. We remained open solely to support repatriation of British nationals and to bring in freighters carrying PPE for the NHS. Relaxation of quarantine helped get us back to around 20% of normal volumes in July, but since then more markets have closed than opened. Airports are not viable at these levels.

Our revenues dried up, but our costs remained high. Airports are capital intensive infrastructure assets, operating in a safety critical and high security environment. All the airfield lights, lifts and air bridges need maintaining, even if no one is flying. The boundaries need patrolling. We worked quickly to cut our cash burn from £250m per month to £150m. We renegotiated all our contracts, cut capital spend, dividends and pay; we consolidated down from four terminals to two and to single runway operations. we reduced our management team by one-third. Now we are facing further hard choices, between cutting front line roles or permanently cutting pay.

Think about what it means to cut capacity at your biggest port. If the terminals are closed, planes grounded in the desert and pilots on the dole, you are putting a constraint on the recovery of the economy as a whole. This is a question of strategic national interest.

Now most countries get this. The first thing the US Government did back in April was to allocate $25bn to support airlines and $10bn for airports. They understand that aviation provides the links that connect their country together and arteries through which their international trade flows. France and Germany have done the same.

But once again it seems that our Government has taken the opposite approach to the rest of the world. There has been no support for the aviation sector beyond the job retention scheme. Flybe was allowed to go bust; all airlines, airports and ground handlers have cut jobs; the cut in global long-haul flying has forced Rolls-Royce to cut its capacity and 9,000 British jobs. While Tesco and Sainsbury's have had their business rates waived for a year, airports have had no relief.

Singapore has created an economic miracle around connectivity, with the world's best hub, Changi and Singapore Airlines. I find it increasingly difficult to explain to investors from Singapore, how the UK Government plans to become Global Britain, if it is left without a global hub airport and airline. Or how it will chart a course that is independent of the EU if it is increasingly dependent on Air France and Lufthansa to access global markets.

It is easy to say the Government doesn't know what it is doing, or that it is making policy based on focus groups, not economics.

But I think the issue is one of bandwidth – they are too stretched dealing with the immediate health crisis to tackle the looming economic crisis. Many of us have been in exactly the same place over the last six months.

They need our help; to understand the role that aviation can play in leading the economy out of recession; to come up with solutions to reopening borders without triggering a second national lockdown. None of us would want to be running the Government right now – it is even harder than running an aviation business. So let's not stand on the sidelines and criticise, let's work with the Government to avoid a health pandemic becoming an unemployment pandemic. And let's make the case for how aviation is vital to the economic recovery.

There are three things that will influence our recovery
1. Consumer attitude
2. Getting the disease under control
3. Government response

In terms of consumer attitude, I am optimistic; we have worked hard to establish consistent global standards to keep people safe, through ACI, IATA and the ECDC. Consistency is vital to consumer confidence. Now if you go into Heathrow, scanners take your temperature as you come into the terminal; every button and handle is self-sanitising; robots roam the terminal after hours zapping any bugs that have escaped the rest of our cleaning regime, making our toilets as clean as an ER suite. Underlying demand is good; the first thing people wanted to do was to go on holiday or visit friends and relatives – if people can get there they will travel; business demand is less certain – how much business will be done face to face in a post-Covid and zoom world?

In terms of disease control, we are on the front line of limiting transmission across borders. We need to act responsibly and avoid any sense that we are putting profit before health. We will have to live with controls on movement until an effective vaccine is widely available – which I suspect will be later rather than sooner.

In terms of government response, I think we can make a difference. We can make the case for aviation as the lifeblood of the economy, and help government develop safe alternatives to blanket quarantine.

The Government's move to a risk based approach in June saved the summer for many in our sector. It is an approach we borrowed from Hong Kong and which we worked with government to develop for a UK context. Countries with low Covid levels were designated as "green" or "amber" (mainly EU countries) and passengers could travel from them without quarantine. Passengers from "red" countries (the UK's main non-EU trading partners such as the US, Canada and Singapore) were still required to quarantine. We may feel our Government is being cautious, but it has already been bolder than most other countries – Hong Kong has not implemented its own strategy yet, and Australia and New Zealand are yet to create their air bubble. In particular, we should give credit to Grant Shapps, the Transport Secretary, for navigating a significant policy change through a cautious government.

Since then, we have gone backwards. Spain, France and other countries have been put on the red list, leaving British holidaymakers dashing to avoid 14-day self-isolation. Few people are going to fly if they have to play "quarantine roulette".

A blanket quarantine assumes that every person in a country might have Covid-19. The reality is that very few people have had the virus – 0.3% of the world's population. So we need a process that ensures only the 99%+ without Covid can travel. That would open up the long-haul "red" markets that are critical to the UK's recovery.

For months, Heathrow has been calling for the Government to introduce testing as an alternative to quarantine. A single test on arrival is currently not considered accurate enough; the Government's own research suggests that PCR testing on day 5 has an 85% accuracy level and testing on day 8 has a 96% accuracy level. We now have a PCR testing facility in Terminal 2 – we just need the Government to give us the green light. Releasing people from quarantine after 5 or 8 days is not perfect, but it is better than 14.

And it is just a start. Speed, cost and accuracy of testing will all improve; last week I took part in a trial of a new test that could pick up Covid cells even if I had only been infected in the last 24 hours. It only took 20 seconds to get a result. It was quicker, cheaper and more accurate than the Government's preferred PCR Covid tests.

Around 30 countries are already using testing, typically after five days. Ultimately our aim is for testing and quarantine to happen before you fly, removing the risk of quarantine on landing. This requires a Common International Standard for biosecurity, where testing that happens in one country will be accepted in another. The UK could be in a perfect position to lead this common international standard – we have one of the world's largest aviation sectors and economies, diplomatic skills and can act as a bridge between the US and Europe. A good start would be to pilot a testing based air bridge between New York and London – the most valuable air route in the world.

Covid has given us a sense of what life is like without aviation. And there are some who would argue that we should now stop flying altogether to tackle climate change. But the enemy is not aviation, it is carbon.

Aviation is a force for good in the world; connecting cultures; growing prosperity; raising millions out of poverty around the world.

Our job is to preserve the benefits of aviation in a world without carbon so that future generations can enjoy what we have now.

The most critical change is to move from fossil fuels to Sustainable Aviation Fuels – either from waste or made synthetically by combining hydrogen and captured carbon. These are "drop in" fuels that can be blended with kerosene used in today's aircraft. The more we scale up, the faster we decarbonise.

SAF could create a whole new energy sector in which Britain could be a leader. This requires massive private sector investment and government policy support to help reduce risk and to scale up production; some pump priming investment; progressive mandates for the proportion of SAF to be used, to send a demand signal to suppliers; discounts on APD to bridge the cost gap.

I am encouraged that the DfT and BEIS have set up the Jet Zero Council to bring together all the players at a senior level to make decarbonising aviation a reality. This is urgent. We need to break the back of this within the next decade, so now is the time to turn ideas into action.

But if Britain acts alone, we will simply be putting our own aviation sector and economy at a competitive disadvantage. Just as with Covid testing, there needs to be a common international approach.

We have a chance to lead this when Britain hosts the COP26 climate summit next year. I would like to see the Prime Minister and government make aviation a flagship sector for COP26, starting to build a coalition of the willing to get global aviation to net zero emissions by 2050. That would pave the way for a global agreement at the ICAO general assembly in 2022. If you look at the nationalities of the speakers at ICAO's upcoming stocktake, you will see that there are more Brits than any other nationality. That shows how the UK is taking a lead – but as leaders we need to take other people with us.

Covid has been devastating for our sector. We don't yet know how we will all get through it, but we do know a few things;

That the UK aviation sector might be down, but we are not out. What will make the difference between success and failure is the ingenuity and drive of the people in this room to fight for our future.

That we can achieve extraordinary things very quickly when we work together to a common goal.

Let's make the Common international standard for Covid testing, and getting to net zero by 2050 a reality

And that at times of crisis we need leadership – and aviation can once more lead our economy out of recession and make Global Britain a reality.

John Holland-Kaye

www.heathrow.com
OUR READERS' FINEST WORDS (All times and dates are GMT)
All comments are filtered to exclude any excesses but the Editor does not have to agree with what is being said. 100 words maximum
---
Shay Mitchell, Ratoath Ireland
Mr Holland-Kaye put a strong case forward for saving the aviation industry. Both the British and Irish governments are standing idly by while the Aviation, Travel and Tourism sectors and all of the people who work in them face disaster. Both countries need to follow the actions of our EU neighbours and save the industry before it is too late.
---
Richard Wiggins, Pullout urgently UK
The mobility chain is broken as itís not just aviation that is requiring quarantine but if you travel by air,ship,road,train between the UK and affected quarantined destinations , the rules are the same so it should not just be an airport test but tests for all forms of transport into the UK. . Very little has been mentioned beyond Airport Testing capability to achieve if agreed by government , but each form of inbound method must be given equal consideration and support to get the wheels of Britain moving effectively again
---
John Davidson, France
Once upon a time, I flew BA so often (in First, and once the Concorde -- but due to engine problem the plane never got us to JFK, that the airline gave me Gold card status. A few years later, my flying had dropped off and they told me they were reducing me to Silver. My reply was that they could reduce me out of the program for one reason only: Heathrow. My experience as a priority passenger was that we didn't get enough preference and once I remarked that Heathrow was like a gym club, we got so much exercise. The Concorde lounge was nice but it took me a few trips to work out that after security etc. one could simply turn left and get into the lounge, rather than going down a few flights (pun!) of stars, and then up a few, to get into the lounge. Of course, that meant we walked through duty-free, which would have been to the airport's benefit, but not to the passenger's. Now my preference is trains and boats, and there are enough of them to keep me happy. Good luck!
---
John Jones, West Ham
Fine words by Mr Holland-Kaye. It certainly stirred things up but did Shapps watch? The Club ought to invite him to the next lunch. Previous Ministers have spoken.
---
George Brown, Carlisle
I am not a member as I donít get down to London often but a Ďfriendí offered to sign me in and it was easy. Rather than reading the whole thing again is there a YouTube version available?
---