Lara Maughan, Head of Worldwide Airport Slots, IATA.

"Covid-19 continues to heavily impact air transport. The recovery will be slow, with a return to 2019 levels not expected before 2023. During this period, therefore, airlines will need continued financial and regulatory help to preserve as many viable routes as possible.


The summer slot rule waiver helped

(Check out the video if you are not quite sure how the system works.)

One of the most important steps governments took early during the crisis was to give a waiver on the 80-20 'use it or lose it' rule on airport slots for the summer season. For an airline planning its schedule, it is vital that it knows what slots it has.

This is all the more crucial when the rules say that the slot must be operated a minimum of 80% of the time. The collapse in air traffic during February and March spurred regulators to act, and suspend the 80% rule for the summer, as there was clear evidence it was going to be impossible for airlines to fulfil their planned schedules. Media coverage of 'ghost flights' – empty planes being flown purely to protect the slot – also concentrated minds. And importantly, there is precedent: the slot use rule has been suspended before during periods of sudden low demand, for example after 9/11, or during the depths of the global financial crisis.

With the waiver in place for the summer 2020 season, airlines were able to cut their schedules to try to better match the demand, in the knowledge that their slots were protected for next summer. The importance of that regulatory gesture on slots cannot be overestimated.


The reasons for a winter waiver

Now. the industry is looking ahead to the winter, and it is expected to be a hard one. The winter is usually a low-to-no profit season at the best of times, with airlines relying on summer revenues to tide them over. There will be little summer revenue to fall back on this year. It is therefore clear that a slot waiver for the winter is a necessity for airlines, just as much as it was for this summer.

There have been some voices saying that we can't make a decision on a slot waiver until we know more about how strong the summer recovery in air traffic will be. But there are at least five reasons why delaying a decision makes no sense.

(1) Summer demand is no guide for predicting autumn and winter demand.

Of course, with some roll-back of regional travel restrictions, there has been an improvement from the 90% collapse in April. There is a bubble of pent up demand and holiday travel, but even so, in Europe traffic is still 63% down on last year.


(2) Existing bookings for winter are already weak (see chart).

The booking profile for the winter is already nearly 60% down, and IATA polling suggests people consider themselves less likely to travel within a few months than they did at the start of the pandemic.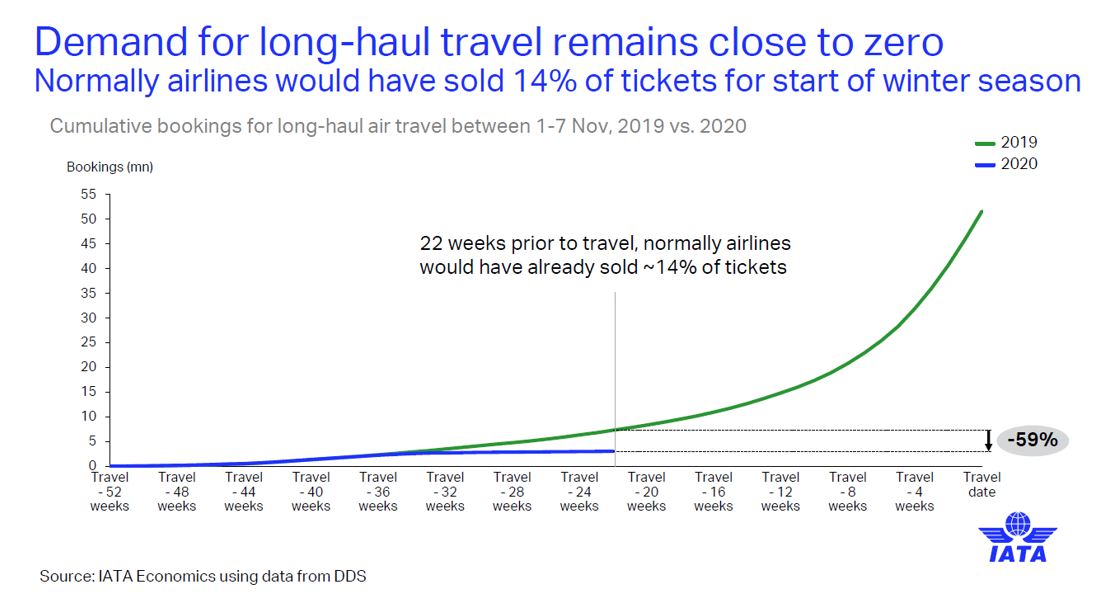 (3) Border restrictions still in place.

Although the Schengen area has opened up, most countries still have considerable border restrictions in place. With quarantines or bans on international travellers in place, it is impossible for air travel to return to normal levels. IATA's own predictions for this year – which are based on a progressive opening of borders by Q4, which is not guaranteed – expect passenger numbers to be half 2019's levels. This far exceeds the traffic falls seen in previous crises, when slot waivers were granted.


(4) Covid-19 health restrictions will impact airport capacity.

One little-discussed aspect of the health measures implemented by the industry to keep passengers safe, is the impact this will have on airport capacity. The need to temperature screen, maintain social distancing, and possibly to test for Covid-19 where appropriate, means that airports cannot process the numbers of passengers they were previously. Turnaround times for aircraft will also be lengthened and this is likely to shift schedules. Since new infrastructure cannot be built rapidly, the only alternative will be to cut the capacity of the airport. This will place a further strain on the slot allocation process, unless the rule is suspended.


(5) A pause until September creates more uncertainty for airlines and airports.

Airlines need to plan their schedules in August, and based on those, airports and air navigation service providers can start to plan the infrastructure support and staff deployment that will be needed. A delay on the slots waiver decision will create needless further uncertainty for the industry. It could also have a damaging impact on passenger confidence, if they find that scheduled services are tabled and then subsequently withdrawn.


The need for speed

We are in a crisis, the likes of which the industry has never seen before. Extraordinary circumstances require extraordinary measures, and extraordinary efforts from regulators who understandably don't like to be rushed into decisions. But the evidence for a slot waiver is already apparent. And the beneficial impacts of a swift, timely waiver to the slot rules will be felt by airlines, airports, passengers, and the whole aviation value chain.

Airlines know there is no chance they can operate a full schedule this winter. Being granted a slot waiver would enable them to plan a realistic schedule avoiding the flying of empty planes (which makes no sense environmentally or financially) or the loss of slots which have been operated successfully for many years. And airports and air traffic control can plan for a level of flights that airlines can operate sustainably.

It is important to stress that the granting of this waiver should be a temporary solution only. As demand recovers, the existing slot use rule should be re-instated, as over time it has proven to offer the best balance between giving airlines consistency to invest in routes, while allowing new airlines to enter congested airports and offer consumers more choice. We all want to see demand recover and airlines connect the world again. Suspending the slot rules for this temporary period is the best way to help bring that recovery about."

Lara Maughan joined IATA in 2011 and for the last four years has been Head of Worldwide Airport Slots. Prior to joining IATA she spent six years as an airport planning consultant. She has a BSc in Air Transport Management from Loughborough University.

corpcomms@iata.org

www.iata.org/slots
OUR READERS' FINEST WORDS (All times and dates are GMT)
All comments are filtered to exclude any excesses but the Editor does not have to agree with what is being said. 100 words maximum
---
Chris Smith, Woking
The article rightly notes concern about terminal capacity, but as slots are supposed to consider all capacity elements, correct application might result in there not being enough slots available anyway! There are some big issues here especially if runway demand is down by a third in Summer 2021. And don't forget that Virgin's re-capitalisation is reported to include another securisation of its slots.
---