We live in strange times. London City Airport (LCY) is in a mortal struggle to stay alive. It will succeed.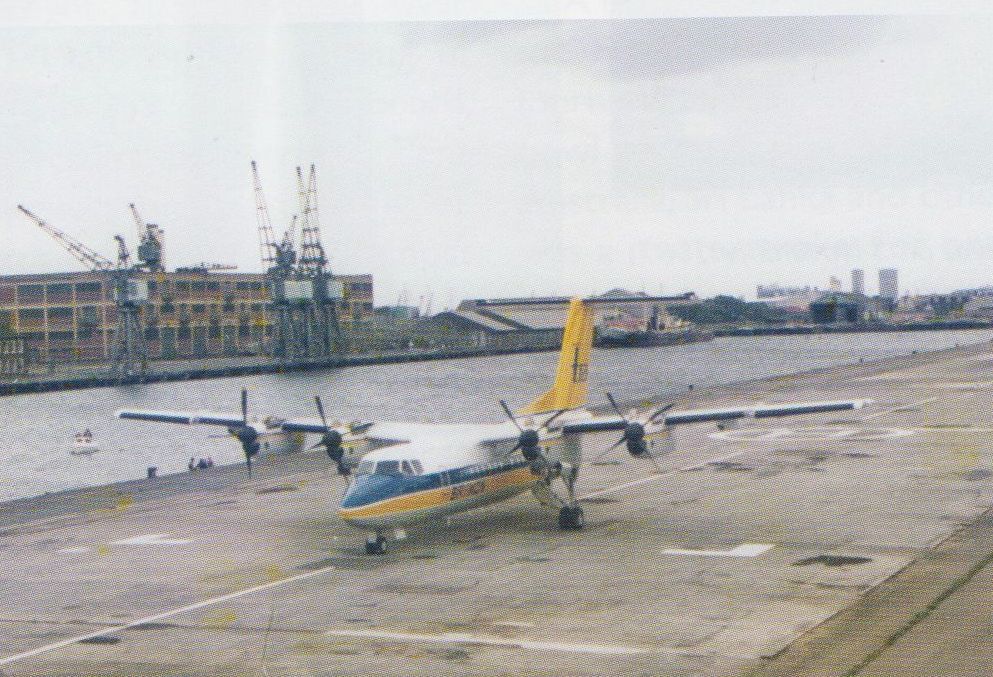 June sees the publication of a feature in Aviation News of an aircraft without whom the airport might never have existed. The full article is 3,750 words long. This is a cut-down version but includes some material that did not pass the 'sub'. We recommend Aviation News, the edition including features on the Colombian forest DC3s, the Cessna 'Push-me-Pull-Me', and a mighty Tupolev bomber. All fully illustrated.

There were not many commercial aircraft developed in the 1970s that are in full service today, and there are certainly none that can be said to have founded an airport. Without the De Havilland Canada (DHC) Dash 7 it is unlikely that LCY would exist. To this day there is a plaque at the bottom of the steps at Heron Quays station on London's Docklands Light Railway (DLR), commemorating Captain Harry Gee's first landing in the Docklands of the DHC Dash 7 on 27 June 1982. The Brymon Airways arrival on the quay, which is today part of the Canary Wharf commercial complex, made national TV that evening. Co-pilot was Captain Charlie Beilby.

But it all started over a decade earlier.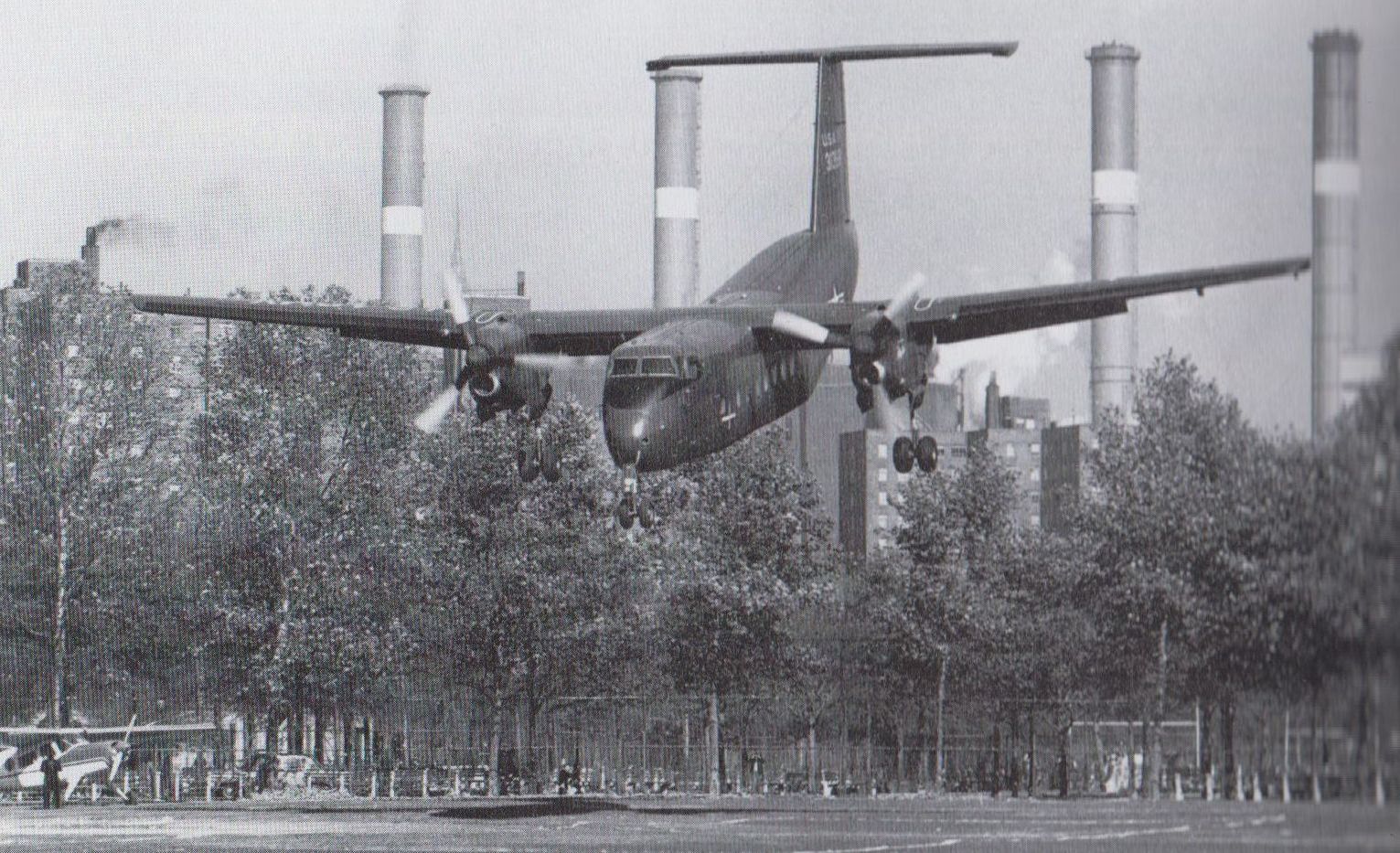 In 1966 the twin turboprop unpressurised DHC Twin Otter was beginning to become a success. Today it is still in production and now once again carrying the De Havilland badge. Its reincarnation by Viking Air of British Columbia is a tale Aviation News will feature in a forthcoming issue.

The Dash 7 and LCY really owe their heritage to an event that is now largely forgotten. Metro 66 and Pier 26 on New York's Hudson River was the true instigator of LCY. For once London succeeded in an abandoned New York project.

Following some forward thinking by a man called Oscar Bakke, Eastern Regional Director of the Federal Aviation Authority, some 200 representatives of the US Federal Government, New York State government and New York City, gathered in downtown Manhattan 5/6 September 1966 to witness a unique experiment in operating both fixed wing and helicopter passenger flights to waterfront locations in a major city.

Ostensibly Metro 66 was staged to demonstrate aerial support in a disaster relief situation but at the same time to show the viability of passenger operations in a city centre location. All the manufacturers of this type of equipment were invited to participate but it was DHC that stole the show with the Twin Otter. Of the four strips offered for fixed wing aircraft Pier 26 along the Hudson River provided the most successful location with 60 missions flown and 300 passengers brought in from six airports in the New York region. Also used was Governors Island where three baseball diamonds provided the landing strip for the DHC5 Buffalo.

No accidents happened during the exercise, but there were some near misses where drivers, not aware of what was going on, were confronted by large aircraft in landing configuration directly overhead.


Design and development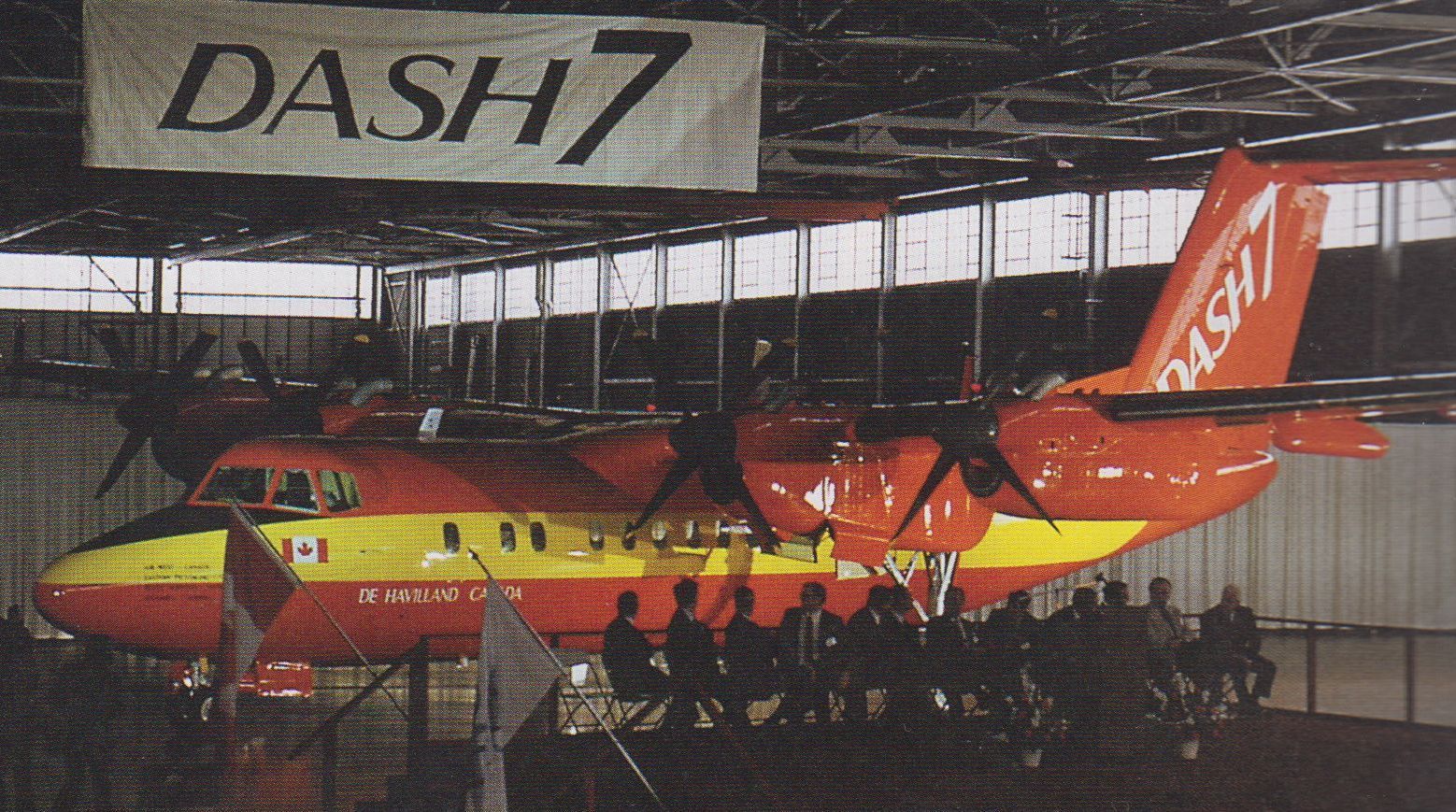 With the Twin Otter selling well the DHC sales team was convinced of a need for a larger and more sophisticated aircraft with the same runway performance. DHC had always been run as a stand-alone subsidiary of the Hatfield (UK) company and whilst some felt it might compete with the developing DH 146 (BAe 146) project a go-ahead was given from headquarters.

The Dash 7 was a totally new, clean sheet design, building upon the DHC Short Take Off and Landing (STOL) heritage but incorporating more sophisticated technology.

The passenger layout was single aisle 2+2, with a washroom, overhead luggage bins, and a simple galley, a far cry from the rather basic earlier aircraft. The headroom was to be the standard for the time, unlike the "Twotter" where recruitment for cabin staff concentrated on shorter personnel.

Development started in 1972. The prototype Dash 7 made its public debut on 5 February 1975, unveiled as the Quiet STOL Airliner to 600 guests. The prototype first flew on 27 March 1975. Testing went smoothly, and the first delivery took place to Rocky Mountain Airways on 3 February 1978.


Farnborough debut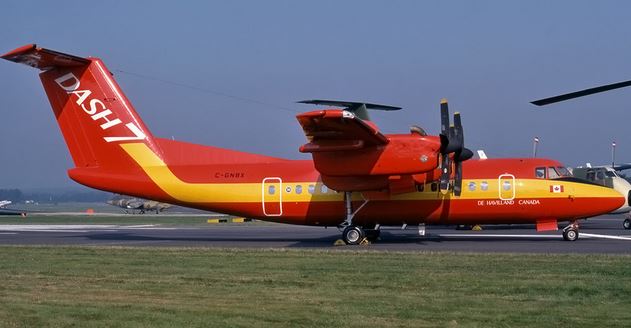 The Dash 7 made its international debut at Farnborough in early September 1978. Brymon Airways, already a Twin Otter fleet operator, was invited on a demonstration flight (as well as your scribe). At the same time the Chevron Oil consortium was looking at ways of reducing the cost of helicopter operations out of Aberdeen by using a fixed wing service to Unst, a further 200 miles towards the Arctic Circle. Not only was Unst Britain's most northerly airport it was, at 600m, the shortest runway into which Dash 7s could operate. The service was to prove a great success only ended by the change in Chevron's requirements.

Brymon's owner Bill Bryce saw the opportunity to take four Dash 7s, two for use at Scotland's oil capital and two to serve its Plymouth HQ, still a grass strip. Bryce worked out the finances, allegedly on the back of an envelope, won the contract, and started to develop the Plymouth, Roborough, site into a proper airport.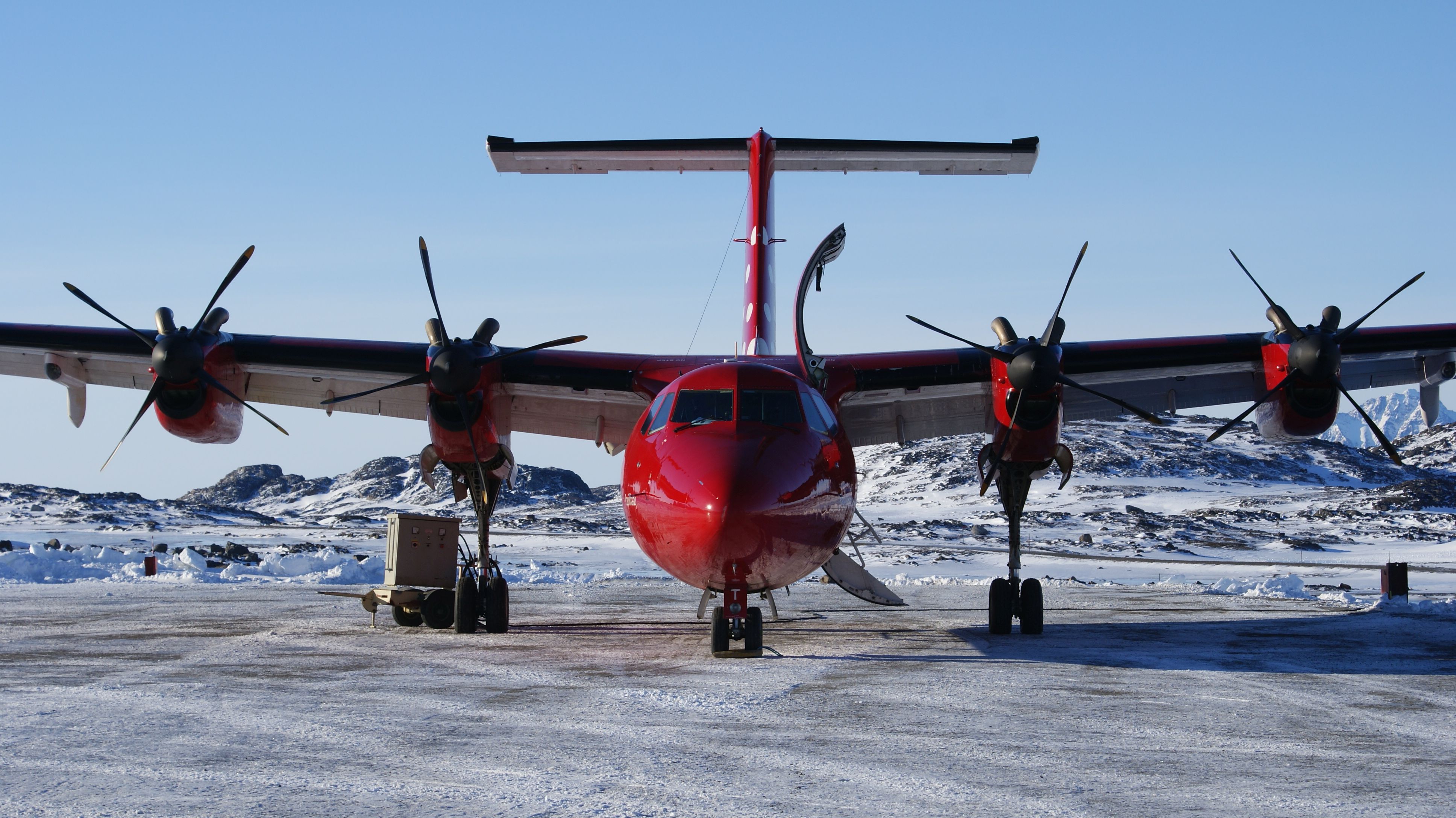 Brymon Airways took delivery of its first aircraft in 1981 and instigating a very successful four times daily service to Heathrow, the aircraft operating via Newquay, Cornwall. Plymouth, with a 200,000 population, was the UK's largest city without an airport. Plymouth Airport was to close in 2011, owned at that time by a local property developer who saw an opportunity to build houses. Nothing has happened since but the commercial effects on Plymouth and the Devon/Cornwall region have been dire, the alternative a four-hour drive or an unreliable rail service.

Another interesting operator of the Dash 7 was the Israeli airline Arkia, who contracted Brymon to supply support and used the old Eilat central airport as their main D7 centre which although not a true STOLport was very restricted in terms of apron space. Arkia flew to the old Jerusalem Airport, now not used due to political and safety reasons and also Sde Dov, now also closed. Captain Gee was once again involved.


London City here we come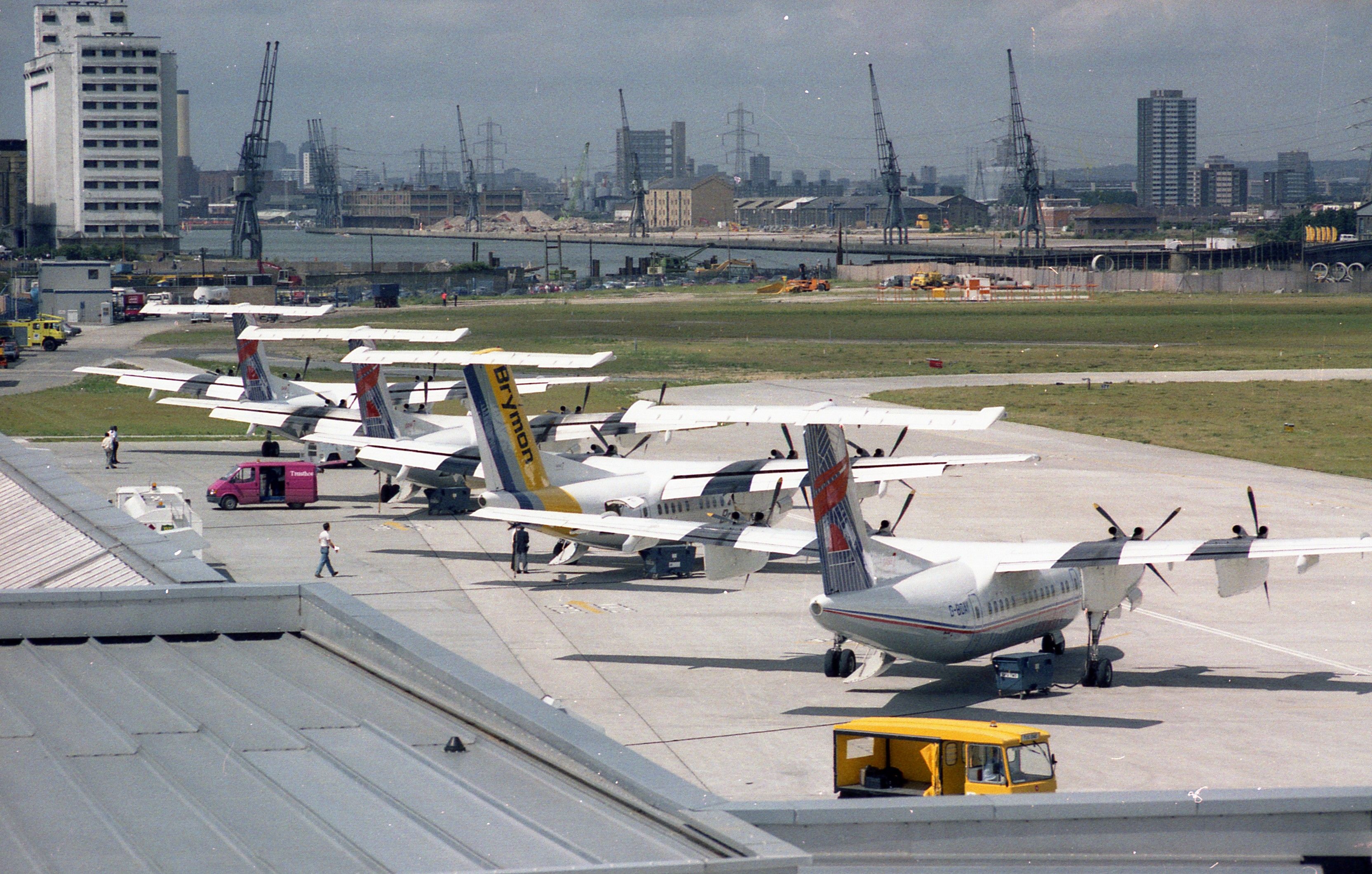 One hundred Dash 7 turboprops were delivered by 1984, when assembly was put on hold in favour of the Dash 8. Another 13 were produced between 1984 and 1988, when the production line was shut down due to insufficient sales. The last Dash 7 went to Tyrolean Airways, the aircraft originally ordered by London City Airways. This airline, originally called Eurocity Express, was a spin-off from British Midland Airways (BMA). Chief Executive Michael Bishop, always an innovator, took two Dash 7s for use at LCY, but pulled the operation after two years.

Today there are no Dash 7s in commercial airline service. The United States Army operates several as surveillance platforms under the Airborne Reconnaissance Low programme. US Army Dash 7s with their high tech signals and cell phone monitoring gear are reputed to have been decisive in the capture and killing of the Colombian drug lord Pablo Escobar in December 1993. More recently EO-5Cs have been active in Afghanistan and Iraq.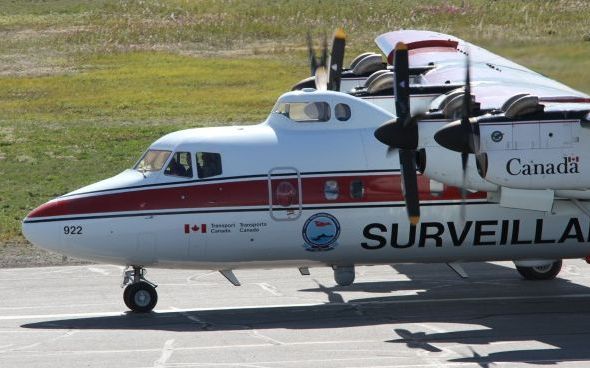 Transport Canada operates a single DHC-7-150IR aircraft to conduct maritime surveillance, pollution monitoring, and ice patrols as part of the Transport Canada National Aerial Surveillance Programme.

The British Antarctic Survey Dash 7 VP FBQ undertakes regular shuttle flights between Rothera, its Antarctica headquarters, and either Port Stanley Airport on the Falkland Islands, or Punta Arenas in Chile. It also operates to and from the ice runway at the Sky Blu base on the Antarctic continent.

In closing this article, one must also mention the remarkable Pratt and Whitney Canada PT6 turboprop engine, first run in 1960, and in much developed form, still in production today, not only for aircraft but industrial use also. Well over 50,000 have been delivered. It will feature in the Twin Otter story.

According to DHC of the 113 built there are 17 Dash 7s in service, and 24 grounded for one reason or another and unlikely to fly again, the rest scrapped, with six destroyed in incidents.

A feature by Malcolm Ginsberg whose 2017 book "London City Airport – 30 years serving the capital" tells the story of that airport.

LONDON CITY AIRPORT – 30 Years Serving the Capital
Now available from www.crecy.co.uk/london-city-airport ISBN 978-1-900438-07-0
Malcolm is also preparing an article on the Twin Otter, the world's longest production passenger aircraft, for Aviation News. Other than de Havilland staff, and not a pilot, he can lay claim to being the most experienced on the type than anyone having first flown from Newquay to the Isles of Scilly in 1977; from Plymouth to Gatwick around the same time sitting in the P2 position with Brymon operating single crew and an Exeter stopover included; Birmingham to Plymouth, a slow 200 miles, and floatplane operations into ExCeL and around the Maldives. Strangely enough the Albert Dock London, for LCY, has never featured but that requires a UK-based aircraft and a suitable destination. Readers with DHC-6 anecdotes are welcome to contribute. malcolm.ginsberg@btnews.co.uk
OUR READERS' FINEST WORDS (All times and dates are GMT)
All comments are filtered to exclude any excesses but the Editor does not have to agree with what is being said. 100 words maximum
---
Malcolm Ginsberg, London
The Twin Otter maiden flight was 20 May 1965.  On 13 June, just two weeks later the BN Islander first flew and appeared at the Paris Air Show just four days later.  Both are still in production.   Boeing 737 got airborne 9 April  1967. The Islander is something to wwrite about later in the year.
---
David Starkie, London
The Twin-Otter just pips the BN Islander to the longest production passenger aircraft stakes. The British BN Islander is still in production. Would be nice to have a feature on this STOL workhorse too.
---
Alistair Rivers, MILTON KEYNES
According to data filed with Cirium Dash 7s are still(in normal times) operated by Air Kenya on routes out of Nairobi Wilson
---
James Cole, London
I was a flight test engineer with DeHavilland Canada in 1987 when we had to re-do some failure mode tests to CAA standards for the LCY operations. Wonderful aircraft and airport.
---